San Antonio's St. Anthony Hotel first opened its doors in 1909. One of the most luxurious hotels in the country, it was famous for having telephones in every room as well as automated lights and doors. Half of the rooms even had private baths. A glamorous destination in and of itself it hosted a who's who of the golden screen with Fred Astaire, Clara Bow, John Wayne, Princess Grace, Lucille Ball, and Will Rogers all paying a visit. It was also a popular destination for politicians including Presidents Roosevelt and Eisenhower. Lyndon Johnson even spent his honeymoon at the hotel. The Great Depression, however, was not kind to hotels like St. Anthony and by the early 1930s it had fallen into disrepair.
In 1935, however, the hotel was purchased by Ralph W. Morrison who doubled down on the amenities by adding air condition (the first for a Texas hotel) as well as two more wings. Morrison also offered a motor lobby with an adjacent elevator that encouraged patrons to freshen up in their room immediately after checking in. Sufficiently dolled up they would then strut down Peacock Alley for cocktails and dinner.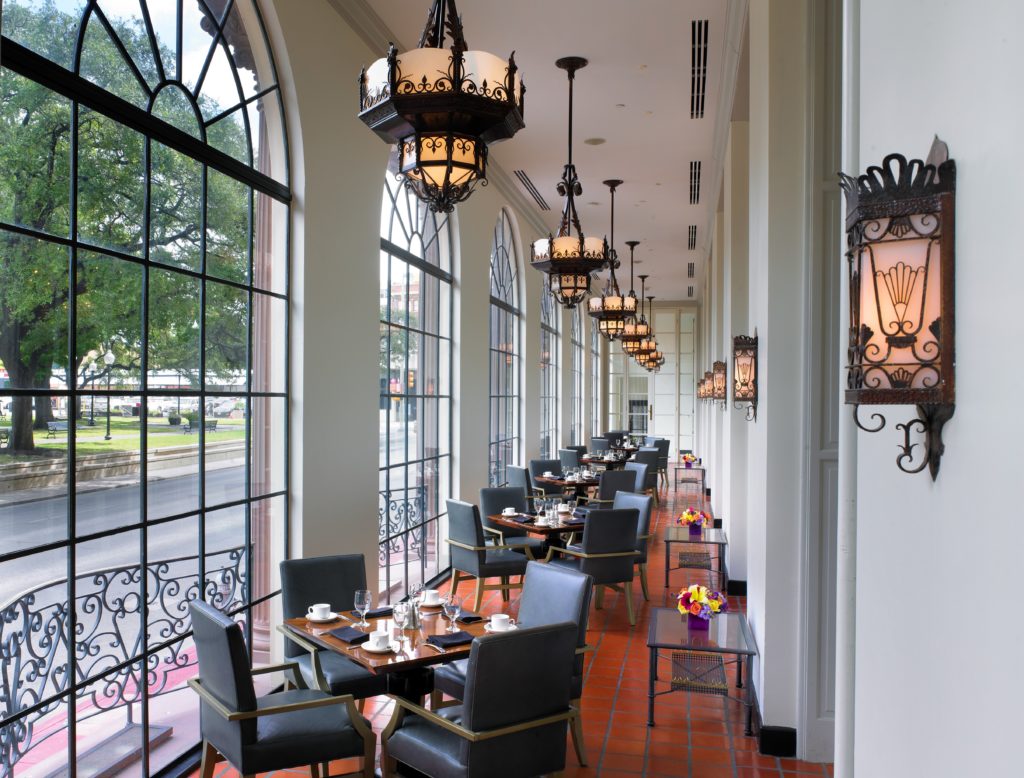 St. Anthony's star continued to shine bright through the 1960s due in part to liquor laws dictating that one had to belong to a club before being served at a bar. The St. Anthony Club was one of the most sought after clubs in all of Texas with many an important business deal or plan (including the creation of Southwest Airlines which was first sketched out by Herb Kelleher on a St. Anthony Club cocktail napkin) conceived over a casual drink. The hotel's luster, though, faded in the latter half of the 20th century as it bounced between several owners before being purchased by its present owners in 2012. A massive renovation was undergone before reopening as part of the Starwood Luxury Collection in July, 2015.
After spending a night at the hotel with my family, I am happy to report the hotel has recovered its elegant and indulgent spirit. For starters our room, a standard king bed with a view, was approximately the size of my first apartment. The bathroom was bigger than some motel rooms and the walk-in shower had enough room to pace in. Very well appointed, the light fixtures, crown molding, Boise alarm clock and the stylish sitting chair with ottoman all exuded a hip, post-Mad Men feel. Even the television felt sleek and unobtrusive. If the weather was just a bit warmer, we would have taken advantage of the heated roof top pool. Instead the three of us were happy to cuddle in the oversized bed and gaze out the window at the city lights.
Fitting a luxury hotel, the staff was attentive in a professional, non-overbearing manner with doors opened and suitcases efficiently helped to the room. Room service was exemplary and breakfast in bed was a decadent treat. Accenting the usual choices were locally sourced meats and vegetables as well as several San Antonio favorites including huevos rancheros and a breakfast frittata that boasted chipotle sour cream and caramelized apple sausage. My bagel and lox was delicious and my wife and daughter were more than happy with their eggs (sunny side up) and hash browns.
While the auto lobby is a thing of the past, valet service is available and includes in and out privilege. This is something, however, that few visitors will take advantage given St. Anthony's proximity to both the Alamo and the River Walk. Peacock Alley, however, still exists and now leads directly to the Rebelle Restaurant.
The Rebelle (the creation of Restauranteur Andrew Goodman and Chef Stephan Browers) offers a very eclectic and creative menu with a Texas-centric focus. Likely a whole lot sexier than previous St. Anthony based restaurants, the low lights and casual atmosphere facilitate an intimate dining atmosphere appropriate for both first dates and good friends. The menu is divided among "Divide" (tapas style small plates) and "Conquer" (full entrée) items. My two dates, confirmed vegetarians, sampled a heirloom tomato salad, char-grilled kung pao okra, and carrots roasted in pine-honey. All three were exceptional and allowed the full flavor of the vegetable to express themselves. We also greatly enjoyed the garlic-oregano Parisian gnocchi and found the truffles absolutely divine.
I was more than happy to have the beef short ribs braised in a red curry all to myself. Delectable at first taste the meat practically melted in my mouth while the spices danced on my tounge.  I also greatly enjoyed the merguez ground goat kabobs which were as playful as they were delicious.
Our waiter helped my wife pair her food with the appropriate wine. In the spirt of the St. Anthony, however, I chose to partake in a few cocktails which were named in honor of the seven deadly sins. Although a big fan of Lust, I found the slow sipping Greed (Garrison Brothers Texas Bourbon, Amaretto Liquor, and D.O.M. Benedictine Liquor, and Bitters) to be the sin I look forward to indulging again. 
Over the past century, San Antonio has matured from being a good size cattle oriented town to America's seventh largest city. Like any city, San Antonio has had its ups and downs but is currently a premier travel destination that receives over twenty million visitors a year. The St. Anthony Hotel has developed alongside San Antonio and is as sophisticated and elegant as it was in 1909. It is nice to know that the more things change the more they stay the same.
The St. Anthony Hotel is located in San Antonio, Texas at 300 East Travis Street. For more information about the hotel, visit Saint Anthony Hotel online. All photos courtesy of Starwood Photography.