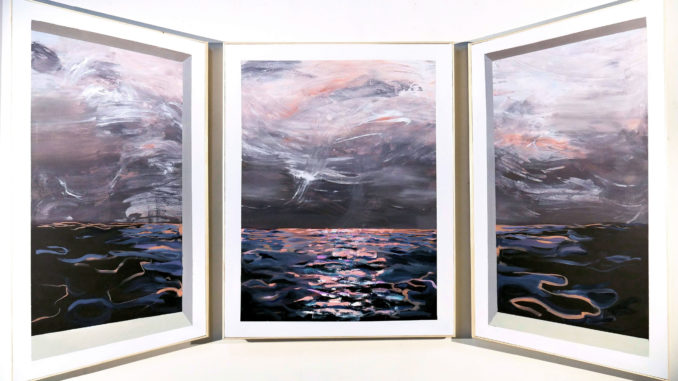 Late last month, I first learned of Trace Elements an upcoming exhibition at Miishkooki Art Space, a new art gallery and studio that opened in Skokie last summer featuring the artwork of Ellen Hanson and Caroline Liu. Last week, I finally had the opportunity to chat with Ellen & Caroline about their artwork, their influences and much more. Read on to see what they had to say…
Ellen Hanson
Andrew DeCanniere (AD): To begin at the beginning, how did you first get into your field?
Ellen Hanson (EH): I grew up outside of Chicago and then studied painting at Bennington College in Vermont. I graduated a couple of years ago and moved back to Chicago and have been pursuing painting here ever since.
AD: And what about the work that will be a part of this show in particular?
EH: The work that's going into Trace Elements is sort of mostly abstracted landscapes and interiors. I'm interested in the history of landscape painting — specifically the romantic sublime — and tying that to contemporary urban and domestic life and how that can translate from the wild open to being around cities and buildings. All these paintings are either, literally or not, windows into a scene that I've created that are partial reality and partial daydream.
I'm really excited for the show. You've been to the space, so you know Miishkooki is a really big gallery, but it's an honor to have my paintings there because the series will complement them a lot and give them a lot of space to breathe. It's a two person show, with Caroline Liu. I'm excited to show with her, too, because our paintings complement each other really well. We both sort of cover themes of discovery, though hers is more within a mental landscape versus mine, which is in a physical or literal landscape, but they both have an unfinished quality to them. We paint with similar colors, so I think aesthetically they're going to work well together.
AD: I know it can be hard to narrow down, but as far as influences go, who or what would you say are some of yours?
EH: I'm constantly trying to seek out new work. One of my all-time favorite artists is David Hockney. I think that one is pretty apparent when you look at my work. I really like the way people and space interact in his paintings, and his use of color is really incredible. It was really awesome having the Kerry James Marshall show at the MCA this past year — seeing all those paintings in person. He also deals a lot with the history of paintings and how to make that contemporary and continue that narrative. Some other painters I like a lot are Sylvia Plimack Mangold, Betty Woodman — who's a ceramic artist and a painter, and I like how she places with 2D and 3D and the illusion of space. There's Becky Suss, who I really like who makes these interiors. She paints rooms with all of these objects from her past, but it lets the viewer sort of piece together a narrative through all of those different objects and tells a story that way.
I also get influences from going for walks. Being close to the lake, the water plays a big part in my paintings, as do the buildings. I like to look at the architecture when I'm walking around and I like to look at the different façades on the buildings — the contrast of the natural and the artificial. Chicago has amazing architecture that has always served as this example for other cities.
AD: Yeah. There are a lot of these iconic structures that have been a part of the landscape for quite a while — buildings that are sort of iconically Chicago — but there have also been a lot of great new buildings that have gone up in just the past few years as well.
EH: I like seeing the buildings in process, too — the structures being built. It's cool to see it all going up before it's covered up. It won't be in the show, but I have made some paintings of construction, paralleling the building of a house to the building of a painting.
Learn more about Ellen and view more of her work by logging onto her website.
Caroline Liu
Andrew DeCanniere (AD): How did you get started in your field?
Caroline Liu (CL): I've been a painter for several years now, but my main body of work has really been honed in within the last three-and-a-half years or so, because I've had two concussions in the last four years. The first concussion was what really affected me the most. I had a solid wood door fall roughly seven feet straight onto my head. Immediately after that happened, I moved to Chicago. If someone suffers a brain injury or they have issues with their memory, such as Alzheimer's or Dementia, when you take somebody out of their familiar zone to someplace new before their brain has time to heal, it exacerbates a lot of the symptoms that they have. So, when I moved to Chicago, my brain was so confused, because it had nothing to hold onto.
For the first two years or so, I made a lot of work talking about and navigating the chaos and confusion inside of my brain. It was very difficult for me to separate my own memories from the memories of other people. A lot of my work was just regurgitating and creating new narratives based on the confusion. I did that for about two years, and then this year I kind of got to a point where I realized that I have this under control. I can understand the confusion and I can navigate the chaos, but what I really lost within the last two years of trying to figure out how to function like a human on a day-to-day basis is that I lost my identity in the process. I realized that I can no longer go back to who I was before the door hit me. So, this new body of work I've been working on that will be in the show at Miishkooki is really talking about 'Who am I as a person with irreparable memory loss? What is my identity? What are some of the things that I lost, both literally and figuratively, when the door hit me?'
With my current work, each painting has a very distinct frame around it, because I wanted to go toward this notion of memorial wreaths — how you create these icons of people and memory that exist within themselves and only themselves. Each painting is kind of like a search of my own identity, of memories within myself that I want to honor but also mourn.
All of the paintings that I have in the show are brand-new. 90% of them I created within the last four months, but all of them within 2016. I'd say that this is probably my most personal work that I've ever created. All of my work is self-portraits, because I really wanted to explore my identity and create work that was a pilgrimage of finding out who I am. I felt like the best way to do that is to really focus on self-portraits. There are some that I feel look like me, and then there are others that people are like 'That looks nothing like you.' So, this idea of identity is so different from person to person, and within my own self. I'm really excited to share this work with people, especially as a body of work, because I don't feel like there's much opportunity to see all of this work at once — to really get the experience.
AD: I was also wondering, if you could narrow it down, who would you say are your influences? Where do you draw your inspiration from?
CL: So, the question is a little bit difficult for me — mostly because the way that my mind functions now is that specifics are really hard for me. My brain kind of short circuits every time I try to answer something like 'What are your favorite restaurants?' or 'What books do you like?' or 'Who are artists that you love?' I have this really long master list, and every time I find someone that I like, I always have to write a description of each of the artists to really remember. At this point, if I don't have the list in front of me, I am so lost. My daily functioning, post-concussion, is just lists upon lists and notes.
I would say that non-artist wise, I am very drawn to color and pattern. Sometimes I will be walking down the street and I'll see someone that's wearing a floral jacket with a striped shirt and bright red shoes and I'm like 'I have to take a picture of you. You look amazing. I want to make you into a painting.'
A few of my favorite artists that inspire me are Kerry James Marshall, Yue Minjun, Henry Darger, Beau Carey and Njideka Akunyili Crosby.
AD: And I guess that just goes to show that inspiration can and does come from anywhere.
CL: Exactly. I'm definitely that person that's looking up at everything and taking tons of pictures so that when I come home to the studio I'm just like 'I'm inspired by all of these things. What is the coolest one that I can pinpoint out of all of these and reintroduce?'
You can learn more about Caroline and view more of her work by logging onto her website.
Trace Elements runs from January 14, 2017 through February 24, 2017 at Miishkooki Art Space, 4517 Oakton Street in Skokie, Illinois. For additional information, including hours of operation, please log onto Miishkooki's website.
You can also find my October 2016 interview with John Maloof of Miishkooki Art Space by clicking here.