Writers Theatre continues its 2016-17 season with The Scene by Theresa Rebeck, directed by Kimberly Senior. This edgy comedy begins when friends Lewis and Charlie meet Clea, an unusual young woman and recent New York transplant, at a party, and their short conversation quickly sets off a chain of events that will alter their lives forever. Dark, funny, and provocative, The Scene is a fascinating story told well by the cast and crew at Writers Theatre.
Lewis and Charlie are old friends attending a party together in a New York loft. They encounter the young, attractive Clea on the balcony of the apartment, where Clea's comments about the "surreal" view and her story about a horrible woman she interviewed to work for lead to sparks flying between her and Charlie. This chance encounter quickly unfolds into a much more complicated situation, as Clea enters the two men's lives and shatters the status quo with her presence.
Rebeck's text is captivating in its uniqueness. Although the overall plot is not unfamiliar, the details of the events that transpire, as well as the singular and colorful nature of her characters, creates something entirely new. Despite being a decade old, the script remains fresh, and the commentary it makes on contemporary social dynamics is still relevant.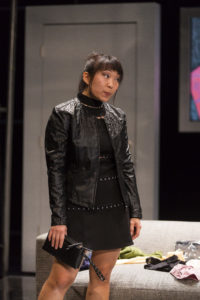 Deanna Myers leads the cast as Clea, and a better actor for the part is difficult to imagine. Clea is a complicated character; she has a distinctive speaking pattern and changes moods and attitudes on a dime, but Myers handles her character's shifting perspectives deftly, maintaining an organic verisimilitude throughout. Myers has impressive range, and her performance is very much the center of the play.
The rest of the cast is proficient as well. Charin Alvarez is sweet and deeply human as Stella. La Shawn Banks brings an easygoing warmth to Lewis but also delivers compelling moments of anguish when needed. Mark Montgomery brings a vivacious and varied energy to the passionate but self-loathing Charlie, and for all that his character is not terribly likable, Montgomery is still compelling to watch.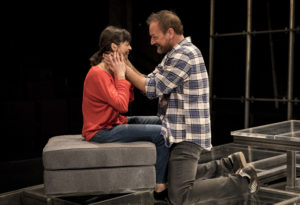 Original music and sound design by Richard Woodbury contribute greatly to creating the atmosphere for the performance; the soundscape in particular is impressive in its attention to detail and ability to perfectly suit a given location and scene. Scenic design by Brian Sidney Bembridge makes use of the aesthetic of modern New York apartments to create a variety of locations on a unit set. Choreographed scene transitions done in partial light make for an interesting artistic statement as the changes in time in space are completely visible to the audience.
Theresa Rebeck is one of America's great playwrights, and The Scene offers compelling testimony as to why. With a talented cast and crew, as well as excellent direction by Kimberly Senior, this production is a fascinating take on a remarkable play.
Ticket Information
Dates: February 22 – April 2, 2017
Times: Tuesdays – Fridays at 7:30pm (with 3:00pm Wednesday matinees on March 15 & 29); Saturdays at 3:00pm and 7:30pm; Sundays at 2:00pm and 6:00pm (except February 26, March 12 & 19, and April 2). The evening show on Sunday, March 12 will be at 7:30pm.
Location: The Alexandra C. and John D. Nichols Theatre; 325 Tudor Court, Glencoe
Prices: Prices for all performances range from $35 – $80. Purchase early for best prices.
Box Office: The Box Office is located at 325 Tudor Court, Glencoe; by phone at 847-242-6000; online at the Writers Theatre website.
All photos by Liz Lauren.