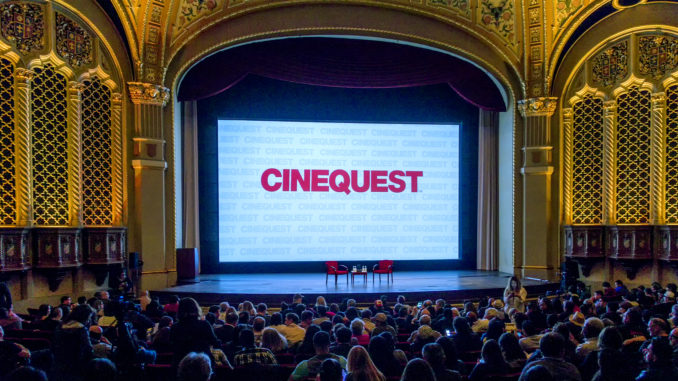 This year's award-winning
Cinequest Film & VR Festival 2017
runs from February 28th through March 12th. If you think Sundance or Cannes has anything over
San Jose
and
Redwood City
, then you haven't taken a close look at Silicon Valley's Cinequest. With 504 screenings and events, some with an unparalleled Virtual Reality element, this film festival has become one of the best in the world. As Maverick Spirit Award Winner
Neil Gaiman
put it, "It's a perfect film festival in a glorious place."
Especially exciting for those of us who live in San Francisco or the Peninsula is Cinequest's expansion this year to a second location –  Redwood City. Now, in addition to the traditional venues in downtown San Jose, we have a nearby, multi-screen venue with free, validated parking and just a few blocks' walk from a Caltrain station.
For the foreign film aficionado, there are films this year in 31 languages produced in 33 countries, all with English subtitles for foreign language productions.  Here's your chance to see a movie in Kinyarwanda and another in Telegu all in the same day.
For those who prefer short films, there are several showings of collections of short subjects, including one set featuring animated short films.
And, for those who prefer to choose by category, the films have been organized into these fun groupings to help you choose the perfect flick: Celebration, Innovation, Inspiration, Laughs, Life, Love, and Thrills.
On the Virtual Reality front, there are ten VR Cinema Programs. Here are descriptions of two of them, to give you a flavor for what's included:
Travel the world in stunning Live 360 landscapes, then settle in and explore the collision of science and spirit in a remote Australian desert.
Solve a crime by reliving the memories of a dead man. Run with the bulls in Pamplona. Explore the meaning of family through the eyes of an 11-year-old girl in Tanzania.
.
The recipients of this year's Maverick Spirit Awards are Fred Armisen, Jason Reitman, and Jane Lynch. You can attend their Award Sessions and see their interviews in person.
And, for those who just prefer big names and big films, check out the spotlight choices, all at San Jose's beautiful California Theatre.
The California Theatre, in all its art deco glory, was the location for Tuesday's Opening Night celebration. Upon entering, patrons walked down the red carpet, past film celebrities being photographed and interviewed. Inside the theater, Jerry Nagano filling the hall with the sounds of the mighty Wurlitzer organ.
The evening formally began with short speeches from the founders and organizers of Cinequest and an enthusiastic welcome to San Jose from its Mayor, Sam Liccardo. The evening's main event was a second-ever showing of The Last Word, a wonderful, poignant film starring Shirley MacLaine, Amanda Seyfried, Anne Heche, Thomas Sadoski, and Philip Baker Hall. Ms. MacLaine's performance was raw and genuine, and perhaps even award-worthy. The soundtrack alone was worth the price of admission.
Following the film, in true festival fashion, Mark Pellington, the film's producer and director, came out for an interview and audience Q&A session.
Whether you attend a single movie, or perhaps a VR event or Maverick Award presentation, or whether you purchase a full-festival pass and spend the next week at the theater, you will enjoy world-class cinematic works in the company of fellow enthusiasts. You can't call yourself a film buff if you miss this festival. People are flying in from around the world to attend. What a wonderful privilege for those of us who live in the Bay Area!
Cinequest
February 28th through March 12th, 2017
http://www.cinequest.org
E-mail: [email protected] for general questions, [email protected] for support related inquiries.
Phone: (408) 295-3378 (FEST)
BOX OFFICE INFORMATION
During the festival, the box offices at the California Theatre, Hammer Theatre Center, Cinearts Santana Row 6, and the Century Downtown 20 (Redwood City) will open 45 minutes prior to the first daily screening at each location. Tickets and passes are sold at all box offices.
Photos ©Cinequest unless indicated otherwise.  All photos used with permission.