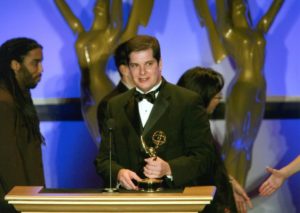 Justin Yoffe at the Emmy's. Photo by Jeanette Yoffe
A New Season at Ruskin Group Theatre brings the World Premiere of "The Gun" by Justin Yoffe
Always presenting plays that give audiences plenty to think about, the Ruskin Group Theatre is making no exceptions to that rule in offering their first production of the 2017 season, the world premiere of "The Gun" by Justin Yoffe. This writer has a long history as a screenwriter, playwright, and ghostwriter, as well as being an Emmy Award winning producer. In Santa Monica, he now manages the Miles Memorial Playhouse and the Santa Monica Civic Auditorium. He honed his writing craft while at the School of Dramatic Writing at New York University's Tisch School of the Arts.
Josh Drennen, Austin Highsmith Garces, and John Colella. Photo by Ed Krieger
The Ruskin, now going into their second decade, is a quaint little gem tucked away within the property surrounding the Santa Monica airport. The company prides themselves in keeping themes on the pulse of current society, and the dilemmas we all face in life.
In "The Gun", the playwright poses the question, "why is it so hard to recognize our own unhappiness and find the strength to change it once we identify it?"
L. Emille Thomas & Josh Drennen. Photo by Ed Krieger
Playwright Justin Yoffe shared that this piece was inspired by a time in his own life when he was "feeling trapped in a job and a relationship, and for various reasons I was finding it impossible to leave or to change course." Certainly, this is a familiar situation that many of us can relate to throughout our lives.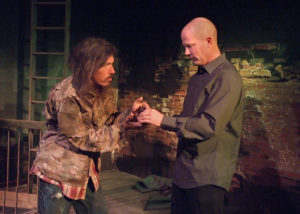 Hamilton Matthews & Josh Drennen. Photo by Ed Krieger
So, why is it titled "The Gun", and what is the significance of that image? "It is the talisman in the story. The impetus for change," says Yoffe. It goes deeper than the dialogue in this play and far past the particular scenario in these characters lives. It's a reminder that when we accept unhappiness instead of taking action to change the situation, there is an insidious effect that destroys our energy and talents as well as weighing on those around us.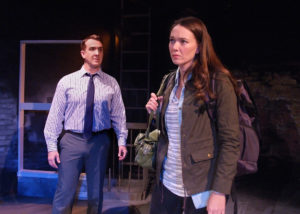 John Colella and Austin Highsmith Garces. Photo by Ed Krieger
 "The path to happiness starts from an understanding of the root causes of suffering," or so goes the teachings of Buddha. This play seems to throw the challenge out there for the audience to identify…understanding the root of any suffering. The writer mentioned some pleasant and unexpected surprises that came with staging this production, "the unforeseen colors, beats, and moments discovered in the story during the collaboration with outstanding, committed actors, director, and producers."
Both playwright and director expressed a similar hope that audiences take away an inspiration from this story. Yoffe reminds us that "we only have one pass at this life, and every day is too precious to waste."
Mouchette Van Helsdingen and Josh Drennen. Photo by Ed Krieger
Director Dave Florek was drawn to this piece because "it's a play about second chances." He says, "life is precious. Life is fragile. Live your truth. Don't be afraid to say I love you or tell your friends how much they mean to you."
Yoffe wrote this piece because he wanted to explore the "traps" or routines that we so easily fall into, sometimes unhappily for our entire adult lives, without feeling as though we have the ability to change our course. If this rings true in any way as you read it, this may be the perfect choice for your weekend entertainment.
 Cast and Crew. Photo by Ed Krieger
The cast includes John Colella, Josh Drennen, Austin Highsmith Garces, Hamilton Matthews, L. Emille Thomas, and Mouchette Van Helsdingen
"The Gun" runs at 8pm Fridays and Saturdays, and 2pm on Sundays through April 30, 2017 (No performances April 14-16, or on April 29th). Ruskin Group Theatre is located at 3000 Airport Avenue, Santa Monica, CA 90405. Tickets are $25 ($20 for students, seniors, and guild members) and can be purchased in advance by calling (310) 397-3244 or online at Ruskin Group Theatre. Free parking available on site.