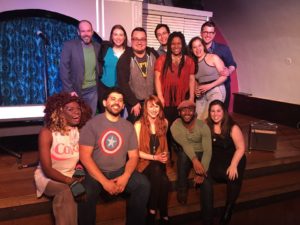 In response to the difficulties of the current political climate, Kristi Szczepanek of Brown Paper Box Co. created Positively Present: An Uplifting Cabaret, an evening designed to encourage performers and audience members alike to focus on remaining positive and present in the face of fear, sorrow, outrage, and other negative emotions many are feeling as a result of the current administration.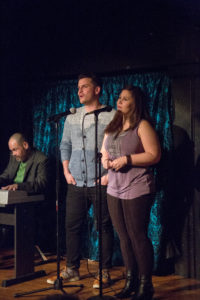 Brown Paper Box Co. consistently produces high quality musical theatre, and this cabaret was no exception. It took place in Mary's Attic, a charming venue above Mary's Hamburgers that offers an intimate performance space and an excellent and reasonably priced bar. The setup was casual, with only a pianist, sound op, and a few microphones as technical elements. The performers, who were a talented mix of Brown Paper Box Co. company members and others connected to the theatre, intermingled with the audience, taking seats in the house when not performing.
The songs chosen fit the general theme of positivity and presence, ranging in style from pop songs to showtunes and featuring both familiar favorites like Sondheim's "No One is Alone" and lesser known titles, including an original song by Diego Colón. Highlights of the evening included "Make Me Happy," an uptempo duet performed with sweetness and snark by friends Nick Shoda and Kristi Szczepanek and "Flight," an inspirational ballad sung beautifully by Kamille Dawkins.
My personal favorite performer of the night was Deanalís Resto, who delivered a gorgeous rendition of Florence + the Machine's "Shake It Out" with a voice like raw honey and enough charisma to pull off audience participation in lieu of backup singers.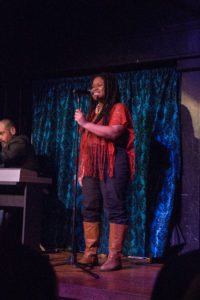 The cabaret provided an important reminder of what theatre can do, even in its simplest form. This was no grand political statement, no capital-A Art seeking to Change the World. Rather, it was a simple gathering of artists and audience members wanting to feel cheerful, if only just for a moment, and that structure was surprisingly powerful.
At the end of the evening, host Kristi Szczepanek led the performers and audience in singing "Tomorrow" from Annie. In another time, place, and setting, this might have felt unbearably hokey. And yet, at the end of collection of honest, sincerely hopeful performances, this opportunity to sing a familiar, optimistic tune with a room full of strangers was more uplifting than a thousand platitudes. It was a reminder that none of us is alone and that, as our scrappy orphan heroine tells us, "the sun'll come out tomorrow."
To learn more about Brown Paper Box Co., including their upcoming production of They're Playing Our Song, visit the Brown Paper Box Co. website.
Photos by Zach Dries.