Please note products are listed from most to least expensive.
MW60 Wireless Over-Ear Headphones
Just as the subway is an integral part of traveling around New York City, so too are Master & Dynamic's MW60s. The ultimate wireless thinking cap is perfect for use both on the go and at home. Alongside the stunning silver/navy colorway, M&D presents a fourth chic hue for users looking to align their sound tool with their lifestyle.
$549.00 Buy Now!!
Fresh
This stunning book presents Sybil Sylvester's most effervescent and distinctive floral designs. Organized by season, Fresh's exceptional floral designs include hydrangeas, muscari, baby green cherry tomatoes, and maidenhair fern wedged into gorgeous eggplants. Peppers, okra, and pinecones also often make their way into Sylvester's floral arrangements, evoking a woodland and sometimes earthy feel.
As a young girl, Sylvester always possessed a fascination with flowers, fairies, mushrooms, and mosses. Today, as a southern floral artist, she uses inventive ideas and fresh plants to illuminate her surroundings.  Glorious photographs, paired with step-by-step instructions and Sybil's own special brand of inspiration and helpful advice, demonstrate the relative ease in creating a number of delightful designs.
$50.00 Buy Now!!
Foraged Flora
A collection of aesthetically pleasing, high-quality photographs of vibrant flowers perfect for complimenting any coffee table or bookshelf.
$40.00 Buy Now!!
Wipenote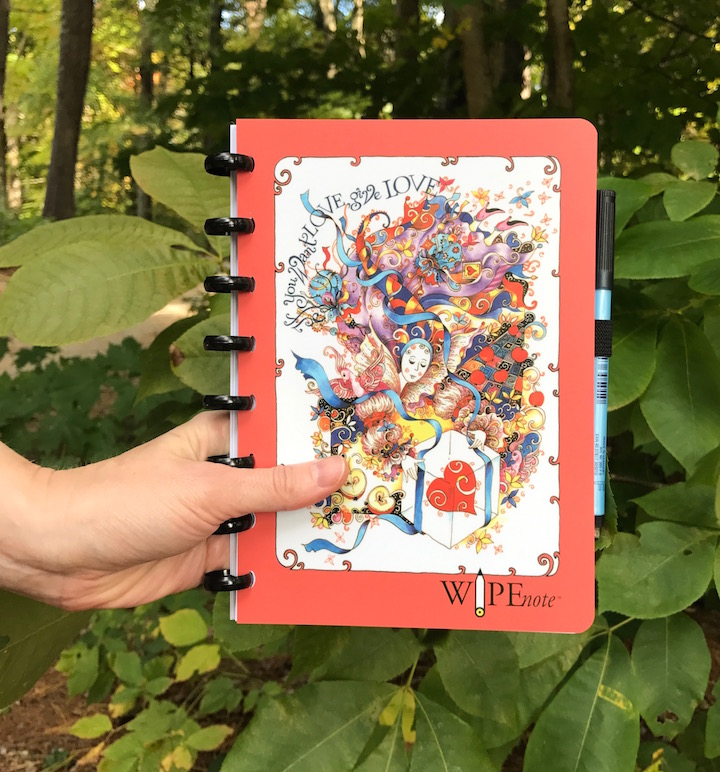 It's time to ditch the paper. Wipenote Notebook is a dry/wet erase whiteboard notebook that lets you write, draw, and erase as many times as you want. It's the perfect tool for artists, designers, writers, students and busy bodies! you can create hundreds of sketches with the stroke of your pen and correct them instantly and endlessly with the tip of Lumocolor pen and it only takes seconds to dry!
$18.99 Buy Now!!
Finding Success in Balance: My Journey to The Cheerful Mind
Finding Success in Balance: My Journey to The Cheerful Mind (Available Now), by Apryl Zarate Schlueter explores the quest of the career-driven individual trying to find a healthy balance between work and everything else outside of it — family, health, relationships, fun, and more. Schlueter shares strategies to help identify what work-life balance truly means, and shares what she's learned along the way in finding success in the various areas of life.
$12.47  Buy Now!!
Flight of the Feathered Serpent
An Ancient Deadly Enemy. A Danger Reaching Beyond Life's Boundaries. And a Love That Transcends Time… THRILLING THIRD INSTALLMENT IN 'LARA CROFT MEETS LORD OF THE RINGS' FANTASY-ROMANCE SERIES, THE THREE KEYS.
The debut fantasy-romance series from author Dana Alexander, "The Three Keys" weaves the beauty and magic of fantasy into real-life situations, enrapturing readers into a world where ancient mythology, epic adventure, and a sweeping love story collide. "Flight of the Feathered Serpent" follows Sara to the shrouded depths of the Yucatan jungle, where she must unlock the riddles of Mayan myth to find the second key.
$11.50   Buy Now!!
Recently
Recently, the app subscription that curates your monthly camera roll into a luxuriously cool magazine delivered to your doorstep is partnering with Christy Turlington Burns' charity Every Mother Counts this Mother's Day. 100% of proceeds will go to maternal health programs around the world.
Designed to be automatic and easy to use, subscribers can opt to curate their own monthly magazine or let Recently auto select last month's photos. E-gift your monthly magazines to Mom or give Mom the gift to create her own subscription!
Under $10 a month for the subscription opt to shop for a cause this Mother's Day.  Available April-May on Every Mother's Counts Online Shop.
$9.99 Buy Now!!
Book of the Month
Book of the Month is a subscription service that lets the recipient decide which books to receive every month. On the 1st we announce the five best books of the month. All plans include 1 hardcover book of the member's choice each month and free shipping.
Beginning in April, we'll be offering a special deal to make it easy and fun to share the gift of literary goodness. Anyone who gives a Book of the Month subscription will get 1 free month for him or herself!
$5.00 Buy Now!!
All images are used with permission from the various companies.