One of the great things about living is Las Vegas is that everyone comes here, dead or alive, they all come. As was the case with FRANK: THE MAN, THE MUSIC last year at the Venetian such is the case with PURPLE REIGN: THE PRINCE TRIBUTE SHOW. I was fortunate enough to attend a special performance of PURPLE REIGN: THE PRINCE TRIBUTE SHOW, at the Westgate International Hotel and had I not known better, I would have said that Prince gave a hell of a show.
JASON TENNER takes on the task of bringing Prince back to life and does so with accomplished perfection. His voice, physical movements, and superb microphone technique all blend together to wondrous effect, you would have believed that Prince himself was on that stage. In addition, Tenner plays a mean guitar, supported by three other musicians that produce more music than seems humanly possible with just those four instruments. The musicianship is out of this world.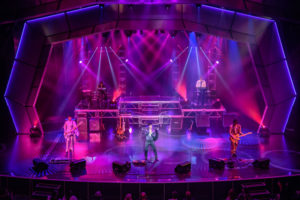 The guys played all the big hits, "Go Crazy", "Raspberry Beret", "Red Corvette" and an excellent version of "1999". There were guest appearances as well, Morris Day and the Time and the beautiful Vanity, a true blast from the past, with a marvelous performance.
Technically speaking, the show is excellently produced, stunning lighting, simple yet effective scenery and tremendous costumes. It is a dazzling display of artistry.
PURPLE REIGN; THE PRINCE TRIBUTE SHOW opened at the Shimmer Cabaret in the Westgate in October of 2014. In April, 2016 the unthinkable happened and we all learned of the passing of Prince. Shortly after, the show moved across the way into the International Theatre, more than doubling the audience size, and has remained there ever since. The show's popularity continues to rise, they now present a full 90 minute evening of great memories.
PURPLE REIGN: THE PRINCE TRIBUTE SHOW performs every Wednesday thru Saturday at the Westgate International Showroom at 9:00pm. For reservations call 866-983-4279 or go online to Westgate Resorts.