The Feature documentary 'Bombshell: The Hedy Lamarr Story' directed by Alexandra Dean had its world premiere at the Tribeca Film Festival 2017, SVA Theatre on April 23, 2017, in New York City. It will later have its U.S. broadcast premiere on the American Masters series on PBS.
The documentary was directed by Alexandra Dean, produced by Katherine Drew, Adam Haggiag, and executive produced by Susan Sarandon and Michael Kantor with David Koh and Dan Braun of Submarine as co-producers.
The debut of the feature documentary of Hedy Lamarr who was known as "the most beautiful girl in the world" was a very remarkable and stimulating film shown at the Tribeca Film Festival 2017 as Lamarr not only was an actress but also an ingenious scientist and inventor.  During World War II Hedy submitted a patent for a "secret communication system" known as "Frequency Hopping." It was intended to guide US torpedos. The patent, which she created with avant-garde composer George Antheil, would go on to pave the way for the creation of wireless phones, Bluetooth, GPS, and Wi-Fi.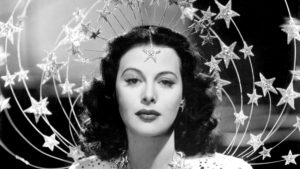 One of Hedy Lamarr's greatest achievement was the patent in wireless technology which she created with avant-garde composer George Antheil, that is the basis of modern wireless phones, Bluetooth, GPS, and Wi-Fi. It is even used by the U.S. Air Force in the multi-billion-dollar military defense satellite system used today, but lamentably few people took her seriously because she was one of the most beautiful women of her time. Can you imagine being so beautiful that no one would let you be smart? Unluckily Hedy Lamarr died in 2000 without making a cent from her revolutionary patent.
She had a shocking nude appearance in the 1933 Czech film" Ecstasy" that made her a disgrace at the age of 17.  She also married a prominent Austrian businessman who became a weapons dealer to the Nazis. Lamarr, who was born Jewish, ran away from her husband in the middle of the night, boarding a boat for America with just a single designer gown. On board, she captivated MGM boss Louis B. Mayer and convinced him to offer her one of the best contracts in Hollywood. From then on she was considered by many to be "the most beautiful woman in the world,"  and even songs were written about her beauty. The recognizable look of "Snow White" was modeled on her semblance. In addition, when she ran into problems working within the Hollywood system, Lamarr produced her own films, which women weren't exactly doing at that time.  Critically, the industry started phasing Lamarr out after she turned 40. Lamarr had a reckless life with six marriages on her back, two kids, drug problems, and later on, she had trouble with money as she became obsessed with plastic surgery for several years. She became reclusive and never received the recognition she deserved with regard to her inventions.  That's the sad story of Hedy Lamarr, the subject of Alexandra Dean's debut feature documentary, Bombshell.
Yenis Monterrey from Splash Magazines had an Exclusive interview Splash with the Pulitzer Prize-winning author Richard Rhodes sets out to rewrite America's memory of Lamarr. 'Hedy's Folly: The Life and Breakthrough Inventions of Hedy Lamarr the Most Beautiful Woman in the World.
Yenis Monterrey.- The life of Hedy Lamarr was so intense, extraordinary, and powerful, but at the same time rough and bitter. How can you summarize her in a few words as a writer of the book based on her life?
Richard Rhodes.- The documentary 'Bombshell: The Hedy Lamarr Story'  is based on the book I wrote about Hedy Lamarr and her remarkable science career as she invented the radio communication system to aid in destroying German submarines back in 1941-1942. She invented a method to communicate from a plane to a torpedo because most of the torpedoes at that time didn't have guidance to the target. She also understood that the communication could be jammed by the enemies radios, so she invented what is
called "Frequency Hopping" as a way of preventing signal jamming which later was taken during the 50's by US military and recently became what is called Bluetooth, cell phone communication systems, and communication with GPS satellites. Her invention became one of the major fundamentals of communications technology. By the end of her life when she was 82-83 she was finally recognized for it.
She was a very unhappy woman because she was known was as a beautiful woman and never as an intelligent one. She said "I can tell you how to be a glamorous star, all you have to do is stand still and look stupid," so it bothered her that she wasn't recognized as an intelligent human being.

Follow LA Splash Magazine Twitter @SplashMagWW Instagram @Splashmags
Follow Yenis Monterrey (Writer) Twitter @Foxactress Instagram @YenisMonterrey