THE SUMMER OF SEXXY has arrived! Led by Jennifer Romas and her beautiful band of bountiful dancers, SEXXY: STARRING JENNIFER ROMAS, has expanded and grown to become the best topless review in the city. I was fortunate enough to see the show two years ago when it first opened and was amazed at the artistry and style that the entire show presented then, now, the show has grown into a true work of art. Additional numbers, enhanced technical support, powerful graphics and overall mesmerizing choreography make this an evening to remember.
Center stage in all of this is Jennifer Romas. SEXXY is her baby, as she has conceived, choreographed and produced this wonderful evening. Her supporting cast only makes the show more exciting. Surrounded by talented and beautiful dancers the show moves smoothly from one number to the next. Each dancer has the opportunity to shine and each grabs the spotlight with gusto. Gabriella Versace brings tremendous talent as she weaves the show together with her incredible singing voice and her quick-witted interactions with the audience.
Photo Credit: Erik Kabik Photography/ erikkabik.com
Three new numbers have been added to the show including a spectacular closing that includes a giant gold wheel. Romas uses it to full advantage and has created a very memorable number full of gymnastics and gyrations.
Fortunately, Romas' two star turns remain intact. First, the pole dance: in all of Vegas you will not find anyone more compelling on the dancer pole. Romas brings all of the sensuality and glamour that is conceivable to this breathtaking performance. There may be more technically proficient pole dancers in town but not a single one can evoke the emotional response that Romas does as she spins her way into your heart. The highlight of the show is still the Ceramic Tub. It will confound you how a simple bathroom appliance can suddenly become an object of desire. This is a number that has to be seen to be believed, This will, quite possibly, be your most sensual moment in Las Vegas.
The Summer Of SEXXY includes not only the new show, but resort wide events as well. Beginning Monday, May 22 the girls will host MODELO MONDAYS during the PLAYGROUND POOL PARTY hosted at the newly renovated Westgate Pool. Make the pool a playground with weekly drink specials, including $2 Modelos and $4 Margaritas, specialty cocktails from celebrity Mixologist Eddie Perales, including the SEXXY Signature Cocktail, VIP Cabanas, oversized games, live DJs and appearances from the ladies of SEXXY. Special SEXXY Gaming chips are also available and promotions and give-aways will be held throughout the month.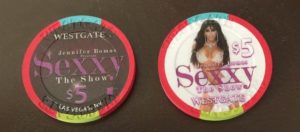 Photo credit by Dianne Davis.
SEXXY: STARRING JENNIFER ROMAS plays Wednesday through Saturday and tickets can be purchased at the Westgate Las Vegas Resort & casino box office at 800-222-5361 or online at WestgateVegas.com Guests must be 18 years or older. For more information on SEXXY, please visit www.sexxyshow.com or contact se*******@gm***.com.