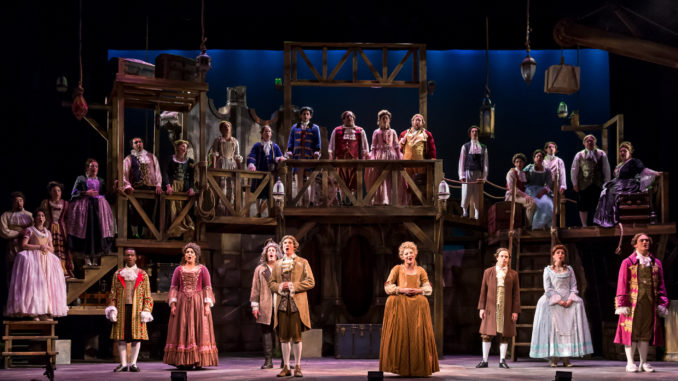 For an energetic opening to its 2017 season, Music Theater Works performs "Candide," a delightful cross between a classic Broadway-style musical and a comedic operetta, based on the humorous Eighteenth Century satire, "Candide, ou L'Optimisme," by French philosopher, Voltaire. The show plays at the Cahn Auditorium in Evanston, with both night performances and matinees, through June 11, 2017.
"Candide" has an unusual history that's worth considering along with the performance. The first version was created as a comedic operetta, with an original score by Leonard Bernstein, and libretto by the acclaimed Broadway playwright, Lillian Hellman. Bernstein wrote the score simultaneously with his score for "West Side Story," finishing Candide first. It premiered on Broadway in December 1956, and closed 2 months later. However, the recording subsequently became a hit, so the piece was re-written and re-worked by Bernstein, and various writers and directors until it worked for the Broadway stage. Contributors include Stephen Sondheim, Hugh Wheeler whose efforts won him the 1974 Drama Desk Award and the Tony Award for Outstanding Book of a Musical, and director Harold Prince who also won 1974 awards for Outstanding Director. Bernstein's final 1989 version became the "Candide" we know today, mostly, but Music Theater Works performs an even newer version by director John Caird, created for the Royal National Theater in London in 1999.
Music Theater Works' "Candide" opens with a playful pantomime depicting the players dressing for their roles to Bernstein's Overture, a sonata famous for its flourish and pratfalls, and themes repeated throughout the work. A young woman, later identified as Cunegonde, a Baron's daughter, receives a long string of pearls, while another gets a bucket, assigned to being a maid.
Soon, the audience enters an idyllic castle in Westphalia, where four young people, the Baron's two children, Cunegonde and Maximilian, Candide, the Baron's illegitimate nephew, in love with Cunegonde, and Paquette, a lusty serving girl revel in their happiness singing the cheerfully descriptive, yet contradictory, "Life is Happiness Indeed." They are coaxed into a classroom where the fictional Dr. Pangloss, a devotee of a very real German philosopher, Gottfried Wilhelm Leibniz, teaches philosophical optimism, the belief that we live in the best of all possible worlds where everything has a purpose, and everything happens for a very good reason.
Steeped in optimistic thoughts, Candide and Cunegonde decided to get married, expressing their contradictory hopes for their future in "Oh Happy, We." Unfortunately, Voltaire's point requires that a large dose of reality be delivered on everyone in Westphalia, and things go south on the teacher and students almost immediately. The group experiences political strife, religious intolerance, violence, disease, plunder, abuse, thievery, murder, natural disaster, and abrupt meetings and separations, but through everything, they try to hold on and remain optimistic. Candide waivers, but then meets the pessimist, Martin, who doles out a boatload of reality. Yet, Martin isn't always right as Candide still experiences some joy and true friendship.
Cecilia Iole, as Cunegonde, stands out with her strong and clear soprano, and physical humor, particularly when she becomes a courtesan to two religious leaders, who convert her optimism into avarice in "Glitter and Be Gay."
Cunegonde's servant, known as The Old Woman, is played by Emily Barnash. Barnash adds a cunning and slyness important to political satire, and has a fine, strong, but not the contralto voice for which the part was written. Her over-the-top rendition of her suffering, and the strongest song of the musical, "I Am Easily Assimilated," happily pick up the pace of the First Act, and the faster pace spills into the Second Act when Iole and Barnash join forces  in "We Are Women."
The hapless and mostly passive Candide is fleshed out with Ben Barker's heart and earnestness. His journey to mythic Eldorado is both joyful and sad. Gary Alexander's Dr. Pangloss, central to the story's theme, is clear, stalwart, and playfully ridiculous in his insistence that catastrophe actually proves optimistic philosophy.
There's a lot going on in "Candide," and it's a little long, but it works. Along with Leonard Bernstein's memorable score, orchestra conducted by Roger L. Bingaman, the audience leaves with a clear explanation of optimistic philosophy, the reasons Voltaire mocks it, and his ultimate lesson. The wood scaffold by set designer Adam Veness also works, providing a solid and versatile background that does not compete with the action or Alexa Weinzierl's whimsical undergarment costumes, and the colorful frocks and vests.
The size of the Cahn Auditorium stage constrains the choreography, and there were a few opening night sound mistakes, easily corrected with a little re-mic'ing, but Rudy Hogenmiller's direction is intelligent, largely retaining the action through a difficult narrative, and a lighthearted atmosphere through exaggerated tragedy.
While the show is long, it would be a challenge to find expendable scenes or songs as the end ties up all the themes and loose ends in the musical's ultimate life lesson: stick together, work to do your best, and grow your garden. Through its many re-writes over many years, Bernstein, Hellman, Sondheim, Prince, Caird, and others managed to turn a lesson in PolySci 101 into the best of all possible "Candides," a very successful example of Voltaire's lesson.
You can find more information about Music Theater Works "Candide" at their website: http://www.musictheaterworks.com/candide/.
Photos by Brett Beiner