Opening night is always fun and exciting! Thursday evening's opening of the LA Greek Festival (LAGFF) at the Egyptian Theatre in Hollywood was no exception. There was no shortage of stars, producers, directors and editors, and beautiful people gracing the red carpet and enjoying each other's company and the delightful and interesting event offerings. Dignitaries present included Gregory Karahalios, Consul General of Greece, Los Angeles, and Andreas Kyprianides, Honorary Consul General of Cyprus, Los Angeles. The five-day, full-scheduled festival includes 8 free events, and runs from 7th June and ends on Sunday June 11. It showcases 13 features, 22 shorts and 15 documentaries from around the globe, including America, France Germany, Cyprus and Greece, and contains a record 40 premieres.
"This year we carefully selected a program which embodies the 2017 festival theme of 'Building Bridges'" states festival head Aris Katopodis. "Each title represents creating a bridge—whether it is between relationships, races or countries, and the problems and triumphs encountered in reaching the goal."
The opening address by Artistic Director Aris Katapodis was followed by a magnificent performance by singer Athena Andreadis, accompanied on guitar by Michael Chaves, both widely acclaimed artists.
Next event was the screening of the West Coast Premiere of Yannis Sakaridis' Award winning Amerika Square (Plateia Amerikis), a thought provoking, excellent feature film that takes place in Amerika Square in Athens. It's the Casablanca of our times, a triptych, revealing the opposing forces of today's humanitarian challenges. Two friends, Billy (Yannis Stankoglou), a tattoo artist, and Nakos, a "banal" Greek racist come head to head in Amerika Square because of the survival journey of Syrian refugee Tarek, an ex-Military doctor looking for a deal to smuggle out of Greece with his daughter. Nakos has had enough of the thousands of refugees in his neighborhood in the center of Athens. Billy falls in love with Teresa, an African singer who is also looking for an escape by sea. The three stories merge while time is running out for everyone. The film vividly portrays the nightmarish illegal journeys, hopelessness, despair of displaced refugees, and the multiple possible problems confronting them through xenophobia, racism and misunderstanding. America Square took the Fipresci Award at the Thessaloniki Film Festival.
Amerika Square was preceded by "4.1 Miles", a short documentary directed by Daphne Matziaraki, and winner of the Best Documentary Award in the 2016 43rd Annual Student Film Awards. The story is of a coast guard captain on a small Greek island suddenly, and daily, charged with saving thousands of refugees from drowning at sea. Vivid scenes display the heart wrenching problems faced by both the refugees and their rescuers.
The screenings were followed by a Q and A and a buffet and dancing under the stars in the Egyptian Courtyard.
Sunday evening's closing events kick off with a star-studded red carpet, followed by the west coast premiere of Elina Psykou's drama, Son of Sophia, winner in April of Best Picture in the International Narrative Feature Competition at the Tribeca Film Festival. Elina has created a dark fairy tale featuring 11-year-old Misha, a young Russian boy who is brought to Athens by his mother to live and is surprised to learn she has remarried. Misha's imagination soon takes over to protect himself from his new life and he creates a journey that pits make believe against stark reality.
Closing the Festival is the ever-popular Orpheus Awards, hosted by Demetri Martin, that honor the best of the Festival's feature, short, and documentary films as voted by the Jury with one film receiving the Award honor. Also, the festival selects one filmmaker or actor whose contributions to the entertainment industry have exceeded those of their peers. This year the festival honoree is Oscar winning writer/producer/director Alexander Payne. He will receive the Orpheus for his contribution to worldwide entertainment and the preservation of film itself.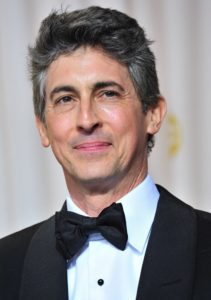 "Alexander Payne was selected by the committee to receive this years honor because of his worldwide contributions to movies and his dedication to the preservation of its history," stated Festival Director Aris Katopodis. "We are delighted to be among those who recognize his brilliance as a filmmaker and his dedication not only to the craft but the people that work with him. His ability to entertain and intrigue audiences worldwide is surpassed by none."
Payne, the grandson of Greek immigrants and a native of Omaha Nebraska, received his MFA in filmmaking at the university of California, Los Angeles. Soon after graduating he made his first feature film Citizen Ruth (1996). Payne then examined high school politics in his comedy, Election, starring Matthew Broderick and Reese Witherspoon (1999). Three years later came About Schmidt, starring Jack Nicholson and Kathy Bates. earning Oscar nominations for both performances. Critically acclaimed films continued to follow, including Sideways for which Payne won his first Academy Award for Best Adapted screenplay; The Descendants (2011) and Nebraksa (2013). His latest production, the science fiction dramedy, Downsizing, starring Matt Damon, Kristin Wiig, Christopher Waltz and Hong Chau, is one of the most anticipated films. In addition to writing, producing and directing, Payne serves on the board of the Film Foundation, founded by Martin Scorsese in 1990 to protect and preserve motion picture history. He is also on the boards of the Telluride film Festival and Film Streams, a cinematheque in Omaha.
The evening will end the 5-day LAGFF with a lite buffet of Greek dishes, wines, and music in the Egyptian Courtyard.
Many people worked tirelessly and are to be congratulated for putting this remarkable 5-day LA Greek Film Festival together so successfully. Beside the paid events there are several free events for the public to enjoy. It all takes place at the Egyptian Theatre, Please go here to see the calendar and details