Please note products are listed from most to least expensive.
Puritii

Puritii is a portable water filtration system that ensures clean drinking water while on the go. It is a technological breakthrough in water filtration for clean and safe drinking water. One Puritii filter can save over 3,000 plastic water bottles from landfills a year. The duo product comes without the cost, harmful toxins and negative effects on the environment of bottled and tap water.
$115  Buy Now!!
Test Max Meals
Eat chili, fish taco salad, ginger beef with vegetables, and meatloaf at Test Max Meals. Lose weight, burn belly fat and have more energy. Men over 40 will boost their testosterone level and more strength, according to Clark Bartram, Performance & Nutrition Industry Expert for Six Pack Abs, who created TexMaxMeals. When men's testosterone levels are low, their body stores most of the food they eat as belly fat.

Foods that build testosterone include: red meat, salmon, tuna, almonds, garlic, eggs, cabbage, spinach, asparagus, avocados, bananas, watermelon, citrus fruit, grapes, and honey. At Test Max Meals, Bartram offers more testosterone boosting food tips, 3 so-called "healthy" foods that can dramatically decrease testosterone levels, and 3 "cheat" foods that boost testosterone. He also explains how to quickly prepare and cook an entire week's worth of your favorite testosterone boosting foods in less than an hour and at a low cost.
$97  Buy Now!!

Old Pulteney 12 YO
The Old Pulteney distillery in Wick is one of the most northerly distilleries on the Scottish
mainland. It is a windswept location, where the uncompromising landscape of the Highlands meets the North Sea, and the waves crash against the granite walls of the harbor. The extreme location and unique stills have resulted in its distinctive flavor, bursting with the power and subtlety of the sea. Old Pulteney 12 Years Old is matured in hand selected American ex-bourbon casks. Over the years, the casks gently absorb the northern sea breeze, giving the whisky its smooth, complex flavours and coastal characteristics. The combination of the exposed maritime environment and traditional distillation methods create a malt described by a leading whisky writer as 'unashamedly excellent'.
$45  Buy Now!!
Chardonnay Box
Chardonnay Box, a buttery chardonnay wine club, is curated convenience delivered to your front door every month. David Hewlett, CEO of Chardonnay Box, is among the top five percent of wine experts in the world and works with midsize and boutique wineries to bring customers great, hard to find wines. Where other wine clubs buy cheap, wholesale wines and try to sell them off as premium, Chardonnay Box works with premium brands that make fantastic chardonnays.
$31.49-$76.49  Buy Now!!
RSVP Skinnies Variety Pack
Skinnies are ZERO Calorie cocktail mixers made with All Natural plant based ingredients. The Baja Margarita is a blend of lemons and limes, that makes a delicious & light Margarita. The Mai Tai has pineapple with a hint of coconut, great for mixing with Coconut Rum. It's like a taste of the tropics but without the sugary fruit juices. And the London Gimlet is a fusion of lemons & limes that is in perfect balance to make a great tasting Gin Gimlet. For a guilt-free "Cosmo on-the-Rocks", just add 1 Skinnies Cosmo packet to your Vodka & Soda, garnish with a twist of lime and Cheers!
$24 Buy Now!!
Edoughble
Obsessively amazing, small batch cookie dough meant to be eaten the only way cookie dough gods intended…unbaked in all its pure, delicious, smooth, silky and doughy form.  All our doughs are made in small batches with only the best, fresh, all-natural ingredients and perhaps most importantly, none of our doughs are made with egg (the leading health concern of eating most all other cookie doughs raw).
$20.00-$50.00  Buy Now!!
Malaysian Sustainable Palm Oil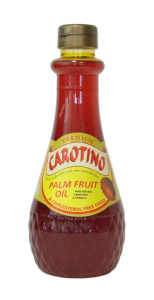 Finding nutritious, family-friendly foods continues to be a challenge, especially because the rules about healthy eating always seem to be changing. This isn't the vilified palm kernel oil, once used in movie popcorn. Palm oil is pressed from the palm's fleshy fruit, similar to how olive oil is produced. Unlike most other edible oils, palm oil is loaded with nutrients. Red palm oil has more beta carotene than carrots. And palm oil is nature's richest source of vitamin E tocotrienols, which clinical research has shown to support both heart and brain health.
Unlike most common edible oils including soy and corn, Malaysian palm oil is non-GMO. Palm oil is also a versatile cooking ingredient. It has a high smoke point, so it won't break down when using it for sauteeing or frying. And it has a neutral flavor.
$16.98 Buy Now!!

Herb & Lou's Infused Ice Cubes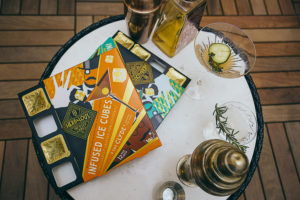 What host or hostess wouldn't love to wow their guests with some amazing cocktails? However, that means not only having the right ingredients on hand but also precisely measuring and mixing them together when you'd rather be having fun with friends. Herb & Lou's Infused Ice Cubes let anyone — from professional mixologists to people challenged by corks — create the perfect cocktail each and every time, and in just seconds. A Nightclub & Bar award winner, the three varieties are designed to mix beautifully with tequila, vodka and bourbon. They come sealed and unfrozen. Just pop them in the freezer, and decide if you prefer shaken, stirred or simply on the rocks.
$15.99  Buy Now!!
Good Karmal
Good Karmal features all-natural, gluten-free gourmet candies available in six delicious flavors and wrapped in a fortune.
$15 – $80  Buy Now!!
SMIRNOFF RED, WHITE & BERRY
End summer with an all out labor day weekend bar b que! Just don't forget product of the year 'spirits' winner SMIRNOFF RED, WHITE & BERRY.  Delivering a blast of fun, this vodka specialty is a delicious mix of cherry, citrus and blue raspberry and contains 30% ABV. Decorated in the summer's best colors, SMIRNOFFM Red, White & Berry brings the All-American spirit to any celebration.
$12.99  Buy Now!!
Tickle Water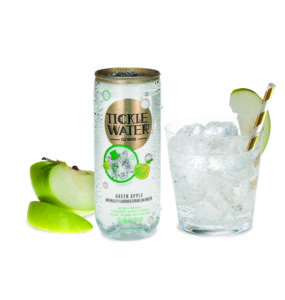 Tickle Water is the first unsweetened sparkling water made specifically for little hands and little tummies. This healthy and fun alternative to sodas or juice boxes contains absolutely no preservatives, GMOs, sugar, calories, or artificial flavors. Tickle Water is available in four all-natural varieties: Sparkling Water, Green Apple, Grape, and Watermelon.
$12-$30 Buy Now!!
SPR-Field O'Tim Sweet
'Springfield North America Inc., the company known for reaping the healthful rewards of monk fruit, is sweetening up the U.S. by launching an all-natural sweetener, O'Tim Sweet, which is the combination of monk fruit extract and trehalose. O'Tim Sweet is an excellent alternative to ordinary sugar and artificial sweeteners with health benefits that make it ideal for daily use.
O'Tim Sweet monk fruit extract and trehalose both have health benefits beyond just being sweet, with dietetically zero caloric value. The use of O'Tim Sweet will also help in keeping weight under control.
$12  Buy Now!!
Cachet Spring Chocolate Ballotin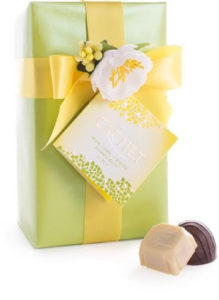 Milk and Dark chocolate bonbons add a sweet touch to your holiday celebration! Discover luxury Easter chocolate gifts from Cachet Chocolates. Find the perfect Easter gift, or simply indulge in our award-winning chocolate ballotins. A gorgeous gift all dressed up for spring!
7 oz. 14 Bonbons; Milk and Dark Chocolate (Available at Gelsons and ChocolateStarsUSA.com)
$12  Buy Now!!
PINK IS THE NEW BLACK – LBD Rosé
Bursting with juicy flavors of ripe berries and just a dash of sweetness with a dazzling clean finish, LBD Rosé is Pure Pink Satisfaction.  Crafted by winemaker Margaret Leonardi at the brand's winery in Mendocino Country, CA, LBD Rosé is 54% Gewurztraminer, 23% Muscat, 14% Chardonnay, 5% Zinfandel, and 4% other.  The Rosé is a delightful accompaniment to light summer dishes, especially salads, fish, grilled meats, and fresh cheese, or enjoyed by itself as a cocktail. Vivid, salmon-pink in color, this wine takes center stage with show stopping aromas of strawberry and grapefruit.  For those who believe that confidence turns heads, sophistication is the rule, and a good bottle of wine is the best accessory, LBD Wines are the perfect fit for every palate. 
$10.99 Buy Now!!
RUSSELL STOVER PECAN DELIGHT
RUSSELL STOVER PECAN DELIGHT is 'product of the year winner' in the chocolate category.  The combination of Pecans and buttery caramel is truly timeless. It has been perfected to bring together the crunchiest of pecans with the smoothest caramel, all en robed in luscious milk chocolate.  Perfect gifts for housewarming, your neighbors or even you friendly postman.
Ps. Can also be purchased at your local Walgreens. Walmart, CVS
$9.99  Buy Now!!
MunchPak
MunchPak is the weirdest food subscription. Period. Whether you go for the mini, original, or FamilyPak, MunchPak will bring the most unusual, delicious, and interesting regional and international snacks and drinks right to your door. Choose the weekly, bi-weekly, or monthly subscription options depending on how often you want to go on a snack adventure.
$9.95 Buy Now!!
molly&drew® The Beer Bread Company's® American Original Beer Bread Mix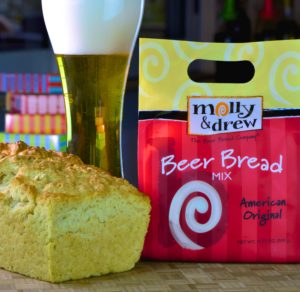 If your dad is a food lover and a total beer fanatic, well than you have found your match for this Father's Day by looking no further than molly&drew's one-of-a-kind beer bread.
Make it an event for dad by picking up his favorite beer – whether it be a light beer like Blue Moon or a dark beer like Guinness – and start making a treat to enjoy with the whole family that dad will be sure to enjoy and will for sure be coming back for seconds.
$9 Buy Now!!

Smirnoff Spiked Sparkling Seltzer
Smirnoff recently released a hard seltzer to help you #DrinkSmarter. NEW Smirnoff Spiked Sparkling Seltzer has ONLY 90 calories (the lowest hard seltzer on the market), zero sugar and only 1g of carbs, giving you a beverage option for all of your spring celebrations without any added guilt.
$8.99  Buy Now!!
Pacific Pickle Works
Pacific Pickle Works is a Santa Barbara company and makes the finest quality pickled goods from regional produce – all natural and hand packed. They offer a range of fresh vegetables as well as mixers!
$8.95-$10.95  Buy Now!!
Schweid & Sons Burger Blends
Schweid & Sons burger blends are a must have for grilling and BBQ's this Summer. Schweid & Sons has twelve different custom blends for you to choose from- each made with different parts of the cattle for a different flavor experience. Each blend is specially crafted to ensure maximum taste & tenderness. Don't skimp out on the quality of your cook-outs this Summer! Schweid & Sons is one of the top quality burger meats offered in the U.S.
$7.29-$12.79  Buy Now!!
My/Mo Mochi Ice Cream

My/Mo Mochi Ice Cream is a carefully crafted snack made with a scoop of premium ice cream wrapped in delectably soft dough. The new 6-pack boxes are available in seven flavor varieties and each ball of My/Mo Mochi Ice Cream is only 110 calories each!
Flavors include: Mango, Strawberry, Green Tea, Cookies & Cream, Vanilla Bean, Double Chocolate & Mint Chocolate Chip. Available in Gristedes, ShopRite, Costco, Safeway and more!
$6  Buy Now!!
LA VICTORIA salsa- Mango Habanero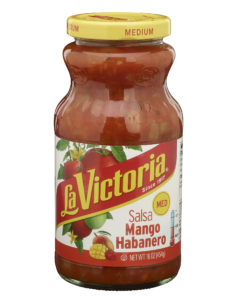 An iconic, Southern California-based salsa brand celebrating its 100th anniversary this year as the pioneer of jarred salsa in the U.S.. LA VICTORIA® Mexican sauces and salsas are always made with real, simple ingredients, and all of its tomatoes are sourced from the fertile California central valley.
$5.99-$6.99  Buy Now!!
Emmy's Organics Coconut Cookies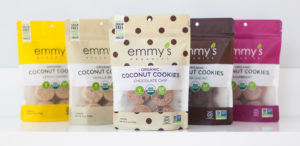 Crafted with premium organic ingredients like freshly ground ginger and fair trade cocoa powder, Emmy's Organics cookies make the perfect gift for foodies and fitness fans alike.  Unlike other processed snacks, Emmy's are made without artificial flavors or coloring and are certified USDA organic, non-GMO, gluten-free and vegan. Plus, each serving contains only 6g sugar or less! Emmy's flavors include: chocolate chip, peanut butter, lemon ginger, raspberry, vanilla bean, and dark cacao.
$5.99-$6.99  Buy Now!!
Edamame Spaghetti
One Ingredient. ORGANIC EDAMAME – that's it. In only seven minutes, your family can indulge in a delicious, healthy and satisfying meal, power-packed with high protein and high fiber. All Explore Cuisine products are vegan, gluten-free, non-GMO and jam packed with nutrients – great for a quick and healthy summer snack!
$4.99  Buy Now!!
SeaSnax Chomperz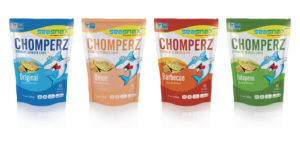 From ocean to table, seaweed is finally getting the attention it deserves! Taking seaweed to a delicious new depth, SeaSnax introduces Chomperz, a crunchy seaweed like chip the whole family can enjoy. Put a little chomp in your kids' lunch-box, toss them into your gym bag or stock up your pantry. Each batch boasts a clean ingredient label with NO msg, NON-GMO project verified and only 40 calories per serving. Chomperz come in a wide array of flavors including original, barbecue, jalepeño and onion!
$4.99  Buy Now!!
Fruit Me Up! Organic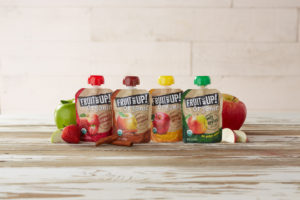 This summer, give the gift of convenient snacking to the busy families in your life. Easy to grab and slurp on-the-go, Fruit Me Up! Organic pouches are made using real fruit with no added water, preservatives, or fruit juice. A kid-friendly summer snack, each pouch offers a full serving of fruit and is filled with delicious flavors kids love. Fruit Me Up! Organic pouches come in four apple-based flavor varieties and are available for purchase on Amazon.
$4.99  Buy Now!!

Les Trois Petits Cochons Saucisson Sec
A savory blend of pork, salt, and several other spices, this time-honored recipe from the Pyrenees Mountains of France is hearty in texture and rich in flavor. Conveniently pre-sliced, the saucisson is easy to pack for a last-minute picnic or pair with cheese for a quick and easy appetizer platter sure to impress. It is best enjoyed with a light to medium-bodied red wine with a hint of earthy aromas balanced by a fruit-forward bouquet or a medium-bodied beer such as an Ale, IPA or Bock Beer. The saucisson is available for purchase in 4oz pre-sliced packages at specialty food markets nationwide.
$4.99  Buy Now!!
LA VICTORIA® THICK'N CHUNKY SALSA VERDE MILD
LA VICTORIA® THICK'N CHUNKY SALSA VERDE MILD  – That perfect, steady partner for your go-to traditional Mexican recipe, the mild and refreshing flavors of LA VICTORIA® Thick'N Chunky Salsa Verde's ripe tomatillos, bell peppers, and hints of garlic and onion will add just the right amount of zest to your next weekend party or family recipe creation.
$4.95  Buy Now!!
LA VICTORIA® SALSA BRAVA® HOT SAUCE
This is our original hot sauce that started it all back in 1917. Refined for almost a century, our LA VICTORIA® SALSA BRAVA® Hot Sauce is a perfect blend with the natural heat of jalapeños and red California chile peppers.
$3.95-$5.95  Buy Now!!
Liquid Ice America
Liquid Ice is the Next Generation of energy drinks. With its vibrant blue color and nostalgic taste that is incomparable to any other energy drink on the market, it is considered the hidden gem in the industry with the best flavor and best ingredients. Liquid Ice is excited to announce the release of the first, limited-edition, patriotic themed packaging for the summer season. 
$2.99  Buy Now!!
Sparkling Ice Lemonades
An excellent soda alternative, Sparkling Ice is slightly carbonated with B-Vitamins, Vitamin D and antioxidants. This light and refreshing beverage contains Zero Calories, Zero Carbs, is Gluten Free, and Sodium Free. Pick a flavor from Classic Lemonade to the Strawberry Lemonade to enjoy in your favorite cocktails or as a refreshing snack.
$1.19-$1.29  Buy Now!!
Aquafina Sparkling
Aquafina Sparkling is naturally flavored sparkling water offering zero calories and zero sugar in four unique flavors. Simply more interesting water, natural flavors, and a boatload of bubbles.
$1.29  Buy Now!!

All images are used with permission from the various companies.