PhoPart 2 – Big Life Success- Collaboration With Conservationists, Artists and Ex-Poachers
Big Life Foundation solicits and sponsors scholarships for the surrounding communities so that they can improve their lives and those of their children through education, and help them to stand on their own feet.
There are classes for boys and girls, and even classrooms for the deaf. Photo courtesy of Jeremy Goss/Big Life
Bright and promising students from needy families have been identified by Big Life. These are some of the poorest people in the country, and it is often too much of a hardship if not impossible to send the children to school.
Big Life scholarships have sponsored students from primary school all the way to the Master's level in college.
The programs have graduated over 200 students, including doctors, engineers, and teachers. Boarding schools have also been built, so some kids no longer have to walk long distances (and sometimes get injured by wild animals).
By sharing in the work and profits of the tourist trade, outside companies are helping Kenya grow in thoughtful and ecological directions. Since 2008, The Great Plains Conservation has been participating with Big Life Foundation in all its efforts to spread conservation and education and help wildlife–helping to pay for it too.
Bonham's own original rustic Ol Donyo Lodge has been transformed by the famous Joubert family's company,Great Plains Foundation, into a world class destination for the well heeled. (please see my article about Ol Donyo Lodge)
Bonham applauds Ol Donyo Lodge, run by Great Plains Conservation, which, besides contributing to education,  employs so many local employees in the hospitality industry that it an "agent of ecotourism." Out of the $100 conservation fee charged per person per night, $65 goes to fund Big Life operations, and $35 goes to the community whose land is being leased.
At the lodge,  each guest is treated as a VIP with personal attention at every turn. For the guests who are interested and open to it, they will receive private consultations about Ol Donyo Lodge's work with Big Life, and the many improvements to the environment being made by their contributions.
This often results in sizeable donations by those who want to give back. Many guests at  decide to sponsor a needy child's education fees.Some guests and other contributors also aid in bringing in more teachers to improve the student/teacher ratio.
Co-founder of Big Life with Richard Bonham is the world famous photographer Nick Brandt. After spending years photographing wildlife in Kenya, Brandt was struck by a change of behavior in the wildlife, due to the poaching crisis. He saw firsthand how poaching and human-animal conflict were the basis of dwindling wildlife.
In 2010 Brandt raised a large sum of money and looked for the best place to help. At the advice of Cynthia Moss of the Amboseli Trust for Elephants, he partnered with Bonham. They changed the name of his organization from Maasailand Preservation Trust to Big Life Foundation. This allowed the organization to greatly expand its scope and hire a lot more local people. Nick is a big part of the story of the growth of Big Life.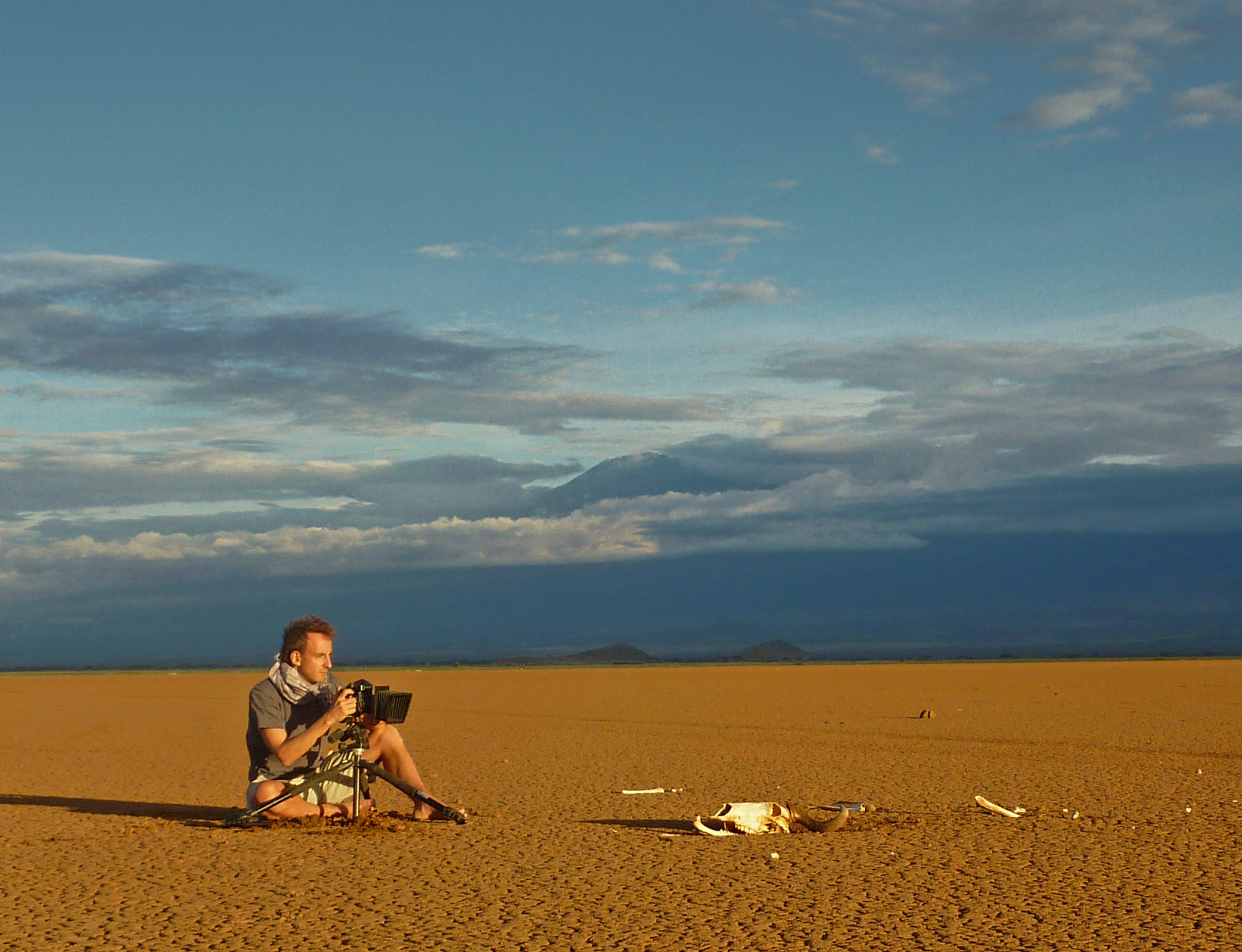 Brandt believes the only future for conservation of animals in the wild is working closely with the local communities. He sees Big Life's vast community network as one of the main reasons why rangers apprehend poachers. Number of poachers and habitat destroyers arrested in Big Life area: over 2,000.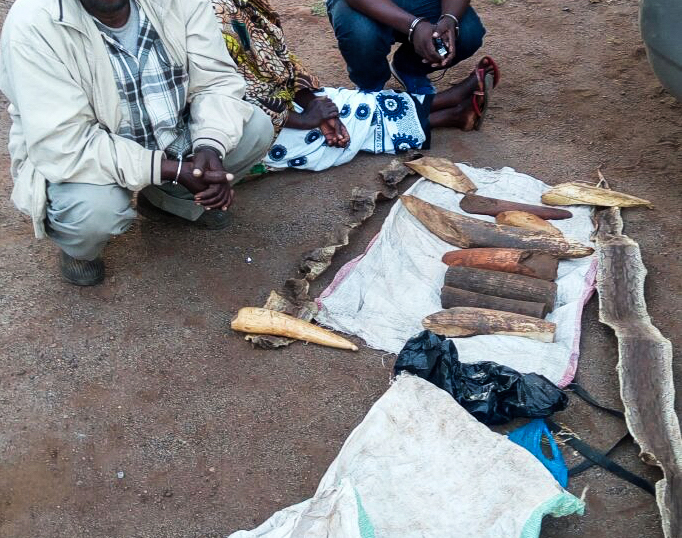 "On the poacher grapevine, it is now known that you run a big risk of being arrested if you attempt to kill in the Big Life protected area." Brandt's haunting and beautiful works are featured and for sale on the Big Life Foundation website. Some are featured exclusively to support Big Life programs.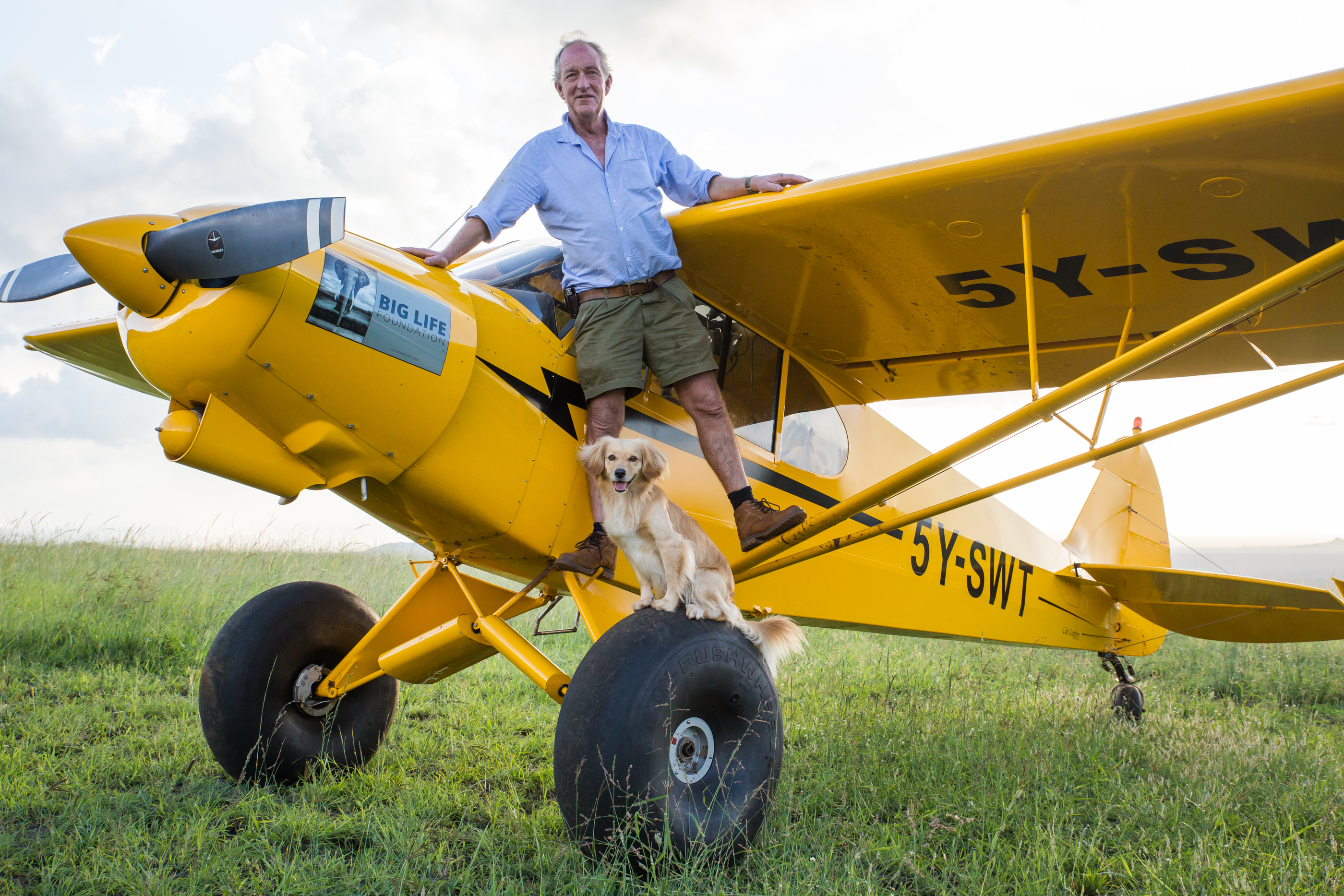 Certainly, the vast expansion and success of Big Life are also due to the creative, irrepressible character of Bonham himself. He has gone out of his way to hire reformed poachers. When a local poacher is caught and he is willing to inform on other poachers, Richard takes a chance on him.  He gives him a job, and then that former poacher becomes a valuable part of the tracking, the eyes and ears protecting the animals.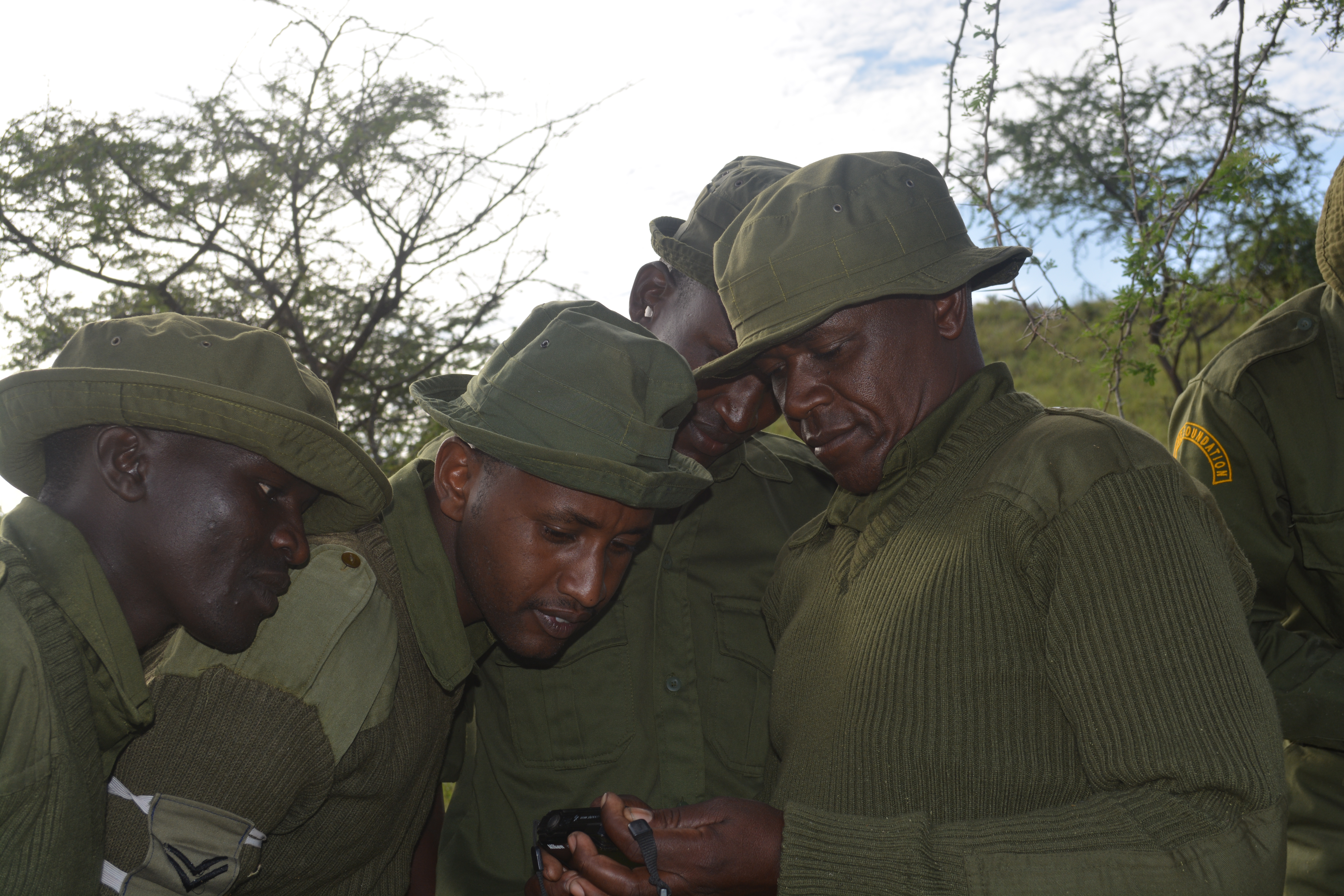 We were lucky to meet the rhino rangers—those whose mission it is to track the seven endangered black rhinos twice a day. We went tracking with them in the morning through the tall grasses to spots where the rhinos traditionally wallow. When it's wet they take a mud bath, but even when it's drier, they tend to rub themselves in the same area in the dirt.
Hidden cameras are set up on trees and they are checked to see if there was any activity by rhinos or people. One of the most knowledgeable and effective rangers is ex-poacher. Muthoka was offered a way to redeem himself  by Bonham.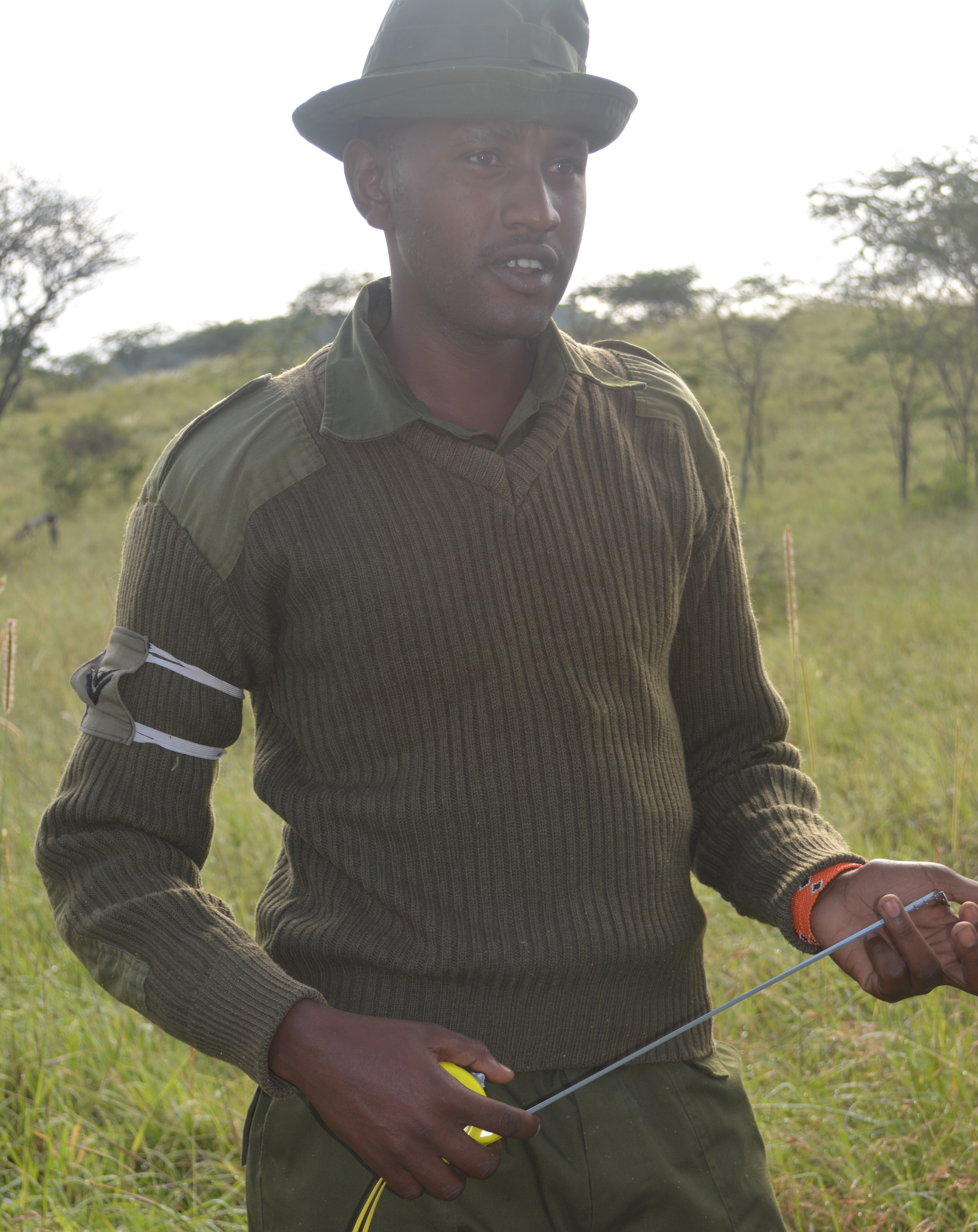 The rhino tracking system has been working so well that the Kenya Wildlife Service is now considering transporting some other rhino who are in overcapacity situations into the area so they will be more protected.
A very effective and enthusiastic canine corps is a big part of the team. Dogs who love to track are well trained for service.
Their trainer Mutinda used to be a notorious poacher who seemed to always outwit the authorities. After that happened a few times, Bonham decided to see if he could meet and possibly recruit him. After reaching out to him more than once,th ey finally met at a bar and over many drinks and extended conversation, Richard was able to convince Mutinda to join him in anti-poaching service for steady and rewarding work. He has been a great contributor with his skills in the field and his abilities with the dogs.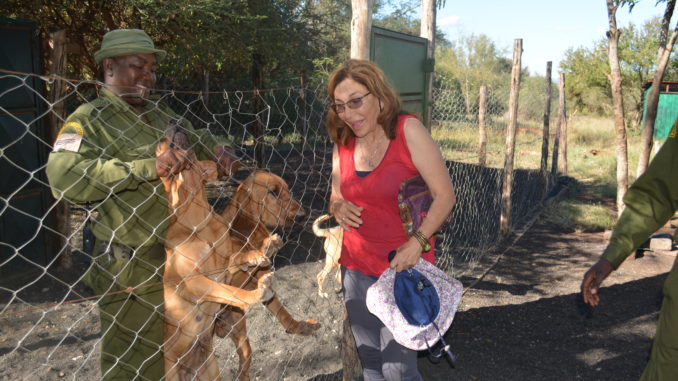 Even though the Kenya Wildlife Service's job is to protect the wildlife, due to politics and changing attitudes in the government departments, they are sometimes left with trucks that need new tires and do not have enough money for the petrol. It is then that NGO's like Big Life Foundation and David Sheldrick Wildlife Trust step in and give them petrol and other resources,  they need to carry out their jobs. These partnerships strengthen the network of protectors and increase the trust and effectiveness for all. They are a role model for inter agency cooperation can work.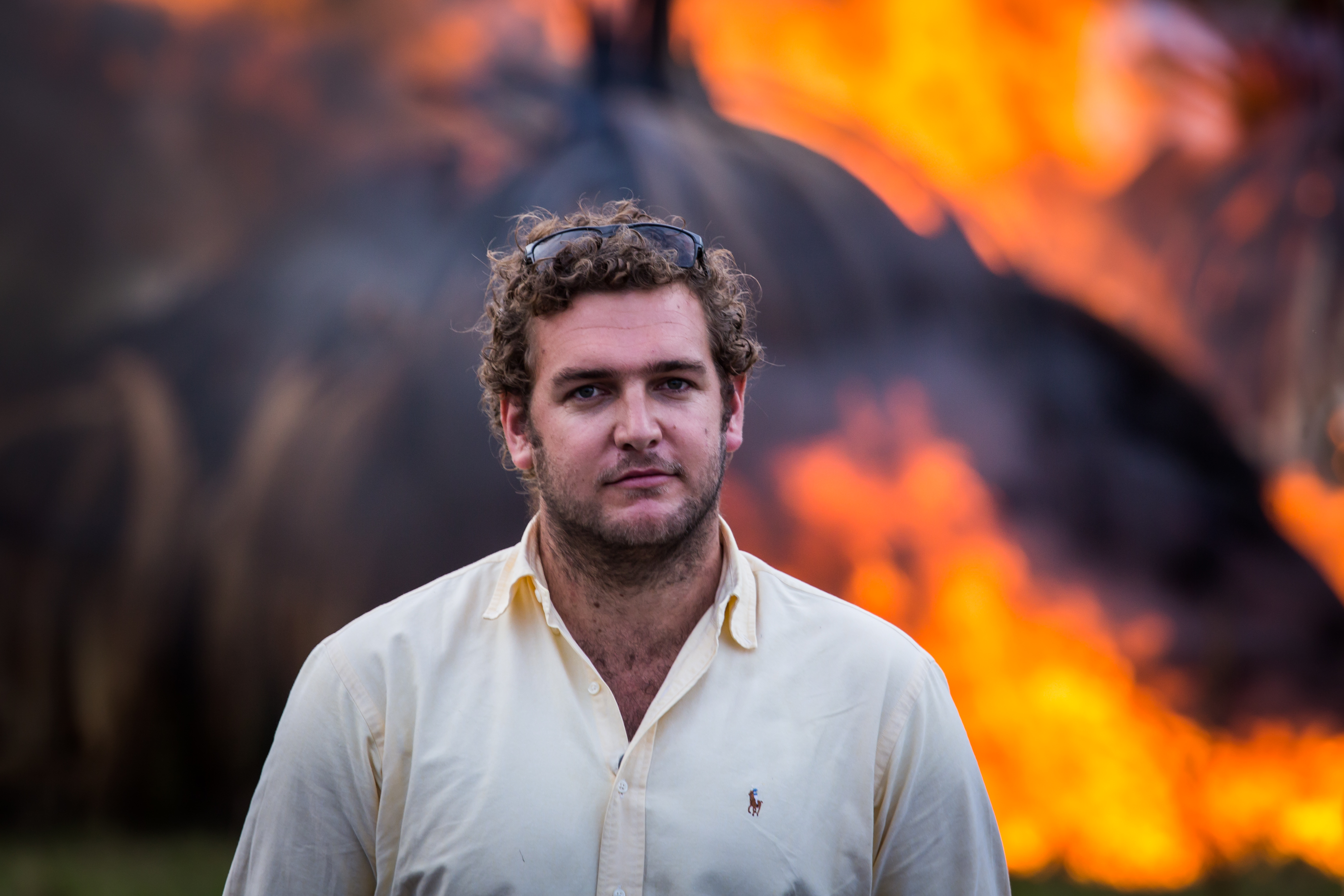 Big Life leaders  participate and contribute to other like-minded projects. In Kenya, more than 100 tons of ivory were set ablaze in April, 2016. President Kenyatta, who was joined by other African leaders and officials,  as well as conservation leaders, demanded a total ban on the ivory trade to protect the future of wild elephants on the continent. Although painful to elephant activists and lovers, Millar said, "ivory burn was a statement, indicative of Kenya's stance on the illegal trade of ivory and how all stakeholders share the same stance- ivory without elephants is worthless."
In the recent thrilling documentary, Ivory Game,filmmakers went underground for 16 months to infiltrate and document global ivory trafficking. Big Life's  Millar  as well as Bonham himself, were well featured in the story. Millar is shown flying over bushes and thickets searching for elephants and poachers. You can see the sadness, pain, and motivation on his face when struck with the hard facts of more killing. He feels the film is having and will continue to have an impact.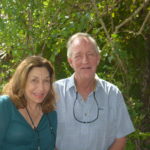 When compared to  government agencies in the world and even NGOs, and their difficulties moving forward with programs for good, Big Life Foundation far exceeds most. All that Bonham and Big Life are accomplishing and the methods they employ, seem like a utopian dream. It reminds me of the philosophical giant Plato and his dream for society — where he envisioned the leaders themselves as noble philosophers.
Having visited and seen the progress over a period of five years, I can only share what I perceive to be true, and hope that other like-minded people and organizations will take notice, and gather both inspiration and know-how from this wonderful organization.
Georja Umano is a journalist, actor and animal advocate.  All photos are taken by Georja Umano if not otherwise credited.
With special thanks to Nikki Best and everyone at Big Life who helped me to compile this article.
Please see Part I of this article
for more info on the Big Life Foundation please see:
https://biglife.org