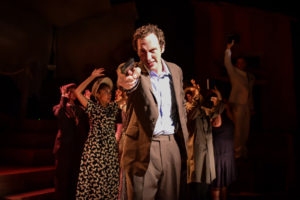 Kokandy Productions presents the Chicago premiere of Bonnie & Clyde, a musical depicting the lives of America's most infamous outlaw couple, Bonnie Parker and Clyde Barrow. Directed by Spencer Neiman, this Depression-era tale with a contemporary score is an electrifying look at the un-romanticized reality of the couple's criminal career. At times filled with an adrenaline-fueled excitement that Bonnie believes is the only way to truly live and at times riddled with obstacles and hardships, the lives of Bonnie and Clyde are given complex, honest, and largely historically accurate treatment in this fun, heartfelt rock musical, performed by a stellar group of actors.
Born into poverty during the Great Depression, Bonnie Parker and Clyde Barrow dream of bigger and better lives than the urban slum of West Dallas can offer them. The two dream of fame and fortune, with Bonnie longing for the silver screen and Clyde for the glamorous life of an outlaw a la Al Capone or Billy the Kid. Clyde gets his wish when Bonnie helps him break out of prison, sending them on the run and kicking off a two-year crime spree that ultimately ends in the couple's violent deaths at the hands of law enforcement.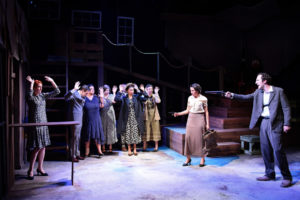 The play opens with a bang, both the literal bang of gunshots and the metaphorical vocal bang of performers Tia L. Pinson and Jeff Pierpoint, who play Young Bonnie and Young Clyde respectively. The two actors' youthful energy and powerful voices made me wish that they had more stage time. However, there is no disappointment to be had when Desiree Gonzalez and Max DeTogne take over as the adult Bonnie and Clyde; Gonzalez has a killer set of pipes and a nuanced vulnerability that make her utterly charming, and DeTogne successfully embodies both the charisma and the rage that drive Barrow's life of crime. The pair also bear a striking resemblance to the historical Bonnie and Clyde.
Other notable performers include Missy Wise as Barrow's sister-in-law Blanche, whose sweet soprano and well-developed sense of sass combine to makes this foil character endearing and sympathetic, and Cisco Lopez, who captures Buck Barrow's conflicting emotions about his brother Clyde's criminal lifestyle with a believable grace. The musical's score is perhaps its strongest feature, with driving rock music fueling the story's action and adventure and lovely, moving ballads forming its heart. It's the sort of musical that makes you hope three numbers in that a cast recording exists somewhere (it does).
The two least interesting characters onstage are the Preacher, whose spiritual optimism provides an interesting contrast to the harsh realities of the Depression but whose music is less interesting and goes on entirely too long, and Ted, a police officer who is in love with Bonnie and believes he can "save" her from her criminal ways. His lamentations about his unrequited love are dull and unsympathetic and frankly smack of misogyny. His presence is irritating and adds nothing to the story (that is not to bad-mouth actor Patrick Tierney, who is plenty talented in spite of his character's complete unlikability).
If the production itself has a flaw, it is largely in the staging. In a relatively intimate black box space, juggling as many locations as Bonnie & Clyde features is certainly a challenge, but much of director Spencer Neiman's blocking falls flat; there is certainly room for more creative choices, even in a small space. Choreography by Aubrey Adams, whose work on BoHo Theatre's Urinetown blew me away with its creative use of a small space, feels uninspired as well, although admittedly Bonnie & Clyde is hardly a dance-heavy show, so this shortcoming affects the quality of the show less than it might have.
Bonnie & Clyde takes a serious look at the complicated lives of two of America's most famous outlaws and at the era that allowed their criminal activities and public notoriety to flourish. Kokandy Productions brings this excellent new musical to colorful life with an extraordinarily talented cast; this show comes highly recommended.
Ticket Information
Location: Theater Wit, 1229 W. Belmont Ave. in Chicago
Dates: Sunday, September 3 – Sunday, October 15, 2017
Curtain Times: Thursdays, Fridays & Saturdays at 8 pm; Sundays at 3 pm.
Please note: there will be added matinee performances on Saturday, September 30 at 3 pm, Saturday, October 7 at 3 pm and Saturday, October 14 at 3 pm.
Tickets: $33 – $38. Tickets are currently available at the Kokandy Productions website, by calling (773) 975-8150, or in person at the Theater Wit Box Office.
All photos by Evan Hanover.