The Producers Guild of America (PGA) concluded its final day of the 9th Annual Produced By Conference for 2017 at Twentieth Century Fox. Over 1000 people attended the conference which included six speaker sessions featuring the headlining panels Conversation With: Jordan Peele & Norman Lear and  a 360 Profile of Entertainment" with Shawn Levy, Dan Cohen and Dan Levine, the producers behind the Oscar®-nominated film Arrival, and Night At the Museum,   as well as the award-winning Netflix show "Strangers Things."   This later seminar was moderated by Pete Hammond, the awards editor and columnist of Deadline.
Technology has changed greatly since the beginning of the movies. Now producers must be concerned with on-set color management, multiple flavors of high dynamic range deliverables and new advances in digital technology during principal photography and post-production. The panelists spoke of various challenges that producers face on a daily basis as well as some of the best practices for integrating these new ways to benefit their projects.  So those who gathered in the Little Theatre learned about how to turn digital work into creative opportunities.
Sponsored by ARRI and Technicolor the seminar Turning Digital Disruption Into Creative Opportunities was moderated by Carolyn Giardina Technical Editor of  The Hollywood Reporter.  The panelists included Ian Bryce -Principal -Ian Bryce Productions (Transformers/ Saving Private Ryan) ; Bob Eicholtz – CTO Technicolor Production Services, Glenn Kennel – Pres and CEO ARRI Inc, Lori McCreary, President of the Producers Guild and known for Invictus, and Madam Secretary;  as well as Daryn Okada , director of photography for  Mean Girls and Scandal.
Contrary to popular belief I found out that back-end revenue participation is not a myth.  Unfortunately, the obscurity of the studio and company accounting practices discourages producers from making legitimate claims to their share of the revenues.  The session Show Me The Money: Minimizing Value From Producer Share Participation provided participants with valuable lessons on how to maximize value from your producer share participation arrangement.
Compromising a virtual "dream team" of producer representatives  this panel consisting of  Neville L. Johnson a profit participation litigator from Johnson &Johnson  LLP; Chris Moore, principal  of The Media Farm and known for Manchester By The Sea; Sabrina K Robinson  CPA, a founding partner at Robinson Granatt LLP  and moderated by Entertainment Attorney Dinah Perez, Esq., they covered everything from the creation of the producer share agreements to exercising  audit rights and recoveries, to the possibility of litigation, and finally the potential  for monetizing future earrings.  Many of us just want to do the creative work but we need to be aware of the business side of things, as well. So this session was a must for any producer to understand.
Another skill that every producer must have is being able to pitch their projects.  It's the pitch that is critical and opens the door to sell your product and encourage others to read.  No matter how good the material is, unless it is an IP (intellectual property) – a book or script that is already well known – a poor pitch will kill even the best of ideas.  (An IP without a following is still difficult to sell.)
Often you have only one chance to do that all important presentation and pitching for TV is very different than pitching for film.  So those gathered in the Zanuck Theatre on Sunday at 9:30 am were able to experience pitching and perhaps improving their own pitches in The Art and Craft of Pitching for Film & Television.   
With critiques from well known panelist producers as  DeVon Franklin  who manages to balance his spiritual side with his production talents and is known for  Miracles From Heaven and  The Star –an animated retelling of the nativity from the POV of the animals, as well as books as Produced By Faith, The Wait, and the forthcoming Hollywood Commandments ; Sarah Schechter , president of film and TV for the Berlanti Productions and known for Arrow, The Flash, and Supergirl;  Gloria Calderon Kellett known for  One  Day At A Time, How I Met Your Mother; and Marshall Herskovitz, partner of  Bedford Falls Company and known for The Last Samurai, as well as  'thirtysomething " several brave audience members had the rare chance to receive comments and improve their pitches.
In other seminars the audience gleaned tidbits of knowledge as Damien Chazelle,  director of the Oscar winning Whiplash, discussed the nature of the director/producer collaboration with  John Wells, known for  Shameless and  The West Wing.
They also learned from Oprah Winfrey originator of OWN and Harpo films and know for The Immortal Life of Henrietta Lacks); Ava Duvernay  soon to be directing A Wrinkle in Time, as well as writer/director/producer of Queen Sugar) and Bruce Cohen  known for American Beauty who discussed the nature of creative partnership as executive producers for their OWN television show Queen Sugar as well as their approach to leadership on the set and within the industry.
Another packed seminar sponsored by VER Jordan Peele of Monkey Paw Productions, known for his successful debut film Get Out talked with Norman Lear, the CEO of Act III Productions known for  One Day At A Time about the many roles he played as writer, director and producer and the challenges and opportunities that face producers today which has varied greatly since the introduction of streaming, many other cable channels, and the popularity of web shows.
These days documentaries, especially if done right, as well as other types of nonfiction, alternative programming, and limited series have become more and more popular.  So those in the Newman Theatre received the low down about how to deal with the unpredictable marketplace of documentary and nonfiction content.  What we learned was that engaging the audience required a serial storytelling style and interesting characters or POV.  (Yes, even for nonfiction.)
Moderated by Bert Marcus, CEO of Bert Marcus Productions, know for Champs introduced the panel which featured David Glasser who is the COO and president of The Weinstein Company  known for Time: The Kalief Browder Story and Six; Jason Goldberg – COO of Digital and New Media Group/Alternative Content of STX Entertainment; Laura Ricciardi, Executive Producer /Creator along with Moria Demos  who are co-founders of Synthesis Films LLC known for Making A Murderer; and Angus Wall  who is principal of Rock Paper Scissors Entertainment and known for Netflix's Five Came Back.
We listened as the panelist shared their stories and tips for the filmmakers and learned the type of material which supports the long-form treatment as well as how talent is assembled and financial resources found for these shows – one excellent example is OJ: Made in America.
Animation has gained more respect than ever before and it is no longer for children alone.  Many have subtext messages for the adult viewers, as well.  A great example would be the forthcoming  The Star to be shortly released by DeVon Franklin and featuring famous "camels" as Oprah Winfrey and Tyler Perry.  It seemed apropos that Little Theatre was home for this topic that detailed how animation has progressed from major studios to indie filmmakers.   Attendees were shown with a case study how a short as The Dam Keeper could be developed into a feature, what business opportunities were available for the independent animation filmmaker.
Sponsored by Box, which brought 70 animators together for The Dam Keeper, the panel was moderated by Jade McQueen, the managing director of Media & Entertainment for Box.  Panelists included Robert Kondo, one the founders of Tonko House known for Ratatouille" and Toy Story 3; Daisuke Dice Tsutsumi , also a founder of Tonko House; and Vanessa Morrison,  now president of 20th Century Fox Animation.
This summer has been a terrible one for the movies.  Many people are tired of the endless half-baked sequels, remakes, and souless movies written by committee merely to sell merchandise.  In fact many of the studios are concentrating on super hero huge budget stories that already have large followings.  Even those, with the exception of Wonder Woman, are not as successful as they would hope.
Therefore one of the seminars I really enjoyed dealt with How the Networks and Studio Heads Transformed Television.  Sponsored by Pinewood Atlanta Studios, a new studio outside Atlanta, Georgia. This is the second largest studio in the United States with eight separate stages and has the ability to film a superhero movie.  The panelists included  Jeffrey Hirsch the COO Starz, Pearlena Igbokwe, president of Universal Television, David Madden, currently entertainment president at Fox Broadcasting Company but soon to head AMC's programming division.  Moderated by Tracey Edmonds, former co-host of Extra, she is the CEO of Edmonds Entertainment and known for Jumping The Broom and With This Ring, the seminar discussed many issues of importance to writers and producers.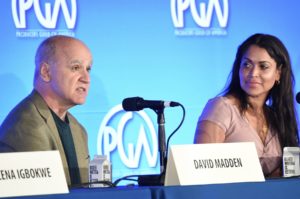 "Programming a network has become a precarious job with many viewers migrating to the various online platforms," David Madden said.  "Productions have become more complex with broadcasts especially since more networks are streaming –you must understand the brand of the network you're pitching to."  It's estimated that there are over 400 original shows on various platforms now.
Jeffrey Hirsch, from Starz agreed, "Technology has changed things and is constantly evolving.  The broadcasting world is much different than they were five or ten years before. For instance streaming like Netflix can be seen and consumed anywhere – TV sets, computers and iPads and phones.    More and more kids watch TV on telephones.  We want the consumer to be able to see our programs where and when they want to.
"TV is better than ever but there is more competition than before with so many options open. There's not only the usual networks but many cable stations -both basic and specialized, as well as stations like Netfilx, Amazon and Hulu that not only stream but do original programs.  Web and social media platforms like You Tube and Facebook are also experimenting with content, too. "It's important to know what the audience needs and is looking for.  The millennial audience wants different things than before and assumptions can't be made. "
"That's one of the reasons that Fox had added more diversity in its programs since the world is a diverse place," David Madden says.  "Empire is an example of how content has changed.  They want stories, writers, directors, and showrunners who can that explore different cultures and points of view which can appeal to a wider audience – LGBT, transgender, older audience and others.
Pearlena Igbokwe who is responsible for many different types of programs has to decide where she thinks the best platform is for the show and goes not only to the traditional networks and cable stations but to many of the streaming studios, as well.  "It's hard to know where you show will land. Often I am wrong since the networks define their audience demographics differently than what I think they might be.  So much depends on the completed project because our take might not be what the broadcaster might.  I just put out the best show that I can."  Currently, she is balancing  28 shows.
Because there are so many new places looking for material it is easier to break in and the gate level for many platforms are lower than before.  However, Pearlena believes that the writers and producers should concentrate on creating their content, but that they should also know their own voice and find distribution so that they can focus on what is needed.   "A lot of networks are looking at trends. We are concocting our own stories and shows."  As are Fox, and Starz, the latter is bringing Gypsy with Naomi Watts to Netflix.
Understanding the audience – ages and points of view – you are aiming for is the crucial part of a decision in writing and producing.  Because of the need to assure an audience interest in IP (intellectual properties that already have a set audience) are more popular than before.   It's also important to understand the brand of the broadcaster and the shows they like.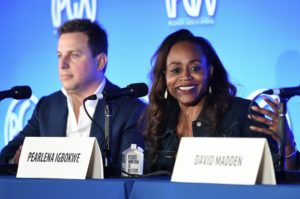 David warns it is important to have an awareness of the shows that are currently out there.  "I get swamped with piles of books and manuscripts every season.  A lot of people think they can come into television and film easily and do not know the needed process of bringing books into broadcasting.  Both TV and film have different routes that need to be followed.  The bedrock question is "Is this a good show and what makes it a good show? Will the audience follow it?"
Jeffrey gave the example of Outlander – a historical time travel hit which, as a successful book series, already had devoted fans.  When they had to take a recess for filming the next season they knew they had to keep their audience hooked and ready for the new season. So they placed another historical drama, The White Princess, in the same spot and were rewarded with the response.
Now that they are merged with Lionsgate, Starz hopes to increase their television offerings and have seven shows in development at the moment.  He looks for global distribution possibilities and with Lionsgate behind them can now bring deals in that could not have been done before.
Fox considers themselves a character-based network.  David notes a deeper level of serialization even in standalone shows. "You have threads that go deeper with characters than before.  Even the so-called bad characters need their own journey and must be described in your story.  The emotional aspect is the most important part of a story.  What is the heart of the characters?  Who are they and why should we watch their story?
"Even a comedy can have an impact on the people who watch, but viewers are more likely to latch onto stories that they can relate to, that capture the experiences of characters they can understand."  For that reason Fox has even begun to do shows with the perspective of various characters.  Great programs that help the viewer feel good decrease the turning of the channels, but shows have to be unique to gain the advantage and loyal following.
One participant asked if they were doing more limited series.  Response from the three executives were that limited can be difficult to sell since often these programs since expenses can be amortized over several seasons.  It's easier to consider a limited series if they feel there is an opening for a second season.  Or can it be placed on more than one platform simultaneously.  The network often wants to know if there are 100 different episodes for your TV project or if it can be franchised – ala Chicago Med, Chicago PD, and Chicago Fire.  Are there on going story lines?
Foreign potential, Jeffrey said, can positively affect the acceptance of a show, as well.  But the global viewers like different things than our domestic audiences.  Programs that address issues in American history as Underground or Roots will be more difficult to sell overseas.   Comedy, too, is specialized here.  What we think is funny is often not humorous there.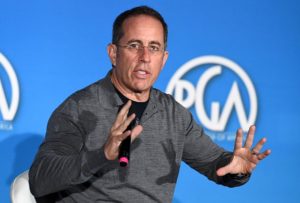 Another question that came up – as you might expect – was about pitching and attachments.  Attachments are not needed Jeffery says and the others agreed.  "In fact," Pearlena says, "they can be a detriment if we don't like who you have attached."  Most successful actors are not known overseas.
"What's most important," David says, "is that the writing be good and that we have faith in the story.  Don't try to chase a show-runner or an actor.  We want to work with the writer who has ideas. We want to know where you are writing. Think about the world likes to read and make the characters and stories universal. Get us involved.  It all depends on the writing and the style."
Listen to the market place, consumers and social media as what is being wanted.   The market changes frequently and the astute writer must pay attention to what is popular and what is of interest to the age level they are aiming at.  Listen to them, don't talk at them.  Connect with the consumer.  Jeffrey, himself, constantly studies the teen and young adult magazines.
As far as the pitch they all agreed that capturing the emotions and making the characters universal was the most important.   Jeffrey believes if there is an intense serialized subplot that drives the characters than there will be more audience interest in successive seasons as the show goes forward.
"While procedurals might have a different frame work because each episode is somewhat fresh and different, you still have to work with the same engine and get into the character's world and emotions.  Describe strong characters.  Understand what comes before, their backstory, flaws, and desires.  The key is the character whom we'll watch week after week.  It's that what sells me and not the plot.  We want the program to be story driven and not premise driven."  He also warns pitchers to pay attention to the time and if the executive is getting bored or not.  Again, it is a matter of getting the listener involved as you pitch.
Pearlena wants to know how many seasons you have detailed out with your engine and then to see the broad strokes for the first season.  She wants to concentrate on the characters challenges, obstacles, and journeys as well as how they will change and develop in each season.
She considers herself as an enabler for the writer/producer and to help them develop their series.
All three want to help writers/producers bring out the best in their series.  And yes, all three need you to be professionally represented by an agent, manager or attorney that they trust before you can submit material to them.
Variety sponsored the seminar Putting Together Your Indie Film Dream Team in which they taught producers on how to assemble the right team to finance, sell and distribute their film and how to best get their project off the ground.   Moderated by Ted Mundorff,  CEO Landmark Theatres, he was joined by Eric d'Arbeloff, Co-President and Co-Founder of Roadside Attractions, Deborah McIntosh a WME Global agent;  Tom Quinn – Founder & CEO  of NEON – a new distribution company; Hal Sadoff, the CEO Silver Pictures Entertainment, responsible for The Nice Guys and Hotel Rwanda.
Virtual Reality is another area that is starting to sprout and another that new producers should consider.  Five Things Every Producer Needs to Know About Virtual Reality was sponsored by The Wrap.  Questions like – Is VR here to stay?  Who's watching? Is it getting easier to watch?   Who is making the money and how?  And what about  AR – Augmented Reality?   Panelists included Phil Lelyveld from the Entertainment Technology Center, USC School of Cinema Arts; Steve Lukas, the CEO Across Realities, Frank Patterson, the president Pinewood Atlanta Studios, and Malia Probst, the director for brand development at VRScout.  The session was moderated by John Channing, chairman of the new media council at for the Producers Guild of America and vice-president at NBC Entertainment Interactive Experiences. 
The second day of the conference also marked the inaugural year of the "Producers Mashup," which gave over 600 attendees the opportunity to network and ask questions of the industry's leading producers and executives such as Karen Bailey, Mark Johnson, Lucy Fisher, Justin Falvey, Courtney A. Kemp, Jonathan  Murray, and Chris Thomes.
The event was chaired by PGA members Ian Bryce, Tracey Edmonds, Marshall Herskovitz, and Rachel Klein. The team included supervising producer Barry Kaplan (EKG, Inc.), Program Director Madelyn Hammond (Madelyn Hammond & Associates); sponsorship director Diane Salerno (Six Degrees Global), and marketing consultant of Createasphere Kristin Petrovich.
Among the official sponsors of the event besides Twentieth Century Fox included AMC Networks, ARRI, Final Draft, Box, BEN, Branded Entertainment Network, CinecittaÌ Studios,, Entertainment Partners, PRG, Panasonic , Wanda studios, Microsoft, Coca-Cola, Freixenet Cava, Hub Entertainment Insurance, Johnson &Johnson LLP, PRG, Production Resource Group; Panasonic; Produce Iowa, Proximo Spirits;  Robinson Granatt LLP,  The Molecule, Technicolor, VER, US Virgin Island Film Office, as well as Kind, Arizona tea, Film Florida, Film Illinois, Honolulu Film office, Montana Film, Green Slate, , Mobo,  Krispy Kreme, Massachusetts Film office, Three Olive Vodka, Jose Cuero, Heineken Beer, Air Hollywood, Viceland TV,  Tin Cup, Smart Source Computer, Sag/Indie, Delta  Air,  Siggi's Yogurt, Amenetus and of course the PGA
The 2017 Produced By Conference was made possible by The PGA Foundation, The Producers Guild of America's charitable entity.  The Produced By conferences are the cornerstone events that epitomize the Foundation's core mission, to educate and inspire those working in the producing profession.