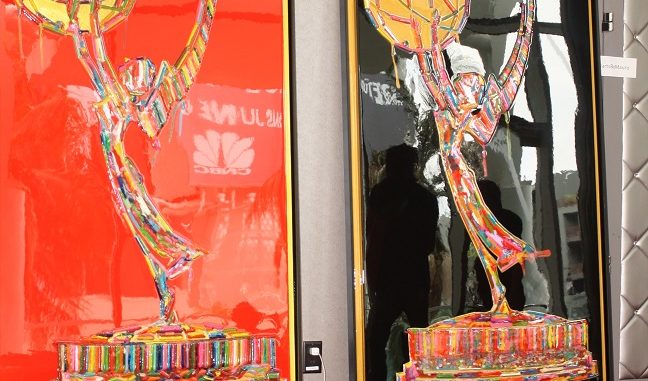 WOW! Creations Turns it up a notch for the 2017 Emmy's Gifting Suite hosted by the charming Harris Brothers, making Celebrities and all who came out feel their best! They always bring the goodies out any woman or man would love to experience. The event was held in a private room at the luxurious Modern Hotel the W in Hollywood, CA. I was greeted at the Great Room by two lovely host that checked me in and gave me gifts as I entered. There was beautiful art work displayed of images of the Emmy Statue. After taking a few photos, celebrities and journalist visited each company that was there to showcase their products. I discovered really good products that are sure to make people try them a million times over.
The products that were on display at the Wow Creations Gifting Suite are completely accessible either online, amazon.com or in your local grocery store. The special gifts ranged from Japanese skincare to bacon jerky and lets not forget the Gluten Free Vodka.
For more information, visit: Soaps by Sheryl
Mama Taylors Treats – The Best Fudge you ever tasted
The lovely owner  Amberlee Taylor out of Chino Hills, CA gave me the taste of my life! These homemade fudges are incredible and come in 4 difference flavors. Mama Taylor Says "I first started making fudge as a hobby, but when friends and family couldn't get enough of my scrumptious homemade sweets, I was inspired to take my pastime a step further. I started cooking, experimenting with recipes, and asking everyone I knew to be my taste testers. Finally, with enough encouragement and positive feedback, I felt confident enough to open my own bakery in 2016. My distinctly flavorful desserts are made with quality ingredients, guaranteed to melt in your mouth and warm your heart. For more information, visit: Mama Taylor Treats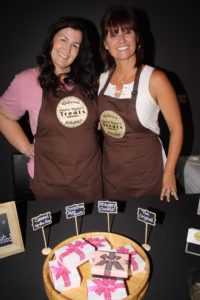 Akiko – To Change the Future of Skin
The wonderful people of Akiko are from Japan and they were promoting their latest skincare line Akiko HAS – B Series. The series of innovative aging care. It is derived by cutting edge stem cell technology. HAS awakens the skin's intrinsic vigor. B- glucan has supreme moisturizing effects, adding these two beauty components to every product leads to future skin derived from the past. For more information, visit: Akiko
Guests were also gifted Cigars by Nicholas J. This new cigar company is dedicated to providing quality cigars with it's two brands, The ALMA and The SEA.  The ALMA is a Connecticut wrapped mild flavored cigar and the The SEA is a maduro wrapped medium-full cigar. For more information, visit: Cigars by Nicholas J.
For more information, visit: Green Turtle Coffee
1907 NEW ZEALAND Artesian Water – Nature's Anecdote
I spoke with the lovely water curator from New Zealand Ms. Delyse Dunn. She gave me samples 8in flat ans sparkling which I found both to be refreshing and quenching. This water is bottled at sourced in New Zealand. They say "It starts with our ancient single-source aquifer, that has been refilled by snow-melt and rain for centuries. This renewable water source naturally rises to the surface under its own pressure, without the need for machinery or energy usage. Our bottles are BPA free, 100% recyclable and made from 100% recycled materials – stopping new plastic being added to the planet." For more information, visit 1907 New Zealand Artesian Water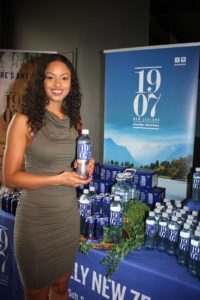 Jewel Straps – The Future of Bra Fashion
Owner Risa Green was there to promote her very unique brand of Bra Jewelry. I found her product to be very hip and stylish and would fit right in with today's pop culture. She has a large variety of design choices in bra straps that fit each personality and can match any additional jewelry that you may already have. Everything is adjustable and can be worn day or nighttime. For more information, visit: Jewel Straps
Strawberry Laser Lipo by Dr. Don Stokes – A New You
Dr. Don Stokes had one of the most cutting-edge products at the Wow! Creations Gifting Suite. His approach to losing a few pounds is not invasive and his product may just do the job! Body Contouring is really booming in today's beauty industry and Dr. Don Stokes may have one of the best products on the market. His product is designed to reduce pounds in 8 weeks by using Laser Body Contouring Sessions. For more information, visit: Dr Don Stokes Laser Lipo  
BREVENA – Skin Matters. Love Your Skin
Brevena skincare line is a wonderful luxury skincare line from Saint Paul, Minnesota. Its emollient moisturizer is what I tried and I must say it feel like butter. The creamy texture is lightweight and non-oily. While speaking to the marketing coordinator Rachael Bratager she mentioned that Brevena skincare was once used on burn victims to restore and repair the collagen in the skin and to help their skin recover from the worst damage. They believe that BREVENA skin care is for sensitive skin, normal and combination skin. Apply any of our moisturizers or balms and feel how soft and silky Macro B Complex leaves your skin. For more information, visit: Brevena
BANZAI JERKY! – Celebrate Life
One of my favorites of the day was Banzai Jerky! Not only are these some of the friendliest owners but their product blew me away. I like Beef Jerky but I LOVE Bacon Jerky. I've never tried bacon jerky until today and I was blown away at the taste. It was salty, sweet and crispy all in one. If you're a Bacon Lover then this will be one product you don't want to miss trying. The owner says that it can be enjoyed at any time of the day and can be used in your next omelet or in your next BLT sandwich. They also think it can be paired with your next craft beer or your next glass of wine. By far the best jerky I've ever tasted! For more information, visit: Banzai Jerky  
DOG BATH in a PACK – A Clean Dog is a Happy Dog
For all dog owner this product may be a lifesaver for you. I met the Co-inventor James Bahcall and he has such a great invention for busy dog owners on the go. The product is made and packaged in Illinois and sold online. The Dog Bath in a Pack, is an easy way to get your dog clean and fresh when soap and water are not available. Please check out this product and I could actually smell the cleaning agent inside of the package without it being opened. This little wet toilette sure packs in freshness right from the start. For more information, visit: Dog Bath in a Pack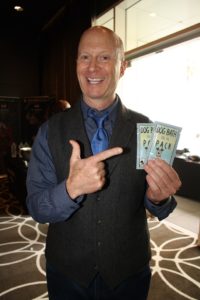 ETCHEY – Your one Stop Custom Shop
Etchey is a laser engraved company located in Orange, CA. The owner Jonathan Nikeli was there to show off his latest designs. They specialize in wood, glass, ceramic and acrylic engraving. This booth was by far the most unique and creative with all they displayed they can do, the products were at a very high quality and professionally finished. Each product I experienced was unique in its own way. Engraving is a rare and heartfelt way to express oneself and to give a gift as unique to any friend or family member would be remember for a long time.  Well Done Etchey! For more information, visit: Etchey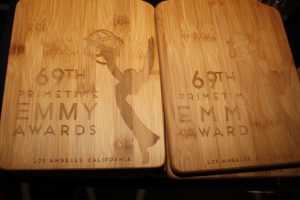 CENTRAL CALI CAREGIVERS – Specializing in rare and exotic extractions
Based in Visalia, CA Central Cali Caregivers is an alternative and holistic company. While medicinal medicine has made a name for itself all around the country, this young entrepreneur Bryan Ruiz has tapped into a very effective and lucrative business that is healing people around the country. Bryan Ruiz is President of this life changing company and he is so full of energy and drive his contagious personality is driving his business only one way and that's up to the top! He displayed a large variety of products at the WOW! Creations gifting suite and his table was one of the busiest that day.  His most popular product is the Medicated Eye Drops called Optimal Rush.
The Eye Drops are used to enhance tired eyes and instantly gives visual clarity. He just won an Award for this unique and exceptional product at the High Times Cannabis Cup in Canada. Congratulations to this young entrepreneur. For more information, visit: Facebook at Central Cali Caregivers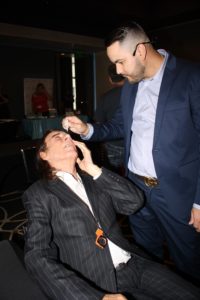 Legacy Entertainment – The Best Product Placement Agency
Legacy Entertainement was there with a few of their products that they place in Films, TV and editorial ads these products you may have seen before sometimes never know they are part of a company that places well-known brands and not so well-known brands to increase awareness of the product for consumers to consider.  They had on display a few great products that I enjoyed such as the Sun Ridge Farms Organic and Natural products, The Toluca Lake Tennis & Fitness Club, Radii Wear, Solsol, 8 greens, La Sirena, Milkadamia, Veggemo, Pans Mushroom Jerky. For more information, visit: Legacy Entertainment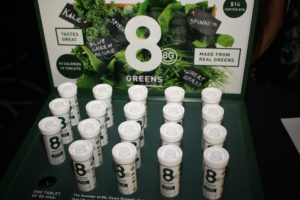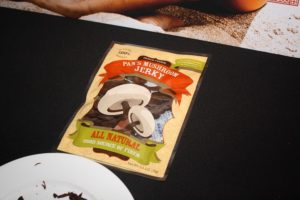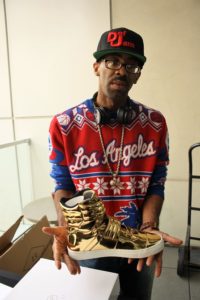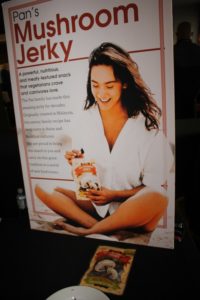 CrossWynn Cigars – A Great Smoke for every Occasion
You don't need to be a cigar smoker to know that this product is a premium cigar.  CrossWynn Cigar Company believes the single most important factor all cigar aficionados'' desire is consistent quality cigars. Our cigars are all handmade with tobacco leaves grown from Cuban seeds and constructed to exacting quality standards. For more information, visit: Crosswynn Cigars  
Global Vodka – The World First Ultra-Premium Organic Vodka
Many people flocked to this booth and it was for sure one of the most popular that day. Global Vodka was mixing up drinks filled with their premium vodka. I must say this vodka was so smooth and taste great mixed with cranberry. They have stated that their vodka has no additives and is gluten free which makes their product entirely organic. Global Vodka is 3 times distilled and 5 times filtered creating a smooth and refreshing taste.  For more information, visit: Global Vodka
Jackie's Cookies Babies – Great taste for everybody to enjoy
Jackie's Cookies babies are sold at your local grocery stores around the State of California and Arizona. You can also purchase these DELICIOUS cookies online at any time. Jackie's cookies come in 10 different variety and she has also successfully mastered the gluten free cookie. I believe these cookies would be great hit at any party and I wish I had more to sample because they were downright unbelievable! For more information, visit: Jackie's Cookies Babies
Guests were also gifted from: Mannies of LA and TL Tennis and Fitness
The Wow! Creations Public Relations is a boutique P.R. Firm owned by the Harris Brothers also known as the Kings of Swag can be contacted at:  Wow Creations Public Relations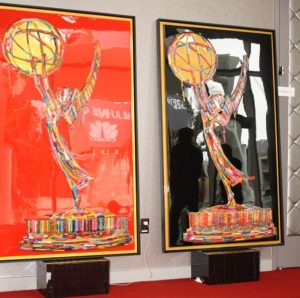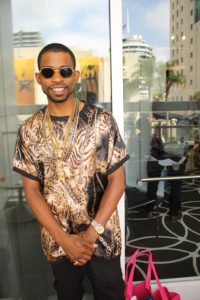 All images taken by courtesy of Donica Denene