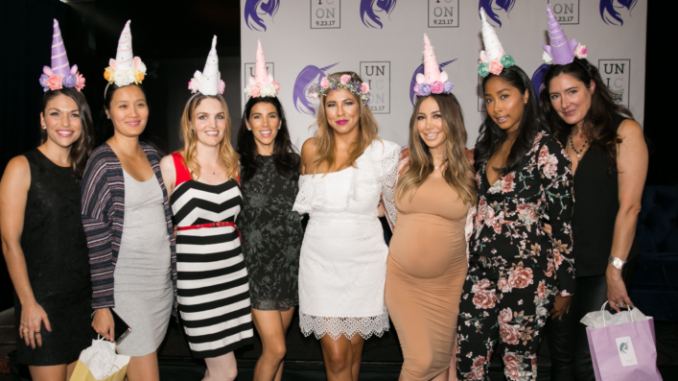 The first ever conference for 'Bad Moms' brought to you by Unicorn Moms. UniCon, empowers and encourages women to embrace their individuality as a mom. This non-judgmental supportive environment took place at the Sofitel Hotel in Los Angeles.
Unicorn Moms has one of the biggest national mom followings on Facebook. Unicorn Moms from all over the nation attended. Moms flew in from Florida, New York, Texas, and San Francisco. The day-long UniCon experience had an attendance of 300+ moms of all cultures, creed, and gender. Guests were presented educational lifestyle products, relationship support, entertainment, and time to meet one another during the UniCorn Market place, which hosted great brands such as Acme Elixirs, Fashion from Beautiful Disaster, Jewels from Emma J Company, toys by LELO, and Shoes by Shoedazzle.
The Beauty area of the UniCon Market Place was packed as moms learned how to get their best body back with  CRMC Laser, Juva Lips, Secret Hair Extensions, and more. Attendees enjoyed a renewed sense of themselves and a connection with other Unicorn Moms as they learned that they could connect in any city at any time with the newly released Unicorn Mom App.
Celeb Moms such as Christine Lakin, Adrianna Costa, Natalie Nunn, Apryl Jones, and Diana Madison inspired, encouraged and rejuvenated moms through discussions alongside other Top Notch panelists. Unicorn Moms learned how to handle being a mom in a digital era, how to be a mom entrepreneur, and how to keep your cool factor as a partner and parent. Wine, bites, flower crowns, and Hunky Santa's of Bad Moms Christmas the Movie were just some fun and relaxing activations at UniCon. Stay tuned for what these moms have in store as we take the world on by group storm.