(St. Petersburg, FL) September 23, 2017 – "Requiem for a Heavyweight." "The Great White Hope." "Somebody Up There Likes Me." "Rocky." "Million Dollar Baby." These classic films have one trait in common (besides boxing, of course): they all explore the strength of the human spirit. The heroes of these stories fight in order to survive, to succeed, to make their dreams come true, and to make a difference. The passions of these mythic warriors, and many others like them, come alive on the silver screen, the printed page, and especially on the stage.
In order to capture the purest sense of a boxer's heroic journey, the writer needs to distill the barest essentials of the character's courage and complexity, in addition to creating a unique narrative and style that sets that story apart from the others. Playwright and screenwriter Marco Ramirez ("Sons of Anarchy," Marvel's "The Daredevil" and "The Defenders") accomplishes this task with "The Royale," a story loosely based on the legendary story of how boxer Jack Johnson became the first African American world heavyweight champion. Since its debut four years ago, it has received critical praise in Los Angeles, Chicago, San Diego, London, and even Broadway. As it made its debut at the St. Petersburg-based American Stage, the standing ovation from the opening night audience is proof that this thought-provoking story will be a hit in the Tampa Bay area. Marco Ramirez's boxing drama delivers a powerful punch as American Stage begins its 2017-2018 season.
The play's setting takes place from 1905 to 1910. It is a part of the Jim Crow era, and Jay "The Sport" Jackson (Aygemang Clay) is proving himself to be the best boxer in the world. After facing racism throughout his life, he wants to prove to himself and his family that he can make a difference in breaking those racial barriers. It's been a challenging journey for the young man. After much adversity, he now has the opportunity to combat the former heavyweight champion of the world, a Caucasian, in what is advertised as "The Fight of the Century." But he is not facing this battle alone: he has his wise manager and mentor Wynton (Kim Sullivan), his business-savvy promoter Max (Richard B. Watson), and his sparring partner and friend, Fish (Rich Lowe). But as the championship bout comes closer, death threats loom in the air. And when his older sister Nina (Rokia Shearin) visits, he discovers that every dream comes with a price.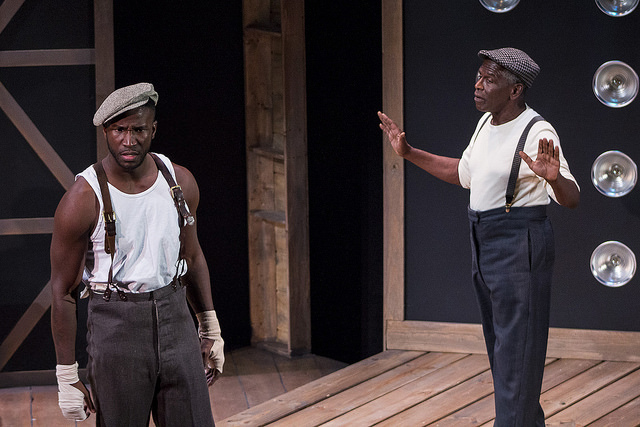 There has been an unhealthy trend in today's theatre where up-and-coming playwrights, and even some established artists, are shortening their plays and their dialogue—one to two sentences per character—to accommodate the ever-devolving attention spans of various audiences in the 21st century. This type of "theatrical texting" is damaging the spirit of theatre because these playwrights forget the lessons taught by Miller, Williams, O'Neil, Wilson and many others about the importance of long, patient, character-driven dialogue. These new playwrights are oftentimes indoctrinated by many drama schools that it is more important to keep the pace going with a lot of action rather than focusing on writing well-developed stories and characters. On a grander scale, people in society don't know how to communicate with each other anymore; they just want instant gratification in a text or a Facebook posting. This cultural disconnect is reflective not only in the poor quality of theatre, but also in the other arts that deal with the written word. And with "The Royale" clocking in at only 70 minutes, I was deeply concerned of witnessing yet another example of this damaging trend.
But that fear was thankfully unwarranted for playwright Ramirez deftly interweaves his tight dialogue in a special "call-and response" musical pattern that matches the rhythms of jazz. In fact, Nobel Prize winner author Toni Morrison utilized that same style in her critically-acclaimed literary masterpiece "Jazz." That pattern of dialogue in "The Royale" is enhanced by claps and foot stomps from not only the featured actors, but also a phenomenal chorus (Tato Castillo and Tarilabo Koripamo). During the "boxing scenes," Ramirez had the fighters face the audience, never at each other, and shadow box while speaking their internal thoughts out loud during every action. This musical pattern helps the audience disappear into the world Ramirez creates, thereby stretching the short run time into a fuller viewing experience. Rarely does a playwright pull that off, and Ramirez beautifully succeeds.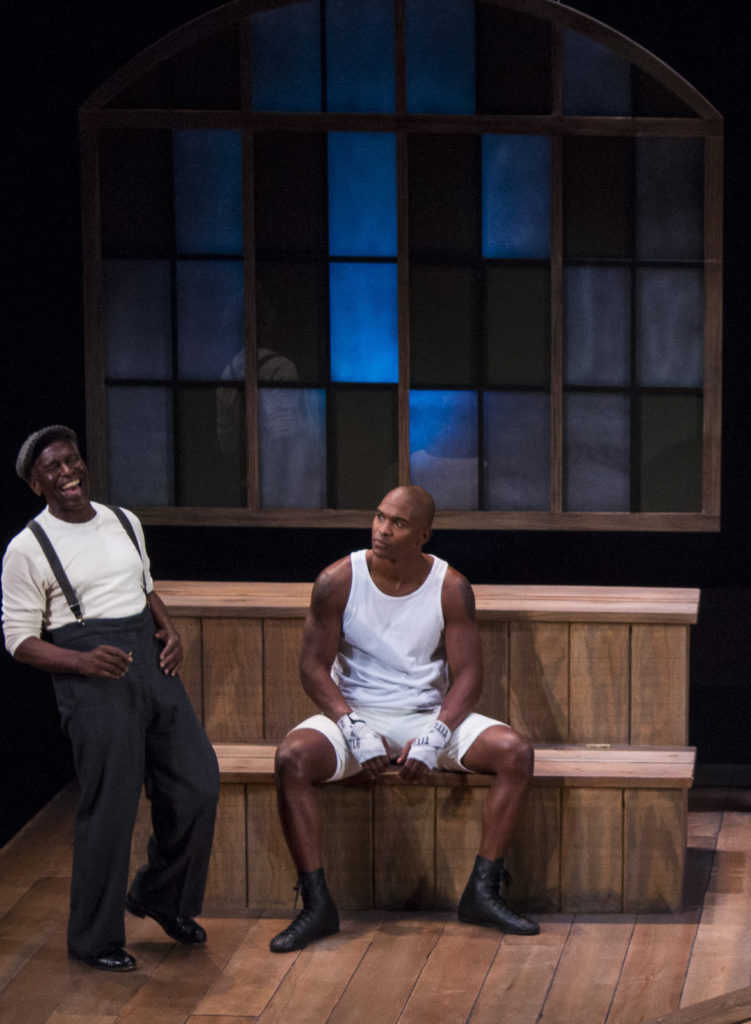 The production teams of "The Royale" show superior creativity in their scenic and lighting designs.  Scenic Designer Jerid Fox's stage is broken into three parts: the left and right wings symbolize locker rooms and the chorus bleachers, whereas the center segment represents the "boxing stage." Complimenting the set is Joseph P. Oshry's lighting design, specifically the bare light bulbs covering the upstage wall. Whenever one of the fighters gets hit, a certain number of lights go on, looking very much like a high striker game at a carnival. Carolina Esparza's movement and sound percussion choreography plays like a vibrant pulse, causing some audience members to tap their feet or clap along with the musical beat. And then there is Director Lisa Tricomi, the "theatrical conductor" of this creative ensemble, who deftly demonstrates her talents in the blocking, cues, and transitions as though the production was indeed a jazz concert.
If the production team of "The Royale" symbolizes the body and heartbeat of the production, then the acting serves as its soul. Clay's Jay combines a magnetic presence along with a performance that reveals his character one layer at a time, from determined courage to vulnerable empathy, especially during his scenes with Sherin, whose Nina exudes a powerful intensity, especially during Jay's final match, and to say anything more would spoil the ending of the play. He also shows a protective nature with Fish, and Lowe's loyal sensitivity as Jay's good friend is a wonderful addition to this production. Although confident, Clay doesn't cross that line into egotism or angry arrogance. For Jay, it's all about selfless passion, never selfish ambition. Although it is still the beginning of the 2017-2018 season for a majority of the Tampa theatres, Clay's performance is the best so far, and it will be very hard to "knock this champion out" by the time the season ends.
Rounding out the acting artistry are two national treasures in the Tampa Bay theatre scene. The chameleon-like Watson masterfully encapsulates the promoter Max, filling him with salesman-like bravado without going into caricature. It would have been easy to paint Max as a two-faced mouthpiece, but Watson portrayal is that of a businessman who is sympathetic to Jay's needs. And as one of the very few performers who has acted in all of August Wilson's Century Cycle plays, Sullivan's talent is always a sight to behold, and that can also be said of his Wynton, a fiery profane coach who also possesses a soft-spoken wisdom on life as a former boxer, especially a beautifully patient monologue (Pay heed, newcomer playwrights. It is acceptable to write monologues that last longer than three minutes!) that describes a "royale boxing match" he faced as a young man. It is so eloquently performed that Sullivan deserves an applause for this scene.
If "The Royale" is any indication of what American Stage's 2017/2018 season is going to be like, then audiences are in for a treat as this venue continues to enhance its status as one of the most well-renowned regional theatres in the country.
Peter A. Balaskas is a fiction writer, copyeditor, and playwright.
The Royale runs from September 20 – October 15, 2017
163 3rd St N.
St. Petersburg, FL 33701
Photos by Joey Clay Photography