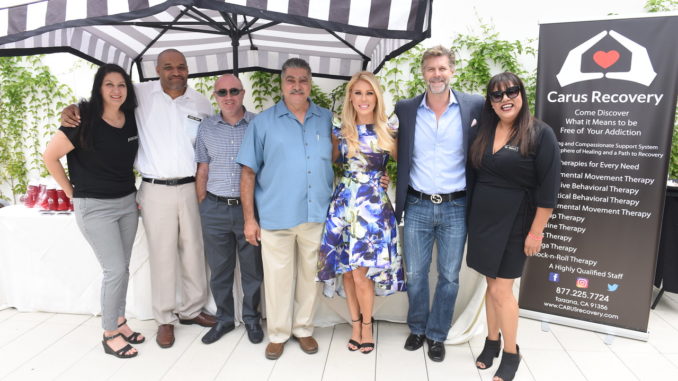 This past weekend celebrities and insiders ran wild as everyone prepped for the 69th Annual Primetime Emmy's! From parties, to campaign events there were events every moment leading up to the big day. Debbie Durkin produced her 11th Annual EcoLuxe Lounge in celebration of Emmy's at the Beverly Hilton Hotel's Wilshire Garden which served as the perfect oasis to escape the madness!
This year's event went to benefit Autism Changes, an organization that promotes awareness and acceptance for those living with Autism. Carus Recovery, a new recovery center located in Tarzana, serves as a nice hub for individuals to embark on their journey to wellness. Surrounded by greenery and nothing but positivity and zenful moments, Carus Recovery is in a league of its own.
Real Housewife, Gretchen Rossi spoke with Brooke Ann Smith, who is in Tyler Perry's "Too Close To Home" TV series on TLC. Check out the interview HERE!
Top celebs were gifted a luxury stay at Triumph Hotels NYC. Attendees were thrilled to receive luxury travelware by none other than Chariot Travelware. There were patterns for every individual.
Whether you like animals or funky patterns, or more simple yet elegant pieces, Chariot Travelware had it all.
Throughout the evening guests were able to munch on delicious cheesecakes by Chef Turok, Modern Oats, Anchor Toffee, and more.  The furry loves in your life will enjoy products from John Paul Pet!
Additional sponsors include: Liv and B Designs Artisan Jewelry, Up Yours ChinUp Mask, Milena Candles, and more.
Emmy nominees Kelsey Scott (Fear The Walking Dead) and Emmy winners Kim Estes (DICKS) winner of Outstanding Actor in a Short Form Comedy or Drama Series and Clark Germain for music (Mozart In The Jungle) were a few of the celebs in attendance. Other notable celebrities included: Tara Reid, French Stewart, Ross Maraquad, Patrick Sabonqui, Claudia Jordan, Clark German, Kim Estes, and more.
From travel destinations to spa treatments, the EcoLuxe Lounge had it all! Congratulations to the nominees and cheers to the winners of the Emmy's!