September was the National Childhood Cancer Awareness Month and Sweet Pea Gallery hosted the Casino Royale Gold Gala on Friday, September 29th at the W Hotel Ballroom in Austin, Texas. All proceeds benefitted the Jaquelyn Sky Foundation. The night was magical and transformed the W Hotel Ballroom into a fun casino night for the fundraiser. The audience was amazed at the exceptional and exquisite Gala and the decorations for the special night were glamorous like the most captivating casinos in the world. The tables kept the guests entertained and amused with blackjack, roulette, poker and more, just like a Las Vegas style experience. All guests received upon arrival 20,000 credits in chips so everyone at the party was a high roller.
The Casino Royale Gala also had a captivating live auction that ranged from a chauffeured trip to Fredericksburg to a gorgeous stay at the paradise "Villa  Provence" in France in the colorful countryside enjoying fine wine and some of the best food in the world. The Gold gala encouraged in honor of "Going Gold" for Childhood Cancer Awareness Month where the gold ribbon is the international symbol for childhood cancer awareness. The event also had a DJ, games, prizes, splendid selection of food (self-serve), a fun psychic, and more. The occasion was in fact very enjoyable and gave inspiring support to the Jaquelyn Sky Foundation which assists families who have a child with cancer. The most important priority of the Jaquelyn Sky Foundation is to provide funding for expenses of families whose children are fighting cancer, such as housing near the treatment center and support the financial and emotional needs of families directly impacted by cancer. Every day, approximately 36 children are diagnosed with cancer. Pediatric cancer remains the leading cause of death by disease in children and the incidence of invasive cancer in children is up 29% in the last 20 years.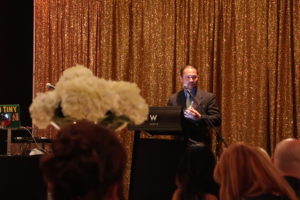 About Sweet Pea Gallery
"The Sweet Pea Gallery is a non-profit organization that works with The Jaquelyn Sky Foundation to raise money for temporary housing near the treatment center for families whose children have been diagnosed with cancer. The Sweet Pea Gallery has a collection of masterpieces by little artists. These children create with a purpose, to help children with cancer. 100% of the proceeds from the sale of this art go to the Jaquelyn Sky Foundation. The Sweet Pea Gallery allows children to contribute to this cause in a creative way." The month of September, Childhood Cancer Awareness Month marks a very special time for the Sweet Pea Gallery that invites all supporters to help and raise awareness of childhood cancer.

About Jaquelyn Sky Foundation
"Jaquelyn Sky was an 8th grader when she was diagnosed with Acute Lymphoblastic Leukemia (ALL). After 15 months of aggressive chemotherapy, she unexpectedly relapsed. Cancer came back more aggressive. Jacquelyn's doctors at Texas Children's Hospital tried desperately to get her back into remission so she could receive a life-saving bone marrow transplant, but the cancer was not responding to treatment. On October 5, 2013, our 15-year-old Warrior Princess did receive complete healing as she victoriously ran across the finish line of her earthly life and entered eternity with her Lord Jesus. She fought her entire fight with dignity, beauty, and perseverance to the end. She finished her race and kept her faith (2Tim. 4:7). We are so proud of her. Jaquelyn always wanted to be involved in promoting childhood cancer awareness. She had a heart for the children fighting her same fight and always prayed for a cure for childhood cancer. This foundation was created in loving memory of our firstborn daughter, Jacquelyn Sky Jenkins, in her honor & to carry on her legacy. We are carrying on her fight by helping kids directly affected by this "monster" called cancer!
Cagle Carpenter Hazlewood, Deep Eddy, Joe Bland Construction, Dr. Brent Michener, Dr. Jill Michener, Hon. Patrick Keel, Keith and Jessica Buchanan, Raul and Laura Garcia, Colin Guinn, Christie Woods, Lila Hardegree, Reilly Realtors, Patriot Dental, Matt and Amy Peeples, Adam and Jennifer Pugh, Norma Pugh, Restora Austin Plastic Surgery Centre, RV Land, RV Outlet Mall, Saving Face, Supreme Lending, Tad Cole, Vicki Frenk, Technology Navigators, Terry and Alyce Richardson, Total Restoration of Texas, Treehouse Pediatrics, Twelve Rivers Realty, Jim and Christine Young, In-kind Sponsors, Austin Monthly, Baked, Dj Tiny, Ed's Photo Booth, Haynes and Quitmeyer Families, Jens Frost Design, Production House, Sanjay N Patel, Siren Sisters Auctioneers, South Austin Moonlighters, Amanda Trevino, Russian House.
Follow LA Splash Magazine Twitter @SplashMagWW Instagram @Splashmags
Follow Yenis Monterrey (Writer) Twitter @Foxactress Instagram @YenisMonterrey
#GoldGala