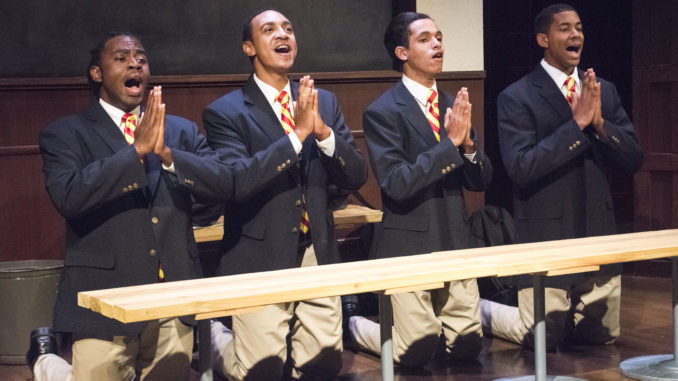 Raven Theatre, 6157 N. Clark, is currently presenting the Chicago premiere of Tarell Alvin McCraney's "Choir Boy" through November 12th. McCraney and Barry Jenkins won this year's Academy Award for Best Adapted Screenplay for "Moonlight", which won Best Picture. This play marks the opening of the Raven's 35th season.
Directed by Raven Artistic Director Michael Menendian, the cast includes Patrick Agada as Bobby, the headmaster's nephew, Robert D. Hardaway as Headmaster Marrow, a tough-talking man with a heart of gold charged with upholding the school's ideals; Tamarus Harvell as AJ James, the epitome of straight upstanding manhood; Christopher W. Jones as Pharus, a gay teenager whose mother is unsupportive;  Julian Terrell Otis as Junior Davis, Bobby's sidekick; Darren Patin as David Heard, a young man who's been called to the priesthood but who also fears his budding awareness that he's attracted to Pharus; and Don Tieri as Mr. Pendleton, a white teacher the boys like to make fun of, but who has a strong history as a civil rights supporter.
All the boys sing in the choir, all of them sing like angels, and their singing and dancing- as well as what we learn about the part played by gospel music in the history of black torment in America- are hands down the best parts of the play.
"Choir Boy" is set in the fictitious Charles R. Drew Boys Prep School, an all black Christian academy "dedicated to the development of strong ethical black men. Farus is gay, not out of the closet, but not shut inside it, and the prejudices of the time and of his classmates, particularly Bobby, his choirmate and a contemptuous challenger, are defining too much of his life. Farus is not the only boy in the school with coming-of-age problems, and his struggles with sexual identity, while central to the story, are perhaps not the most important subplot. The meaning of honor vs. betrayal, the legitimacy of a religious calling, and the power of music to uplift the soul are equally important issues in this thoughtfully conceived and very well executed production.
This is an easy play to enjoy and admire; there are no new or unusual issues with which to wrestle. All young people struggle with prejudice, with learning to live and work together in groups, are brought to terms with the failures of their parents, learn to recognize heroes they didn't at first see for their own immaturity. Here, however, these lessons are depicted against a backdrop of racial/sexual sensitivity and with one additional interesting difference. Pharus is NOT portrayed as an underdog in any sense; his is the strongest, most dominant personality of all the boys. He learns to manipulate his seemingly weak attributes to his advantage, to flaunt his difference and dominate the others- a compelling and honest portrait.
Kudos to the production team: Ray Toler (scenic design) JoAnn Montemurro (costume design), Diane D. Fairchild (lighting design), Sebby Woldt (sound design), Mary O'Dowd (properties design and set dressing), Kathryn McNall (stage manager), Destiney Higgins (assistant director), Frederick Harris (music director), Breon Arzell (choreographer) and Dan Laushman (technical director).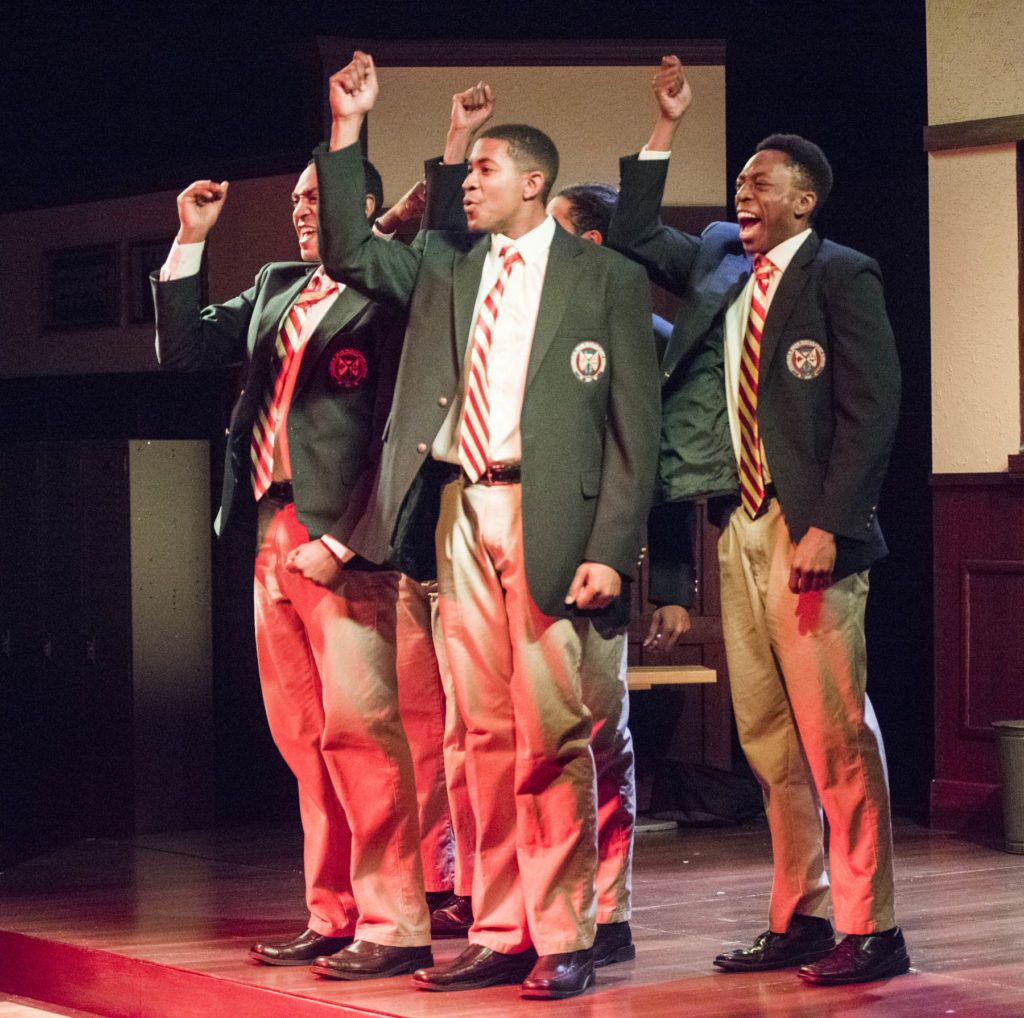 For information and tickets to all the fine productions at the Raven Theatre, go to the raventheatre website
All photos by Dean La Prairie