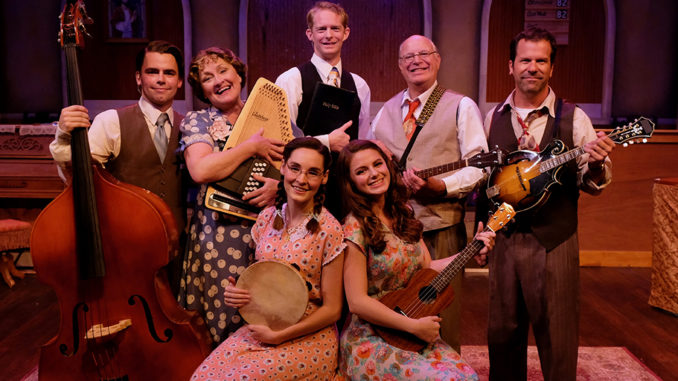 By Kathy Carpenter
Lambs Players is presenting Smoke On The Mountain, by Connie Ray, directed by Kerry Meads, in beautiful downtown Coronado, October 6, thru November 19, 2017. Pure joy, a delightful cast, with the kind of entertainment that brings a smile to your face, Good, clean, fun. You can bring the family and relax.
When I read the show was Bluegrass, I wasn't sure if I would like the show. But don't be afraid. The music is toe tapping, upbeat, and not song after song, Plenty of story between songs, Along with some beautiful gospel favorites.
The story takes place in 1938, at the Mt. Pleasant Baptist church. Set against the backdrop of of church with wonderful church windows. When we left the show I told my sister I felt like I had been to mass and had a enjoyable time.
We start the show with Pastor Melvin Olgethorpe, giving us the run down as the Sanders family is late. It's their first night back on tour., and They are performing a concert at the Mt. Pleasant church.
What is great about this musical is that everyone has there chance to shine, Each cast mate is given the spotlight. To tell there story and to sing. Pastor Oglethorpe is played by Brian Mackay, totally believable with his words of wisdom. My two favorites because they were the funniest to me, and without even words just great acting, Katie Sapper, who played June. She didn't even sing. She signed, I don't know if it was real or acting but she was amazing. Then we have Beau Brians, as one of the twins. Watching him was a real treat. Deborah Gilmour Smyth, always great, brought mama to life. The other twin was Annie Buckley. A delightful teen girl from 1938. With the hopes of girls then and now, The head of the Sanders family, doing a great job, leading the family, and keeping them in tow, Ric Ogden. the family was rounded out , by Stanley fresh out of prison. The serious one, played by Steve Gouveia. A wonderful talented family. They could sing, play a variety of instruments, including spoons, and harmonica, and act. Yes you believe the are The Sanders. Everyone loved the show, another Lambs hit.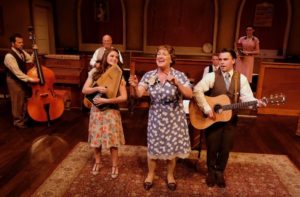 Although I did not know any of the songs except "Bringing in the Sheaves," Which is actually a Protestant song from 1874. The music was beautiful harmonious enjoyment, You could not ask for more from a wholesome show.
Smoke on the Mountain
Lamb's Players Theatre
1142 Orange Ave, Coronado
Oct. 6 – November 15, 2017
www.lambsplayers.org
Enjoy the Holidays with Lambs Players
Lambs Festival of Christmas
A Fargo Christmas
December 1 – 30, 2017
An American Christmas
Celebrated at the
Iconic US Grant Hotel
"Step back a hundred years for a  3-hour evening filled with music, dance, stories, songs and laughter, all woven through a delicious 4-course meal. It's an unforgettable celebration that is unique in the nation."
Check website for dates