All items are listed from most to least expensive.

Providence Nursery Collection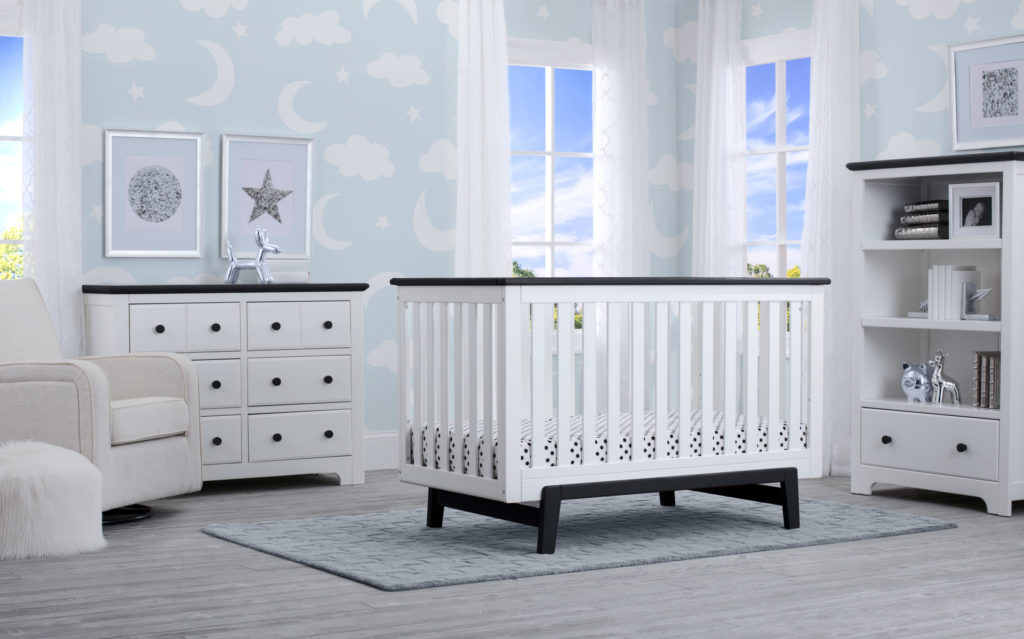 Complete your baby's nest with the Providence Nursery Collection from Delta Children. Its beadboard detailing and two-tone design with a rustic, textured finish will instantly add cottage charm.
Providence Nursery Collection includes:   4-in-1 Convertible Crib, 6 Drawer Dresser, 4 Drawer Chest, Bookcase/Hutch, Bookcase with Drawer, Nightstand, Changing Tray, Toddler Guardrail, Full Size Bed Rails
$1,935 (Entire Collection Amount) Buy now!!
Simmons Kids Tivoli Crib 'N' More from Delta Children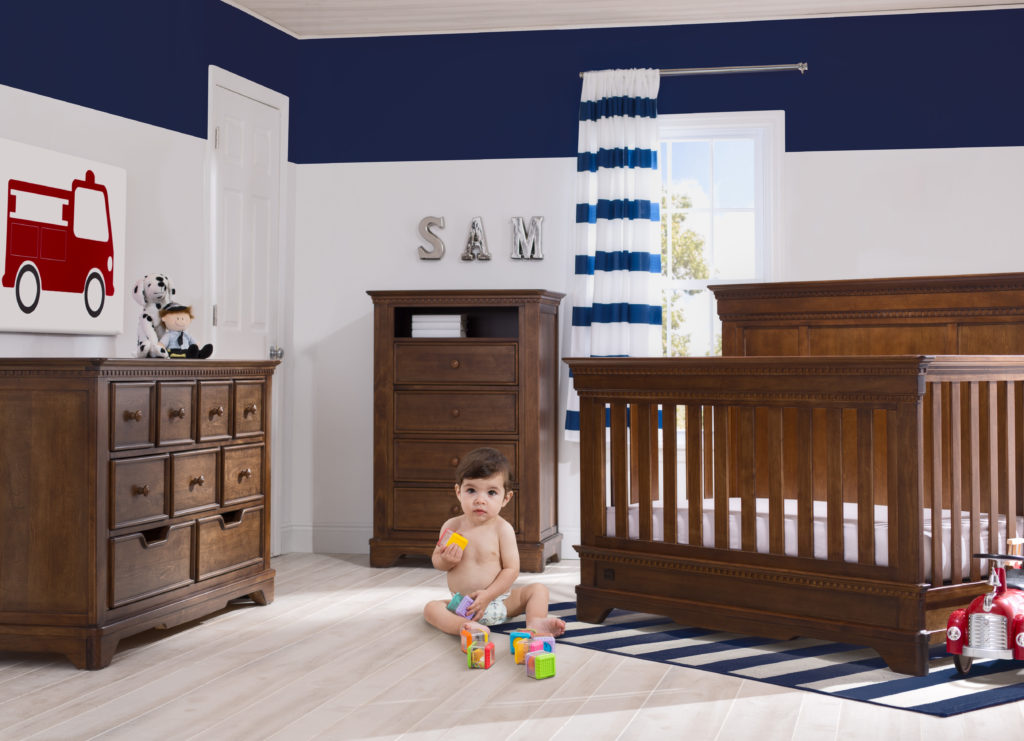 The Tivoli Convertible Crib 'N' More from Simmons Kids features elegant panels, generous crown moldings with expertly carved detailing, and an antique-inspired finish that adds character to any nursery. Designed to be the centerpiece of your child's bedroom from birth till adulthood, this convertible crib features three mattress positions that can be lowered as baby grows, plus it can be transformed into a toddler bed, daybed and full size bed when your child is ready. Producing the finest furniture for over 80 years, Delta Children has always been committed to the safety of every family.
The Tivoli Collection features the following items:   Tivoli Convertible Crib 'N' More, Tivoli 4 Drawer Chest w/Cubby, Tivoli 9 Drawer Dresser, Tivoli Changing Tray
$700  Buy now!!
Little Goodall
Baby, it's getting cold outside – cozy up in the cute, artfully crafted coats from Little Goodall! Beautifully unique Bunny Coats, these classic styles are made from 100% merino wool felt and lined in the softest cuddle plush. Snuggle up for sweater weather with the stylish designs from Little Goodall!
$159-$189  Buy now!!
Abiie- Huggs Contour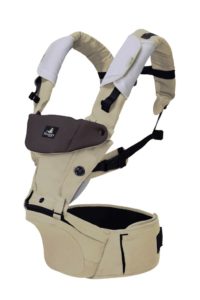 Huggs Contour is an innovative baby carrier built for versatility. Its patented carrier booster seat not only provides all-day comfort, the ergonomic design ensures a healthy hip position (M-position) for a growing baby. Huggs Contour is lightweight, yet rugged, and has been designed to deliver the very best ergonomics in every carrying mode, for both the parent and child. Huggs Contour is the perfect companion for parents who want to keep their baby close and comfortable, at anytime and anywhere.
$129.00  Buy now!!

Baby Rescue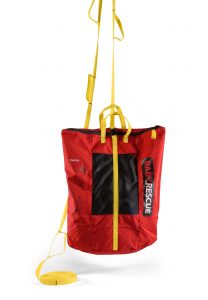 A device created by a firefighter that helps you safely evacuate your baby from a second+ stories in case of an emergency or fire. The devices has a soft interior design that conforms to a baby's body, a water resistant outer layer and a breathable mesh section; all of which will safely envelope a child up to 75 pounds and lower them with a 60 foot grip line that is safe to use up to five stories high.
$119.95  Buy now!!
Kids Fly Safe Airplane Safety Harness
The only FAA-approved child safety restraint system that replaces a carseat on an airplane. Hundreds of unreported injuries happen to toddlers on planes annually as they cannot brace themselves for normal turbulence. This harness keeps them put and also frees a parent's hands from carrying a huge carseat on board (which rarely fits in the smaller seats anyway.)
$74.95  Buy now!!
Hugaboo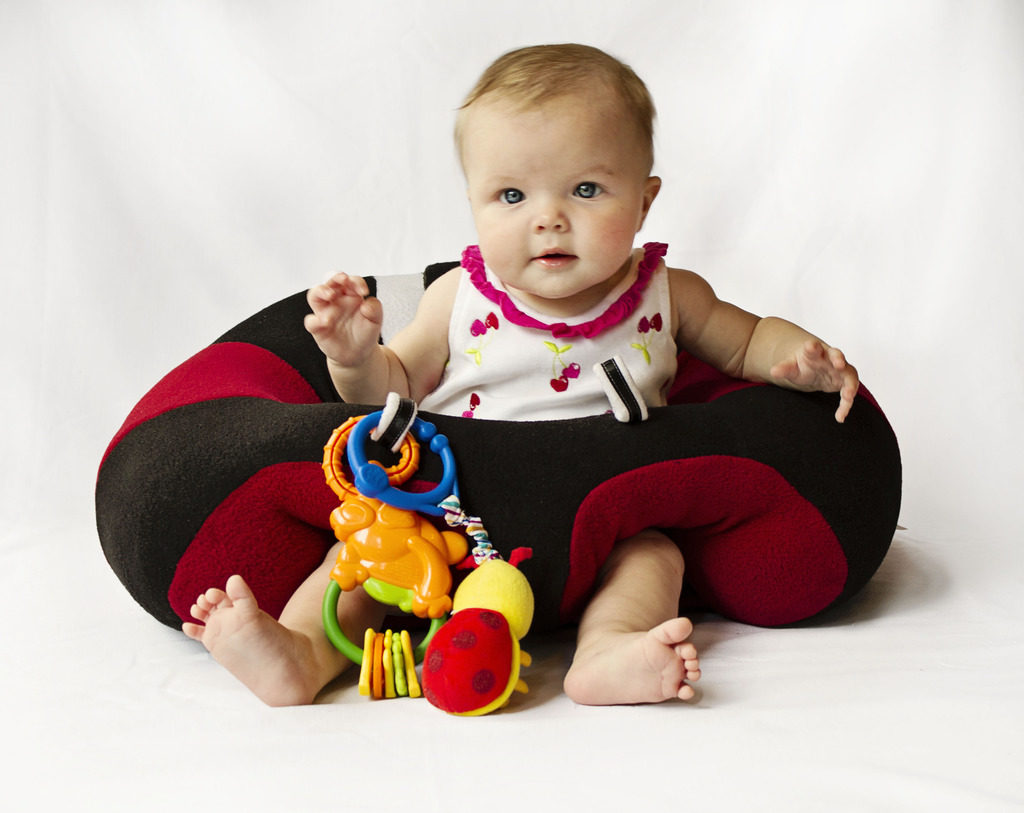 As cute and snuggly as your baby is, you'll need to put her down eventually. If she's not in your arms, you'll want her in the next best place–The Hugaboo Baby Seat. It's the perfect way to give your baby the support she needs as she learns to sit up on her own. The Hugaboo gives your baby the freedom to comfortably observe her surroundings, develop sensory and motor skills, and spend quality time with the family. Plus, the Hugaboo has a unique leg and back support that keeps your little one from tipping forward or sliding out.
$59.99-$79.99  Buy now!!
MOBY Carrier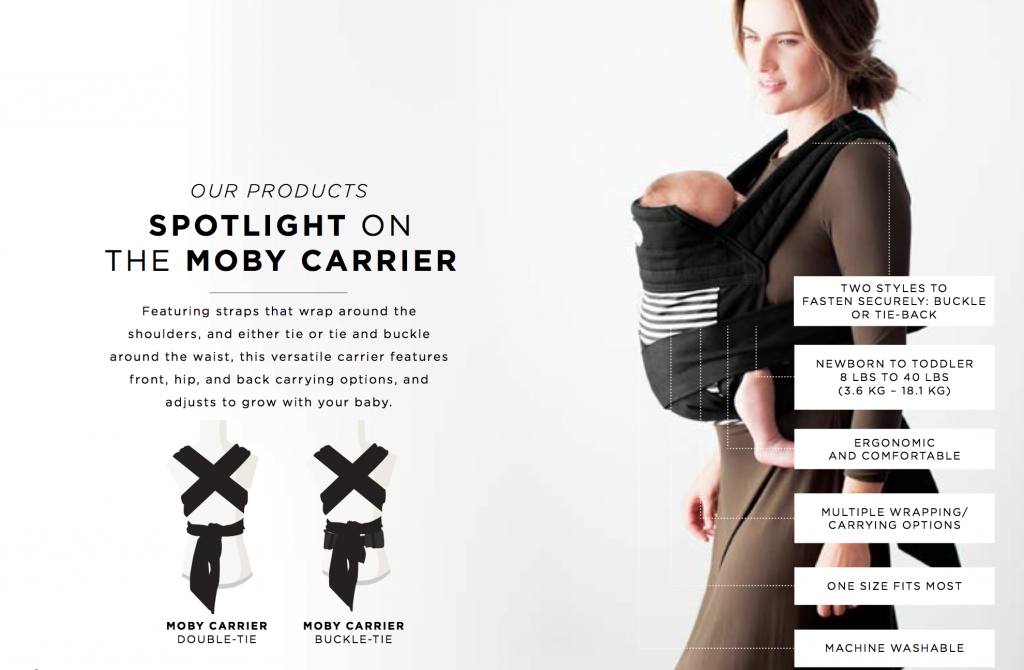 The cool way to carry your child, up close and personal. With organic fabrics and styles for the Daddy or the Mommy to wear! Seen trendsetting in the news with various celebrity dads and moms, the MOBY motto is having your child being Close Enough to Kiss™.  Offering both versatility and comfort, the soft-structured MOBY Carrier offers front, hip, and back carrying options. Secure, convenient, and easy-to-use, it's available in two styles, so parents and caregivers can choose between the Double Tie and the Buckle Tie fastening options.
We're focused on creating products that encourage bonding over special moments, shared discoveries, and within the day-to-day of life. We innovate to meet the varying needs of today's parents and babies, with designs developed to adapt with baby, always offering comfort, safety, versatility, and effortless style.  We've won countless consumer and industry awards, and are still growing and evolving today. We welcome you into our world, and are pleased to be part of your parenting adventure.
$59.95  Buy now!!
Freemie Collection Cups
Freemie gives moms the freedom to pump breast milk anywhere at any time. Each Freemie Collection Cup has a funnel and valve integrated into the cup assembly, so it feels and works just like regular breast pump equipment when placed over your breasts. But instead of milk falling down and hanging in bottles below the funnels, it collects in cups that surround the funnels.
$59.99  Buy now!!
Kindhood Raya
Each Kindhood poncho is made from 70% sustainable bamboo fiber and 30% cotton blend. Ponchos feature an ultra-soft, absorbent, and quick-drying terrycloth interior; a hood for warmth and protection; and a pouch pocket for your littles to keep their hands warm, snacks safe, and seashell collections secure.
$57  Buy now!!
Yookidoo Discovery Playmat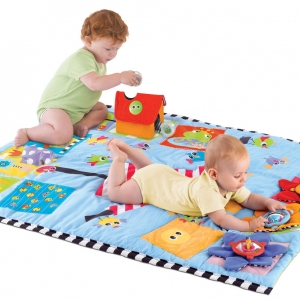 A HUGE playmat with endless activities! The biggest and most entertaining playmat for tummy time, turning over or sit up play.   An Extra large, soft activity playmat with engaging textures and endless activities. Hours of fun and discovery.   Spinning, squeezing and clicking flowers with crinkle petals and inner mirrors.  A soft pop-up ball house for peek-a-boo games.  2 friendly character balls with spinning discs.  Extra padding for maximum comfort.  Easy to fold carry and store.  All attachments can be removed for washing.
$55.99  Buy now!!
Baby Bib
This reversible and adorable baby bib is handmade by artisans in Bali using only sustainable materials and recycled fabrics. These Fair Trade artisans utilize the traditions of Balinese craftsmanship while honoring nature with the smallest carbon footprint possible. The 100% cotton bib is a perfect gift for a new parent who is welcoming their first little one into the world. The bib is available online at the World Vision Gift Catalog, and each purchase allows World Vision to address specific, unmet needs of children and families around the world.
$40  Buy now!!
Fab Folk Boots, Soft Soles
These faux fur lined suede booties will keep your little girl warm all winter long. Like all Robeez Soft Soles, this footwear features a non-slip suede outsole, which protects your child from slipping, and an elasticized ankle band which will keep this shoe securely on your baby's foot. If your child can't go barefoot, choose Robeez.
$38.00  Buy now!!
Baby Stella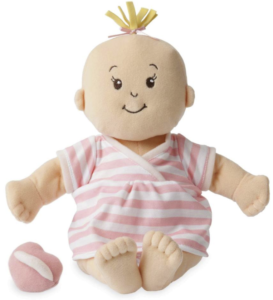 The Baby Stella collection will bring delight to little ones with a new look they are sure to love! Baby Stella is an award winning doll collection that is a perfect, first soft doll to inspire creative role play in little ones. Baby Stella dolls have lifelike toes, belly buttons and plump tummies, embroidered features removable outfit, diaper and magnetic pacifier.
$35-$45  Buy now!!
Buggy Baggy
The Buggy Baggy is an easy-to-use basket that attaches to your stroller handle and turns your stroller into a shopping cart, toy holder, or purse in no time. Prevent cart germs, stay hands-free, and gain a fashionable bag!
$26.99  Buy now!!
Cozy Moccasins, Taupe, Soft Soles
Robeez updates a classic American shoe for your infant or toddler. Inspired by the Native American moccasin, this suede shoe adds modern details such as cream top stitching and has faux fur lining. Like all Robeez Soft Soles, this footwear features a non-slip suede outsole, which protects your child from slipping, and an elasticized ankle band which will keep this shoe securely on your baby's foot. If your child can't go barefoot, choose Robeez.
$26.00  Buy now!!
Slumber Buddies 
Create a tranquil environment for babies and children at bedtime. Slumber Buddies are the perfect cuddly companion, but also create a starry night display on ceiling and walls, and has a peaceful selection of lullabies and sounds.
$24.99  Buy now!!
Personalized Baby Block
Our baby blocks are handcrafted in the USA and custom made for any occasion. They are the perfect way to keep those special memories lasting forever. Also available as an ornament-made from light weight cedar wood, so your tree branches stay perky!
$20-$35  Buy now!!
BapronBaby ezClean Bapron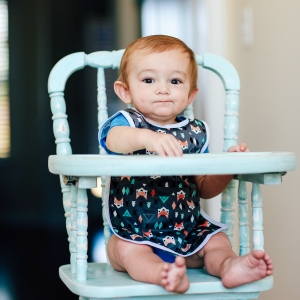 BapronBaby's unique ezClean fabric is an eco-friendly polyester that is treated for total waterproof protection and maximum stain resistance.  Our baprons (think bib + apron) contour your toddler's body and allow for a comfortable fit that grows with them from size 6m-3T clothing.  Our unique, patent-pending design allows your child to play freely with their food or sensory activities without constricting around their neck like a traditional bib and your tiny tot can't remove it without a grown-up.  Less mess for everyone!  (It rinses clean in the sink between meals as well, saving you headache and laundry.)
$19.95  Buy now!!
Pink Elephant Organics
You want the best for your kids. So do we. We know in the past you've had to choose: comfortable organic cotton clothing OR fashion. We don't want you to have to choose. Now, you can have both! Dress up your little one in high quality, stylish clothing from Pink Elephant Organics – comfort with a fashionable, organic twist. A whole new approach to girl's clothing.
When founder Sudhir began searching for clothing for his first granddaughter, he was on a hunt for the things we all care about – quality, comfort and fashion. Discovering that not only is organic cotton the highest quality cotton, but also that there was an untapped market for the U.S. for this type of clothing, Sudhir teamed up with some ambitious moms to create Pink Elephant!
$16-$100  Buy now!!
Malarkey Kids Munch Mitt
Munch Mitt is the undroppable, unstoppable teething mitt. Made with food grade silicone, BPA and Phthalate free, the mitt is both convenient for parents and fun for babies. Munch Mitt gives little ones the gift of self-managing teething relief and parents the gift of free hands!   
$15.99  Buy now!!
Snap & Shop Shopping Cart Snack Tray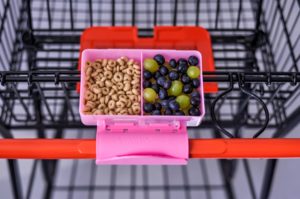 Snap & Shop is easy to use, portable, provides a clean surface to feed your child their favorite snacks and is parent and kid approved! It's easy to pack up before heading to the store, small enough to fit in your bag and allows for convenient snack refills while shopping. Cleaning is a "snap" with wipes while at the store and in the dishwasher when you get home.
$14.99  Buy now!!
Unicorn Teether
Your baby will FALL in love with Loulou Lollipop's innovative comfort while keeping their products chic, trendy, and in style. Whether you want teethers, pacifier clips, necklaces, or luxury blankets, give your baby the high-profile treatment with Loulou Lollipop! With quality being a top priority, Loulou Lollipop makes all of their adorable goods by hand. Their creative and innovative product designs are unique and completely Instagram worthy! Check out their teething necklaces, today!
$14  Buy now!!
Babycup First Cups
A non-toxic, BPA-free and phthalates-free, range of open drinking cups for babies and toddlers. It offers an alternative for parents who don't want their children to be constantly sucking from a spout, teat or no-spill valve and has been given the thumbs up by a variety of health professionals including dentists and orthodontists.
$12.99  Buy now!!
Zelda Matilda
Zelda Matilda, the must-have accessories for children, is a chic yet affordable line for children for newborns and up. Zelda Matilda's designs include a variety of trendy and comfortable hair accessories, bandana bibs, wash cloths and pacifier clips.
Zelda Matilda rethinks the way moms buy accessories. The women behind the brand are a community of moms, who believe every mom should be able to experience the joy of accessorizing. Zelda Matilda allows you to have a choice of color and style for every outfit, every mood, every day. All products are currently under $20.00.
$10-$20  Buy now!!
SoapSox
Finally! An adorable new line of plush friends that kids can take from playtime…. to bath time! It's 2-in-1 fun with SoapSox®, the cuddly companions you can actually take in the tub! Snuggle, cuddle, and play together all day and when it's time for your bath, bring them with you! A patented soap pocket transforms lovable SoapSox® into sudsy wash cloth – just add soap and scrub. It's the way kids want to wash! SoapSox®, the next generation of washcloths for kids!  
$9.99  Buy now!!
Marcus and Marcus bath toys
Marcus & Marcus' Marcus Mold Free Squirting Bath Toys bring fun and excitement to bath time while keeping little ones engaged and entertained. The silicone rubber is soft to the touch and easy to hold for tiny hands with no sharp edges. The squeeze and squirt feature will provide your baby with plenty of laughs and giggles. The detachable design allows for simple cleaning, as well as, air drying to prevent mold growth on both the inside and outside of the toy. For that extra clean they are top rack dishwasher safe. Marcus & Marcus' silicone bath toys are PVC Free, BPA Free & Phthalate Free. 
$7.99-$9.99  Buy now!!
JJ Rabbit CUPPIES
It's time to transition to a real cup; but, how do you do that without taking away the security and comfort of a sippy cup? With a hidden animal at the bottom of each CUPPIES®, your little ones will finish every time to see their favorite friend.
$7.49  Buy now!!
OhBases Little Ones
OhBases Little Ones' line is everyday natural personal care products for babies made from the highest quality organically farmed plant ingredients.  
Little Ones collection includes everything that babies need and their carefully selected ingredients and joyfully named products  will make parents feel good about the skin care products that they choose for their babies.
Little Aromatic Touch is a natural rub that is good for alleviating breathing and helps babies relax with soothing Eucalyptus and other natural oils
$7  Buy now!!
*All images courtesy of respective company