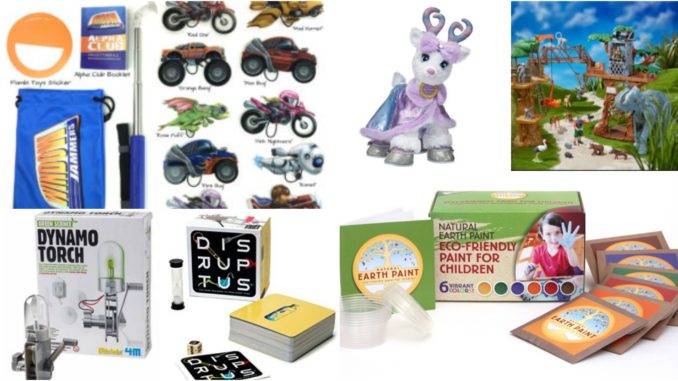 All items are listed from most to least expensive.
KIBO STEAM Robot
KIBO engages even the youngest children in active learning. When children build, code and decorate their own robot, they are learning invaluable skills that will lead them on the path for success in Science, Technology, Engineering, Art, and Mathematics (STEAM) skills and future careers.  With KIBO, 4-7 year olds create, design, decorate and bring their own robot to life! KIBO kids' imaginations soar – all without requiring screen time on PCs, tablets or smartphones.
Designed for open-ended play, KIBO lets kids make almost anything – a character from a story, a carousel, a dancer, a race helicopter – anything you can think of. The child creates a sequence of instructions (a program) using the wooden KIBO blocks. They scan the blocks with the KIBO body to tell the robot what to do. They press the button and the robot comes alive! With KIBO, young children can become programmers, engineers, designers, artists, dancers, choreographers and writers.
$229-$499  Buy now!!
Robotics U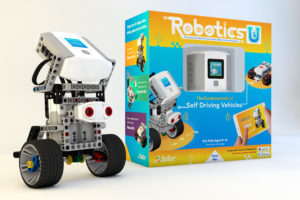 With Robotics U, kids will learn how to build their own unique bots using the app's step-by-step instructions. Once built, they can then program their bot to make various movements and actions. After building and programming their one-of-a-kind robot, kids can share their unique creations with the Robotics U community!
Available in U.S. retailers October 2017, Robotics U's new line of educational robots integrates STEM (Science, Technology, Engineering and Mathematics) education with a unique gaming experience, for both children and adults!
$199  Buy now!!
Propel Collector's Edition Star Wars Battle Drones
Propel's Collector's Edition Star Wars Battle Drones come in a wax sealed box that light up and play the original John Williams score upon opening. So whether you're looking for the perfect gift for a die-hard Star Wars collector, or someone who wants to battle their way to victory against the Empire, these drones will make every wish list. Whether you're flying Darth Vader's TIE Advanced Fighter or Luke Skywalker's T-65 X-Wing you can reach up to 35mph, and battle your friends with the infrared sensors and beams. The interactive controllers provide instant response when you've been hit and also when you've landed a hit against your enemy.
Download the FREE flight training app to keep score between you and your counterparts, and virtually fly your drone through beautiful, digital Star Wars environments.
$179.99  Buy now!!
Square Panda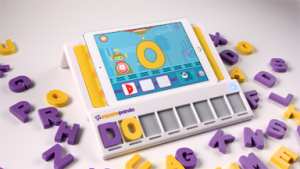 Square Panda is a new edtech playset designed for kids 2-8 that builds early reading skills through engaging games grounded in research.  Reading skills are built through playing the available games that are free to download on the Apple Store or Google Play.  Research shows that kids learn best when multiple senses (sight, touch, sound) are involved and Square Panda incorporates this multisensory approach. The system incorporates interactive games, which kids play on a tablet, and a playset that includes 45 physical smart letters that interact with these games once you place them in the playset slots.
$99.95  Buy now!!
SmartGurlz
SmartGurlz is a revolutionary toy brand whose line of self-balancing robots and action dolls are encouraging young women to become tomorrow's programmers. Is she interested in the latest tech? Or does she struggle with math concepts and how they apply to her own life? With SmartGurlz, girls ages 6 and up will learn to see science, technology, engineering, and math in a whole new and engaging light.
$79.99  Buy now!!
ROXS 2s Run&Scan
ROXS 2s Run&Scan combines tech kids love with imagination and exercise to combat childhood obesity. The game utilizes a main sensor that looks similar to a tap light and chips called PEBBs that can be scanned by the sensor and used to play a variety of games. The fitness level of the games can be enhanced and new games can be created using kids' imaginations. For example, instead of just having the ROXS 2s sensor on the ground strap it to a tree so you have to jump to scan the PEBBs.
$69.99  Buy now!!
Lightseekers Hero Starter Pack
Lightseekers by PlayFusion brings together high-tech toys and gaming with their new mobile game and smart action figures. No longer just a game or just a toy, Lightseekers has high-tech components that allow for advanced interactive and connected play, and the classic elements of a video game.
Using Bluetooth, the fully-articulated 7" smart action figures connect in real time to your smart device, and give you options and controls we used to dream about. Never before has a toy been the controller for your video game, but now you can fly through the air and fire your weapons without touching a traditional controller (or the screen). Jax the tyrax and Kora the mari Hero Starter Packs include a smart action figure, weapon, FusionCore, mini-USB charging cable, five augmented reality trading cards, and a Tribute Card. Enhance and customize your game play with interchangeable weapons, scannable augmented reality trading cards, or add a flight pack to make your Hero fly!
$69.99  Buy now!!
Brixo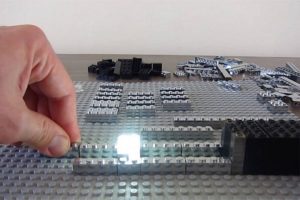 Remember the LEGOs you played with as a kid? Brixos are the building blocks you wish you had. They've got LEDs, motors, and even sound, light and motion detectors — all powered by low-volt, Bluetooth-controlled battery bricks, coated in shiny (non-toxic) chrome. Together, students can string together series of circuits, switches and sensors to create machines they can control via mobile apps. While playing, children are teaching themselves basic concepts of science, engineering, coding and more.
$59.00-$299.00  Buy Now!!
Football Manager 2018
Football Manager 2018 is the latest release in the best-selling, smash-hit series. Putting you in the hot seat of any football club in more than 50 countries across the world, Football Manager 2018 is the closest thing to doing the job for real.
$49.99  Buy now!!
Ben 10 Rustbucket Vehicle & Playset
The main vehicle seen in Cartoon Network's new Ben 10 animated series, the Rustbucket is a 2-in-1 vehicle that transforms into a giant 3-level playset standing over 2 feet tall! It's packed with action features, allowing kids to create their own adventures with all of the Ben 10 Basic Action Figures (sold separately). Features include an alien transformation chamber, plasma blaster, "alien-vator", grabbing claw, alien lab and more!
$49.99  Buy now!!
Rollors
Crafted out of New Zealand wood from sustainable forests, Rollers offers eco-friendly fun for the entire family. The addicting outdoor lawn game consists of wooden disks along with a wooden goal at each end. The game combines the rolling motion of Bocce Ball with the goal system of horseshoes. It can be neatly and conveniently packed into its portable bag to make it easy to bring along to any park, party, or other outdoor event. 
$49.95  Buy now!!
ANIMAL PLANET™ SAFARI TREEHOUSE PLAYSET
Multiple building options for endless play. Zip lining action, working lift, and large elephant with sound and mechanical action make up the Safari Treehouse Playset. Only Available at Toys R Us
$39.99  Buy now!!
Foldscope
A Mini Microscope for the Masses – What if you could carry a microscope in your pocket?  What if every child in the world could learn and explore their world using scientific tools that didn't cost a fortune? Introducing the Foldscope (www.foldscope.com)– an ultra-low-cost microscope made from common materials such as paper. It is designed to be produced affordably, to be durable, and to give optical quality similar to conventional research microscopes. Foldscope can be used for both the simplest observations and for thorough scientific studies, and all places in between.
$39.99  Buy now!!
Questions & Empathy
Questions & Empathy: Provocations for Applied Empathy.  A bespoke deck of 56 cards and guidebook, designed to enable empathic thinking.  Seeking clearer understanding or deeper connections? Let these cards guide your conversation and exploration. Finely-tuned over several years through Sub Rosa's popular Applied Empathy series and the studio's unique approach to client work, Questions & Empathy has inspired empathic exchanges for top creatives and business people alike.
$39.00  Buy now!!
Arckit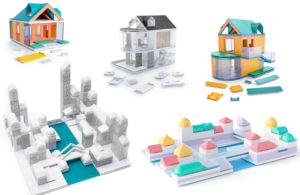 Arckit is a free-form architectural modelling system that allows you to physically explore designs and bring your imagination to life.  Unlike traditional 'cut and glue' models, Arckit is designed for easy set up and take down with their unique and patented modular system.  With multiple models available in varying complexities (prices starting from $39.99), Arckit is the perfect gift for budding architects,
seasoned builders and experienced designers.
$37.99 – $259.99   Buy now!!
Hive Mind
Family-run Calliope Games provides fun, affordable, quality tabletop games that cater to busy 21st century lifestyles.  In Hive Mind™, players are bees who take turns rolling the die, moving the Queen Bee along the garden track, and asking and answering questions to assess their compatibility with the hive. Made by Calliope Games, Hive Mind is a great way to bring the family together and make memories to last a lifetime.
$30.00  Buy now!!
Hannah the Hanukkah Hero
Hannah the Hanukkah Hero is a wonderful gift for young Jewish girls. It includes a plush Hannah doll, and hardcover story book that tells an inspirational story about Hannah's journey to defend her Jewish community.
$29.99  Buy now!!
RetroViewer
RetroViewer – Make your own 3-D viewer and custom photo reels—just like the ones we all played with as kids—from your own digital photos on your desktop or smartphone!  Made in the USA
$29.95  Buy now!!
Color Glow Glisten Reindeer
The Color Glow Glisten reindeer is a new addition to Build-A-Bear Workshop's holiday collection this year. Whether you stick her under the tree or share the Build-A-Bear experience in store, this cuddly reindeer is the perfect gift for that furry friend lover on your list. For a festive touch, add a name medallion or a sparkly cape that matches her light-up antlers!
$28  Buy now!!
Silver Snow Reindeer
Silver Snow is a new addition to Build-A-Bear Workshop's holiday collection this year. Whether you stick him under the tree or share the Build-A-Bear experience in store, this cuddly reindeer is the perfect gift for the furry friend lover on your list. For a festive touch, dress him up with a Santa cape and name medallion!
$28  Buy now!!
My Race Across the U.S.A. Personalized Board Game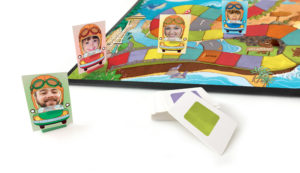 Announcing a brand-new way to engage the family with your very own personalized board game! Take an adventure across America as you move your piece along the game board. Personalize up to six game pieces with photos of your family members' faces, so each person receives their own unique playing piece! Your family's names will also be displayed in the game board artwork. Create lasting family memories with this uniquely personalized game.
$24.99  Buy now!!
Holiday Bear from Pillow Pets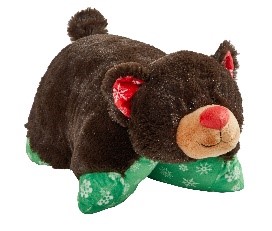 Description: Pillow Pets is proud to announce a brand-new Pillow Pet just in time for the holiday season — Holiday Bear! This holiday Pillow Pet is destined to be a new Christmas classic! Made of super-soft plush and adorned with holiday fabrics of red and green, this cuddly bear is sure to be on everyone's wish list this holiday season! A super-soft chenille plush folding stuffed animal brown bear so cuddly you'll never want to put it down! The bear Pillow Pet will start out as your pal, then quickly transform into a cuddly pillow. All Pillow Pets are recommended for children age 3 and up.
$24.99  Buy now!!
Disruptus Game by Funnybone Toys
Funnybone Toys® makes games that use good design to stimulate creativity. These games are designed to encourage family fun with several titles suitable for parties and game nights.  Disruptus asks players to look at objects and ideas and use different approaches — as determined by the roll of a die — to innovate. Disruptus™ draws inspiration from the very important practice of 'disruptive thinking', which is one of the most powerful ways to innovate. Look at the cards, play with the innovation techniques, and have fun.
$24.99  Buy now!!
Crated with Love
Crated with Love is a date night subscription box focused providing quality time for couples. Each box includes activities and games that inspire laughter and romance and all the items you will need for your date are included right inside the box!
$19.99/month  Buy now!!
Techno Gears: Bionic Bug from The Learning Journey
Kids love to construct and the Techno Gears Bionic Bug kit is the perfect way to encourage them to build. With its 80+ colorful construction pieces, power motor and more, this kit includes everything a child needs to build their own bug with motorized gears. The product aligns with the Science, Technology, Engineering and Math standards and allows children to introduce and experience the science of gear ratio.  Techno Gears Bionic Bug is for ages 6+.
$19.99  Buy now!!
Dreidel Dog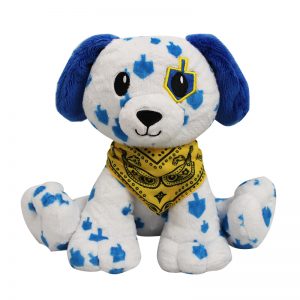 Hanukkah brand, The Mensch on a Bench has introduced Dreidel Dog, a super cuddly Dalmatian that will make for the perfect gift those first nights of Hanukkah. Kids can play dreidel with it and then conveniently store their dreidel in its secret pocket located in the dog's bandana.
$19.99  Buy now!!
The Official Make-Your-Own Slime Kit
Grab your official As Seen On YouTube DIY Slime Kit, available exclusively at Target on October 1st. You can make the official As Seen on YouTube slime at home, and create on your own terms. Crafting has never been this fun.
$19.99  Buy now!!
Children's Earth Paint Kit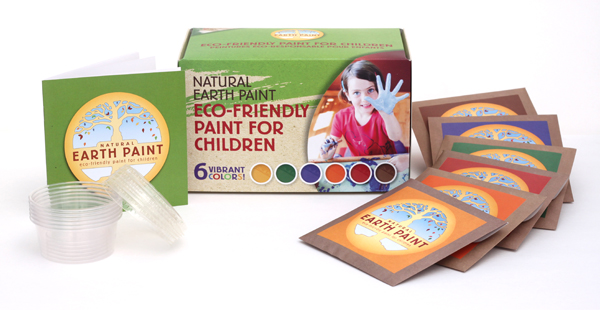 Made with real earth! Our best-selling, 100% non-toxic Children's Earth Paint kit creates a creamy, tempera-like paint when mixed with water. Or add more water to create watercolors! The rich, vibrant colors can also be used by adults for crafting, scrapbooking, and more. Paints on wood, rocks, fabric, paper, glass and more. All ages! 100% Washable!
Each kit contains six colors of natural earth paint: red, orange, yellow, green, blue, and brown.
The Children's Earth Paint Kit contains:  Six packets of hand-crafted, powdered, vegan paint which each create approximately 10 -16 ounces of paint (depending on how much water is added).  A set of six biodegradable mixing cups and lids.  An Earth Art booklet with instructions and nature-based activity ideas.  Ingredients: organic corn starch, gum arabic & natural earth and mineral pigments.  A smaller version of this kit is:  The Petite Children's Earth Paint Kit – $19.95  Made in the USA. All packaging is 100% post consumer recycled and biodegradable.
$19.95 – $29.95  Buy now!!
My Matching Games
Learn while you play with these alphabet matching games, which correspond to the My Very Own® book series. Each deck of 52 durable playing cards can be uniquely personalized with a child's name and photo. Discover multiple ways to play–match the illustration, find the letter match to every card you flip over or use them as alphabet flash cards. You can even make up your own game!
$14.99  Buy Now!!
Adora Toys & Dolls
Adora Toys are thoughtfully crafted to give parents peace of mind. We are…Playful, Creative, Durable and most of all FUN!  We hand craft toys that are as responsible as they are fun. Our Award Winning dolls are Hypo-Allergenic, Non Toxic, BPA Free, and Machine Washable. So, go ahead, let your child drag the machine washable dolls through the mud and be assured you can pop it in the washing machine and it will be good as new.
It has been said, we are just as cute as they are strong. Our award winning products are designed to encourage nurturing and creative play time and to go on real life adventures. While it's true, winning isn't everything, it is nice to be recognized. We celebrate over 20 industry awards of recognition across 9 different product categories… take a look
$13-$120  Buy now!!
Window Jammers®
Window Jammers® is a Parents' Choice Award-winning toy designed to spark imagination in children stuck in cars, busses and trains. The collectable characters attach to the end of a telescoping wand with a specially designed joint, allowing the player to press the toy agains the inside of a closed window and puppet the character over the passing landscape! No batteries. No cords. No screens. No end to the imaginative adventures for little passengers!
$12.99-$17.99  Buy now!!
Rick and Morty 5" Action Figures
Funko is bringing the world of Rick and Morty to life with the introduction of 5" fully-posable Action Figures. Each figure is highly articulated and extremely detailed to capture the personality of the character. Available as Rick, Morty, Mr. Poopy Butthole, Mr. Meeseeks and Bird Person. Collect all five and you will be able to build your own Snowball!
$12.99  Buy now!!
KidzLabs® 4M® Green Science Dynamo Torch Kit
This Boy Scouts of America product is ideal for young science enthusiasts. The kit offers a valuable lesson on the transformative power of green science.  The Dynamo Torch turns a simple toy motor into a generator that transforms hand motion into electrical energy and powers a light bulb. No batteries required. Ages 8+.
$12.99  Buy now!! 
Girlz N Dolls
Incredibly soft & unique baby dolls for newborns, toddlers, and tweens with a positive message! GirlznDollz came into existence as a result of the founder's passion for dolls as a child, and her love of fashion! Her inspiration for the dolls was also fueled by her daughter, who also shares her passion for dolls and playing dress up! Together, they helped create all the outfits and accessories we find on each doll.
$11.99 – $29.99  Buy now!!
ZIPIT Monster Pencil CaseBeast Box
ZIPIT encourages you to think outside the Beast Box – our cool pencil/storage box with a unique, protective shell. Outside the box, is a fun and playful design featuring your very own beast with eyes, cute dimples and other adorable details. This beasty pencil box is ready to store your stuff! It measures almost 8.2" (208 mm) in  length, 3.15" (128 mm) in height, and 5" (80 mm) in depth. It comes with a sturdy zipper and branded pull!
$9.99   Buy now!!
Daymaker
With Daymaker, kids can gift new items to real kids they identify with around birthdays, back-to-school, and holidays—all with a few clicks. Whether a toddler or a tween, Daymaker helps parents develop their children's gift-giving habits from a young age.
While Daymaker was created around the belief that kids who give become adults who give, the company has since expanded to include Daymaker Grownups to encourage adults (aka kids-at-heart) to give as well. Daymaker believes everyone, regardless of age, should have the opportunity to give in a meaningful, transparent and personal way.
$8.99 – $48.00  Buy now!!
InRoad Toys PlayTape (Classic Road)
Printed to look like a road, PlayTape Classic Road Series is a roll of removable tape that's perfect for playing with die-cast toy and model cars like HotWheels® and Matchbox®. PlayTape is the fastest way to create roads for imaginative play, display, or decoration. Make instant roads, anytime, anywhere!
PlayTape has been specifically designed to bring hours of imaginative entertainment at minimal cost and maximal convenience. With a single roll of PlayTape Classic Road Series, you can create a road or a whole city. Use the toy cars you already have to drive on PlayTape. Use the blocks and toy buildings you already have to build a town through which PlayTape traffic flows. Create places real or imaginary. The possibilities are as endless as a desert highway.
$8.99  Buy now!!
Pebble by Kahiniwalla
Environmentally and ethically conscious, Pebble makes beautiful, hand crocheted toys that are safe for infants to play with. Designed by Samantha Morshed, Pebble has a unique European style and aesthetic. Each Pebble toy is hand crocheted and made with love and care. All Pebble toys are made of 100% cotton. The best part is that these toys are easy to clean – simply throw them in the washer, and they will be as good as new.
$8.95-$39.95  Buy Now!!
DISCOVERY™ 101 AMAZING PUZZLES: SO AWESOME!
Which lizard can go for up to an hour without breathing? Which flower has a beard? Which bird can see a rabbit moving from two miles away? Solve the 101 puzzles and quizzes to discover the awesome answers to these questions and many more about the incredible natural world!
$5.99  Buy now!!
Lightseekers Trading Card Game
The Lightseekers Trading Card Game is a standalone physical game that includes 385+ augmented reality trading cards. Every card is scannable by the Lightseekers game to unlock AR effects and in-game bonuses, such as new spells, boosts, or pets that fight alongside you! Each player in the trading card game takes control of a hero who uses an arsenal of cards featuring spells, creatures, items, and locations to defeat their opponents. A unique Tribute card comes in starter packs and decks, it can be scanned and shared with friends to increase the power of its rewards in-game.
Choose from 6 starter decks, each aligned with a different order and with its own distinct play style. Each contains a full deck of cards, playmat, health counter, and 9-card booster pack. The Intro Pack is ideal for players new to trading card games, containing 2 accessible decks ready to battle. Adding item cards allows players to build their deck across orders. Sacrifice cards to play devastating combos that can turn the tide of a competitive game. Deliver damage or receive healing over time using a unique card rotation mechanic. The game is quick and easy to learn, but also provides great depth for advanced players. The card game is ideal for 2 players, but supports as many players as you have friends!
$3.99-$29.99  Buy now!!
Gelli Arts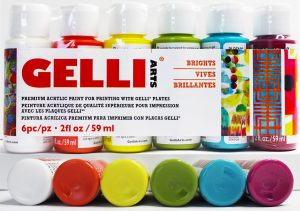 Two women from completely different career paths teamed up to transform an exciting idea into a reality. Meet the two minds behind Gelli Arts® – Joan Bess and Lou Ann Gleason! With Joan's background as the founder/owner of the rubber stamp company Emerald City Stamps and a passion for gelatin printing, all she needed was a mastermind behind the products. That's where Lou Ann entered the picture. Seeing Joan print on a gelatin plate, she was determined to find a non-perishable option. With lots of research and a little luck, Gleason was able to find the perfect printing plate. Brainstorming all the pieces into place, these skilled ladies have boosted their business with an innovative product!
$2.99-$245.00  Buy now!!
School of Dragons, game and book series
Geared towards kids ages 8 and up, School of Dragons brings DreamWorks Animation's "How to Train Your Dragon" franchise to life with an interactive and immersive gaming experience. Players can raise, train and compete with their dragon – the more accomplished with your dragon, the faster you will raise through the ranks at the School of Dragons and become the Ultimate Dragon Trainer. School of Dragons provides seven different lands to explore, challenging quests with familiar friends like Hiccup, Toothless and others from the "How To Train Your Dragon" franchise, and more. School of Dragons is available for free in the App Store, Google Play, Amazon and Steam.
The "School of Dragons" educational book series takes readers on journeys with their favorite characters from the "How to Train Your Dragon" movie as they explore real-life scientific and historical concepts like inventions, storms and volcanoes. Perfect for children ages 7-10, the series also offers readers codes to redeem within the "School of Dragons" game
$0 – $7.99  Buy now!!
*All images courtesy of respective company