All items are listed from most to least expensive.
GENE SIMMONS: THE VAULT EXPERIENCE
The GENE SIMMONS: THE VAULT EXPERIENCE is the largest box set of all time and celebrates Simmons' legendary five-decade journey in rock and roll, offering fans around the world a limited-edition collectible 'VAULT' , including never-before-released songs, photos, stories and collectible items.
From now until December 31st, fans will get a little something extra: a personal phone call* from Simmons to the recipient of the VAULT EXPERIENCE to let them know about the gift they will be receiving.  *Time and date to be mutually agreed upon by Rhino Entertainment and recipient
Experiences start at $2,000  Buy now!!
Twyla Holiday Collection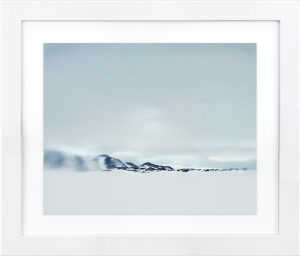 This special collection features prints from five artists including Nick Turner, Laurent Elie Badessi, Amir Guberstein, BRONCO and Elena Lyakir and is available from the first week of November through January 15. This collection is the perfect way to freshen up walls before holiday entertaining, or elevate a room year round. At just $130 each, these works are a steal considering most art on Twyla is priced upwards of $400, and artists' originals can climb into the tens of thousands.  Each framed print has 50 editions, and comes in one of two sizes — 14 x 14 inches and 12 x 14 inches.
$130  Buy now!!
Family Tree Sculpture
Custom Birthstone Family Tree Wire Sculpture, approx. 8 inches tall. Created with non-tarnish coated copper wire and Swarovski crystals.  The perfect unique, heartfelt and unexpected gift – nothing they have seen before!  Each tree is created with much love and care and shaped until it is perfect. Each tree seems to take on its own unique shape as I create it, making each one special and one of a kind.
$60.00  Buy now!!
Amethyst Money Tree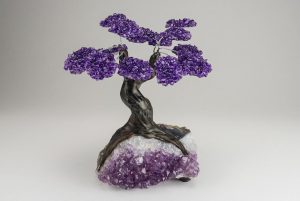 Small and medium sized handmade Brazilian Amethyst gemstone bonsai trees with faux tree trunk set on a large grape purple Amethyst crystal cluster on Matrix.
$59 or $79  Buy now!!
Hand Lettered 2018 Desk Calendar
This calendar features 12 cards with original hand lettering and sits on a gold easel for an easy and elegant display on your desk, end table or counter top. It makes a perfect gift for any friend, hostess, secretary, boss or just for yourself.  Measuring approximately 4.5″ x 5.5″, each calendar card is luxuriously silkscreen printed in gold on your choice of white, navy or pink heavyweight cover stock. It comes with a high quality brass easel, boxed and ribboned, ready for gifting to you or a friend.
$44.00  Buy now!!
Mail & Frame
Fine Art America's Mail & Frame service is great for those looking to easily transform their personal possessions into beautiful keepsakes to hang on the wall – and never leave home. Users can mail in posters, diplomas, team jerseys, kids drawings, and more – and Fine Art America will mail it back as a framed piece. They can click their way to affordable custom frames and mats – with over 150 options to choose from – and shipping is free both ways. Fine Art America takes care of everything – even sending a ready-to-go tube or box for users to ship their items in. All orders include a 30-day money-back guarantee.
$35 – $180  Buy now!!
Fantasy Floorplan for Friends apartment of Monica and Rachel
Fictional, hand-drawn floorplans for the homes of television's most famous and beloved homeowners. And with over 150 to select from there is literally something for everyone. Mad Men, The Office, Seinfeld, The Simpsons, I Love Lucy, Magnum P.I., Breaking Bad, Downton Abbey, Leave it to Beaver and many more!
$35.75 – $85  Buy now!!
Why LA? Pourquoi Paris?
A singular, delightful, and beautiful addition to the art book market brimming with joie de vivre and cool California glamour, Why LA? Pourquoi Paris? — a gorgeous, full-color, 272-page collectible art book, travel guide, and personal journey — is a must-have for the bookcases, coffee tables, and suitcases of jetsetters, art lovers, culture enthusiasts alike.
$26.95  Buy now!!
Drink, Laugh, Paint: How to Host a Painting Party
From the founders of The Paint Bar comes Drink Laugh Paint, a guide for hosting a painting party in the comfort of your own home!  Painting parties have become a popular social activity, and with Drink Laugh Paint, you have everything you need to create paintings of your very own. Pour some wine, break out the brushes, and let The Paint Bar's mother-daughter team, Jill Kerner Schon and Jackie Schon, walk you through eight beautiful paintings with easy-to-follow instructions that will have you unleashing your inner artist in not time.
For an unforgettable evening with friends, this kit includes: 164-page manual on an easel, with step-by-step instructions and full-color photos for eight wonderful paintings, 32-page booklet containing art material suggestions, party and drink ideas, and more, 16 postcards to invite your friends to the party.
$20.39 – $29.99  Buy now!!
LightBoxArts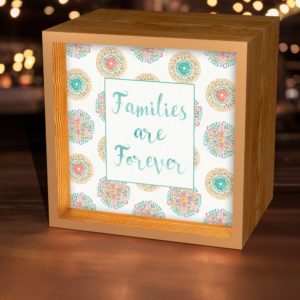 Light Box Arts is a sturdy MDF LED back-lit cube with the ability to insert and change out artwork to fit every aesthetic.
$20  Buy now!!
SpongeBob SquarePants The New Musical – Original Cast Recording
The album features a score of original songs unlike anything Broadway has ever heard before! Starring a legendary roster of Grammy Award-winning artists like Steven Tyler and Joe Perry of Aerosmith, John Legend, Cyndi Lauper, Sara Bareilles, The Flaming Lips, T.I., Lady Antebellum, Panic! At the Disco, David Bowie and more coming together to give the musical its distinctive voice. Show opens on Broadway Dec. 4!
$13.98  Buy now!!
The Piano Guys – Christmas Together
With over 1 BILLION YouTube views, The Piano Guys celebrate the holiday season with their take on classically-infused Christmas songs. The album includes classics like "Ode to Joy to the World," "Little Drummer Boy / Do You Hear What I Hear," "Gloria / Hark! The Herald Angels Sing," and "Silent Night, Holy Night."
$11.98  Buy now!!
Jackie Evancho – Someday at Christmas
Platinum-selling, vocal sensation Jackie Evancho's holiday album features well-known Pop and Opera stars including Italian vocal trio Il Volo, legendary Placido Domingo, YouTube star Peter Hollens, and tenor Vittorio Grigolo. The album is filled with classic Christmas and popular holiday songs, including "Hallelujah," "O Holy Night," "Someday at Christmas," "The Little Drummer Boy" and "Have Yourself a Merry Little Christmas".
$11.98  Buy now!!
Christmas is Beautiful
Writing the songs for this album was a uniquely different experience for Shelly E. Johnson than writing for her other albums because of the story she got to tell with her lyrics. "Because this is a Christmas album, we knew going into it all of our songs would be focused on telling the story of Christmas in a unique and fresh way. We got to unpack this massive idea of God, the Creator of the Universe, becoming a tiny embryo, being born as a baby, living a human life, all for the purpose of giving His life for us to save us from ourselves and reconcile us with Himself. That's a huge, mysterious, beautiful story, and it was so rewarding to pour my heart into telling that story from my perspective. Christmas is that time of year that it seems the whole world is more open to hearing the Gospel. I hope this album brings the Gospel to life in a unique way for someone who may not be interested in God or be aware of how much He loves them" she said. "So much heart and creativity and intentionality was poured into each musical moment on this record – I'm so very proud and in awe of how it turned out!"
$8.99  Buy now!!
From the Ashes
G2 Productions presents R&B southern songbird Jonquia Rose. The Texas born, Mississippi raised, California fortified, Dallas resident hits us with her debut single From the Ashes. Produced by DJ Self Born, the song deals with the act of rising from your lowest point. Taken from the first installment of her two part autobiographical EP titled Single Mom, From the Ashes is a true to life testimony for this talented and very honest singer.
Free  Buy now!!
*All images courtesy of respective company