The Cadillac Palace Theatre was rocking and rolling on Thursday night as Andrew Lloyd Webber's hit Broadway musical, School of Rock – The Musical, opened for a limited three week engagement.  I took my teenage son who plays guitar as a hobby and has never seen the Jack Black movie of the same name that the musical is based on.  He turned to me during the opening scene in which the lead character, Dewey, gets booted out of the rock band he plays in, and said, "This is the show?"  I said, "Just wait."  And wait he did.  And love it he did.
The show follows Dewey Finn, the extraordinary Rob Colletti, a guitarist who dreams of stardom but has yet to achieve anything close to it.  In order to pay rent, he poses as a substitute teacher at a prestigious prep school.  At first, Dewey, aka Mr. Schneebly, works very hard to do as little as possible, but he soon realizes that his class is made up of very talented musicians, albeit classical ones. But no matter.  Dewey turns his class of high achieving prep school students into a mind-blowing rock band in a matter of weeks while simultaneously re-connecting his uptight principal Rosalie, beautifully played by Lexie Dorsett, with her forgotten wild child.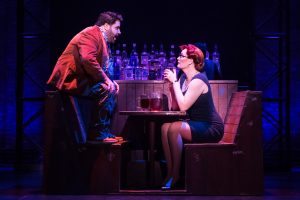 But more about Mr. Colletti.  He is an amazing specimen of a human being. His comedic timing is impeccable, his energy endless and his talent as a singer prodigious.  His rapport with the kids is beautiful to behold and I imagine he performs in the show and then sleeps whenever he's not; his energy never wavered, not for one second.  The other adult leads in the show, including Matt Bittner as Ned and Emily Borromeo as Patty, are all great, but the truly stunning stars of the show are the young people who play the students.  It always baffles me how humans so young can display such mature and professional acting, singing and dancing.  Triple threats are hard enough to come by and this production has hit the jackpot.  
The show has seventeen youngsters in the cast, some of them understudying another role as well, and the depth of talent is stunning.  A few of the actors stood out to me, each for shining in their own unique ways.  The singing and dancing of Gianna Harris was ebullient yet controlled; I only wish she had been able to strut her stuff earlier on in the show.  Gilberto Moretti-Hamilton's drum playing was amazing, especially when he took it from the drumset and onto the floor, or whatever surface was around.  Phoenix Schuman wasn't much bigger than his guitar, but he displayed an incredible amount of skill and stage presence.  Each of the actors had a specific character that they embodied with ease; they all have a bright future in theater, and I look forward to watching them grow as performers.  
We left the theatre with smiles on our faces, even my son, who doesn't show his joy easily.  I thought about the "real" life of the young actors who will be in a new city every few weeks for many months.  I can't begin to imagine the pride the parents of the actors must harbor. I'm sure the life of touring is a difficult one, but my guess is that they have a lot of fun offstage as well.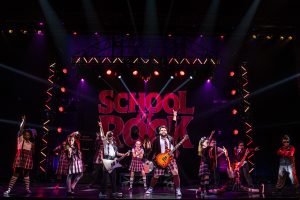 School of Rock – The Musical features music from the movie, as well as an original score by Andrew Lloyd Webber, lyrics by Glenn Slater, a book by Julian Fellowes, choreography by JoAnn M. Hunter and direction by Laurence Connor. The scenic and costume design are by Anna Louizos, lighting design by Natasha Katz, sound design by Mick Potter and music supervision by Ethan Popp.
PERFORMANCE SCHEDULE – Thru November 19th
Tuesdays at 7:30PM Wednesdays at 2:00PM & 7:30PM Thursdays at 7:30PM Fridays at 7:30PM Saturdays at 2:00PM & 8:00PM Sundays at 2:00PM *No matinee on Wed., Nov. 1 *Additional matinee on Thurs., Nov. 2 & evening performance on Sun., Nov. 5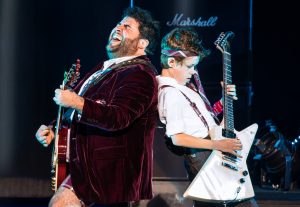 TICKET INFORMATION – Individual tickets for School of Rock – The Musical at the Cadillac Palace Theatre range from $27-$98 with a select number of premium seats available. A select number of premium seats are also available for many performances. Tickets are available now for groups of 10 or more by calling Broadway In Chicago Group Sales at (312) 977- 1710. Tickets are available at all Broadway In Chicago Box Offices (24 W. Randolph St., 151 W. Randolph St., 18 W. Monroe St. and 175 E. Chestnut), the Broadway In Chicago Ticket Line at (800) 775-2000 and online at www.BroadwayInChicago.com.
ABOUT BROADWAY IN CHICAGO – Broadway In Chicago was created in July 2000 and over the past 17 years has grown to be one of the largest commercial touring homes in the country. A Nederlander Presentation, Broadway In Chicago lights up the Chicago Theater District entertaining well up to 1.7 million people annually in five theatres. Broadway In Chicago presents a full range of entertainment, including musicals and plays, on the stages of five of the finest theatres in Chicago's Loop including The PrivateBank Theatre, Oriental Theatre, Cadillac Palace Theatre, and just off the Magnificent Mile, the Broadway Playhouse at Water Tower Place and presenting Broadway shows at The Auditorium Theatre of Roosevelt University. For more information, visit www.BroadwayInChicago.com. Facebook @BroadwayInChicago ● Twitter @broadwaychicago ● Instagram @broadwayinchicago ●