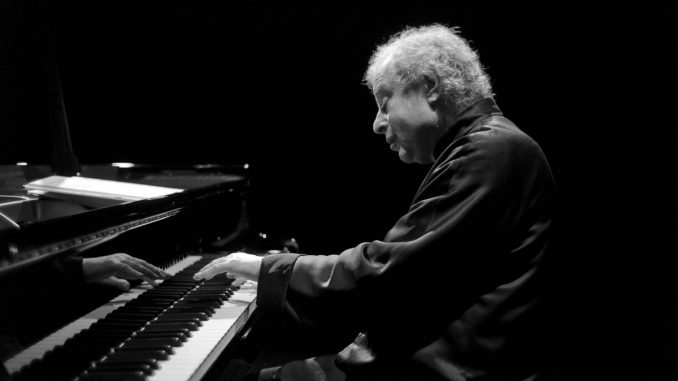 On November 2, 2017, Sir András Schiff, pianist and conductor, performed and led the Chicago Symphony Orchestra in ensemble at Symphony Center, 220 S. Michigan, in a well-balanced program to be repeated November 3rd, 4th, and 5th. The concert began with Haydn's stunning Symphony No. 8, and finished with Schiff conducting from and in front of the bench while playing the piano in Haydn's student Beethoven's massive and bold Piano Concerto No. 1. Schiff is a refined and eloquent conductor who seemed to address every member of the Orchestra separately, deliberately encouraging each one.
The works performed in the first half included:
– Joseph Haydn's "Symphony No. 88 in G Major", 1787
This is a resonant and cleverly crafted piece, with a complex and energizing first movement that proceeded with gusto after a slow introduction. Moving through a dramatic development, the main themes repeat. A wonderful melody appears in the Largo, followed by a stately Minuet with a folksy center; the last movement has a similarly folksy feel, with an intricate development and a very strong conclusion.
–Béla Bartók's "Divertimento for String Orchestra", 1939
A three-movement work for full orchestral strings, this is a neo-classical work "constructed around modal tonalities", composed with great textural variations. It's an unsettling piece featuring sharp contrasts. The opening movement is a gypsy-influenced waltz with unusual accents and rhythms. The Adagio is somber, slow and dissonant, although with sharp harmonics. The last movement is rapid and much more upbeat. The CSO took every turn in tempi and harmonics in crisp and clear fashion.
After the intermission, the Bösendorfer was brought up and Schiff played:
–Johann Sebastian Bach's "Keyboard Concerto No. 5 in F minor", BWV 1056, 1730's
This vibrant 10-minute piece is both imaginative and technically inventive. Schiff and the Chicago Symphony members performed, as throughout the concert, with careful attention to pacing and a fine balance between the solo instrument and the Orchestra in Chamber Ensemble, particularly noticeable in the splendid Adagio. There is a subtlety to Schiff's playing that gave a dance-like charm to the faster portions.
–Ludwig van Beethoven's "Piano Concerto No. 1 in C major, Op. 15, 1795
This glorious piece of music opened with a soft yet insouciant march; by the time the piano entered with a new tune- and one that was not repeated-the audience was already imbued with the spirit and energy of this movement. It develops into a lyrically lovely, almost dreamy segment. The intense and intimate Largo that follows then opens with a slower version of that same first march offsetting the piano melody. Finally, the Rondo takes a simple theme and gives it delightful twists and turns, before lapsing back into the dreamy development of the first movement and ending with a "mad fortissimo flourish".
The Chicago Symphony Orchestra proved it's prowess before the piano sounded a note. In the long exposition of the First Concerto, they were beautifully responsive with well-defined strings, robust horns and clear wind performers. Schiff's elegant playing, restrained during the louder portions, perhaps most vivid in the playful last movement, and triumphant at the finale, was made into a grand performance by his deft conducting throughout.
For information and tickets to all the fine programs of The Chicago Symphony Orchestra, go to CSO website
Photos courtesy of The Chicago Symphony Orchestra