Award-winning Playwrights Moss Hart and George S. Kaufman got it right – and this comedy classic has continued to deliver laughs ever since its premiere on Broadway. It's no small wonder that THE MAN WHO CAME TO DINNER has been revived repeatedly since its debut in 1939. Almost 40 years have gone by, and the chuckles and chortles keep coming. And let's not forget that Cole Porter wrote a song specifically for the play.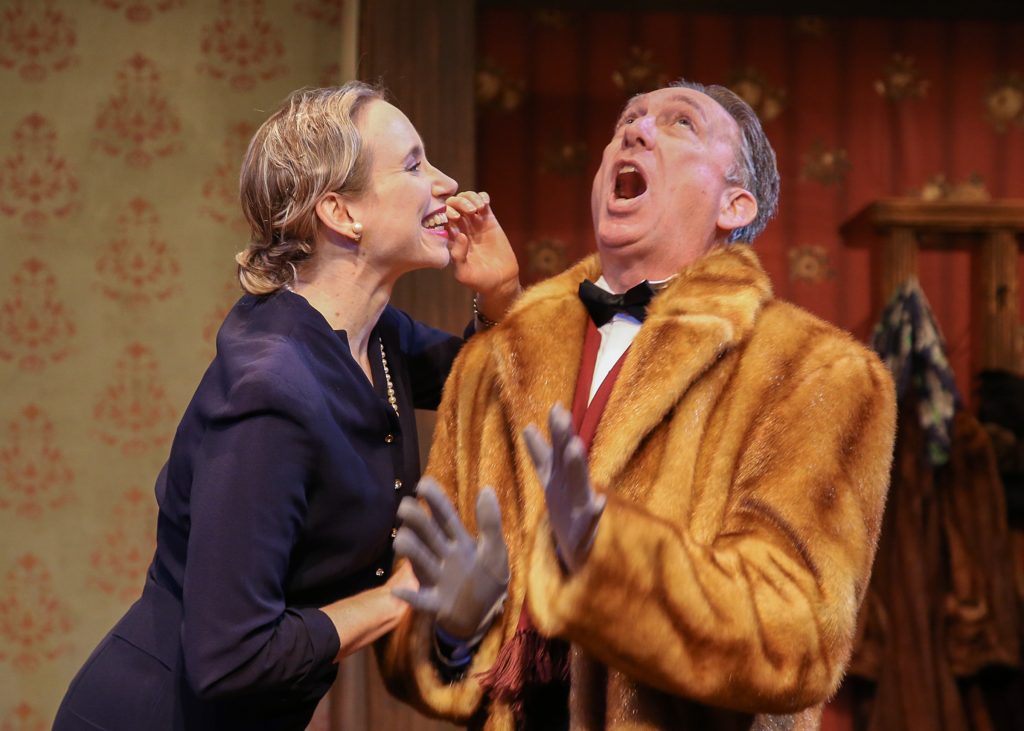 It's December 1936, and the well-known and beloved radio commentator Sheridan Whiteside (Greg Martin) finds himself in the small town Ohio home of the Stanleys (Lawrence Novikoff and Deborah Marlowe) recovering from a broken leg after a fall on the wintry ice. Christmas is approaching, but even the festive holiday season can't dull Whiteside's fangs as he tears into everyone and everything around him and relegates the Stanley family to the nether reaches of their home. Only Maggie (Natalie Hope MacMillan), his trusty Gal Friday, seems immune to his biting tongue.
But enter the local dashing journalist, Bert Jefferson (Connor Sullivan); and Maggie is certain that she has found "the one." Of course, Whiteside can have none of that. After all, he has no intention of losing the perfect social secretary to a small-town reporter. And so Whiteside's Machiavellian nature comes to the fore as he plans and plots to manipulate not only Maggie's life but also the lives of the Stanleys and their two charming – rather clueless – kids, June and Richard (Lila Hood and Kyle Frattini).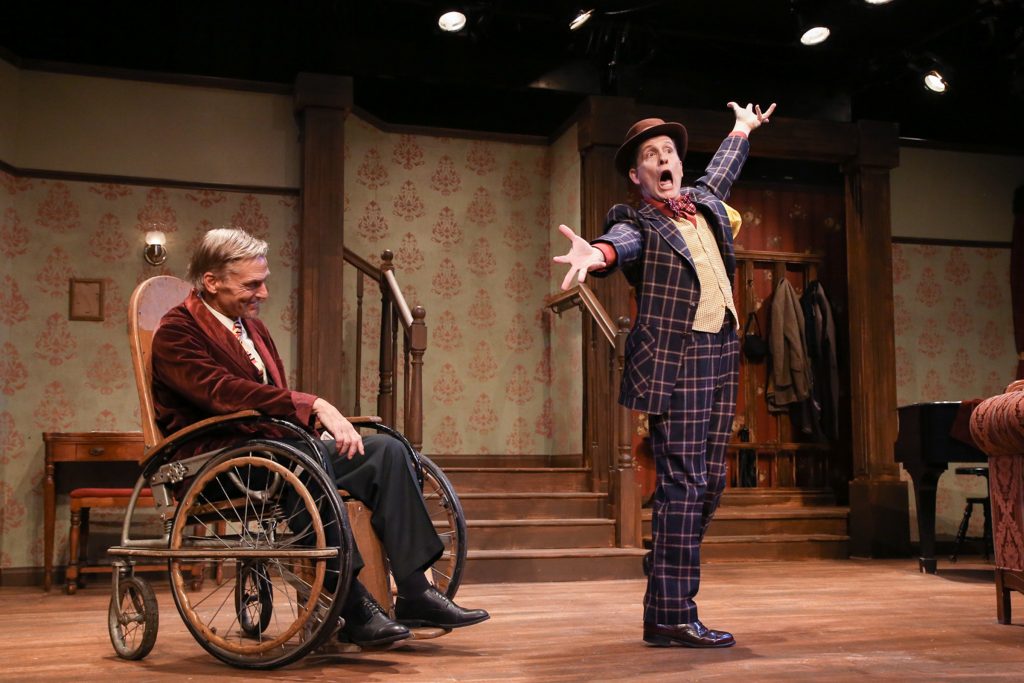 Names drop like rain in THE MAN WHO CAME TO DINNER, and it helps if the audience is familiar with at least some of them, including famous (and infamous) Hollywood and Broadway celebrities, scientists, politicians – just about anybody who is somebody in the late 1930's. A few of those famous names show up on the Stanley's doorstep (with altered monickers, of course). People like Banjo (John Allee) – just a bit like Harpo, I guess. There's never a dull moment in this production!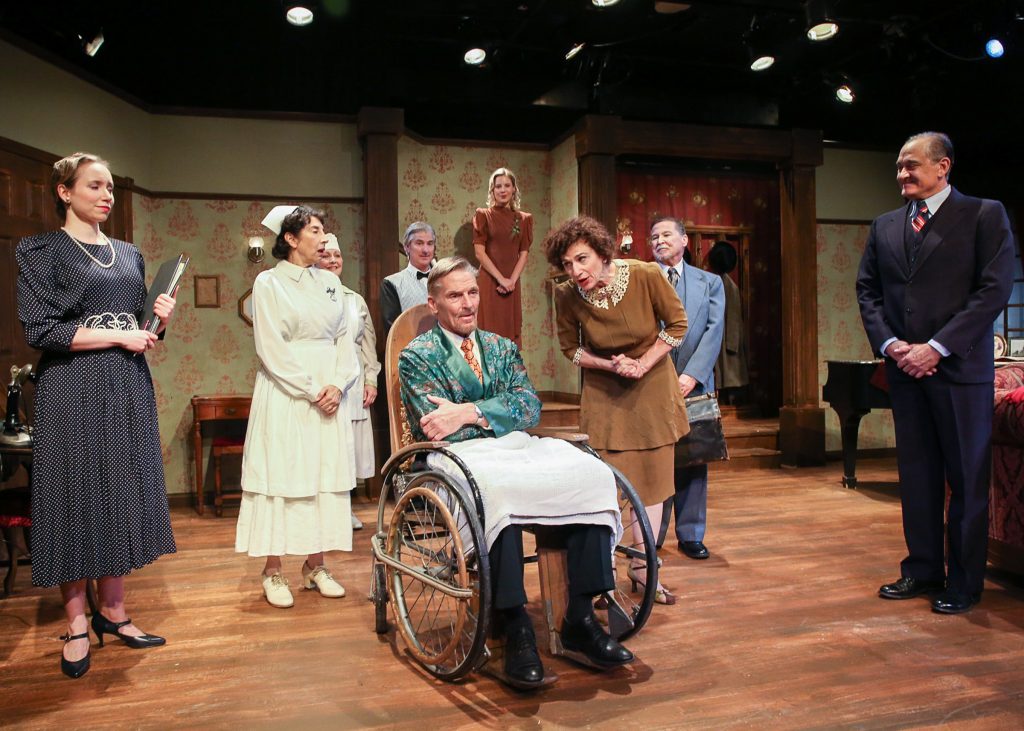 Director Linda Kerns has her hands full orchestrating the massive cast as the story flies along, and she does an excellent job of keeping things in a state of organized chaos. The talented ensemble cast has the skill, talent, and timing to keep the action rolling. Nicholas Acciani's scenic and projection design and Shon LeBlanc's costumes suit the story perfectly, as does Andrew Schmedake's lighting and Warren Davis' sound. This is a hilarious romp which revives life in the 30's while keeping the audience roaring with laughter throughout. Certainly a fun and entertaining evening and one which demonstrates what happens when excellent playwrights team up with a talented director, cast, and production crew. Don't miss THE MAN WHO CAME TO DINNER. It's a great holiday show.
SPLASH SELECTION
THE MAN WHO CAME TO DINNER runs through December 17, 2017, with performances at 8 p.m. on Fridays and Saturdays and at 2:30 p.m. on Sundays (no shows on 11/24, 11/25, and 11/26). Saturday matinees have been added at 2:30 p.m. on 11/11 and 11/18. The Actors Co-op David Schall Theatre is located at 1760 N. Gower Street, Hollywood, CA 90028. Tickets are #30 (seniors $25, students $20). For information and reservations, call 323-462-8460 or go online.