Never have I heard the word "chill" used more frequently in a musical than I did during the two and half hours of the mind-numbing Escape to Margaritaville – a dopey sitcom musical currently taking a short pre-Broadway tryout downtown. Like any new work, it's still an unfinished rough draft, with a heavy emphasis on the "rough."
Margaritaville wants so desperately to prove its "fun" that it sacrifices conflict, plot, and character in place of corny jokes, pointless songs, and even a weird tap-dance from a bunch of zombies.
Let's face it, this is a Jimmy Buffett musical, so it's not exactly aiming to be the next Fun Home, Les Miserables, or even Hamilton. Instead, it's like watching the jukebox musical Mamma Mia combined with the writing style of, say, Two and a Half Men – meaning it's a show for old white people. That's not being facetious. The show itself makes self-commentary jokes about its audience.
The book is by TV writers, Greg Garcia (My Name is Earl, Family Guy, and Raising Hope) and Mike O'Malley (Shameless and Survivor's Remorse). Together they've drafted the book as a lengthy comedic sitcom formatted to deliver as many Buffett songs as possible while barely touching on characters, themes, or conflicts. As a side note, I have to mention that O'Malley has enjoyed a varied career on TV as well from hosting Nickelodeon's Guts in the '90s to playing Burt Hummel on Glee.
Summarizing the plot of Margaritaville feels like trying to recall the last Friends episode you've seen. It's not one you're likely to remember much of walking out.
Set on an unnamed island at the "Margaritaville" resort, a vacation spot that puts more emphasis on relaxing than on upkeep of the hotel. Tully (Paul Alexander Nolan), the resort's lounge singer, and womanizer lives in a world of vacation beach bum fantasy. Tully's total opposite, Rachel (Alison Luff), an environmental scientist from Cincinnati, has come to the island to sample the island's soil. She's more interested in work than relaxing. Tully tries seducing Rachel to relax. They don't hit it off well at first, then they do, and then they're sleeping together. It all happens fast.
Joining Rachel at the resort is her best friend, Tammy (Lisa Howard). Tammy is about to get married to a "straight bro" stereotype named Chad, a man who constantly has Tammy counting her calories to watch her weight. Tammy soon finds comfort, and an instant attraction, at the resort with Tully's buddy Brick (Eric Petersen), a bartender with a half-wit brain from too many drugs, who thinks Tammy is beautiful just the way she is.
Then there's also a random back-and-forth fling between the hotel's proprietor Marley (Rema Webb) and an older man decked out like a pirate for no reason, named J.D. (Don Sparks). Marley and J.D. have affairs, and in one remarkably cringe-inducing moment they spontaneously do a Sing-Along with the audience of Buffett's hit "Why Don't We Get Drunk?"
Buffett fans, or Parrot Heads as their commonly called, are a hardcore group of devoted supporters. On opening press night they showed up wearing Hawaiian shirts, sipping on margaritas, and tossing beach balls around the theatre. These fans have made this singer's signature "Margaritaville" themed restaurants, resorts, hotels, casinos, gift shops, and even retirement centers, a multi-million dollar corporate brand-name.
On the one hand, I admire that Buffett draws big energetic audiences to the theatre, many of whom are not regular patrons. On the other hand, I just wish it were a better show so that they'd take an interest and come back to another show.
I do feel though that this musical doesn't come across to an outsider as having the sincerest intentions. While all shows rightly want to make a profit, I had to note that press release for Margaritaville included information on Buffett travel packages and related merchandising (something I can't recall ever seeing in a press release).
Perhaps the corporate branding could be tamed down a bit when marketing this show, "Margaritaville" is already a brand-name, so there's no need to push more products. The show itself already gives off a cheesy tourist trap vibe enough as it is.
As a non-Parrot Head (or anything close to it) I'm well aware that I'm not the intended target audience for Margaritaville. I only knew about two songs in this production. Admittedly, I found myself admiring the ballads more than anything (of which there were only 2 out of 27 songs). And while I certainly didn't hate this musical, I still had a hard time not wincing through most of the book.
Tailoring Margaritaville to Parrot Heads has advantages and disadvantages both for the show itself and for its overall prospects of surviving on Broadway. While fans will undoubtedly love it, it limits the show's appeal when customized to a select group of people.
Yes, Parrot Heads are a sizable devoted group for sure, but this show is heading into an incredibly tough market where 8 out of 10 musicals fail. Are these same fans really willing to fork over upwards of $300 for premium seats just to sit through  a mediocre story set to some Buffett tunes? Maybe once, but will it be enough to keep this show afloat for a year or more to earn a profit?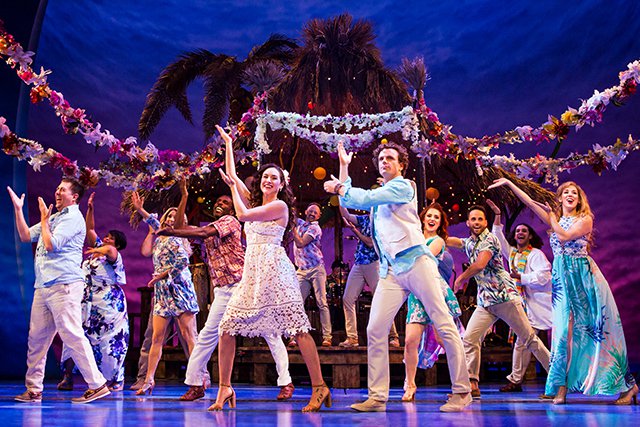 The major problem with this musical is that Buffett's songs came about long before this script ever did. Meaning Garcia and O'Malley were forced to find a basis for each song so that each one could exist in context. Sometimes the setups are witty. However, more often these plotted frameworks are just sloppy. One setup has J.D. airing out his feet when another staffer, Jesús, berates him for mispronouncing his name as "Jesus," which cues the song, "My Head Hurts, My Feet Stink, and I Don't Love Jesus".
I'm sure that Parrot Heads will find these justifications for the songs as clever as they already know the music. Non-Buffett fans and newcomers will find these same scenarios as gimmicky and tedious. Often the story feels like someone fed the lyrics into a plot generator to come up with the contexts, like when J.D. literally looks under a table for his "lost shakers of salt."
Escape to Margaritaville obviously just wants audiences to "escape" (something we surely all need in these turbulent times). I've long contended that "escapism" is a misguided term itself. Unless unconscious the only way we can escape in a show if we're able to connect with it. That connection is usually subliminal – we might be stuck on a certain TV show because we've identified with a particular character or emotion even if not aware of it. If a sitcom makes you laugh it's likely because you've made a connection.
The point here is that "escape" is an inactive objective for any show and one that is impossible to do if audiences are struggling to connect. Currently, the only connections  are with Buffett's music – again very limiting to only those familiar with his music. More importantly, there has been no effort to get us to connect with the characters, plot, or circumstances on a more personal level that might have an actual effect on us, especially for anyone unfamiliar with Buffett.
Unlike Buffett's leisure brand this show needs some tension that's not so, well, leisurely. The show can't be so all in for "having a good time" that it sacrifices conflict and reality altogether. In fact, the show's best moments are when the songs get hushed down to ballad-style reflections on life and loss as in "Margaritaville" and "He Went to Paris." Overall the musical could use more of these songs to allow the characters to reflect on their choices in life.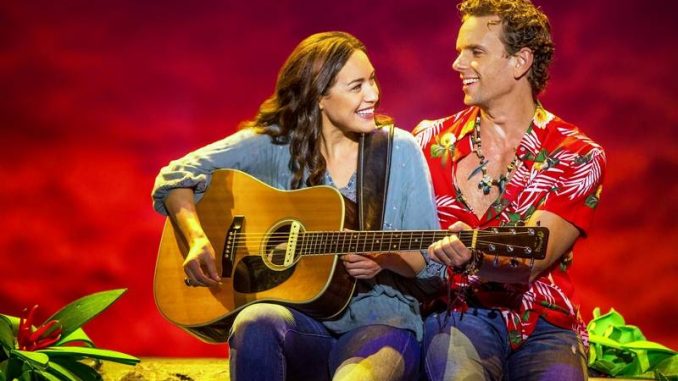 Not everything has to be so ridiculously campy to come across as "fun" either. In particular, those tap-dancing zombie insurance salesmen that Brick keeps imagining in a weird hallucination is so stupid and needs to go on the chopping block immediately. It's an expensive joke that is as unfunny as it is irrational. It rips the focus off of our central characters, contributes nothing to the overall plot, and frankly it's a total rip-off from The Adams Family musical. Parodying other Broadway shows doesn't work so well in a show that's currently aimed at non-theatregoers.
For such a simple script the book is in desperate need of major rewrites. Act One is currently all exposition at the moment yet it still lacks basic character development outside of theatrical archetypes (the rebel womanizer, the workaholic, the idiotic best friend, etc.). I can't say enough about how talented the leads are and how they deserve better working material than this.
The book is best when it deals with things we can all relate with, such as Rachel's work struggles, Tammy's self-consciousness with her looks, Brick's self-doubts, and Tully's longing for love. The show needs more of those moments and less of the ridiculous hoopla.
Act Two rushes towards a resolution so quickly that major plot points get glazed over. In a span of about 5 minutes Tully becomes a Grammy-winning recording artist and Rachel becomes a millionaire widely recognized for turning a potato into a renewable fuel source… The entire ending needs cleaning.
And, perhaps I missed something, but the big conflict in Act Two involves a volcano about to explode and was left somewhat unresolved. What happened to the island? Why was the resort left seemingly untouched by it? And how could both Rachel and Tammy be completely unaware of such a large event?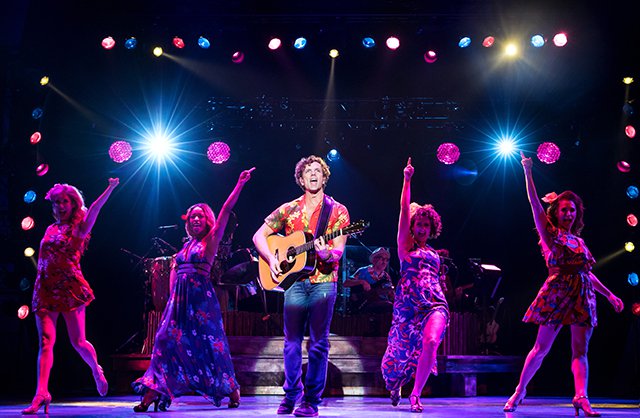 Walter Spangler's set design is both colorfully tacky and calmingly serine, but it too neglects the book. Act One describes how unkempt the premises are, particularly by the rude staff. It would be nice if the set design of the resort reflected that reality with dingy rooms and broken fixtures. At the end of the show, the changes could be juxtaposed with a shiny new resort when the couples return to "Margaritaville".
Props-wise it would be nice to see some actual Margaritas on stage, you know, given the title. And what's up with the onstage band? What's the point of making them sit on stage for nearly the entire show if the cast is never even going to acknowledge their presence? They could just as easily be in the orchestra pit.
I do have to hand it to Christopher Ashley, a director I much admire for his work on Come from Away and Memphis that he keeps this show's energy moving throughout. In past works, I've noticed that Mr. Ashley is best with directing intimatacy, something this musical is severely lacking.
Visually this is an evocative treat. There's a wonderful airborne scuba-dive (been done before, but it works) and a scene aboard a plane that has clouds dancing around them in an incredibly creative and effective way.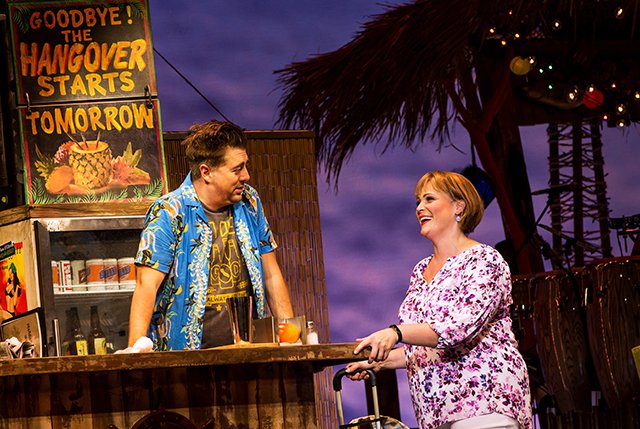 This cast is stellar overall and also woefully underused considering their talents. Paul Alexander Nolan brought an entire house to tears last year with his searing portrayal of a grieving father in Bright Star. Mr. Nolan also has a gorgeous voice that is at times operatic and other time's pure rock. Buffett's score doesn't give Nolan either opportunities. You'd be hard-pressed to know what a fantastic performer he is by the songs and dialogue Tully has. I know these are classic songs, but also they're covers, so there's no reason they can't they be reworked for the stage to give the characters more depth and show a wider vocal range.
It would also help if Nolan's dialect for Tully were more laid-back surfer and less southern twang. Nolan, a Canadian-born performer, is currently using the same Carolina accent he did last year in Bright Star. Tully needs more a better accent to give authenticity to his character.
The rest of the leads have similar structural problems as Nolan. They're all superb performers. They're also all grossly underused and underdeveloped. Chicago-area native Eric Petersen (a fantastic actor I've had the pleasure of working with several years ago) is doing a fine job as Brick, but he's capable of providing much more depth than the brainless idiot he's forced to depict on stage. Lisa Howard is another outstanding performer who is frustratingly underused as the funny fat girl in this show. For the record, Ms. Howard is in no way overweight, and it's a huge injustice that this terrific actress's only big solo is a song about how she loves meat patties. Ms. Howard deserves better and is indeed capable of so much more.
The one exception is Alison Luff as Rachel whose character not only has a great solo but has a tad more depth than the other leads. Her song choice gives some vulnerability. It's her dialogue that needs better development – I swear she repeated the line about a vague "venture capitalist" about six times. We get it!
Given the current status of this show, you may want to down a few margaritas yourself before heading to the theatre. Sober or not you're bound to have a hangover after sitting through this show.
Bottom Line: Escape to Margaritaville is Somewhat Recommended
---
ESCAPE TO MARGARITAVILLE – Broadway In Chicago
Running Time: 2 hours and 25 minutes, including a 15-minute intermission
Location: Ford Oriental Theatre, 24 W. Randolph St., Chicago IL 60601
Runs through: Saturday, December 2
Curtain Times: Tuesday, *Thursday, and Friday at 7:30 PM, Wednesdays at 2 PM and 7:30 PM, Saturdays at 2 PM and 8 PM, **Sundays at 2 PM.
* There will be no performances on Thursday, November 23
** There is an additional 7:30 PM performance on Sunday, November 19
Tickets and Reservations: $33.00 – $115.00. Tickets are available at all Broadway In Chicago Box Offices including 24 W. Randolph St., 151 W. Randolph St., 18 W. Monroe St. and 175 E. Chestnut. Tickets can also be purchased by calling the Broadway In Chicago Ticket Line at (800) 775-2000. They can also be purchased at all Ticketmaster retail locations. As well as online.
Group and Premium Tickets: A select number of premium seats are also available for many performances. Tickets for groups of 10 or more can be reserved by calling Broadway In Chicago Group Sales at (312) 977-1710.
Cast: Paul Alexander Nolan (Tully), Alison Luff (Rachel), Lisa Howard (Tammy), Eric Petersen (Brick), Rema Webb (Marley), Don Sparks (J.D.), and Ensemble Members Matt Allen, Tessa Alves, Sara Andreas, Marjorie Failoni, Steven Good, Angela Grovey, Albert Guerzon, Keely Hutton, Justin Keats, Mike Millan, Justin Mortelliti, Ryann Redmond, Ian Michael Stuart and Brett Thiele
Photo Credits: Matthew Murphy