Benedick (Brock D. Vickers) and Beatrice (Stephanie Gularte) fall in love
(St. Petersburg, FL) November 15, 2017 – When Shakespeare aficionados hear the memorable phrase, "The lady doth protest too much, methinks," they would instantly connect it to the Bard's magnum opus "Hamlet" when Queen Gertrude overcompensates her love for her deceased first husband, even though she married her diabolical second husband two months after being widowed. But if one were to slightly adapt the phrase to "THEY doth protest too much, methinks," then nine times out of ten, Shakespeare lovers would instantly recall the loving verbal foreplay between Benedick and Beatrice in "Much Ado About Nothing," which is being touted by American Stage as "the original Rom-Com." The St. Petersburg-based regional theatre hasn't presented one of the Bard's works on its Main Stage in nine years. The good news is this superior production makes that long hiatus worthwhile. Courtesy of expert direction and phenomenal acting by its leads, Stephanie Gularte and Brock D. Vickers, American Stage shines with its talented, classically trained company in "Much Ado."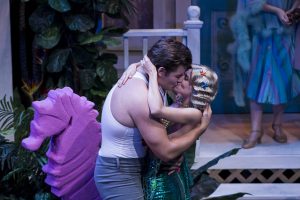 In the small town of Messina, a celebration begins. A group of brave soldiers, led by Don Pedro (Jim Sorensen), returns home from battle. But when the hells of war end, the blossoms of love begin. Young Claudio (Matt Acquard) instantly falls in love with Hero (Margee Sapowsky), the only daughter of Mayor Leonato (a powerfully patriarchal Don Walker). Meanwhile, the seasoned warrior Benedick (Brock D. Vickers) and Leonato's niece Beatrice (American Stage's Artistic Director Stephanie Gularte), both of whom are dedicated bachelors, trade witty verbal barbs and jabs, a kind of benign competition that hides a deep love between the two. As Don Pedro schemes to serve as matchmaker between the two couples, his half-brother Don John (Michael Raver) plots to create much mayhem and misery, resulting in false accusations, verbal abuse, and a supposed "death."
What is brilliant about this production is Director Benjamin T. Ismail's choice to update the story to post-World War II Key West, Florida. The fun tone of the play perfectly matches "The Greatest Generation" era in terms of the dynamic wardrobe (courtesy of Frank Chavez), jazzy swing music, and the hope of soldiers starting a new life stateside after many years of fighting in a long war. The fact this production opened on Veteran's Day (Nov. 10) and will end just past Pearl Harbor Day (Dec. 7) considerably enhances the show's historical and patriotic context. Scenic designer Jerid Fox's Key West beach house and cabana sets are beautifully bohemian. And the sound design by Director Ismail and Rachel Harrison not only capture the care-free joviality of the late 1940s, it also enhances several dance sequences that were expertly choreographed by Juliana Davis, most notably when they included the main theme to John Sturges' World War II classic, "The Great Escape."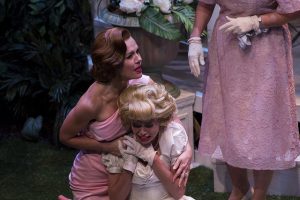 But the pure magic of this play comes from its superb actors, especially its two stars portraying Benedick and Beatrice, whose chemistry simmers and erupts every time they appear on the stage together. Making her acting debut at American Stage, Gularte's eloquence of the Bard's poetics is like watching a master's class in Shakespearean acting. Her witty repartee with Vickers' Benedick smoothly rolls off her tongue without losing any of the powerful subtly that Shakespeare conveys in his dialogue, and her comic timing is flawless, second only to Vickers (which I will get to later). But what is extremely impressive is how Gularte patiently reveals Beatrice's loneliness, vulnerability, and pain one layer at a time. After her first verbal dual with Benedick at the beginning of the play and when he has his back turned, Gularte's face quickly changes from annoyance to a look of compassion and care, as though she indeed missed him during his absence. She also deftly shows Beatrice's sadness as she shares with Don Pedro about never finding the right man. And then she explodes near the end of the play regarding the conflict between Hero and Claudio. By demonstrating such emotional range, Gularte proves herself as a talented artist both on AND off the stage.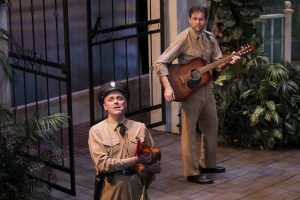 However, her performance wouldn't be complete without the comedic gifts of her on-stage romantic interest, Vickers. Looking frighteningly similar to a young Kevin Kline, his Benedick is less of a roguish leading man (such as Kenneth Branagh in his film adaptation of the play) and more of a mischievous satyr of a soldier whose magnetism comes from his boyish charm and especially physical comedy; he performs one acrobatic feat involving climbing the sets like a monkey that generated a strong applause. His command of Benedick's flair for unleashing his cutting wit on Beatrice is like watching a champion fencer parrying and foiling his opponent. And his charisma intensifies when addressing the audience with his soliloquies, although his physicality does become too excessive where he appears mostly antsy with nervous energy than simply being demonstrative. His talent is more than enough to address the audience without the extra movements. Regardless, Vickers' delicate balance between his comic timing and his serious moments with Gularte is pitch perfect, increasing their chemistry even more.
All of the supporting players shine in this production. Lisa Kay Powers' Antonia possesses a regal power that matches Walker's Mayor Leonato, her on-stage husband. Acquard and Sapowsky are perfect symbols of naïve innocence as Claudio and Hero. Davis proves her multifaceted skills as both choreographer and actress with her feisty Margaret and especially the clueless Verges (where she's practically unrecognizable.). But the winning scene stealer goes to American Stage veteran Richard B. Watson, whose major constable Dogberry is a tobacco chewing, good ole Southern boy who easily and habitually confuses similar words, such as villain with virgin. But he also avoids the trap of making his character as a one-note comedy relief. Although Watson is ingenious with his comedic portrayal, at one moment in the play, he beautifully sings a Southern ballad with such poignancy and warmth that it resulted in a well-deserved applause. This moment is just another testament of Watson's mercurial creativity.
Since her appointment as artistic director in 2015, Stephanie Gularte has made impeccable choices when it comes to choosing quality shows for every season. Bringing back Shakespeare on the Main Stage after nine years with "Much Ado About Nothing" proves that the Bard's plays should be performed every year at American Stage, enhancing its reputation as the most prominent regional theatre in the country.
Peter A. Balaskas is a fiction writer, copyeditor, and playwright.
Much Ado About Nothing runs from November 10 – December 10, 2017
163 3rd St N.
St. Petersburg, FL 33701
Photos by Kara Goldberg