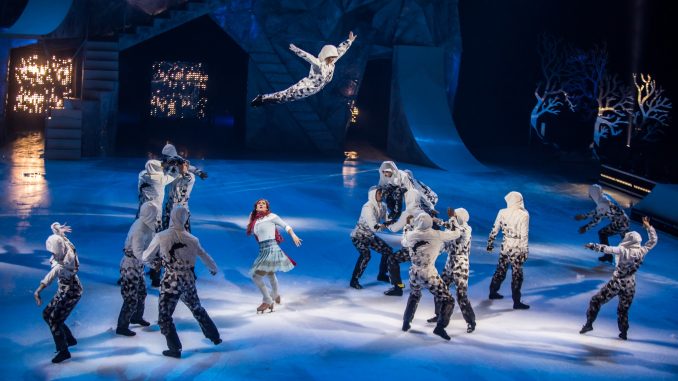 I was a roller coaster of emotions the other night as I took in Cirque du Soleil's latest creation: Crystal: A Breakthrough Experience at the Sears Centre in Hoffman Estates.  There were moments when I found myself holding my breath and telling myself to let go of the tension I was holding, and there were also moments that I almost teared up because it was such a joy to see such a talented group of people doing what they love, whether it be flipping through the air,
making an audience laugh or skating with exquisite technique and no inhibition.  I'm very sorry to say that the show was in the Chicagoland area ever so briefly, but the tour continues for many months to come and I highly recommend checking it out if the opportunity arises.
Cirque du Soleil has been around for decades and taken the world by storm with its concepts, theatricality, technical prowess and amazing performers from all over the world.  This new two hour show is a cacophony of stunning skating, tumbling, juggling, and dancing of all kinds, mixed with incredible lighting, music, props and costumes.  The entire show is choreographed; every transition, every entrance and exit, so that it's seamless in its narrative and spectacle.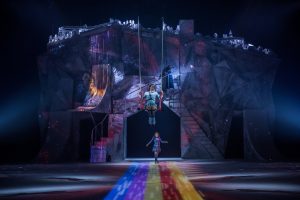 The evening centers around Crystal, a young lady who falls through ice and finds herself in an alternate version of her life, which leads her on an incredible journey of self-discovery.  Eventually, she realizes that her life above the ice is the one in which she can really live and thrive in authentically, so she makes her way back up through the ice to a joyous reunion with her family and community.
Nobahar Dadui, a Solo Figure skater from Canada, exhibits incredible stamina and joie de vivre as she makes her way through her journey.  Madeline Stammen, Crystal's reflection, is also stunning and bursting with never ending energy.  The live musicians, Steven Back, Lucine Fyelon, and Camilo Motta, are a lovely touch in the more emotional moments of the show, and Nathan Cooper, the comic character, is a delight, beginning his hijinx well before the show begins.
As for the other skaters, they have found a wonderful home in Cirque de Soleil.  I have often bemoaned the fact that competitive figure skating has always been about the jumps at the end of the day, and that has come with a heavy price to the artistry that should make up the vast majority of a skater's routine.  The skaters in this show don't have the pressure of pulling off triple and quadruple jumps; they can just skate joyfully and with exquisite flexibility, line, and finesse, and that is what kept me enthralled.
Now that they've taken on ice, I wonder if fire is next.  If anyone can pull it off, it's the geniuses behind Cirque du Soleil.
For information and tickets, visit cirquedusoleil website
Photos: Courtesy of Cirque du Soleil