On Wednesday, November 29, 2017, The Los Angeles City Hall honors LA VIRGEN DE GUADALUPE, DIOS INANTZIN, a Christmas pageant which has become a tradition in the Los Angeles community. From the first production 15 years ago, Evelina Fernandez has been an important contributor to this community-based production with professional actors and musicians. A second-generation Mexican-American, actor/playwright Evelina Fernandez is particularly well equipped to see the world from multiple perspectives. True to her roots, she became involved in the Chicano movement in college. In 1978, she played her first prominent role in Luis Valdez's hit play, Zoot Suit. In 1985, she was a founding member of the Latino Theater Company, along with her husband, artistic director Luis Valenzuela. As an actress, she played in nearly 30 movies, shows, and film shorts. Donning her playwright cap, she has won professional recognition and several prestigious awards. Her loosely autobiographical play cycle, A Mexican Trilogy, highlighted the immigrant experience and gained critical acclaim.
What better "Jack-of-all-trades" than Evelina Fernandez to offer some history and insights into the Cathedral of Our Lady of the Angels annual Christmas pageant, LA VIRGEN DE GUADALUPE, DIOS INANTZIN, a pageant piece which she wrote and has been instrumental in presenting for 15 years. A pageant which has become a Los Angeles Christmas tradition and a community effort. This is the tale of Juan Diego, a simple peasant to whom the Virgin Mary appeared on four occasions in the mountains of Tepeyac near Mexico City in 1531.
HOW LONG HAS THE CHRISTMAS PAGAENT BEEN PERFORMED, AND HOW DID YOU BECOME INVOLVED IN IT?
FERNANDEZ: The Latino Theater Company had been doing "La Virgin de Tepeyac" by Luis Valdez for a few years beginning in 1991. When we saw them building the new cathedral, my husband said that we should do our show there. We all thought that was a crazy idea, but we asked anyway. Their first response was no, that they were too busy with the inauguration in 2002. Around three weeks before December 12 in 2002, they asked us if we were still interested in doing it. We didn't have enough time to get ready; but we were afraid that they would change their mind and we would never have an opportunity to do it – so we said yes.
Because of the dynamics of the cathedral, we couldn't use the Valdez script, so we wrote our own. I adapted the Valdez idea, but we decided to explore the more indigenous side of the story. In our script, the Virgin speaks in an indigenous language, Nahuatl, when she first appears. The first time we presented the show was in 2002. Now we're in our fifteenth year, but we skipped one year because we had no funding. It's really exciting that we're being honored by City Hall this year for our quincineras, our fifteenth year of performing.
HOW DO YOU SEE THE LATINO ROLE AND YOUR OWN ROLE IN THE PRODUCTION?
FERNANDEZ: During the holiday season, I think the show is really important. It's our gift to the City of Los Angeles. It's free, and so poor and working families can enjoy a pageant with kids, seniors, dancers, singers, professional actors, and anyone who wants to volunteer to do anything. It's really a community effort, and some families come year after year.
Most of the community already know about the show, but we put out the call on social media too. The kids can start at the age of five. When they're 15 or 16, they either stop, become dancers, or stay as helpers. Each show has around 100 performers. The cathedral hold about 3500 people, and we perform for two nights – so 6000 to 7000 people are in attendance each year. From beginning to end, the show is about 1½ hours, depending on how many children and dancers show up – and how long the curtain calls last.
This year, our first day for new people to show up was last Sunday, November 26. That's the day for new people. We rehearse for two weeks for the production. Many of our actors are the same year after year. This year, there's one new actor and a new stage manager joining us. After 15 years, we're down to a formula now, so it's not as hectic as it was in the past. We've become a holiday tradition, and we look forward to each New Year.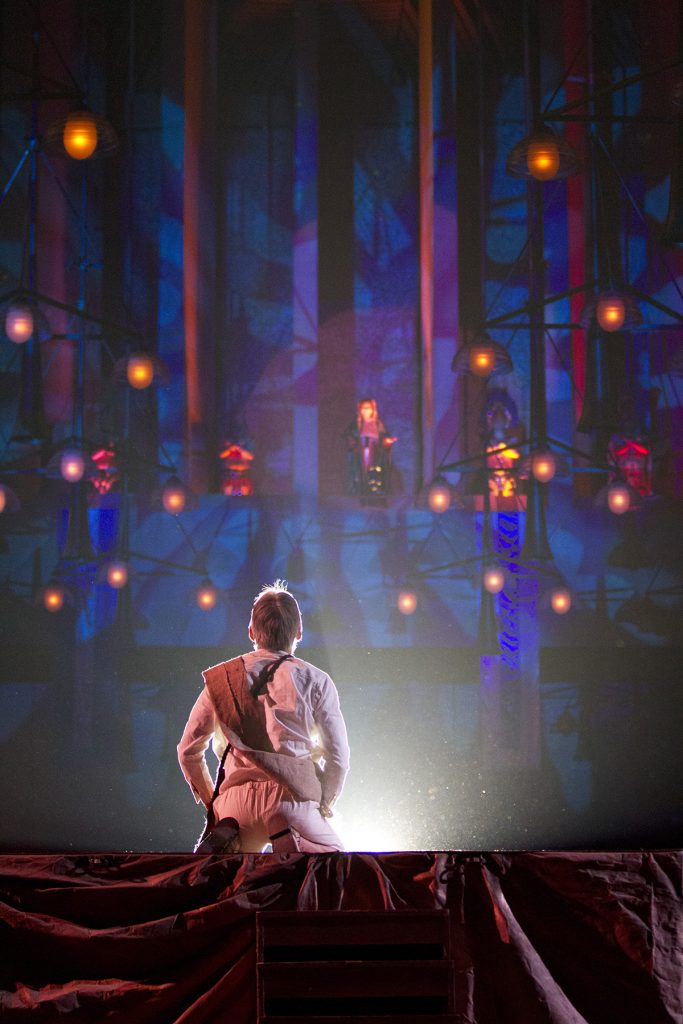 WHAT ARE SOME OF THE MEMORABLE EXPERIENCES YOU RECALL FROM THE PAST SHOWS AT THE CATHEDRAL?
FERNANDEZ: There are so many that I was thinking of writing a screenplay around some of the behind-the-scenes events. The first year, we weren't really prepared. Now we have modern technology and professional sound and lighting. At first, we used hand-held clip lights. We were lighting the Virgin with clip lights; and all of a sudden the light faded and she was in the dark. We were lucky. Everybody thought it was part of the show.
To do the show, we need four strong men dressed in indigenous clothes to lift the Virgin and make her appear. One year, we were desperate because we couldn't find four people to lift. At the last minute, we got a response. They said they would drop them off and pick them up when they were done. That sounded odd, but we really needed those four strong guys. They showed up every time; but I kept thinking, "Who are these guys?" It turned out that they were from a halfway house, and it was a great experience for everyone. One of the men was African-American, so he was new to the culture and the experience. They got to invite their families, and it was a memorable time for them and us.
Another time, a woman who was part of the show for years was diagnosed with cancer and was going through chemotherapy; but she didn't want to miss the show. She asked if she could come "even if I'm in a wheelchair." Of course, we told her; and she came. She's well now, and she feels that part of her healing was being in the show.
I think that the production is particularly important right now for the community. I was a cultural advisor for the new movie, Coco. I was impressed that they cared enough to reach out to people in our community and make sure that our culture was represented authentically. The movie's success is amazing, and I think that's really important for us right now in this political and social climate where cultural pride and authenticity are crucial. LA VIRGEN DE GUADALUPE, DIOS INANTZIN is a reminder of the beauty of our culture. It sends a message of love, faith, and perseverance – and that's really imperative at this time.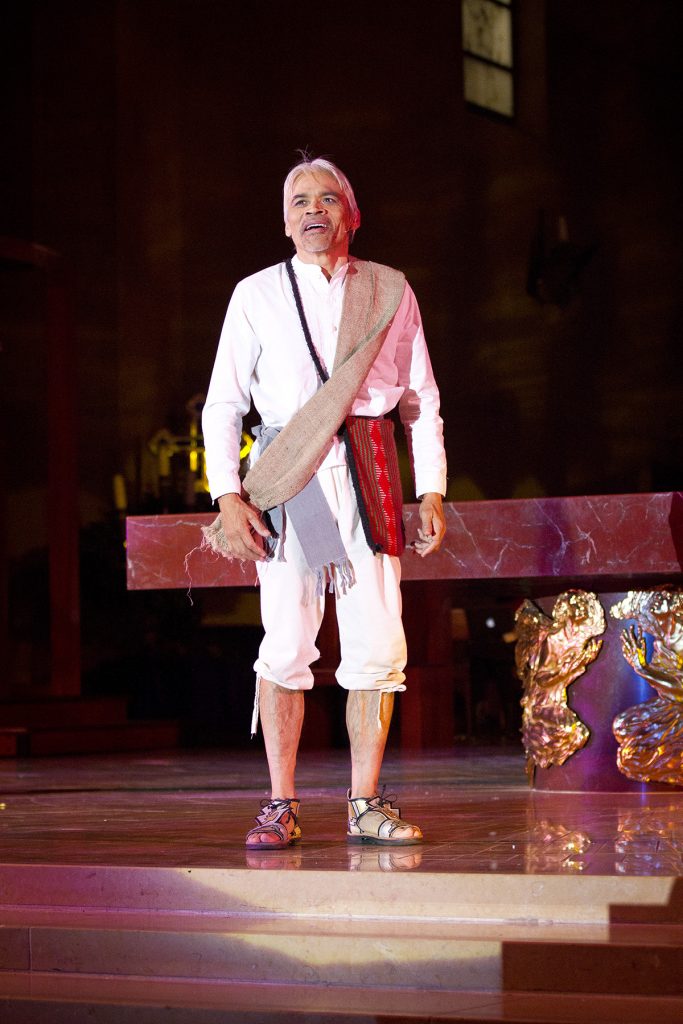 LA VIRGEN DE GUADALUPE, DIOS INANTZIN performs on Thursday, December 7, and Friday, December 8, 2017, at 7:30 p.m. The Cathedral of Our Lady of the Angels is located at 555 W. Temple Street, Los Angeles, CA 90012. Admission is free; reserved seating is available for $40. For information and reservations, call 866-811-4111 or go online.