By Kathy Carpenter
Lambs Players in Coronado presents now in its 40th year Festival of Christmas. "The Tradition That's Different Each December." A feel good story. And a win -win situation.Everything works out in the play and the audience is entertained. Festive Christmas cheer and beautiful, spiritual seasonal hymns. Lambs knows how to ring in the Holidays.
The show is written and directed by Kerry Meads, musical direction by Jon Lorentz. The pair brought us a perfect show. Everything Christmas. Romance, neighbors, community, sharing, loving, sacrifice, kept promises, work together, and an angelic choir of voices. A big part the festival of Christmas each year is the music. Although there is a story, there is always a lot of holiday music. This year although most of the songs were relatively unknown, at least by me. They were so beautiful. Most of the cast double as singers. Well foremost they are singers with tremendous voices. If you love Christmas choirs this is your show,
The story takes place in Fargo, South Dakota. A older gentleman is forced to sell his beloved church as attendance has dropped and the church has fallen into debt. The play takes in the open house, the offers made, the consideration, and the outcome.
A character driven story. My favorite, as you can grow to love these wonderful people. Two lovable roles in this one. Mrs. Swanson , played by Cynthia Gerber. The truly wonderful character we have come to associate with Fargo. Fun loving and funny. And in this case the one who brings everyone together. The other character to love, Paulson Peters, played by Matthew Patrick Davis. The villain in the story. The enemy we love to hate, or is he? Both did a remarkable job. Jim Chavick, a Lambs favorite, returned to play the lovable old guy. Steve Gouveia, Caitie Grady, Joy Yandell Hricko, Michael C. Louis, Katie Porter, Benjamin Roy. Kaitlin Thomas, and Lauren King Thompson, round out as the actors/singers. Gifted in more ways than one sharing and wowing the audience with their talents.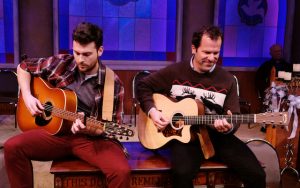 The show was set against the same church background as "Smoke on The Mountain," also an amazing spiritual journey, that did so well it will return after this show closes. The one difference was the exquisite Christmas tree. Sixty glorious red and white roses surrounded by red and white poinsettias. Breathtaking.
If you can choose only one Christmas thing to do let this be the one.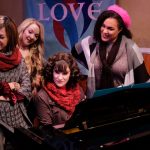 A Fargo Christmas North of Normal
Lambs Players Theatre
December 1 – 30, 2017
1142 Orange Ave. Coronado, CA
619.437.6000
LAMBSPLAYERS.ORG
Smoke On The Mountain
Lambs Players theatre
Jan 5 – 28, 2018