The temperature may be dropping but brunch at Angelo's Wine Bar (3026 W. Montrose Ave, Chicago, IL 60618) is heating up with the launch of its new All You Can Drink Mimosa or Bloody Mary Brunch, served 11:30 a.m. to 3 p.m., Fridays, Saturdays and Sundays.
                                                                                                                   My friend and I enjoying Angelo's brunch!
Guests enjoying bottomless Bloody Marys get glasses with a 2 oz. vodka pour and add their choice of mix and assorted garnishes. In addition to a bottomless beverage of their choice, the $25 deal gives brunchers a choice of shared plate. Located in the happening dining scene in the Albany Park neightbhorhood, this brunch is one you must add to your Chicago dining list.
Angelo's Wine Bar is changing with the season, delivering a brunch menu full of seasonally inspired items. Backed by Executive Chef Julia Helton, the menu's perfect comfort food combinations highlight the season's best flavors.
In addition to crowd favorites that remain on the menu, egg-citing new options include Angelo's Omelette ($10) with three eggs, sopressata, tomato confit, basil and mozzarella cheese, among other various egg dishes
Cheese lovers will savor the Italian Queso Fundido made with Swiss cheese, sausage and tomato confit and served with ciabatta bread. There is also the Fruit Plate featuring seasonal fruit, whipped cream and mint or the Strawberry Short Cake—with whipped cream and strawberries stacked on top                                                                            of a biscuit, this dish is sure to please.
Brunchers who favor lunch have a wide selection of salads, sandwiches, pastas and pizzas to choose from, such as The always popular Fig & Prosciutto ($15) with garlic confit oil, chevrè, prosciutto, fig, mozzarella, arugula, parmesan and balsamic continues to reign as a crowd favorite. Or try the new Smoked Salmon Pizza ($16). Unlike most restaurants who settle for lox platters, this pizza—with sweet pea crème fraiche, red onion, arugula and capers—takes the brunch staple to a whole different level. Beverage options also include $5 draft beers and Metropolis Coffee.
A long-time neighborhood staple, Angelo's Wine Bar originally a simple Italian pizzeria founded by Jimmy Angelo in the 1960s. The business was sold to Manny Fakhoury in 1983, who turned it over to his brother in 1999 before his nephew, Ramez Fakhoury, started helping in 2004. In 2015, Fakhoury completely reconfigured the take-out restaurant by purchasing the adjacent storefront to expand Angelo's and transforming the space into a sophisticated sit-down restaurant. The restaurant's facelift extended to its menu as well. In addition to its famous pizzas, the menu features Neapolitan style pasta, brunch, elegant shared plates, a robust wine selection, house-made vermouth and elegant cocktails.
Daily Specials include half-off wine glasses on Mondays; $7 hand crafted cocktails and $5 draft beers on Tuesdays; live jazz music and half off wine bottles on Wednesdays; and BOGO salads or pastas on Thursdays.
My editor, Barbara Keer, originally reviewed Angelo's dinner menu, but I figured it was important to let our readers of Splash Magazine know what an amazing experience the brunch is as well. This is where my part came in, along with my eager palate and empty stomach, ready to sample!
The restaurant itself was rustic, yet modern and casual with comfortable leather seating. Along the walls screens showed clips of old black and white classic movies. In the front is the bar that can also show live sport events.
We decided to split the whipped Italian ricotta, with clover honey and Safi balsamic on a toasted baguette, to start with. The ricotta was lovely and fluffy, and not too sweet, with honey. Thick balsamic vinegar balanced out the honey nicely, and we spread the mixture onto warm, fresh thick bread slices.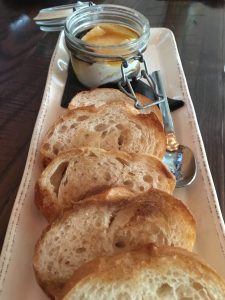 Our main dishes were simple but offered a plethora of marvelous sweet and savory flavors. We ordered the chilaquiles with corn tortillas piled high with pico de gallo, guacamole, sour cream, Chihuahua cheese and sunny side up eggs. The chilaquiles (the savory) which has a blend of four different cheeses, along with a subtle chile spice. I especially loved the crunchiness of the tortilla chips with the diced tomatoes.
Our other entree, lemon blueberry French toast, was fresh, light and not overly sweet. The house made maple syrup was to die for, and my friend declared it was the best maple syrup she ever had in her life.
After all the amazing food we consumed, along with "bottomless" servings of mimosas and bloody Mary's, there was no room left in our stomachs to sample the rest of the tempting-looking brunch menu. I will definitely be returning to check out the other dishes at Angelo's Wine Bar – a wonderful neighborhood place to eat, drink and dine with a great family feel.
Photos: Jennifer Lunz
Brunch is served 11 a.m. to 3 p.m. Friday through Sunday, making Angelo's Wine Bar the perfect place to unwind from the night before or wind up for the next night out all weekend long.
To make a reservation, call 773-539-0111 or visit Angelo's website.
Note: the All You Can Drink Mimosa or Bloody Mary bar has a 2-hour drink limit and cannot be shared or split.