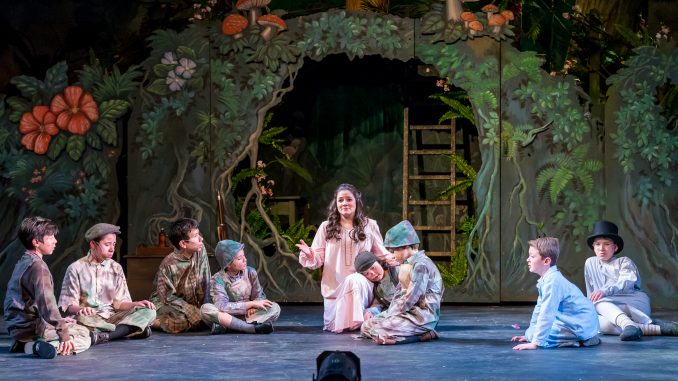 There's PETER PAN, (the movie, the Broadway play, the television shows) and then there's PETER PAN, the best production of PETER PAN I have ever enjoyed, playing now through January 1, 2018 at Music Theater Works in Evanston, Illinois.
Yes, this is a family classic most of us grew up watching (except Peter Pan, himself, who always exclaimed "I Won't Grow Up"). So, let's explore what makes this production of PETER PAN at Cahn Auditorium so terrific.
We might as well begin with Peter, played by Aubrey Adams in her fantastic Music Theater Works debut. Personally, I've never seen such an animated, talented flying singer-dancer-actor lead the cast before in any production of the play. I was totally mesmerized by Peter, whose cartwheels, flying scenes, and non-stop talk-and-sing stage presence were a thrill to behold. Audience applause, please…
The ensemble cast excelled, all equally talented and engaging. Larry Adams played two major roles – Mr. Darling and Captain Hook – and he was just great even at his most menacing self while trying to lead the children to the ship's plank and their demise.
Wendy Darling and Jane, her daughter late on in the play, is well- acted by Elizabeth Stenholt, also debuting at this magnificent 1000-seat theater. Other bright lights in this talented cast include Anna Marie Abbate (Tiger Lily), Cary Lovett (Smee), Anne Marie Lewis (Mrs. Darling), Zachary Scott Fewkes (John Darling), Patrick McDermott (Michael Darling), Anne Backer (Liza/Wendy understudy), Anna Dvorchak (Grown-up Wendy), and Clayton Cross (Nana and Crocodile). And the rest of the cast with smaller parts all shined with talent.
It's great fun to sing along, quietly of course, with some of the great and infectious songs from Neverland. Here's a partial playlist: "I Gotta Crow," " Neverland," " I'm Flying," "Hook's Tango," " I Won't Grow Up," "Hook's Waltz" and "Tender Shepherd." Original Lyrics are by Carolyn Leigh, Music by Morris Charlap and additional lyrics by Betty Comden and Adolph Green, with additional music by Jule Styne.
Rudy Hogenmiller is the esteemed Stage Director and Artistic Director of this show and other Music Theater Works productions. Having enjoyed many of his shows, which were originally known as Light Opera Works productions , I know this play will be hard to top!
The design/production team is Adam Veness, whose scenic and technical design is truly magical; Roger S. Kuhn, whose costumes are out of this world; Andrew H. Meyers, whose lighting in the different scenes shone bright and with twinkles; Aaron Quick, who engaged fans with his terrific sound production, Matthew Silar as innovative stage manager; and Katie Becks, astute production manager. All together they were so talented behind-the-scenes.
The out-of-this-world choreography is by Clayton Cross. The dancing will definitely make you want to get out of your seats and dance.
The music director and conductor of the full 26-person orchestra is Roger L. Bingaham. The musical interpretation was flawless; fans like me totally enjoyed the music once and again.
PETER PAN concludes Music Theater Works 2017 season. Discount season packages for 2018 are available by calling 847-920-5360 or by ordering online at MusicTheaterWorks website. The ticket office is at 516 4th Street in Wilmette.
The next six shows are:
Friday, December 29 at 8 pm
Saturday, December 30 at 2 and 8 pm
Sunday, December 31 at 2 and 8 pm
Monday, January 1 at 2 pm
The Cahn Auditorium is at 600 Emerson Street in Evanston, Il.
Tickets start at $34 with ages 25 and younger at half-price.
Go and enjoy.
Photo Credit-Brett Beiner