You got to hand it to Steppenwolf for taking risks on untested new plays, primarily from young minority playwrights. It's one of many reasons this company stands out among one of the finest regional theatres in the county.
That boldness is certainly on display in Aziza Barnes's terrific BLKS, a searing, raw, and amusing new play revolving around the insecurities of three twentysomething African-American women trying to find meaning in a world of social isolation, prejudices, and constant change. The play's strength lies in Barnes's writing, which shows how young minority's self-doubts are fueled by society's disregards of their worth, and how important friendships are in getting through rough life patches.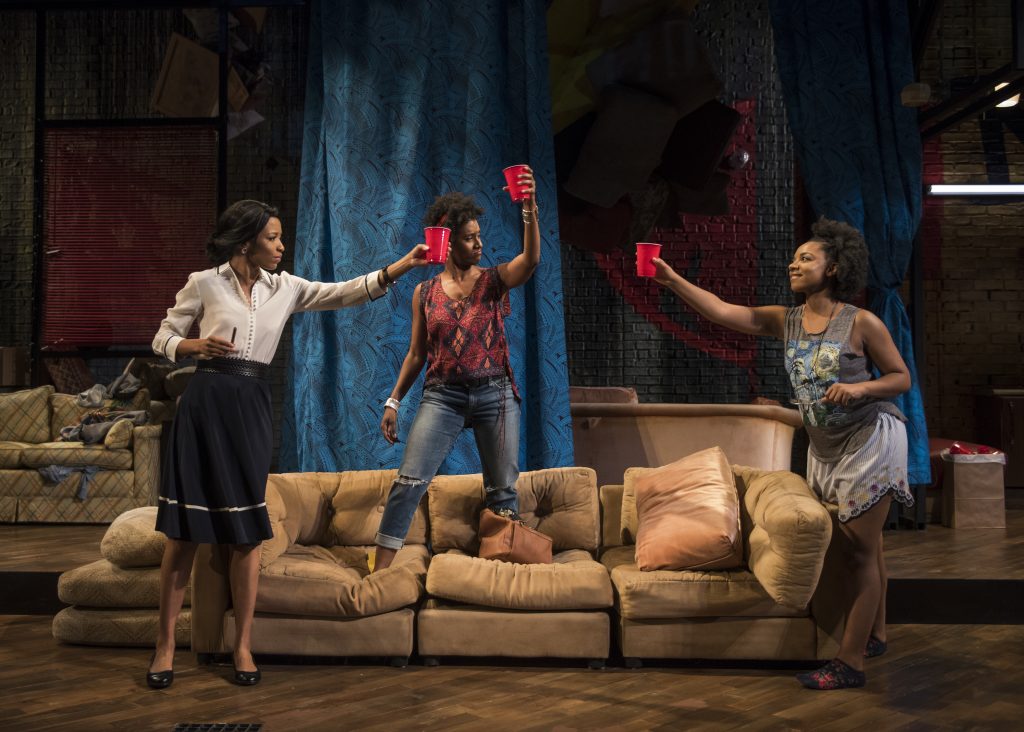 Barnes' story is set in April-2015, just before the tumultuous events of the Freddie Gray murder, thus adding another layer to the theme of chaos and societal rejection. It's in this environment, within a Brooklyn apartment (the authentic loft style set-design is by Sibyl Wickersheimer), that we meet three roommates who are forced to deal with a mix of anxieties.
First, there's Octavia (Nora Carroll), a struggling screenwriter that's been in an on-and-off again relationship with her lesbian lover Ry (Danielle Davis). Ry wants commitment whereas Octavia isn't ready for that until she has more security in her life. In fact, Octavia has other worries on her mind. At the start of the play, she discovers a mole of some kind growing on her genitalia (needless to say, don't bring the kids to this one). That health scare eventually leads to further problems for her further in the play.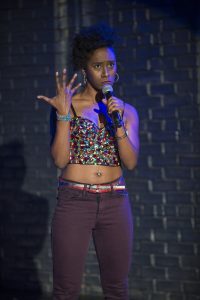 The second roommate we meet is Imani (Celeste M. Cooper), a stand-up comedian whose current act involves mimicking Eddie Murphy in the 1987 movie, "Raw" (Ms. Cooper does a spot-on hilarious impression I might add). She also has uncertainties about her worth, fears that are further facilitated by a flirtation with a socially oblivious white girl (Kelly O'Sullivan) that Imani meets at a club (and whose character is named in the program only as, "That Bitch on the Couch").
Lastly, we meet the third roommate June (Leea Ayers) whose introduction in the play involves her bursting into the apartment with a scream of frustration. She had just broken up with her long-term boyfriend after uncovering a table of Popeye's chicken set for two at his apartment, along with a used… let's call it "male contraceptive device". Out of the three women, June should have the most security. She's an accountant about to start at a high powered, and high paying, consulting company, she's got a strong sense of self-esteem (at least outwardly), and she easily captures the attention of men around her. But she also has high-expectations that have led her to too many heartbreaks and disappointments in life (an interesting area of character growth that Barnes should continue to develop).
BLKS often feels like it was conceived as a pilot for an eventual TV Series. In all fairness, the characters are so likable that it might not be a bad avenue for Barnes to pursue. The themes of young females banding together to pull each other up amidst a confusing world of disconnections, rejections, and social insecurities makes it reminiscent of both Girls and the aptly-titled Insecure (coincidentally or not they're both on HBO).
And like any good TV series BLKS is unpredictable. The First Act, in particular, is filled with an endless amount of possibilities, so much so that by intermission you may be wondering to yourself where things could possibly be heading.
More importantly, what makes BLKS work are its enjoyable characters, each of them are so relatable and so full of individuality that they may remind you of friends in your own life. That relatability is an important aspect of this play as it can add another stepping stone towards breaking social and racial divides in our culture.
Each character has their own idiosyncrasies, goals, and fears that are very unique. Collectively, this cast has a superb ensemble spirit infused with a great amount of energy. The women are so strong that not one single area of this production can be singled out for this accomplishment. Indeed, it was all a perfect mixture of having strong writing from Ms. Barnes, played out by  truly exceptional actresses, and led by the skilled director Nataki Garrett who shows she knows to guide these performers to fulfill the play's needs as a whole. They all deserve major kudos for putting together such a strong piece that would easily fall apart if any one of those elements missing.
Despite the uniqueness of each character, it seems fairly obvious to assume that Octavia is a stand-in for the playwright. The character is a struggling screenwriter with tons of ambitions that are brought down by fears of failure and doubts – something all writers can relate to. Nora Caroll, who plays Octavia, knocks it out of the park with a performance that is steadfast one moment and tenderly vulnerable the next.
Though Ms. Caroll's character is the heartbeat of this play she is supported by a cast this is all-around excellent. This includes some genuinely hilarious interactions between a sweet-nerdy young man named Justin (played by an excellent Namir Smallwood) and the intensity of Ms. Ayer's June (the two meet randomly outside a club, and later he shows up at her window to make sure she made it home safe).
While this play is overall very strong, it's still a new play and thus work in progress. Not everything is perfect, and given how early in development it is that is neither unexpected nor particularly bothersome as there is ample room for this play to grow.
By far the weakest part of this script deals with the injustice that minorities face in this country with the police. It's an important point that's not given the pertinence or reality that it deserves. Rather, these moments feel jammed awkwardly into the script.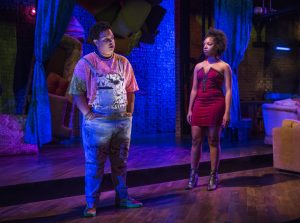 At one point, June gets attacked by a man on the street, and when the girls call the police to report the incident and ask for help, the only question they get is "what's his ethnicity?" The police refuse to show up to help. Now, I'm not saying this stuff doesn't happen, but all 9-11 calls are recorded, and presumably, all of these recordings are saved. It's an awful strain of credibility to suggest the operator would immediately jump to racial bias on a recorded line instead of asking questions of public safety, "did he have a gun? Is your friend breathing?" "what's your location?" Even if the operator were a racist the questions of ethnicity questions generally don't come up until the police arrive.
Later, the girls randomly watch a montage of YouTube clips of police brutality (possibly the Freddie Gray shooting mirrored with other similar disturbances that would follow), the girls express how awful it all is, and then the whole issue is dropped. You have to wonder why even bring it up if it's going to get shrugged off so trivially?
I understand that the violent injustice gives context to the wave that will spur the Black Lives Matter movement to further prominence. It also adds to the growing sense of isolation by minorities in our society from feeling like their lives have no value. However, there has to be a better way of incorporating that sense of injustice into the overall script other than literally showing us the oppression through a bunch of random projections. It needs greater weight, less absurdity, and more realism.
Overall, this play is most effective when it hones in on realism, and it sputters along only when it starts to deviate from that path into absurdity. Whenever these girls face their problems or show vulnerabilities that show us their fears the play is raw and emotionally charged. It's also funniest when the play relies solely on the interactions between the characters. The dialogue alone is strong enough to allow the humor to do its job.
Unfortunately, there are long scenes that are bogged down in stylistic problems that, again, border on absurdity and rip our attention off the central themes of this play. Either the playwright didn't trust her instincts, or Ms. Garrett wanted to throw in some gags, whatever the case the last half of Act Two just isn't working, particularly the random slow-motion fight between June and Octavia. The whole thing needs an entire rewrite.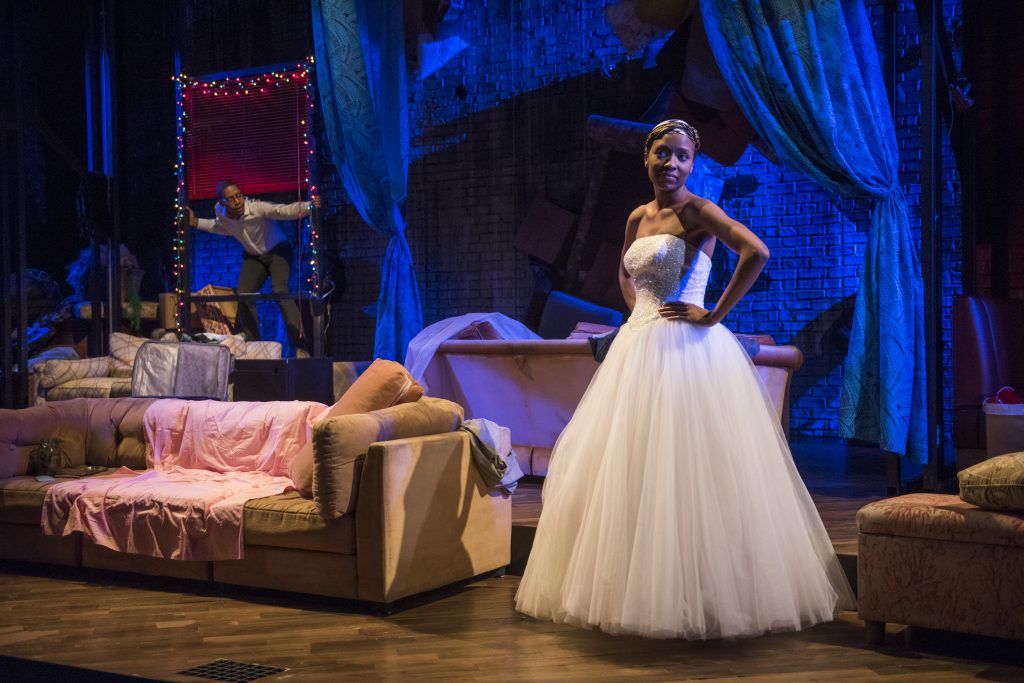 And, as a whole, Act Two needs far more work. It runs out of fuel towards the end. With a running time just over 2 hours (including intermission), it might not be a bad idea for Ms. Barnes to do some trimming, cut out the break, and just make this a solid 100-minute intermissionless play.
Again, this is still a very stellar work overall and an entertaining, thoughtful, and enjoyable night of theatre. Yes, BLKS still needs work, as do all new works, however, that alone shouldn't keep you from checking out one of the most impressive new plays I've seen in a while. After all, it's a great way to beat the cold this January (as an extra layer of warmth keep in mind that Steppenwolf has an excellent new coffee-bar on the main floor).
Bottom Line: BLKS is Recommended
BLKS – Steppenwolf Theatre Company
Running Time: 2 hours and 10 minutes, including a 15-minute intermission
Location: Steppenwolf (Upstairs Theatre), 1650 N Halsted St, Chicago IL 60614
Runs through: January 28, 2017
Tickets: $20 – $89 and can be purchased online, at the Box Office, or by calling the Steppenwolf Audience Services Box Office at 312-335-1650
Curtain Times: Tuesdays – Fridays at 7:30 PM, Saturdays at 3 PM and 7:30 PM, Sundays at 3 PM
Additional Performances: Sundays at 7:30 PM (Dec 31 thru Jan 7 only) and Wednesdays at 2 PM (Jan 10 thru Jan 20 only)
Discounted Tickets: Ask Box Office about student tickets ($15), group tickets, half-price rush discount tickets, and Flex Card Memberships
Performances for People with Disabilities: There are a few performances during the run that will contain an Audio Description, American Sign Language Interpretations, and Open Captioning. For more information, please visit the Steppenwolf Accessibility Page for specific dates and times.
Photo Credits: Michael Brosilow