All items sorted from most to least expensive.
Intense Orangy-Pink Diamond Ring, 4.05 Carats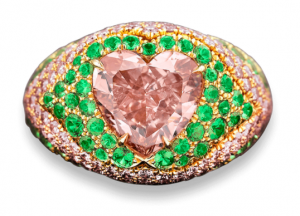 An extremely rare heart-shaped 4.05 carat Intense Orangy-Pink diamond is accented by a sea of green garnets and pink diamonds in this striking ring. Diamonds with a pink hue rank among the rarest of all the colored diamonds and command considerable attention on the market. They are prized for their rarity and beauty; indeed, few other stones can match the elegance of the pink diamond. Fewer than one in a billion diamonds mined around the world possess the depth and color to be graded as "Fancy" with far fewer of those weighing over one carat. To find a pink stone of such a large size and rich color is simply extraordinary.
The Orangy-Pink diamond is certified by the Gemological Institute of America (GIA) to be Natural Fancy Intense Orangy-Pink, with VS1 clarity. Set in 18K yellow gold. Available at M.S. Rau Antiques.
$2,950,000 Buy now!!
Temple St. Clair 18K Classic Trio Bellina Bangle 
18K Classic Trio Bellina Bangle with ruby and diamonds
$7,500 Buy now!!
Temple St. Clair 18K Pear Cluster Earrings 
18K Pear Cluster Earrings with ruby and diamonds
$7,500 Buy now!!
Temple St. Clair 18K Mummy Ring
18K Mummy Ring with ruby and diamond pave
$7,500 Buy now!!
LJ Cross White Diamond Cobblestone Cushion Stud Earrings 
-18K white gold
-0.90 total carat weight in white diamonds
-18K white gold posts with push backs
$3,400.00  Buy now!!
LJ Cross Sterling Silver, Pink Sapphire Cobblestone Ring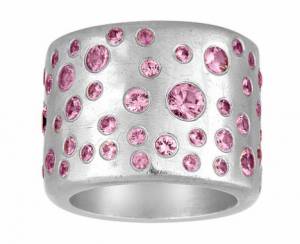 Sterling Silver And Pink Sapphires
$1,800.00  Buy now!!
Sailor Knot Gold Ring 
This solid 14K gold sailor knot ring is very unique. The sailor knot is a beautiful symbol of love! It's a perfect gift for your significant other on Valentine's Day!
$1400-$1700   Buy now!!
14K Karma Bracelet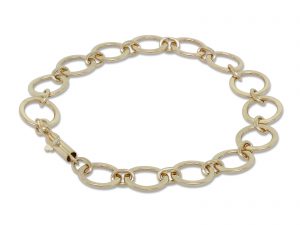 She will love this solid 14K gold Karma bracelet! Each circle and link is made by hand one by one. It's the perfect addition to her jewelry collection.
$1200   Buy now!!
Philip Stein Modern Collection 
Refined and sophisticated, the Modern collection showcases a stunning choice of Swiss made watches, created for those that like the finer things in life. Each timepiece is designed with elegant precision to strike a perfect balance between sophistication and contemporary craftsmanship. The unique Natural Frequency Technology housed in each watch may improve wearers overall well-being, and make these watches more than just a beautiful timepiece.
$795 – $850  Buy now!!
14K Heart and Diamond Necklace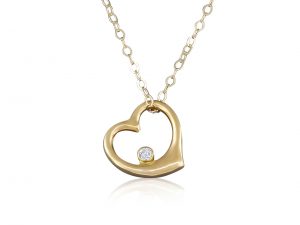 Hearts are so perfect to show her your love! This sweet little necklace features a small Canadian diamond.
$450   Buy now!!
Blue Larimar and Pink Agate Statement Necklace 
Truly the only piece statement piece you will ever need! This signature studio design features lush blue larimar jade & gorgeous fuchsia pink striped agate gem beads. Each faceted gemstone bead measures 14mm, while each strand varies in length from 20″ – 24″ (including secure gold lobster clasp).
This triple strand necklace frames the face beautifully while draping & laying on the neck perfectly.
$389.00  Buy now!!
Philip Stein Sterling Silver Horizon Jewelry Collection 
The jewelry collection will feature sterling silver bracelets boasting Philip Stein's signature Horizon Buckle, in sterling silver, white topaz and black spinell. Each bracelet is designed with elegance and sophistication in mind, making them perfect for cocktail hours, nighttime galas and dressing up any daytime look.
Unique to Philip Stein luxury accessories, Natural Frequency Technology discs add an element of wellness to the Sterling Silver Horizon Jewelry Collection's chic designs. Each disc channels the earth's natural, beneficial frequencies to help wearers improve focus, balance and cope with everyday stress.
$350 – $695  Buy now!!
Shahla Karimi Fine Jewelry  
Personalized romantic reveal fine jewelry. Unique collections including the Destination Collection that traces any two points on the globe. Keep you long distance love close to your heart
Starting at $275  Buy now!!
STACKED
Accessorize for a night out on the town with the ladies with STACKED! Already adored by celebrities such as KATE UPTON and handcrafted in the U.S., STACKED offers an array of adorable accessories including bags, bracelets, jewelry cases and more to add a touch of sophistication to your wardrobe. Designed with gorgeous gemstones and Swarovski crystals, you'll feel classy and confident as you stack up your arm for every season!
$230  Buy now!!
Sleeping Beauty Turquoise Statement Necklace 
This gorgeous sleeping beauty statement necklace is sure have all eyes on you! Perfect for this year's statement style trends. This necklace measures 19.5″ in length plus there is an added extender that measures .75″. The turquoise spikes (these are not sleeping beauty turquoise) range in sizes from .5″ to almost 2″ in length and each sleeping beauty turquoise round bead measures 4mm.
$189.00  Buy now!!
**All images courtesy of respective companies.