All items sorted from most to least expensive.
G3 Strapshot Holster 
For the photographer in your life, Cotton Carrier's new G3 Strapshot Holster is a new solution for adventurers who like to bring their good camera outside. Attaches to a backpack strap or belt with heavy duty Velcro that holds up during strenuous activity like hiking, skiing and biking – so they can go hands free and never miss a shot! G3 Strapshot comes in Charcoal Grey or Realtree Xtra Camo and includes a free $20 Handstrap.
$79  Buy now!! 
Monasita 
Monasita's printed leggings are made of advanced fabric technology–80% Polyester and 20% spandex making them extremely soft. They are able to transition across a wide variety of activities–whether you're running on a treadmill or running your morning errands. For the girl on a budget, Monasita's printed leggings are a perfect way to get comfort and style at an affordable price (they're only $65!). Their "ready-for-anything" fabric allows to go from your yoga class to a night-out–all while looking great and feeling comfortable!
$65.00 Buy now!!
Yummy & Trendy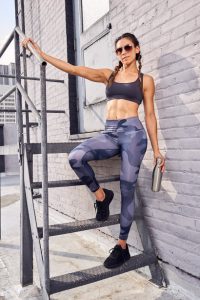 Turn it up while keeping it chill with Yummy & Trendy® anytime athleisure wear. The brand's versatile clothing can be worn to fit any lifestyle – wear it to work out, run errands, out to lunch or just lounging on the couch. Their fabrics include 4-way stretch technology, moisture wicking, pilling resistance, and UPF 50+, through state-of-the art manufacturing processes.
$56-$98  Buy now!! 
YogaPaws
There is a perfect Valentine gift for the yogi in your life! YogaPaws gloves and socks are made out of an ergonomic design that keeps the webbing of the hands and feet happy while you exercise. The thick pads encourage correct posture and technique while providing all the comfort and support that Yogi desires. Finger and toe cutouts allow you to take full control of your positioning, while fitted palm and feet coverage boosts your balance and helps evenly distribute your weight while in movement. The gear makes exercising both indoors and outdoors feel effortless and natural – just like it should.
$35.00  Buy now!!
THE SHOWOFF SUPER MOUNT 
From extreme bicycle stunts to the season's biggest road trips, the ShowOff Super Mount is the easiest way to capture all of life's craziest experiences using only one's cell phone.  It can transform a cell phone into a body cam, dash cam, or personal photographer in seconds using its secure magnet system on anything from motorcycle tanks and rearview mirrors to clothing and scuba suits.
In addition to the smaller size, more versatile mounting options, and anti-scuff pads, they've also made the back open for customization. Companies can now get their logos printed to hand out as promos and more.
$34.99  Buy now!!
Made for Freedom Yoga Mat Bags 
Introducing the 2018 Made for Freedom Yoga Mat Bags and The Strap! These bags come in four unique prints/colors. Each has two Velcro pockets to keep your items secure and comes with the most versatile strap around! The Strap can be used with your yoga mat bag or on its own. Either way the hooks on the strap keep essentials within reach and easy to access. Whether you are doing the Downward-Facing dog or taking the dog for a walk, our Yoga Mat Bag and The Strap will be right there with all you need to go about your day!
$33.00  Buy now!! 
PodPocket
The PodPocket is designed with the Apple customer in mind; those who appreciate both form & function. The pocket is precision molded from high grade silicone to provide a secure fit for the AirPods charging case and it comes with a premium key ring and clasp so that it can be attached to a bag or keychain and the open access along the bottom allows charging while the AirPods are still in the PodPocket. A small investment to protect a larger one & the perfect Home For Your AirPods.
$19.95  Buy now!!
Dynamic+ No-Show Socks 
The CEP Dynamic+ No-Show Socks offer a perfect fit and extreme durability. These socks will also increase circulation, reduce swelling and support tendons and ligaments in the ankles and feet. Due to a snug ergonomic fit, they will never rub or cause blistering.
$18.50  Buy now!! 
Cuffits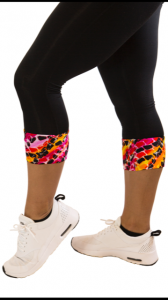 Don't want to keep spending money on a variety of cute workout pants? Then change up your fitness attire with NEW Cuffits!  Customize the look of your ordinary leggings by adding bright and colorful cuffs to the bottom. Cuffits come in so many colors and fashionable designs that the styling options are endless.  How do they work? Slide each cuff onto your calf and a silicone elastic band holds them in place, even during exercise.  So say goodbye to boring workout gear and overspending – and say hello to Cuffits!
$14.99  Buy now!! 
**All images courtesy of respective companies.