All items sorted from most to least expensive.
Wagyu USA 2 Steak Box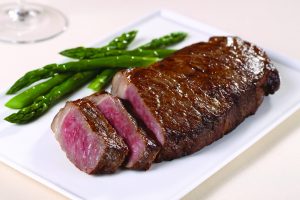 Steak connoisseurs demand the best steak on the planet and New York Prime Beef, straight out of Hunt's Point in the Bronx is the most luxurious steak subscription service offering premium cuts of steak including wagyu, kobe, strip steak and porterhouses.
Our Wagyu USA Strip steaks are an otherworldly eating experience. Raised in the USA, Wagyu cattle trace their ancestry to the far east. Here, they are carefully bred to create meat with intense marbling that results in a decadently rich flavor and butter like texture. Pan searing and roasting brings out the best in these sumptuous strips. Approx 16 oz. each and 1 1/4″- 1 3/4″ thick.
$200.00 Buy now!!
MasterClass: Culinary Class Series  
MasterClass, the premier online education platform that provides affordable, engaging, and inspirational online classes taught by world-renowned instructors, makes it possible for anyone to learn from the best. Following in the footsteps of Gordon Ramsay, new chefs to join MasterClass as instructors are Thomas Keller (preview), Wolfgang Puck (preview), and Alice Waters (preview). Individual classes ($90) or a year of the All-Access Pass ($180) (which grants unlimited access to all lessons) make a wonderful Valentine's Day gift for that special someone looking to polish their kitchen skills or couples looking to spend more time together. Thomas Keller's class focuses on cooking techniques that master the fundamentals such as preparing foundational ingredients (vegetables, eggs, and pasta); while Wolfgang Puck teaches mastering starters, mains, sides, and cocktails, and how to create memorable recipes of your own. Alice Waters will open the doors of her home kitchen to teach you how to pick seasonal ingredients, cook healthy and beautiful meals, and change your life by changing the food you make at home.
$90 – $180  Buy now!!
HelloFresh
For couples looking to make a reservation in this year instead of going out to crowded restaurants, HelloFresh delivers date night in a box. Complete with all of the ingredients you need and easy-to-follow instructions, HelloFresh provides a foolproof and most importantly, fun and delicious way to impress your date.The way to a man or woman's heart is through their stomach, and this is an easy way to get there.
$59  Buy now!!
Send A Bear Hug Care Package
If your Valentine lives far away and you want to send something to lift his or her spirits, then the Send A Bear Hug Care Package is just perfect. Once you see how cute this present is, you know it will bring a smile to your Valentine's face.
$49.99  Buy now!!
Bouquet Bar 
Bouquet Bar is a new gifting company, which launched in January 2017 and is rapidly redefining The Art of Gifting. A gift is an expression of love, gratitude, and friendship. Bouquet Bar cherishes the old-world tradition of giving with all the modern convenience you've come to expect and love. Bouquet Bar focuses on bringing excellence to floral design, in combination with a variety of delightful treats, creating the perfect luxury gift at the click of a button.
$45.99-$145.99  Buy now!!
The Newlywed Cookbook: Favorite Recipes for Cooking Together
If there is only one book to include in a couple's kitchen library the first few years after their wedding, the Newlywed Cookbook is it. Designed for both novice and expert cooks alike, it includes inspiring ideas for everything from weeknight suppers to Saturday dinner parties with friends and cozy breakfast in bed. With nearly 200 contemporary, seasonal recipes, this essential volume will help make every moment shared in the kitchen special.
$40.00  Buy now!!
Chateau Purcari 
No other winery in Germany, Austria, Hungary and all of Central Europe won more prestigious 2015 Decanter Worldwide Medals than Chateau Purcari from Moldova. In 1878, our small vineyard in Purcari Moldova entered the Paris World Exhibition for wine. During a closed door session, the jury preferred the dry, densely-colored red wine we so devotedly perfected. This was the start of a miraculous life for our wines, and was considered the "Triumph of Negru de Purcari".
$31.99-$36.99  Buy now!!
Be Mine Valentine's Brownie Cake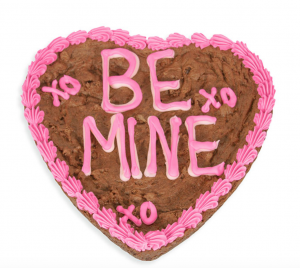 If your Valentine just loves all things chocolate — the Be Mine Valentine's Brown Cake is just the thing to rev up the romance in your relationship. Accented by Be Mine in bright pink frosting, this cake offers the equivalent of 30 regular-sized brownies. So yummy, too!
$29.99  Buy now!!
Kiklos Greek Extra Virgin Olive Oil
Show loved ones how much you really care this Valentine's Day with the Gift of Health! Not all extra virgin olive oils are created equal. Kiklos Greek EVOO by The Olive Fruit is 100% pure olive juice made from only one varietal farmed exclusively in the Peloponnese region of Southern Greece—the Koroneiki olive, known as the "Queen of Olives" for its distinctive flavor and high levels of antioxidants. Made in small batches, the olives are gently harvested without machines at the peak of ripeness and instantly cold pressed to protect their unique flavor and sustain maximum anti-inflammatory properties. Studies show Kiklos has one of the highest polyphenol counts and lowest fatty acids content. Kiklos' signature peppery finish, called "The Kiklos Kick," is a sign of its potent phenols, which have many wellness advantages. Extra Virgin Olive Oil is known to improve cardiovascular and brain health, plus a long list of other benefits which all add up to a longer, healthier life! In addition to being nutritious and delicious, Kiklos is packaged in a stunningly beautiful 500ML light-protected bottle. Nothing says "I Love You" quite like this meaningful gift of health and longevity!
$29  Buy now!!
Chocolate Blonde 
A delicious combination of coconut and almond butter made by Rick. Rickaroons are 100% organic, vegan, gluten & soy free, Non-GMO, paleo, and taste like a dessert! Perfect for pre and post workout fuel, on the go snacks between home, work, school and the gym, and for relaxing at home with your feet up and your favorite music playing in the background.
$24.99  Buy now!!
Peanut Butter Protein Rickaroons 
A delicious combination of coconut and peanut butter made by Rick. Rickaroons are 100% organic, vegan, gluten & soy free, Non-GMO, and taste like dessert! Perfect for pre and post workout fuel, on the go snacks between home, work, school and the gym, and for relaxing at home with your feet up and your favorite music playing in the background.
$24.00  Buy now!!
Rickaroons Variety Pack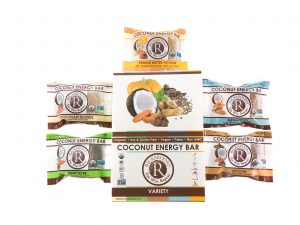 A delicious combination of coconut and almond butter made by Rick. Rickaroons are 100% organic, vegan, gluten & soy free, Non-GMO, paleo, and taste like a dessert! Perfect for pre and post workout fuel, on the go snacks between home, work, school and the gym, and for relaxing at home with your feet up and your favorite music playing in the background.
$23.00   Buy now!!
TRUFFLE FAVORITES BELGIAN BOX
A mix of our most popular chocolate truffles at GetHappy, flanked by two dark chocolate handmade caramels. Contact GetHappy to customize the gift box.
$20.00  Buy now!!
Easy Bath Cheesecake Wrap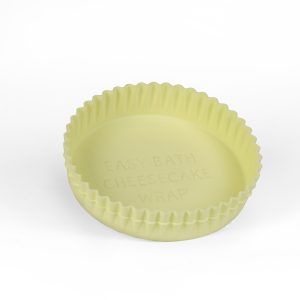 You can now make bakery-style, creamy, evenly cooked cheesecakes with smooth tops and no cracks at home!  Many bakeries get perfect looking cakes by using the water bath method of making cheesecake, but that method also comes with the risk of water leaking into the springform pan, ruining the batter. But the NEW Easy Bath Cheesecake Wrap eliminates that concern!
Just place your batter filled spring form pan inside the Wrap and place the waterproof Wrap inside a larger water filled pan. The results are rich, creamy desserts baked uniformly from the edges to the center. The water bath also keeps egg proteins from bubbling to the surface which can cause undesirable cracks!  This reusable, food-grade silicone wrap is oven-proof to 475F, dishwasher-safe, and water-proof. And even if you're not baking in a water bath, the Wrap will contain any batter leaks that may otherwise drip down to your oven floor creating a burnt-on mess that is difficult to clean!
$19.95  Buy now!! 
SPRINKLES CARAMEL APPLE
Hand-dipped caramel apple, with speckles of bright sparkles!
$16.00  Buy now!!
Meli's Monster Cookies 
No flour? No problem. Make the season brighter with Valentine's cookies that are fun, festive and gluten-free from Meli's Monster Cookies:
Certified gluten-free rolled oats and peanut butter (can use a substitute nut butter for the dry mixes), Available in Pre-Baked or Dry Mix, No flour, wheat or gluten, Pre-baked cookies are frozen and thaw within minutes for a convenient tasty treat, Or, fresh baked cookies with 4 steps, 12 minutes and makes 16 delicious cookies!
$12.55  Buy now!!
Chocolate Pizza Company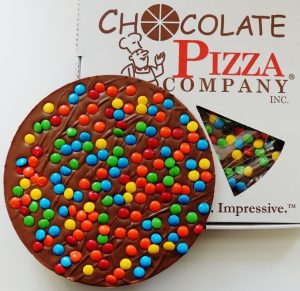 Chocolate Pizza is so unique it's trademarked and has been ordered by chocolate lovers on 6 continents. We take rich milk chocolate or decadent dark chocolate and blend it with homemade English toffee from a local recipe dating back to 1919. We make the toffee on-site, in small batches and grind it fine before adding it to our tempered chocolate. We pour that blend into real pizza pans which are then topped by hand with a dizzying array of nuts or candies.
$9.95- $39.95  Buy now!!
BNutty 
If you're looking for a quick snack that is sweet, but also healthy, feast on BNutty! Even the pickiest of eaters will love this gourmet peanut butter with handcrafted, honey roasted peanuts. Grinding their nuts fresh for a unique, sweet and crunchy texture, they add high quality ingredients so every bite is different and addicting!
$8.00-$20.00  Buy now!!
Ghost Scream Hot Sauces
Hot Sauces, Pastes & Jams – they're divine, and really bridge the gap between heat and flavor. Sweet, smoky, roasted goodness – almost like a cross between hot sauce and BBQ sauce. All fresh veggies, no fake powdered flavors, all sauces are low in sodium, sugar and are gluten-free! Made by professional-chef of 20+ years, Matt Sisson, for anyone that wants to upgrade their culinary skills! Great on pork, chicken, seafood, pizza, salads, delicious in a Bloody Mary, Michelada….just about anything!
$8.00-$12.00  Buy now!!
PBfit 
PBfit is a healthy alternative to traditional peanut butter—it's a powdered peanut butter that you can mix right into your smoothies or recipes. With a dash of organic coconut palm sugar and salt, Pbfit lets you keep the nutrients, along with the peanut butter taste you love, but lets you ditch the fat and calories.
Starting at $7.98  Buy now!!
True Story Organic Sweet Italian Chicken Sausage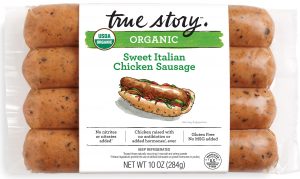 Organic Sweet Italian Sausages are made with sustainably farmed organic chicken, our Italian sausage delivers a kick of Mediterranean herbs and spices with a gentle dash of sweetness. Available in 10 oz packages for a SRP of $6.99
$6.99  Buy now!! 
Simple Mills Chocolate Almond Flour Mix
Can be used to make Chocolate Marshmallow No Bake Bars, Raspberry Heart Cupcakes, and Raspberry cheesecake brownies to share with your partner/ or loved ones.
'Clean' treats that are free of gluten, grain, soy, GMOs, excessive sugar and anything artificial as well as easy to make.
$6.79  Buy now!!
Maddy & Maize Popcorn
Inspired by Maddy, a bright-eyed, enthusiastic girl who holds a special place in Maddy & Maize creators' hearts, they were determined to re-create their favorite snack using only the best local, all-natural, and organic ingredients, without artificial flavors and coloring. They found a way to make our popcorn insanely delicious with flavors such as; bourbon barbeque, birthday cake, aged white cheddar and cookies & cream.
Starting at $6.00  Buy now!! 
Emmy's Organics Coconut Cookies 
Treat yourself, your kids, or your love without the guilt! Whether it's the sweet & smooth (and pink!) Raspberry or creamy, decadent Dark Cacao, Emmy's Organics' clean coconut cookies are the perfect guilt-free indulgence for Valentine's Day. Made with zero artificial ingredients or coloring, these delicious bites are certified USDA organic, non-GMO, gluten-free, soy-free, vegan and paleo-friendly.
$5.99 per 6-oz. resealable pouch  Buy now!!
My/Mo Ripe Strawberry Mochi Ice Cream
Ripe Strawberry My/Mo Mochi Ice Cream is the perfect way to indulge with loved ones this Valentine's Day. Available in 6-pack boxes, each ball of premium ice cream is carefully wrapped in delectably soft mochi dough and lightly dusted with flour. Ripe Strawberry's pink hue and pillowy texture make it an ideal holiday treat! With only 110 calories per serving, My/Mo Mochi Ice Cream is a portion-controlled snack to enjoy with that special someone guilt-free. Available at Gristedes, ShopRite, Costco, Kroger, Safeway and more!
$5.99  Buy now!!
Garden Lites Chocolate Muffins 
You'll never believe the first two ingredients in Garden Lites® Chocolate Muffins and Banana Chocolate Chip Muffins are zucchini and carrots! Heat in the microwave to enjoy a decadent experience for only 120 calories. Garden Lites® muffins come in a package of 6 muffins, for an SRP of $4.99.
$4.99  Buy now!!
Slim Twin Ice Cream  
Certified organic, packed with protein, low-fat and weighing in at only 240-320 calories per PINT, Slim Twin is the guilt-free ice cream we've all been waiting for. Unlike most low-cal ice cream brands, Slim Twin keeps the ingredient list clean and simple and contains zero added salt, glycerin or stevia. With the same taste and creaminess Three Twins' ice cream is known for, Slim Twin is available in seven indulgent flavors perfect for Valentine's Day, including Cookies & Cream, Chocolate, Cardamom and more.
$4.99 per pint Buy now!!
Welch's Valentine's Day Fruit Snacks 
The Welch's Fruit Snacks Valentine's Day themed box and pouch have custom Valentine's-themed graphics with heart-shaped pieces with fun emojis. The snacks are perfect for Valentine's Day parties, as each pouch features a "To/From" sign-able front panel. Moms and Dads love that every pack is made with REAL Fruit, is Gluten-Free, and contains No Preservatives.
28-Count Box with 0.5oz. Pouches / $4.99  Buy now!!
Vita Tops 
VitaTops Protein Banana Chocolate Chip has only 130 calories, 8 grams of protein and 6 grams of fiber; and VitaTops Protein Chocolate Peanut Butter has only with 150 calories, 8 grams of protein and 6 grams of fiber. These two new protein infused VitaTops products offer the perfect sweet spot of high fiber and protein, which helps fuel energy longer and also helps curb cravings.
$4.00  Buy now!!
Skinny Pasta
New to the US market, but available and popular in countries around the globe, Skinny Pasta® is completely free of sugar, wheat, lactose, soy, salt, cholesterol, fat and preservatives; Skinny Pasta® is also low in calories, with only nine calories per serving. Its main ingredient, the Konjac plant, is native to Southeast Asia and contains Glucomannan, a dietary fiber.
$3.49  Buy now!!
Poppy Popcorn 
Forget the traditional chocolate and choose from one of Poppy's newly released Valentine flavors – scrumptious and mouth-watering, Poppy Popcorn makes the perfect gift!
Some flavor highlights include: Dark Chocolate & Cherries: Poppy's famous salted caramel popcorn with caramelized tart cherries and drizzled in dark, Belgian chocolate.  Cotton Candy: Poppy's sweet, light and crunchy flavor made with the smallest valentine's in mind! Contains nothing artificial – the pink color comes from radish and the flavoring is all natural.
Salted Caramel: Nothing says love like Poppy's famous salted caramel. With its red and white packaging, it's a perfect fit for Valentine's Day. Made with love, it's the flavor that started it all! Chocolate Peanut Butter: Poppy's best-selling premium flavor! Salted caramel is drizzled in dark, Belgian chocolate and dusted with all natural peanut powder! It's perfect for any occasion; especially celebrating those you love most.
$3.25-8.95  Buy now!!
All Natural Raw & quinoa bars
Pereg Snack Bars come in two varieties: Raw Bars, made only from raw ingredients, fruits, and nuts; and Quinoa Bars, made with quinoa, fruits, and nuts. Like all Pereg products, they are kosher certified by both the Orthodox Union (OU) and CRC, dairy and lactose-free, and all natural, with no additives or preservatives. They are also certified gluten-free and non-GMO and retail for about $2.50 per bar.
$2.50 per bar  Buy now!!
Cherryvale Farms Instant Indulgence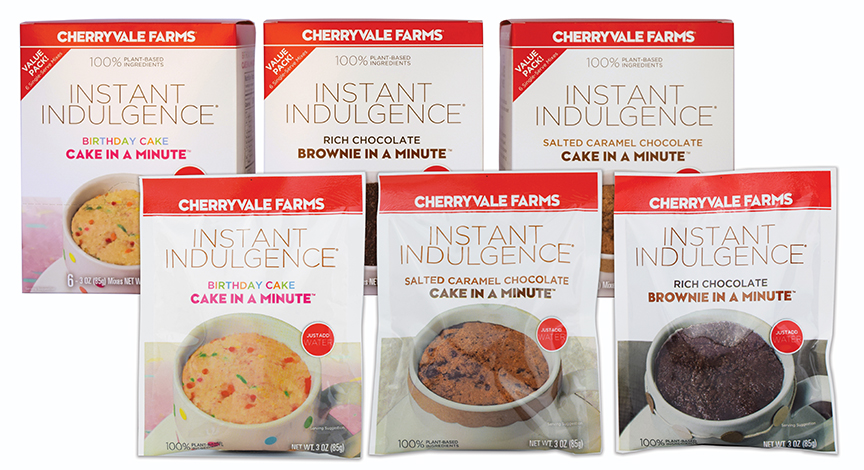 Cherryvale Farms Instant Indulgence is a line of microwave instant mug cake mixes that provide an individual indulgence in just over a minute. Available in three delicious flavors — Rich Chocolate Brownie In A Minute™, Salted Caramel Chocolate Cake In A Minute™ and Birthday Cake In A Minute™ — Cherryvale Farms Instant Indulgence is the first clean-ingredient, plant-based mix that creates delicious cake in the microwave.
Cherryvale Farms Instant Indulgence is perfect as a pantry staple at home for a warm desert anytime, to keep in the office for an indulgent afternoon snack, or to surprise a friend or co-worker on their birthday. Simply mix water and the packet of baking mix in a microwave-safe mug or paper cup and microwave for delicious, home-baked taste. As with all Cherryvale Farms products, new Instant Indulgence individual mixes are 100% plant-based, egg-free, dairy-free, nut-free and free from preservatives and artificial colors and flavors.
$2.49/ pouch $14.00/ box of 6  Buy now!!
TahiniBars
Absolutely Gluten Free, maker of all-natural crackers, flatbreads, and pizza that are both delicious and gluten-free, is taking on the energy bar category with the launch of TahiniBAR, a grab-and-go sesame seed snack that weighs in at only 100 calories. All varieties are certified OU Kosher and dairy-free.  TahiniBAR is leading the pack in many of today's hottest food trends.
$2.49 – $2.99 per box of 7 bars  Buy now!!
Rip Van Wafels
Sweet treat lover, forget the box of chocolates and complete his or her gift this year with a delicious Rip Van Wafel cookie!
Rip Van Wafel is the ever-so-sleek, Dutch cookie experience that will be love-at-first bite. Seal the deal with these cookies in 6 different flavors including Chocolate Brownie, Dutch Caramel & Vanilla, Honey & Oats, Toasted Coconut, Vanilla, and Strawberry. Perfect for a mid-day snack or melting the chewy filling over coffee or tea!
$1.50 – $3.00  Buy now!!
**All images courtesy of respective companies.