All items sorted from most to least expensive.
Fortune and Frame Locket 
Fortune holding lockets that provide a way say 'I Love You' and keep the sentiment in a special place. Gifts great for your boo, bestie, or Mom, choose from our custom fortunes OR share your favorite mantra or personal love note. Alternatively, a little love note to yourself is never frowned upon. Single or not, love is love is love.
starting at $98  Buy now!!
Black Onyx Rose & Turquoise Statement Necklace 
Chic, elegant, feminine & posh are just a few words that come to mind when describing this unique, couture statement design. Each chunky puffed oval turquoise gemstone measures 28mm in size, while each accenting silver bead measures 3mm. The exquisite hand carved black onyx rose gem stone pendant measures 1.5″ round, with a drop length of 2″. This necklace measures 19.5″ in length including fancy S-shaped silver closure. An extender can be added per request at no additional charge.
$98.00 Buy now!!
Maple Syrup & Co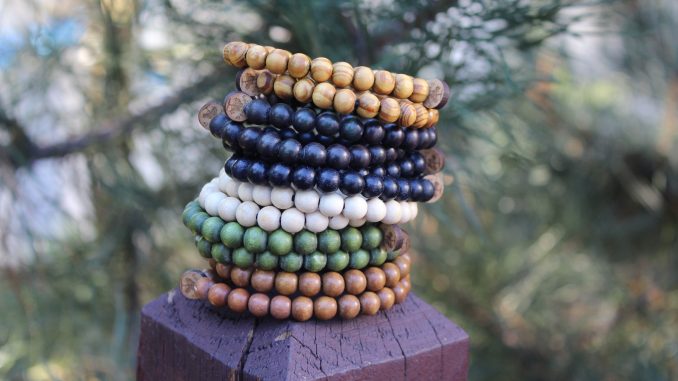 Maple Syrup & Co, curated in the heart of New York provides accessory enthusiasts with all natural handmade wooden products. With an array of products for all genders and age groups Maple Syrup & Co truly is undoubtedly for the tastemakers. As part of their reforestation partnership with One Tree Planted, a percentage from each of our products sold will donated to planting trees across the globe especially in the places our beads are made from. Every bracelet sold will equal one tree planted!
$20  Buy now!!
Silver LOVE Offering Bracelet
LOVE Offering! The circular dots traditionally symbolize rice in Balinese culture. The dots also emulate the Maasai beads in the original design of the Kenya LOVE bracelet. Rice and LOVE are both plentiful and provide sustenance to the communities who make these bracelets.
We donate portion of proceeds to the Green School Local Scholarship fund in Bali, Indonesia and Kopernik Volcano Emergency Fund relief in Bali.  Sterling Silver. Please handle with care.
$95  Buy now!!
Long canary yellow Cubic Zirconia and gold earrings.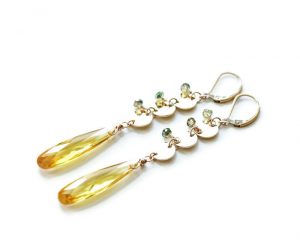 Super long and vary stylish gold earrings. "Red carpet" style long earrings made with canary yellow teardrop cubic zirconia stones, gold filled disc chain and small crystal. This super trendy earrings are suitable for any special occasion or for a party event. High quality materials. Made by hand with love!
$90.00 Buy now!!
Gratitude Diamond Bracelet
Perfect imperfection. That's how we'd describe the raw cut of this traditional "Polki" diamond, used in jewelry for the kings and queens of India for centuries. Set in a gold-plated silver chain, each champagne diamond is completely unique—and the flat cut allows you to see all of its colors and facets.
Each diamond is unique…just like you! Please handle with care.
As a symbol of our gratitude, we'll be donating a portion of the profits from this bracelet to Access Development, a non-profit in India that helps fund women entrepreneurs. Projects include artisanal crafts and the Pink Rickshaw Company in Jaipur.
$90.00  Buy now!!
Chocolate Valentine Duet Earrings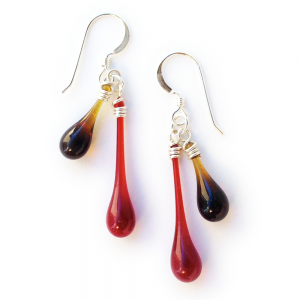 Warm brown and deep red pair like dark chocolate and ripe strawberries in these sultry Duet Earrings. More than minimal, less than dramatic, these are everyday earrings you'll be comfortable wearing to any event. Made from stained glass and recycled beer bottles. Earring length: 1 3/4″ including hook.
$85.00 Buy now!!
Rose gold Moon and Moonstone Necklace by VitrineDesigns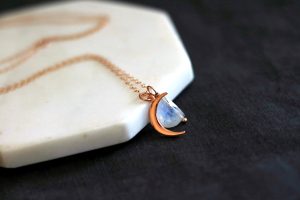 Express your love perfectly with this VitrineDesigns Rose gold Moon and Moonstone necklace in 14K rose goldfilled. The 16K rose gold moon crescent is paired with a faceted Rainbow Moonstone that shimmers delicately as you move. This will soon become a cherished piece of jewelry!
$84.00  Buy now!!
Pink Kite Faux Lariat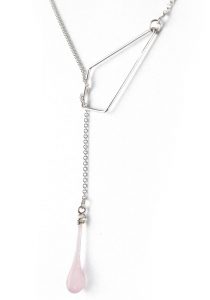 Want to add some offbeat style to your wardrobe? This bubbly pink glass drop and asymmetric sterling silver faux lariat necklace is just what you've been searching for! Lariat necklaces can be difficult to wear, needing constant management. While still adjustable, this faux lariat has a clasp at the back and won't come undone. Wear the kite high and let the drop dangle long, or bring the glass drop close to the kite for a more centered look. Droplet length: 3/4″ – 1 1/4″ (1.9 – 3.2 cm), hanging on the end of a 20″ chain of recycled sterling silver, with a 1.5″ long sterling silver kite shape. Lobster clasp.
$80.00  Buy now!!
Spun Gold Necklace in 14K goldfilled by VitrineDesigns 
This exquisite necklace by VitrineDesigns features a luxe top quality Rutilated Quartz briolette that has delicate gold rutiles and sparkles when the light hits it. A glam, mesmerising piece of jewelry, designed to elevate any outfit!
$74.00  Buy now!!
Druzy Quartz Pendant Necklace 
Beautiful champagne druzy quartz pendant necklace. Made of recycled sterling silver and handcrafted in Maine by Gem Lounge Jewelry. Free shipping on all orders over $50.
$64  Buy now!!
Romantic Hoop Earrings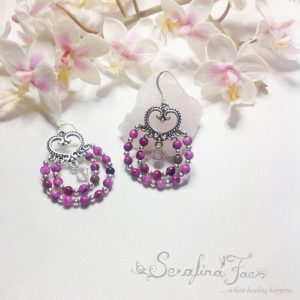 I love pink! In all shapes, shades and sizes. These beautiful earrings feature a double hoop created with natural sugilite and sterling silver beads.
$60.00  Buy now!!
Pastel Pretty Gem Beaded Sparkle Bracelet 
Simply breath-taking is this mixed gemstone & crystal pave beaded bracelet. Featuring pale blue aquamarine, pink quartz, blue turquoise, white howlite and varies river stones, this pretty feminine accessory is perfect for adding some romantic, sparkle flare this upcoming season. Each of the varies gem beads used measures 12mm, while each crystal pave sterling rondelle bead measures 14mm.
$59.00  Buy now!! 
LOVE Gemstone necklace in 14K goldfilled by VitrineDesigns 
This delicate feminine necklace by VitrineDesigns features a 14k gold Filled LOVE charm paired with a freshwater pearl and hand wire wrapped white chalcedony gemstone on 14K goldfilled chain. Perfect to be worn on its own or layered with your favorite piece.
$55.00   Buy now!!
Beautiful Purple Sugilite Earrings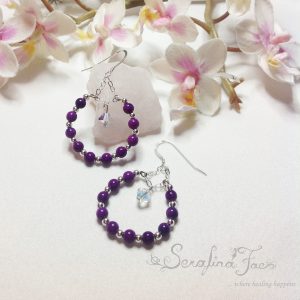 A beautiful set of purple Sugilite earrings. Wear them with jeans or with your little black dress. The featured Swarovski crystal adds just enough bling and playfulness for the princess in you yet adds enough simplicity to complement any outfit or occasion. These earrings will draw attention to you wherever you go!
$52.00  Buy now!!
Lava Stone Necklace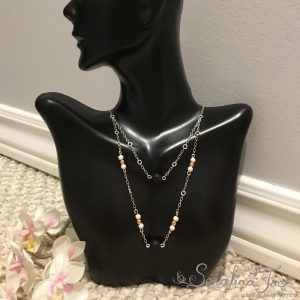 This beautiful necklace features two natural lava as well as sterling silver and genuine copper beads. This essential oil diffuser necklace is perfect for the office, out on a date or to a special event. It will look great on jeans or as an accessory to an evening gown or business suit.
$52.00  Buy now!!
Cartameb II
Cartameb II is an eco-conscious brand, celebrating uniqueness and individuality. Each piece is made with natural fibers, minimizes the use of heavy metals and are made with plant-based dyes, only. Featuring pieces that range from subtle to bold, make a statement with your jewelry this Valentine's Day and beyond.
$50.00-$86.00  Buy now!!
Lavender Solaris Earrings 
These minimalist glass earrings evoke the smooth flow of molten glass, frozen forever in an elegant drop of glass. Whether you're running a few errands or dressing up for an evening, these deceptively simple glass earrings will add the finishing touch to any outfit. Earring length: 1 1/4″ – 1 3/4″ (3.2 – 4.5 cm), including hook.
$50.00  Buy now!!
Sterling Silver Druzy Bangle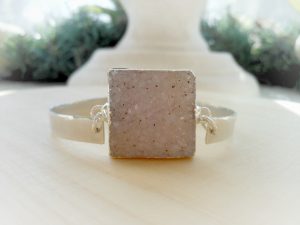 An original Fabulous Creations design! No more having to squeeze and scratch your wrist to get it through a bangle or pry open a metal cuff to get around your wrist. Our new bangle cuffs give you the trendy look but with the comfort and ease of a clasp. And the best part, the beautiful gemstone stays on top of your wrist for all to see.
The metal bar pieces are solid sterling silver and are hand cut, filed, hammered and polished for an organic look. They are lightly hammered on the edges giving it that extra sparkle with each twist and turn of your wrist. Bracelet features a gorgeous crystal Druzy stone. Each stone is one of a kind and will vary slightly in shades. Entire bracelet is crafted in 100% genuine Sterling Silver.
$49.00 Buy now!!
Doe Necklace 
Dainty doe pendant necklace. Made of eco-friendly recycled sterling silver in our studio in Maine by Gem Lounge Jewelry. Free shipping on orders over $50.
$48.00  Buy now!!
Rose gold choker necklace with single freshwater pearl
Single pearls short necklaces are trendy again, this time in rose gold. Super quality freshwater pearl in a rose gold filled chain necklace. Great gift for graduation, Valentine's day and special occasions. Pearls, according to South Asian mythology, were dewdrops from heaven that fell into the sea. A Pearl necklace is a must have in any woman's wardrobe.
$47.00  Buy now!!
Komuso Design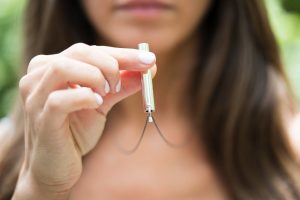 Consistently distracted by the bright light of smartphone screens, it can be hard to focus on the power of the breath. While so simple, we always forget it's importance. Bring your mind back to the present with Komuso Design! Controlling the state of our mind through breath, Komuso Design combines ancient wisdom and modern science to not only revolutionize jewelry, but to battle anxiety and improve on meditation.
$45-$115  Buy now!!
Single gemstone drop necklace.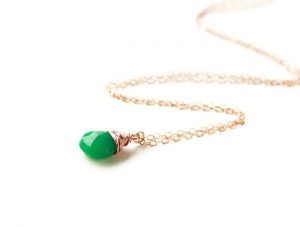 Single gemstone drop necklaces are simple, but so romantic, suitable for any taste. Chose from pink or green Opal, green Aventurine, Garnet, Ruby, Lapis Lazuli and other birthstones. These necklaces are available in gold silver and rose gold and start from 16″ long and can be customized to the desired by you length. All the items will be shipped in a gift box. From $45 and up.
$45.00 Buy now!!
Heart Entwining Necklace 
Double heart entwining necklace. Handcrafted in Maine with recycled sterling silver.
$45.00 Buy now!!
Violet Druzy Necklace  
Transform your look with a boho style druzy necklace in Pantone's new colour for 2018, ultra violet. These flattering druzy necklaces are trendsetters. This necklace features a shimmery dark purple druzy that is 22K gold electroplated. The druzy is set on a dainty 14K gold chain and is 20 inches in length and closes with a lobster clasp. The gold plating on the druzy gives it a dazzling luxe appearance.
$44.10 Buy now!!
Loved Vertical Gold Bar Necklace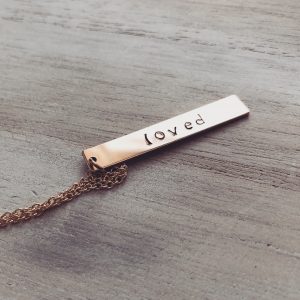 A fabulous gift to give that special someone because it is not your traditional bar necklace. This piece is sure to be a staple in your wardrobe. Chain measures 18" in length and the bar is 1.5" in length (so total necklace hangs 19.5"). 14k gold filled. Handmade.
$42.95 Buy now!!
Three Wishes Gold Necklace  
This pretty and petite minimalist necklace features a gold vermeil etched disk charm with 3 tiny CZ stones that is set on a 14K gold chain. The three wishes necklace is an irresistible and captivating necklace for those special people on your list and will be treasured for a very long time. The minimalist necklace fastens with a 14K gold lobster clasp and is 18 inches in length. This item is lead and nickel free. The charm is 22K gold plated over sterling silver.
$42.50 Buy now!!
Hammered Golden Hearts Dangle Earrings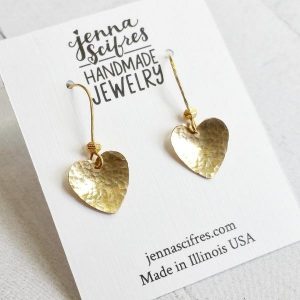 Beautifully simple hammered golden hearts earrings. Hearts are solid brass with a hammered texture and curved shape. Finished off with hammered brass hypoallergenic ear wires and a gold plated textured bead. The hearts and ear wires are entirely hand fabricated. Just over one inch long in total length from the top of the ear wire to the bottom of the heart.
♥All jewelry comes gift wrapped in an organza jewelry pouch or gift box.
All designs & content © Jenna Scifres
$39.99  Buy now!!
Exotic Gemstone Globe Earrings
Travel the World with the studio's exclusive gemstone globe dangle earrings! Perfect accessory for the vacationer, traveler, adventurer & explorer in all of us. The overall length of these gold dangles are 2.35″. Each blue lapis with mother of pearl, jade, jasper & gold inlay measures 20mm. The gemstone globes are a perfect example of exquisite artisan work and detailed outline of our planet.
$39.00 Buy now!!
Sterling Silver Moonstone Necklace  
This pretty moonstone bar necklace is perfect for layering or wearing alone. 4mm rainbow moonstone beads are set on a gorgeous sterling silver chain. Moonstone has a soft, shimmery glow and is a pleasing gemstone to look at.
$38.10  Buy now!!
Celtic knot cufflinks 
The Celtic knots, also known as endless or mystic knots do not have a beginning or end. Such designs symbolize eternity or timelessness of nature.  This pair of Celtic knot cufflinks epitomizes the symbolism of this sign and is the perfect gift for a loved one. The backs of these unique cufflinks are silver plated brass.
Measurements:
Celtic knot cufflinks measure 1 in. (2.54 cm.) across and
0.90 in. (2.286 cm.) long.
$38.00  Buy now!!
As Seen On Jane the Virgin Rose Quartz Freshwater Pearl Bracelet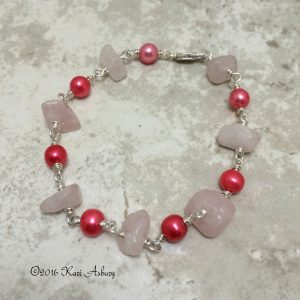 As seen on CW's hit TV show "Jane the Virgin", worn by "Alba Villanueva", actress Ivonne Coll.  Casual or dressy our Strawberry Rose bracelet makes a perfect compliment to any outfit! A stunning combination of pale pink rose quartz nuggets and strawberry pink freshwater pearls. It's all wire wrapped together with beautiful sterling silver and finished off with a lobster clasp. Bracelet measures 8.25 inches end to end, fits wrist size 6.5-7.5 inches due to bead size and depending on loose or tighter fit preferences.
$35  Buy now!!
Turquoise Gold Seed Bead Wrap Bracelet Necklace Combo 
Gorgeous blend of turquoise, cream, teal and gold make up this fun wrap bracelet. The perfect mix of bead shapes and types makes this beauty your perfect go to statement piece.  This beauty makes for a great gift for the boho fashionistas in your life. The absolute best thing about this beauty is her versatility….not only can she be worn as a wrap bracelet or anklet….but also a long single strand necklace, or doubled up, layer it with other beautiful necklaces. Great anniversary or birthday gift for you or your loved one!
The bracelet is an amazing 82″ Long and will wrap 12 times on a 7″ wrist.
$34.99  Buy now!!
Hand Stamped Mom Necklace in Gold 
Created originally for my own daughters, I loved this necklace so much I created an "adult" version. Hand stamped heart features the word Mom and sits aside a birthstone on your choosing. Featuring a 20″ gold filled chain.
$34.95  Buy now!!
Ember || Haitian Horn 
Gift your loved one with unique handmade jewelry from Beljoy. Beljoy gives Haitians the opportunity to learn a craft and make fair wages. These beautiful dome studs have a vintage feel to them. Ember is expertly carved from Haitian horn, making each pair unique.
Dome Stud Horn Earrings || Hand carved in Haiti from Cow Horn || 3/4″  Handmade in Haiti
$34  Buy now!!
Long Beaded Necklace in Oxblood and Gold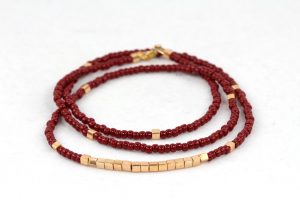 The perfect necklace of the season – in one of the hottest colors – rich, dark oxblood red. Simple yet still makes a statement, with square gold tone accent beads and a gold tone lobster clasp. This necklace is approx. 33 1/2 inches long and looks so beautiful on – the combination of deep burgundy and gold gives it such a great rich modern-vintage look and feel. Yet this necklace is simple enough to wear every day!
Plus this necklace is so versatile and can be worn in so many different ways! *Wear it long in a modern boho fashion – throw it on over any outfit for that perfect finishing touch. *Double it up and adjust it any way you like. *Layer it with other necklaces – be creative! *You can even wrap this around your wrist for a cool, multi-layer wrap bracelet look.
$30.00  Buy now!! 
Mother's Love Necklace 
Each heart is made from sterling silver that is hand formed into a heart and lightly textured, then antiqued and polished to a beautiful smokey silver-grey. A bit weathered and tested by time…just like Mom's heart.
Each heart is finished with a small drop of moonstones (pictured) or you can choose crystals in your choice of birthstone colors. The necklace is finished in gunmetal chain to compliment the silver-grey color of the heart.
$30  Buy now!! 
PERSONALIZED HAND STAMPED BAR NECKLACE 
Custom hand stamped bar necklace in Sterling, 14k Yellow or Rose Gold. made to order to your customizations. Up to 9 characters (including spaces). made with premium Sterling silver or gold filled cable chain with spring ring clasp.
This necklace is handmade with love in the USA using the highest quality materials for a truly unique gift that the recipient will treasure for years.
$29.99  Buy now!!
I LOVE YOU TO THE MOON AND BACK 14K GOLD FILLED NECKLACE / GIFT FOR HER / SIMPLE JEWELRY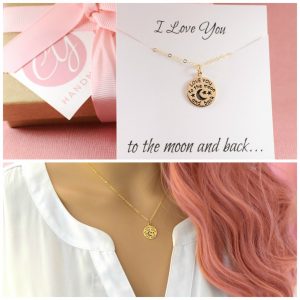 This dainty necklace is handcrafted featuring a detailed "I Love You to the Moon and Back" circle charm. Made with premium 14k gold filled cable chain with spring ring clasp. Necklace comes with the "I Love You to the Moon and Back" quote insert card. This necklace is handmade with love in the USA using the highest quality materials for a truly unique gift that the recipient will treasure for years.
$29.99  Buy now!! 
Love You to the Moon and Back Bangle Bracelet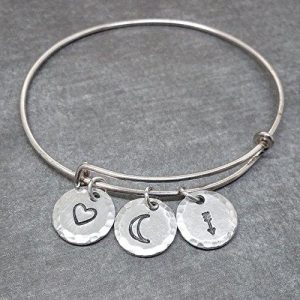 Gorgeous stainless steel bangle with a thick wire that is adjustable for any wrist size and super comfortable. A classic look for everyday wear.  Solid aluminum discs are hand stamped with a heart, moon, and arrow design and finished with a hammered edge. Heart, Moon, and Arrow represent "I love you to the moon and back". Each disc is securely attached to the bangle with silver plated rings.
Aluminum charms are lightweight and very sturdy, complete with darkened letters and a slightly brushed finished. The aluminum I use is high-quality, food grade aluminum, which is even safer on sensitive skin than sterling silver!  ♥All jewelry comes gift wrapped in an organza jewelry pouch or gift box. All designs & content © Jenna Scifres
$29.99  Buy now!!
Red Filigree Statement Earrings  
Release your inner goddess with these fabulous filigree, lacy style RED HOT dangles! Once completed, this pair truly had me thinking these are exactly what Ellaria Sand's style is on HBO's "Game of Thrones". Each earring measures 2.25″ in total drop length while each hand painted red filigree charm measures 41mm x 32mm.
$29.00  Buy now!!
Gold Tube Earrings 
These are one of my favorite pairs of earrings right now because they move with me. Light weight, fluid and 14k fold filled these earring promise to be a hit for years to come.
$28.95  Buy now!!
Skeleton Key Necklace in Gunmetal 
This necklace features a vintage style skeleton key in gunmetal, embellished with rhinestone chain wire wrapped in silver, creating a perfect yet subtle mix-metal style. It's simply strung on gunmetal cable chain and finished with a lobster clasp, it measures 30.5 inches.
$26  Buy now!!
Original Red Love bracelet
Be a part of the greatest love story ever told.
The original LOVE bracelet created a social movement around the world, connecting the maker and wearer in a common bond of love. Every purchase creates a sustainable livelihood for thousands of Maasai women, Indonesian artisans and their families. For the Maasai, the red beads represent bravery, strength and unity. Stand out with a bold pop color on your wrist! Wear or gift a LOVE bracelet as a reminder to love and that you are loved.
$25.00  Buy now!!
TINY DIAMOND CZ STERLING SILVER CHOKER NECKLACE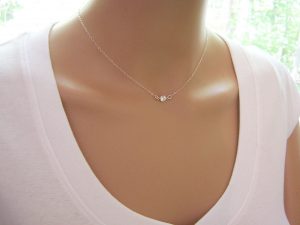 Sterling silver and sparkling diamonds are a classic combination, but diamonds can be costly. We have re-imagined the traditional diamond choker with an equally sparkly cubic zirconia charm to offer you a tasteful piece of jewelry. This tiny diamond necklace can be worn as every day jewelry or saved for your next special event.
This necklace is handcrafted featuring a stunning, sparkling cubic zirconia. Made with dainty Sterling silver cable chain, this choker style necklace is made to your specified length with secure spring ring clasp. CZ diamond charm measures 5mm in diameter. Model is wearing 15 inches.
$24.99  Buy now!!
All Hearts Dog Collar 
Up Country's dog and cat accessories are top quality and super stylish. Their collars, leads and harnesses come in a wide variety of lengths, and in three widths. Their ribbon collars are made from high-tensile strength nylon webbing with sewn on polyester/nylon ribbons. The ribbons are stain and fray resistant; designed to last a lifetime. All collar and lead hardware is cast, not welded brass for extra strength, and the buckles are Coast Guard approved for high weight hold.
$23 Buy now!!
Change the World Bracelet 
Skillful weaving secures the bronze-colored love pendant to this adjustable tan leather wrap bracelet.  Bring a touch of excitement to your go to skinny jeans, boots, and button-up shirt with this sleek leather bracelet. For an artsy, natural feel, just pair this slender wrap bracelet with gemstone jewelry, such as our change the world necklace. This wrap bracelet is soft on the inside, smooth on the outside, and is fastened with the bronze colored buckle.
Ethically Made Jewelry. The Change the World bracelet from Eden Ministry is handmade by sex trafficking survivors. Eden's holistic programs restore and empower sex trafficking survivors to live a life of freedom.  Like the Change the World bracelet? Don't miss out on the matching earrings and necklace!
$20.00  Buy now!!
Purple Beaded Planner Charm/Purse Charm/Keychain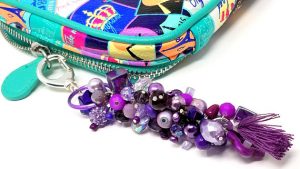 This is the perfect accessory for ANY bag! Purses, totes, laptop bags, beach bags, clutches, diaper bags, backpacks, makeup bags – you decide! The possibilities are endless which makes this an ideal gift for anyone!
A fun mix of purple glass, acrylic, and seed beads, make this beauty a must have for the purple lover in your life.  This handbag charm, purple keychain measures 6″ (in) including the swivel clasp.
$19.99  Buy now!!
Red Black Gold Beaded Hoop Earrings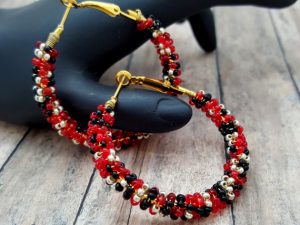 Still not to late to get that perfect Valentines Day gift for the woman in your life. Gorgeous cherry red, black, and metallic gold seed beads, will melt your heart.
These 1.5″ (in) expertly wrapped hoop earrings are perfect for the girl on the go.
They'll make great birthday, anniversary or just because gifts for the woman in your life.
$19.99  Buy now!!
Heart Necklace Antique Brass Floating Textured Heart Pendant on Chain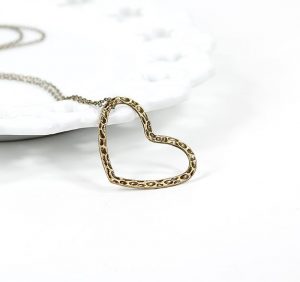 A perfect antique brass heart pendant floats on an antique brass 18 in. chain with lobster clasp. The heart is 1 1/2 in. x 1 in. and has a beautiful textured surface on both sides. Simple yet striking.
This would make a sweet gift for Valentine's Day! Or any day just to say I love you.
$18.00  Buy now!!
Turquoise Howlite Beaded Heart Bracelet with Antique Brass Toggle Clasp 
This bracelet is so pretty – you will love the combination of antique brass and turquoise howlite, finished with a toggle clasp. Choose your perfect length.
As with all of my jewelry, this bracelet comes beautifully gift boxed with a sprinkle of confetti hearts.
$16.00   Buy now!!
Cherry Red Jade and Antique Brass Drop Earrings 
hese delicate earrings were created with round cherry red jade stones and tiny antique brass bead accents hanging on antique brass kidney wire hooks, approx. 1 1/2 in. long.
As with all of my jewelry, this necklace comes beautifully gift boxed with a sprinkle of confetti hearts.
$14.00  Buy now!!
Mini Red Hearts Stud Earrings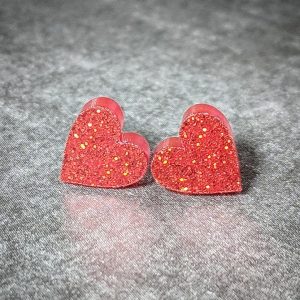 Bright red, glittery acrylic hearts are used to create these adorable mini stud earrings. A perfect gift idea for Valentine's Day or any special occasion!  Hypoallergenic ear posts, great for sensitive skin. Also comes in a free gift box.
Approximately 7mm across. Hypoallergenic nickel-free stainless steel post earring studs – great for sensitive ears! Securely affixed to posts with jewelers' grade epoxy adhesive. Please check my shop for other finishes and styles of stud earrings! ♥All jewelry comes gift wrapped in an organza jewelry pouch or gift box.  All designs & content © Jenna Scifres
$12.99  Buy now!!
Rainbow Heart Earrings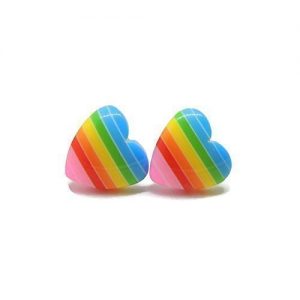 Rainbow Striped Heart Earrings on plastic posts for pierced ears are a metal free option for those with sensitivity to nickel in metal earrings.
$12.99  Buy now!!
Double Heart Invisible Clip On Earrings 
Nearly Invisible Clip on style tiny 9mm x 10mm silver-tone open double heart shaped "stud-look" earrings for non-pierced ears. The clear plastic clip on style is light, gentle and are hypoallergenic.
$12.99  Buy now!!
Béljoy 
Béljoy is a distinct line of handcrafted jewelry produced in Haiti + the US by local artisans. Béljoy offers men + women in Haiti the opportunity to earn a dignified and consistent wage through the art of jewelry making. By teaching this trade and paying a superior wage, we hope to encourage women and empower them to provide for their families.
$11-$84  Buy now!!
Simbi
Simbi specializes in handcrafted men's and women's accessories available in twill, leather, upcycled and beaded styles.  Each purchase helps bring sustainable jobs and clean water to Haitian communities.
$3.00- $79.00  Buy now!!
Inspired Endurance 
Athletes can create lasting memories of their hard work with beautiful quality jewelry from Inspired Endurance.  Made of genuine sterling silver, Inspired Endurance custom pendants and beads are a durable and elegant way to honor your athletic achievements. For anyone in your life with a passion for endurance events, it's a gift they'll cherish for years to come.
Choose from a variety of designs displaying 5K, 13.1, 26.2, duathlons, triathlons, ultra races and Ironman distances. The charms can be individually engraved with a meaningful message or race details. Custom pieces are hand stamped, so no two are alike.  Shop by race, style or collection at www.inspiredendurance.com.
Price varies  Buy now!!
**All images courtesy of respective companies.