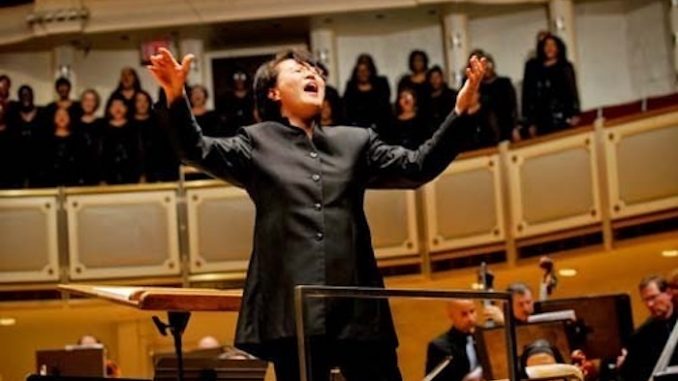 On Monday, January 15, 2018, Martin Luther King Day, the Chicago Sinfonietta, appearing at Symphony Center, 220 S. Michigan, Chicago, put on their 30th anniversary annual tribute to the slain civil rights icon, featuring composer Laura Karpman's three-time Grammy nominated masterpiece Ask Your Mama. The multi-media program centered on Langston Hughes' massive poem of the same name was comprised of orchestra, opera, jazz vocals, spoken word, and archival audio samplings including Hughes' own words reading excerpts of his poem. Conducted by Mei-Ann Chen, the event starred Janai Brugger, opera soprano; six-time Grammy-nominated jazz vocalist Nnenna Freelon; Tony-nominated vocalist De'Adre Aziza; and Young Chicago Authors Patricia Frazer and Kee Stein. The concert, a Chicago premiere, was also performed on Sunday, January 14th at Pfeiffer Concert Hall of North Central College, Naperville.
Langston Hughes' epic poem, "Ask Your Mama: 12 Moods for Jazz", a paean to the incepting Civil Rights' movement, which he began to write at the 1960 Newport Jazz Festival, itself reads like a jazz composition and was intended to be recited to the accompaniment of jazz music. In the poet's own words, "…For the benefit of those who might like to hear the music that I heard in my mind as I wrote 'Ask Your Mama,' along the margin of the book there are little musical notations." It was these marginal notes that formed the basis for Karpman's huge work that debuted in 2009 at Carnegie Hall as part of the Honor Festival. Avie Records released a studio recording of the piece that also featured soprano Janai Brugger along with a full cadre of other musicians and artists.
Karpman has won multiple Emmys for her film and television work. The score for Ask Your Mama builds on Hughes' poem, drawing together threads from the jazz of Charlie Parker and Bo Diddley to chanted vocalizations, from solemn/archly phrased recited pieces to call-and-response. Every time the phrase "Ask Your Mama" was said with sass, the Orchestra responded with "Shave and a Haircut, 2 Bits". Throughout, the Sinfonietta clapped or stomped in time, produced extended percussive riffs, and surrounded the stunning voices of the soloists with lustrous sound from genres as diverse as Afro-Carribean drumming, German lieder, swing-era jazz, rhythm and blues. The impassioned production is brainy, heart-felt, resonant and extremely rhythmic. The work ends with an atmospheric gospel-infused section immediately following a raucous climactic segment.
This was a sweeping and ambitious piece performed on an auspicious occasion by- how fitting- the most diverse Orchestra in the world. As usual, the program ended on an optimistic and upbeat rendition of "We Shall Overcome", with the audience clasping hands.
For information and tickets to all the great performances of The Chicago Sinfonietta, go to www.chicagosinfonietta.org