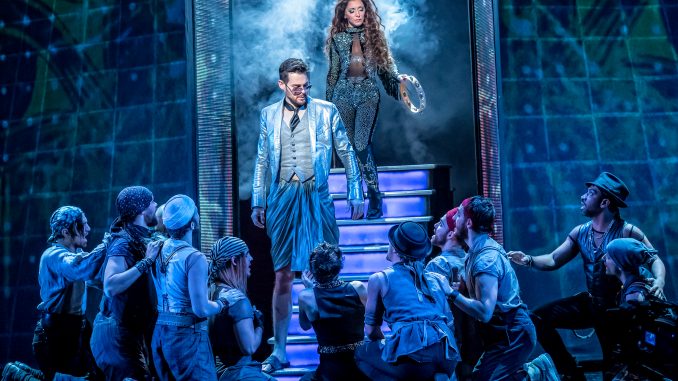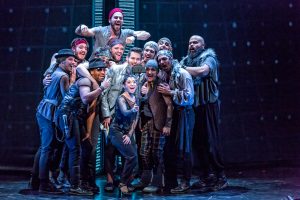 My fond memories of Joseph and the Amazing Technicolor Dreamcoat stretch back to childhood, when my best friend and I would play a well-loved VHS copy of the 1999 movie starring Donny Osmond on repeat at sleepovers, pausing to replay our favorite songs like "Benjamin Calypso" and "Any Dream Will Do."
I didn't think that this beloved classic, with all its layers of kitsch and exaggerated stylization, could possibly be reinvented. And I certainly didn't think that Drury Lane Theatre, whose only other production I'd seen was Hazel, an adaptation of a 1960s comic strip with a very 1960s sensibility, would be the company responsible for stripping away old kitsch, layering on new kitsch, and overall transforming a Biblically-based, quintessentially 1970s musical into something, well—contemporary. If the original show was technicolor, this production registers on a new spectrum of light entirely.
The space is dominated by an enormous pyramid. I posted a photo of it to Instagram immediately. "Because if you're going to do Joseph and the Amazing Technicolor Dreamcoat you had DAMN WELL BETTER build a GIANT ASS PYRAMID and put it onstage," I captioned it. Later, at intermission, I added a comment: "Update: it glows." But "it glows" is a thoroughly inadequate description of this ingenious set piece, which uses an ancient shape as a vehicle for cutting-edge technology—this pyramid opens and closes mechanically, flashes colors, and projects moving images.
I mention the pyramid because in addition to its simply being awesome, it's also a microcosm of the production as a whole: the structure of the original is still intact, but its execution is something entirely new and very, very exciting.
The pyramid opens to find a contemporary Joseph staying in the Luxor Hotel in Vegas (prompting the first of many surprised, "I-see-what-you-did-there" guffaws from the audience; clever reinterpretations of lyrics abound). The Narrator sets loose Jacob and the flock of brothers, dressed more like pirates than ancient farmers, in Joseph's hotel room, and so the Biblical tale begins, weaving between the present and the—fantastical? Imagined? Real?—world of the story.
Here is where kitsch is stripped away: schtick like the heavy twang in "One More Angel in Heaven" and the aggressively cheesy French accent in "Those Canaan Days" (which makes the number nearly intolerable on the 1992 Canadian cast soundtrack) are dropped. This elevates the brothers from essentially an unremarkable male chorus to a tour de force, with choreography by Grady McLeod Bowman transforming their numbers from mere plot advancement or filler into thoroughly electrifying affairs.
Here is where kitsch is layered on: the Vegas setting is infused throughout the show, most notably in the form of The Narrator, who rotates through a series of (remarkably on-point) impressions of music stars from Bette Midler to Britney Spears, accompanied by fabulously accurate costumes by Ryan Park and wigs by Claire Moores. Christina Bianco is nothing short of spectacular as The Narrator, dazzling the audience in the encore with an even more extensive catalogues of impressions, fired off at increasingly rapid speeds and all sung to tunes from the show. Frankly, I would watch an entire 90-minute production of just Bianco singing songs from Joseph in different styles.
The most fascinating thing about this interpretation of The Narrator, though, is the amount of control she exercises over the story. Unlike in most productions, where The Narrator is present but largely a passive observer, here she is a manipulator of events, from "casting" Joseph in the story in the first place to feeding him the interpretations of dreams to dropping Judah the mic so he can plead for Benjamin's life in my beloved "Benjamin Calypso." This, combined with The Narrator's many alter egos, make her a mysterious figure, the spider at the center of the story's web, quietly steering the course of the events that unfold. For what purpose? It's unclear (and all the more fascinating for it).
What's not unclear, however, is that Drury Lane's production of Joseph and the Amazing Technicolor Dreamcoat is a revolutionary take on a classic musical that I for one would never have guessed had new tricks up its sleeve. Go fall into this mysterious and highly entertaining world of dreams (and check out the super cool pyramid while you're there).
Ticket Information
Location: Drury Lane Theatre at 100 Drury Lane in Oakbrook Terrace
Dates: January 26, 2018 – March 25, 2018
Times: Wednesdays at 1:30 p.m.; Thursdays at 1:30 p.m. and 8:00 p.m.; Fridays at 8:00 p.m.; Saturdays at 5:00 p.m. and 8:30 p.m.; and Sundays: 2:00 p.m. and 6:00 p.m.
Tickets: Single Tickets: $47 – $62. Student group tickets start at $12. Senior Citizens start at $40 for matinees. Dinner and show packages available. Tickets are available at the box office at, 100 Drury Lane in Oakbrook Terrace, by phone at 630.530.0111, by phone through Ticketmaster at 800.745.3000, or online by visiting the Drury Lane Theatre website.
All photos by Brett Beiner unless otherwise indicated.