by Suzanne Magnuson and Judith Singer
So it's Chicago Restaurant Week again when the best chefs in Chicago strut their stuff and new ones are added to the Chicago Chef's Hall of Fame by the Mayor. But as we all know, there are many in greater Chicagoland who would rather not fight the crowds, pay extortionate rates for parking, and endure the general struggle required to have a superb dining experience during this week.
Fortunately for everyone who feels that way, you don't have to do any of those things to experience a bit of Restaurant Week and its associated tastes.  You have only to drive to Oak Brook Town Centre Mall in Oak Brook and order from the special Restaurant Week select menu at Perry's Steak House and Grille and as I and my co-author did on the first night it was offered.  I won't say parking is easy on a Friday night, but it's free, or you can utilize the valet services offered, which are inexpensive.
Perry's is part of an array of restaurants at Oak Brook Town Centre and is conveniently tucked between the Pour House and Wildfire, which is actually an interesting spot. It's very much like dining training steps all in one place.  You go to Pour House in your 20s, Wildfire in your 30s and when you want to graduate to something a bit nicer, Perry's is right there.  And Perry's is nicer.
It's found itself a classy niche north of chains like Wildfire and Ditka's but just south of the finest fine dining in the city.  So, it's comfortable but feels a little more elevated than a standard issue suburban steakhouse, which is perfect for its upscale West suburban location.
The décor is warm and comforting done up in chocolate browns and crimson with some gold thrown in for pizazz. It's clear they've put a lot of thought into it as every table, is equipped with crisp, white tablecloth and comfortable dark brown leather parsons chairs that allow you to stay and socialize.  There's enough space between tables that you don't feel like you're on top of the next party over.  And the lighting is nothing short of brilliant, with can spots in the ceiling that hit the center of each table perfectly, highlighting your meal (and making it a lot easier for reporters like me to get good shots of the food to show to you.)  But the lighting is not too bright, it's relaxed, like bright candlelight, perfect for a soothing escape. My only criticism was that it was a trifle too warm the night we were there, but that could be due to the extreme warmth of the weather for January. It's hard to adjust when its 30 degrees one day and 55 the next.
Perry's is a steakhouse.  And you can see how serious they are about this from the moment you step inside.  Right next to the reception desk is the giant array of cuts of meat displayed with obvious pride like fine diamonds in a jeweler's showcase.  Yes, they look huge.  Yes, they're what you're getting.  Perry's isn't kidding around.  When their General Manager Jeffrey Pagnotta came around after our meal to kindly answer some questions, he told us that the Perry family began running a deli and have kept their meticulous attention to detail and tradition of preparing and cutting their own meat for all their locations.  Yes, Perry's is a chain, of fifteen family-owned restaurants, mostly in Texas and Colorado.  The Oak Brook location is the only one in the Midwest.  If it's any example, they should open more.
One of the questions we had was how they'd selected the menu for the event, and we were told that it's really Perry's Best Of, plus some really nice salmon.  Honestly, fish is great, but this is a place to eat meat, so after briefly considering the salmon we moved on and I ordered the Filet Mignon wrapped in Nueske's bacon, and Judith went right for the specialty of the house, the Pork Chop.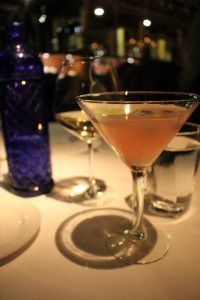 But that's not how it started.  It started with one of the two signature cocktails on the special menu.  Judith doesn't enjoy hard liquor, so she abstained and I opted for the Cucumber Blueberry Cocktail. And this is where both of us started to get a little perplexed by the menu.  This is a lovely cocktail.  It's delicious and beautiful.  It is also not as advertised.  If there's cucumber in there at all, its flavor is entirely drowned out by the very delicious lemon and blueberry.  It's mostly a lemon cocktail with blueberry. Believe me when I say I drank it all and never tasted the cucumber, which I like.  It wasn't what I thought I was ordering, but it was very tasty. And this wasn't the only thing on the menu like this.
Shortly after my cocktail arrived, our exceptional waiter came by with the incredibly delicious crispy white bread with whipped butter and one of the two featured wines, the house Chardonnay for Judith. We both tasted it and here is where we encountered the only real failing of the meal. The Perry's house chardonnay is the most inoffensive wine I've ever drunk. It's not tasteless.  It's simply flat, bland, and undistinctive. With no perceptible notes of fruit or oak, no real acid but yet no silky mouthfeel, it takes up a middle ground of featurelessness that we began to notice in other aspects of the dining experience as well. It's wine for people who don't like wine. As we were here to try the specials, we didn't look at the wine list, but I would suggest ordering from it and avoiding this wine.  It's not bad, it's just not much of anything and it doesn't enhance any of the dishes.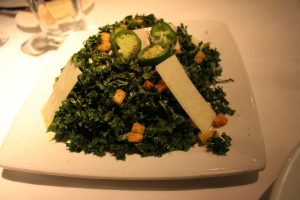 Our salads arrived next.  Judith went for the kale, which was exquisitely chopped, tossed with tiny croutons the size of lentils and topped with thick shavings of a lovely parmesan and a light mint vinaigrette.  It was a superb balance of flavors, backing off the strong taste of the kale and cut to the perfect small size so that the toughness of the kale leaves was also mitigated.  It was subtle and delicious, which you do not expect from a kale salad.  Bravo.
I went for the wedge (there was also a Ceasar on the menu, but it was utterly traditional and the wedge had something interesting going on).  Like my filet, it also had the superb Nueske's bacon, lovely tiny tomatoes and instead of the traditional blue cheese dressing Perry's put on their own house buttermilk vinaigrette, which we later learned was a blend of their ranch and Italian dressings.  This lightened and brightened the flavor considerably and it was so good that once I'd consumed all the lettuce, Judith and I both, in an incredibly déclassé move, dipped bread in it.  I can't sing the praises of this dressing enough. I will have to go back just for this.  They should bottle it. They'd make a killing.
Then our meat and the two sides we'd ordered arrived.  Judith got the Roasted Sherried Mushrooms, which were absolute perfection, served whole and drizzled with garlic herb butter. They arrived cooked to the second and were firm and packed with flavor.  Our recommendation is to eat them right away.  We let them sit after our initial try, and over time they absorbed all the accumulated liquids, which left them sodden.
I got the Au Gratin potatoes with gouda and cheddar.  This was the second thing we encountered at Perry's that was seemingly afraid to be flavorful.  While the top toasty gouda layer was exceptional, the flavor ended at the surface. The potatoes were perfectly cooked and the texture of the sauce was creamy and silky, but its lack of flavor was a let-down. As Midwesterners, we have come to expect cheesiness from our Au Gratins, but this appeared to be a simple (if well made) Bechamel without additional seasoning. It's not bad, again. Nothing was bad. It's just a bit disappointing compared to the incredible mushrooms.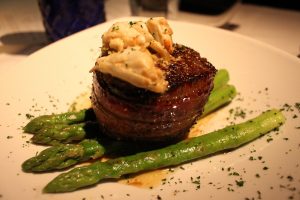 At this point, they also brought me the other wine to sample, a Cabernet Sauvignon that is to red wine what the Chardonnay is to white.  So unchallenging and did not enhance anything we ate.  It was just sort of there.  I wanted it to have an opinion and notes of something, anything. But sadly, it did not. Again, order something else off their list.
My Filet Perry was a perfect filet.  Perfectly sized, wrapped in delicious Nueske's bacon and topped with lump crab meat and perfect, crisp asparagus spears. Cooked to utter perfection at Medium Rare. If you love filets, you will enjoy their take on it.  You can see the care Perry's takes with all its meat. Would eat it again and again.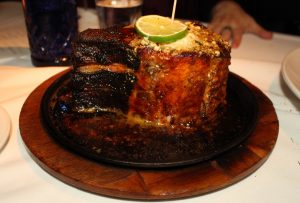 That said, Judith's pork chop was a poem.  More like a small rib roast, Perry's famous three-rib pork chop is cured, slow-smoked, roasted and caramelized, and served with homemade applesauce. This is the most exceptional pork chop that not only have I ever tasted but that I've ever imagined.  From ribs to eyelash it was a variety of flavors and textures.  It was amazingly brined so that the flavor got through every part of the meat.  It was treated with a rub for 6 hours before cooking and the care and attention shows in tender meat and a supremely flavorful bark.  Carved tableside, it was presented with instructions to taste first the highly caramelized rib, then a slice of the meltingly soft, cheek-like eyelash, and then finally to dig into the massive chop mini-roast. The only thing we found perplexing was the homemade applesauce.  Under pork that would never need a garnish, see this.  The applesauce was delicious, but why include it?  This perfect cut of meat needs no accompaniment.  Go to Perry's right now and eat this incredible thing.
The desserts included in the tasting menu arrive beautifully presented as a trio.  They are billed as Vanilla bean crème brulée, chocolate crunch and praline cheesecake.  And again, Perry's opts for the unchallenging.  The praline cheesecake is basically really bland but fluffy cheesecake with super sweet caramel sauce on it. I've had pralines in New Orleans, this is not like them.  The Vanilla bean crème brulée is far better.  It has an impressively thick crust of caramelized sugar on top, really nicely browned, and cracks satisfyingly.  If a vanilla bean has ever approached the crème inside, however, it was only an approach and it quickly went on its way. It tasted like sweet cream to us.  Delicious, perfectly creamy and silky sweet cream, but not the vanilla it was billed as. Our recommendation is not to change the recipe, but to change its name, because it was a mouthful of heaven just as it was. The chocolate crunch, on the other hand, was exceptional.  It's crunchy milk chocolate covered with a dark chocolate ganache and a tiny dollop of whipped cream. True fact, both of us thought it was hazelnut for certain. It's like what Ferro Rocher candy wants to be when it grows up and has an investment banker. Would order both the crème brulée and the Chocolate Crunch again.
When we asked about how the menu was arrived at, the GM assured us that Perry's not only uses the decades of family knowledge gained in the deli and then restaurant business to hone their offerings, but listens to customer feedback.  We think that maybe that might be the explanation for some of the blander portions of the menu; erring on the side of caution to ensure no one has a bad experience.  We certainly didn't, with one exception – the music.
Perry's has a commitment to live music, with live standards and pop favorites six nights a week, which is a huge asset to any restaurant approaching fine dining.  We happened to be there when their music was provided by a fill-in musician who was frankly so awful it kept pulling us away from our meal as we wondered what song she was anemically mumbling now.  It was the worst game of name that tune ever and really brought the ambiance down.  I hope their regular talent is of a higher caliber for the sake of all their patrons.
But if you want skilled and knowledgeable wait staff to bring you some exceptional meat in an environment of comfortable, low-key elegance without the hassle or added expense of dining in the Loop, you need to put Perry's on your list, either during this special menu week, or any other time.
Make reservations here.