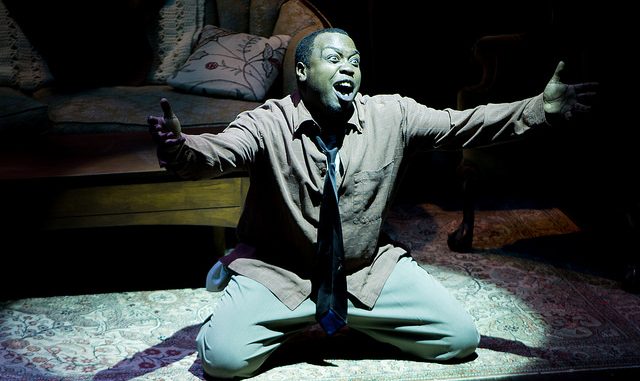 (St. Petersburg, FL) January 28, 2018 – "The term "classic" has been used a little too freely in the arts recently, especially drama. For the past 20 years, playwrights are being taught and trained to write shorter full length plays, oftentimes no greater than 80 minutes. I have coined this type of playwriting "theatrical texting," patterned after a lazy form communication that everyone seems to adopt the moment they purchase their first cell phones. And when you shorten a play in order to maintain the audiences' attention spans, you diminish both the work and theatrical experience. The long-term results? Mediocrity under the guise of a modern classic.
A theatrical classic is a play that takes its time to unfold the story and reveal its characters with the meticulous patience of an artist. I am not talking about self-indulgent three- to five-pauses that playwright Annie Baker uses in her three-hour overrated "classic" "The Flick." I am talking about how the character moves the play and plot through simple, thought-provoking communication, an art form that is being replaced by the dreaded "T" word: texting. Classics are stories that transcend time; they are not products to be quickly consumed as though they were fast food.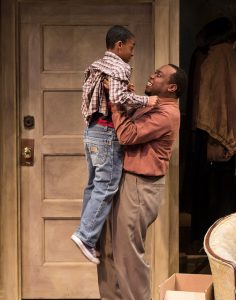 American Stage Artistic Director Stephanie Gularte knows all too well about producing classics on the St. Petersburg stage, a gentle reminder of how theatre should be done.   After August Wilson's American Century Cycle ended last year with a spectacular production of "Joe Turner's Come and Gone," Gularte smoothly segued into the American Legacy Series with a Broadway masterpiece penned by Lorraine Hansberry, a classic story of ambition, unfulfilled dreams, and overcoming hardships. And the results are astonishing. American Stage's begins its American Legacy Series with a bang with "A Raisin in the Sun."
It's the late 1950s, and life has been hard for the Younger family, whose three generations reside in a cockroach-infested Chicago Southside apartment. Walter Lee and his wife Ruth (Enoch King and Sheryl Carbonell) sleep in one bedroom, Walter Lee's highly spirited sister Beneatha (a dynamic Kiara Hines) and the family matriarch Lena (Fanni Green) sleep in the other, and Walter Lee and Ruth's son Travis (an endearing Elijah Jordon, who performed during the Sunday matinee performance) crashes on the living room couch. But each family member possesses a special ability that breaks through that claustrophobic setting: to dream their possible and impossible dreams. While Walter Lee dreams to create his own business, Ruth dreams to live in a home she can be proud of. As Beneatha longs to be a doctor, Lena prays that her family and future generations can be happy. And Travis? He only wishes he could sleep in an actual bed of his own. A few months earlier, Lena's husband and family patriarch Big Walter died, resulting in his $10,000 insurance policy being handed down to the family. But what to do with it? Walter Lee wants to invest in a risky business plan, whereas Lena and Ruth want to buy an affordable and safe family home that is located in a prominently white neighborhood. When choices are made, passions run rampant and the family is never the same again.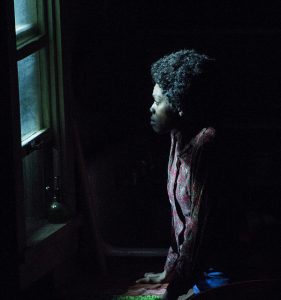 What ranks Hansberry along the same level as other classic playwrights such as O'Neil, Miller, and Williams is although "Raisin" is two and a half hours long, her writing maintains the audience's attention. And her characters' dialogue and especially their monologues beautifully reveal their nature one layer at a time. Many present-day playwrights could learn a thing or two about the importance of taking their time and not worrying about weak attention spans from their viewers. Director L. Peter Callender shows his mastery with the pacing of the play and bringing ALL the actors to shine in their own glory, from the lead actors to the cameos. "Raisin" is also timeless in its themes of financial hardship. Although the play was very topical for African-American families during the 1950s, it's also very timely in present day, especially when the job market hit rock bottom from 2009 to 2016, and millions of people were unemployed for as long as four years, making the Great Depression seem pale in comparison. And the creative team of Lighting Director Joseph P. Ashry, Scenic Designer Steven Mitchell and Sound Designer Rachel Harrison do a phenomenal job in recreating the poverty of a 1950s tenement apartment, transporting the audience with vivid realism.
The acting is uniformly incredible across the board. American Stage veteran Green towers the stage with her presence, combining Lena's compassion with a no-nonsense moxie, especially when she deservedly disciplines Beneatha's disrespectful behavior, or when she explodes with rage at Walter Lee's pride. But she always exudes Lena's wisdom and intense faith in God. It's a powerhouse of a performance that never overshadows her fellow cast. Equally profound is King's Walter Lee, whose intensity for success is an amalgam of pride, envy, ambition, and sorrow. If Green has the presence of a matriarchal lioness, then King exudes the air of a combative tiger in a cage, stalking back and forth in pure obsessive frustration with regard to lost opportunities and broken dreams. But King infuses a phenomenal level of sympathy concerning the trials he faces, especially a key monologue during Act II, Scene Two that brings tears to any viewer's eyes. His chemistry with Ruth is like watching a couple slowly dance to slow jazz, especially when watching Sheryl Carbonell's magnetic portrayal of a woman who is torn between standing by her man or rebelling against Walter Lee's selfish nature. She is Linda to King's Willy Loman. A truly a heartbreaking experience.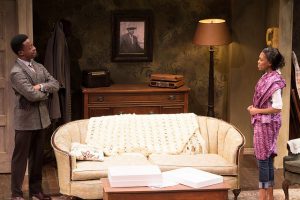 All of the supporting players deserve positive mention, including Dee Selmore's enjoyably nosy neighbor, Mrs. Johnson; Cranston Cumberbatch's sympathetic Bobo; Troy D. Wallace's hilariously uptight George; and Gavin Hawk's reptilian Carl Lindner. But the standout is Patrick A. Jackson's Joseph Asagai, a Nigerian college student who courts Beneatha. In the first act, Jackson's portrayal is humorously chauvinistic. But in the second act, he transforms into the voice of reason when Beneatha loses hope for her own future and shows much disdain and shame for her brother. He infuses strong compassion for the broken Walter Lee, thus transforming Hines's Beneatha's selfishness into selflessness.
American Stage has, so far, produced three plays during its 2017/2018 season, and all are absolute perfection.  If the next three productions match the "classic" quality of its predecessors, than this season will enhance the theatre's standing as a primal force in American theatre today.
Peter A. Balaskas is a fiction writer, copyeditor, and playwright.
Raisin in the Sun runs from January 24 – February 18, 2018
163 3rd St N.
St. Petersburg, FL 33701