It's not often a contemporary drama gets elevated to a national tour, especially one without any recognizable stars, a vague title, and a run that lasted less than a year on Broadway. The last two non-musical tours I can recall coming through Chicago, those being War Horse and Curious Incident of the Dog in the Nighttime, were both adaptations of well-known novels.
Stephen Karam's The Humans is an outlier in many respects. It's the type of work that one would typically see at Steppenwolf or The Goodman. In other words, this is a very Chicago play. And, it should come as no surprise that Humans had its world premiere on the Northside back in 2014 at the American Theatre Company and directed by P J Paparelli just six months before his sudden tragic death. Mr. Paparelli would've been proud to see how this work has taken off since then – critical acclaim, a Tony Award, and now an outstanding national tour.
The Humans is a beautiful play. It is superbly written, warm-hearted, thought-provoking, and even haunting. It's also a very interpretive play with many layers of subtext, allegories, and symbolism throughout it. Plato's Allegory of the Cave is the most obvious thematic element of this play. The analogy, in essence, is about people who are stuck by certain fates where they are forced to manufacture their reality, and it speaks volumes of the themes presented in The Humans, particularly it's allegorical ending.
Take for instance the setting, which is, ostensibly, an old crumbling cement-block basement duplex apartment in Manhattan's Chinatown. The evocative set by David Zinn (fantastic designs as always), augmented by Justin Townsend's intriguing lighting, indicates to us before even the first line's spoken that not all is right in this household.
The newly rented, and still unfurnished, flat is home to Brigid Blake (Daisy Eagan) the youngest family member, with her boyfriend, Richard Saad (Luis Vega), a hipster set to inherit a large trust fund at the age of 40. The unit looks out into an interior courtyard deemed "cigarette alley" from all the smokers depositing their ashtrays from apartments further above. It also includes a New York rarity, a spiral staircase that leads to the windowless basement part of the unit.
Brigid's family are assembling at the apartment for a Thanksgiving dinner. Brigid's father, Erik (Richard Thomas), is a preoccupied man with a dim outlook on life. His wife, Brigid's mother, Deirdre (Pamela Reed), arrives with both a mountain of food and a mountain of criticisms for Brigid. They've both driven in from Scranton, bringing along Erik's mother, Fiona "Momo" (Lauren Klein), who is both physically and mentally stricken by dementia.  Lastly, joining the gathering is Brigid's older sister, Aimee (Therese Plaehn). Aimee is also in ill health with ulcerative colitis and a heartbreak stemming from a recent breakup with her ex-girlfriend.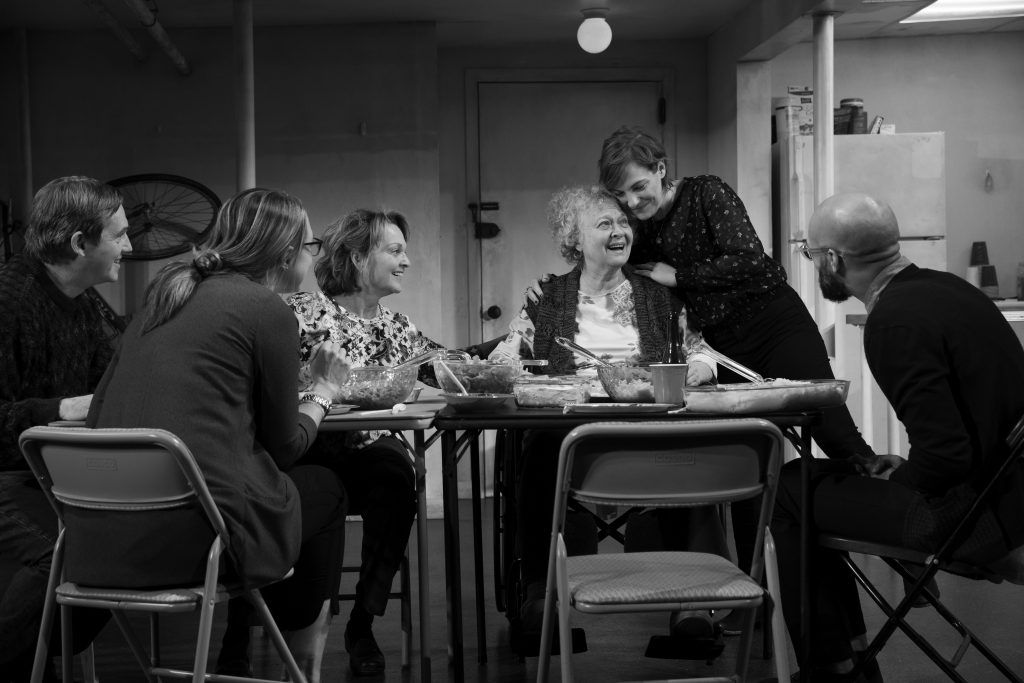 The family makes conversations through forced cheer hiding their sense of peril at pressures bubbling in the shadows below the surface (again this theme is further represented by the ever-growing darkness that literally glooms in over the course of the play). These tumultuous events include the usual pressures bearing down on most middle-class families. Aimee lost her job due to her failing health, Brigid struggles to pay back her massive student loan debt, Erik faces many insecurities at work, while Deirdre who has had many years as an office manager now has to answer to a much younger boss that makes much more money than she has earned.
Part of the strength of this play is how universal these underlying pressures may feel to embattled white working-class people who have seen their once sunny outlooks on the American Dream dim under economic stagnation and globalization. Indeed, since this play dates back to 2014, it wouldn't be far off to say that these insecurities are what drove this group to vote for Trump less than two years later.
Though there is much to admire this is not a perfect tour. Unfortunately, the intimacy of this show is dulled over by playing in such a large touring house (an unfortunate necessity of SETA touring contracts) which diminishes the play's overall tone.
Far more problematic is the play's lack overall originality. The plot revolves around the typical American family gathering whereupon everyone airs their dirty laundry over dinner and secrets are laid bare leaving a questionable future ahead for the characters. Indeed, there's been an overabundance of these "what-lurks-beneath-the-surface" family exposés in all forms of entertainment ever since American Beauty took home the Oscar back in 1999.Many plays came to mind while watching this tour The Herd, August: Osage County, and Night Alive at Steppenwolf, Other Desert Cities at the Goodman, and Appropriate at Victory Gardens.
These family dramas have surely proven to be a winning formula for the stage, yet this is such a crowded category that everything starts to feel a bit monotonous, even stale after so many years of repetitive plays with similar natures. This could be why the revelations didn't seem to have much of an impact on opening night.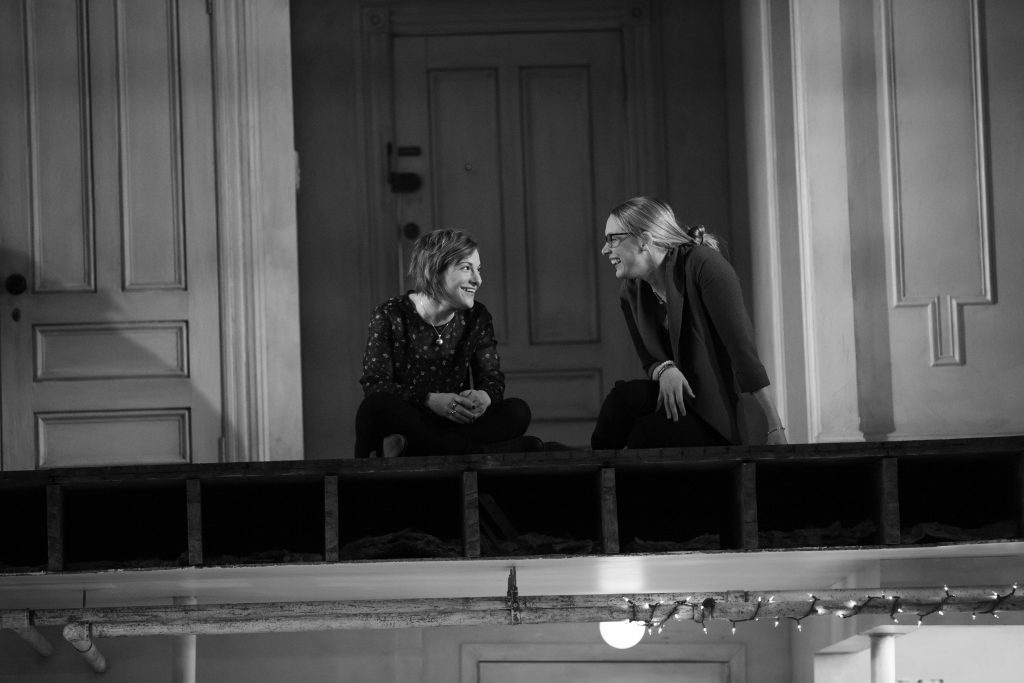 On a final totally unrelated note, I felt compelled to mention theatre etiquette here because a good 10-minute chunk of this tour became muddled when someone in the row behind me decided to unravel a crinkly bag of, what I assume were potato chips, 15 minutes into the play. Noises of any kind from the audience will be heard by patrons around you, especially in this play, where the floor mics often make it difficult to hear every word. Wait until after the show to eat, talk, or text. This play is only 90 minutes after all. In sum, please be courteous to those around you.
Bottom Line: The Humans is Recommended
The Humans – Broadway In Chicago
Running Time: 90 minutes (there is no intermission)
Location: Cadillac Palace Theatre, 151 W Randolph St, Chicago, IL 60601
Parking: InterPark is the official parking garage of Broadway In Chicago.
Runs through: Sunday, February 11, 2018
Curtain Times: Tuesday, Thursday, and Friday at 7:30 PM, Wednesdays at 2 PM and 7:30 PM, Saturdays at 2 PM and 8 PM, *Sundays at 2 PM.
* There is an additional 7:30 PM performance on Sunday, February 4
Tickets and Reservations: $30 – $115. Tickets are available at all Broadway In Chicago Box Offices including 24 W. Randolph St., 151 W. Randolph St., 18 W. Monroe St., and 175 E. Chestnut. Tickets can also be purchased by calling the Broadway In Chicago Ticket Line at (800) 775-2000. They can also be purchased at all Ticketmaster retail locations. As well as online.
Group and Premium Tickets: A select number of premium seats are also available for many performances. Tickets for groups of 10 or more can be reserved by calling Broadway In Chicago Group Sales at (312) 977-1710.
Photo Credits: Julieta Cervante