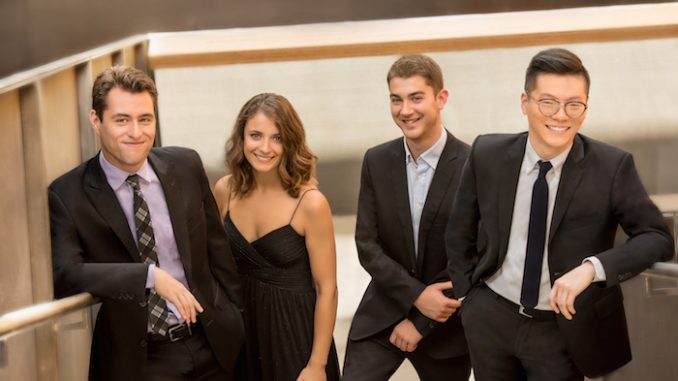 The Leigh and Henry Bienen School of Music at Northwestern University is continuously hosting wonderful programs for the benefit of music lovers. This reviewer had the opportunity to attend 1 concert from the recently concluded Winter Chamber Music Festival, and 1 concert each from two still-ongoing series, Skyline Piano Artist Series (through May 12th) and Segovia Classical Guitar Series (through April 14th). Below is a synopsis of the 3 concerts, in order of attendance.
– 1) Skyline Piano Artist Series, Mary Galvin Hall January 20, 2018
It was easy to see why David Kadouch is quickly becoming one of the most acclaimed pianists of his generation. He's a multi-prize winner and a regular guest of some of the most important orchestras, recital series, and international festivals. His performances have been called "intelligent and imaginative". For this concert, it seems he deliberately chose very demanding works requiring a very high level of virtuosity.
Program:
-Franz Liszt, Variations on a Theme of Bach, "Weinen, Klagen, Sorgen, Zagen", 1862
The first work of the concert was the "Weinen, Klagen Variations," said to be "Liszt's meditation on the bass line of one of Bach's cantatas." This is a non-lyrical piece of considerable technical difficulty, filled with contrasts, which the pianist appeared to navigate easily.
–Robert Schumann, Concert sans orchestre in F Minor, Op. 14, 1836
Schumann, it is said, called composing "unhappily and melancholily." This complex piece, rich and imposing, filled with famous "quirks", sometimes fully somber, was explored by Kadouch with controlled passion..
– Maurice Ravel, Gaspard de la nuit, 1908
This piece is regarded as one of Ravel's most demanding works, with each movement presenting a different challenge. In fact, in a recent column for the BBC, Clemency-Burton Hill described Gaspard as "a 'triathlon' for a pianist, with finger-breaking effects in the first movement and dizzyingly fast repeated notes in the third."
– 2) Winter Chamber Music Festival, Pick-Staiger Concert Hall, January 26, 2018
The Dover Quartet, Joel Link and Bryan Lee, violin; Milena Pajaro-van de Stadt, viola; Camden Shaw, cello were an absolute joy to listen to and observe; the individual performers often seemed to be caught up in reverent elation, their faces suffused with emotion. The Chicago Tribune has lauded the Dover Quartet's "Expert musicianship, razor-sharp ensemble, deep musical feeling and a palpable commitment to communication'; such was certainly in evidence in the program this evening.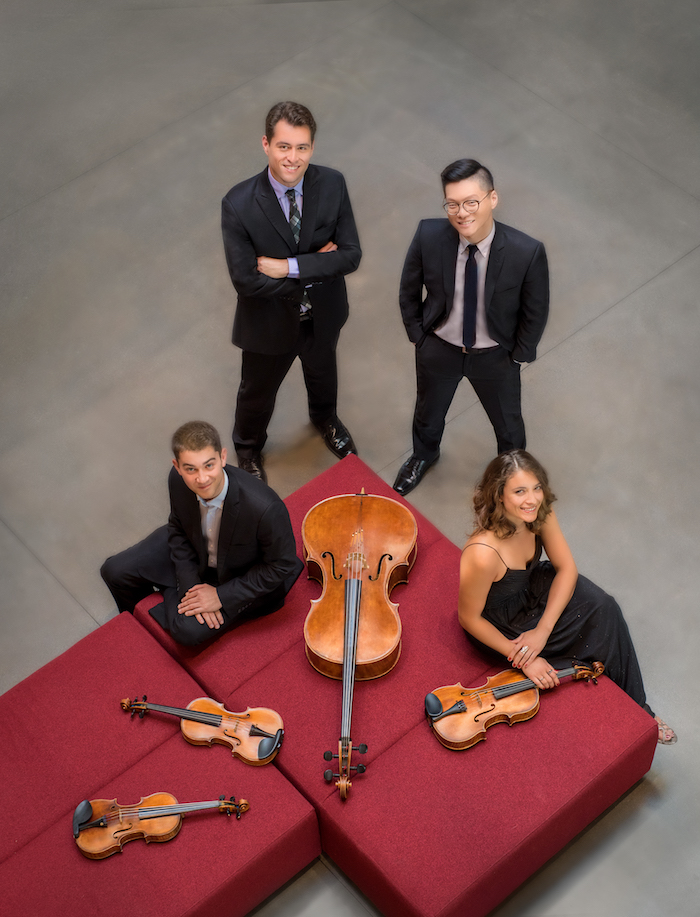 Program:
– Arnold Schoenberg, String Quartet in D Major, 1897
Unlike the atonal, even discordant music written later in his career, Schoenberg's string quartets are recognized as "brilliantly composed and deeply expressive". This piece was intense, profound, concentrated, and lovely. The ensemble performed flawlessly, given us a clear and empathic intonation.
– W. A. Mozart, String Quartet No. 15 in D Minor, K. 421/417b, 1783
This work, from Mozart's "Haydn Quartets"- the string quartet form having been created by Joseph Haydn in the middle of the 18th century-was melodically complex, in 4 movements. The slow movement was it's "emotional center", filled with multiple themes and embellishments. The whole work was lyrically beautiful, evocative and transporting.
– Alexander von Zemlinsky, String Quartet No. 2 Op. 15, 1915
Zemlinsky was Schoenberg's great admirer, colleague and brother-in-law. This wonderful work is said to be one of his "most turbulent" pieces. As introduced by Pajaro-van de Stadt, it was conceived as intensely personal and unique to Zemlinsky's relationship with Schoenberg. In fact, researchers note that "it is filled with arcane references to tragic events that had taken place during the last fifteen years." The piece is dense, melancholy, important in scope.
– 3) Segovia Classical Guitar Series, Mary Galvin Hall, January 27, 2018
British lutenist Nigel North has been beloved by audiences worldwide for nearly 3 decades; he's easily one of the foremost lutenists in the world. North has produced numerous recordings, including a series titled Bach on the Lute, by Linn Records, and from that 4-volume series this evening's program was taken.
Program:
Bach on the Lute: All works by Johann Sebastian Bach
Prelude in C Minor, BWV 999
Fuga in G Minor, BWV 1000
Prelude, Fugue, and Allegro, BWV 998
Partita in C Minor, BWV 997
Partita in D Minor, after BWV 1004 for solo violin
The stunning presentation featured innovative transcriptions of J.S. Bach's Preludes, Partitas and Fugues. This is very peaceful, charming, antique-sounding music, with a variety of styles, themes and tones; that is not to ignore, however, its rich and lively nature. Heard together, the pieces have a unified sound; the concert was unusual and joyful. North is a sensitive and extremely skilled musician, obviously thoroughly adept at his fine and unusual instrument.
For information and tickets to all the wonderful programming at Northwestern's Bienen School of Music, go to www.musicnorthwestern.edu