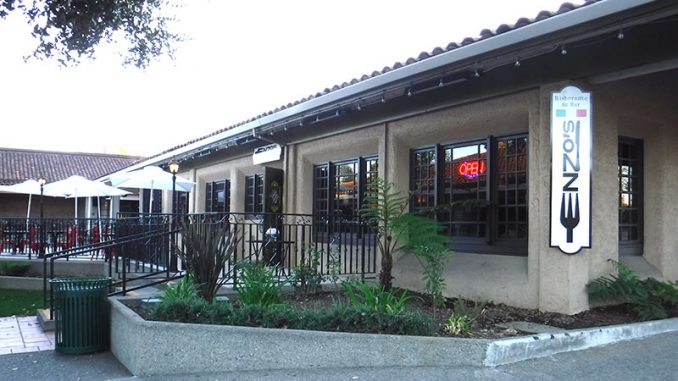 Recently, when attending an event at the Flint Center for the Performing Arts, my husband and I found our way to Enzo's Italian Restaurant. It is "off the beaten path", and though we only had appetizers, they were good enough to justify a return visit. On an unusually warm February evening, we returned and found the restaurant just as charming as the first time.   The ambiance, the food and the service are very much to our liking.
Co-owner Fabrizio Vitagliano is from Asti, located in the Piedmont region of Italy. His family are restaurant owners there and he opened is first restaurant there when he was just 23. After 10 years, he was ready for a change and moved to London to use his skills as a Professional Sommelier at the Oblix Restaurant in the Shard.
He also enjoyed developed a wine import-export office in London. His goal was to learn more about the hospitality and wine business, and after a year he was ready for a new challenge.
Learning that Cupertino, California, in the heart of Silicon Valley was in need of a fine restaurant, he joined with two partners to open his first restaurant in the U.S. Here, at Enzo's, (without lengthy and expensive travel), you will find the spirit of Asti and food that tastes as though you were in Italy.
In addition to the welcoming main dining area, the restaurant has a lovely patio, a large upstairs space, which is available for private parties and corporate functions, and a small bar. It is very romantic with lovely Italian songs playing. If you are looking for that special place, this is it – they  have a prefix menu for Valentine's Day.
Our server, Brendon, was very attentive and helpful. He also shared that he enjoys his work here because Fabrizio is so warm and welcoming, making sure everything is going well so that his customers feel they are in his home. Fabrizio shared that the meals he prepares are very simple with only a few fresh ingredients and authentically Italian. We found the food very wholesome.
Shortly after we were seated, hot bread was brought to the table. Crispy on top and flavored with herbs, we learned the bread is a focaccia that is house made fresh each day.
The selection of beverages is carefully chosen. Leon ordered an Americano cocktail, which was lovely and delicious, dry and sweet, made with Compari, Vermouth and soda.
The meatball appetizer, the pride of the restaurant, was Leon's choice.   Actually, the portion of four meatballs is very generous and might be large enough for a meal or to share.
Polpette Al Sugo are homemade meatballs from 100% grass fed beef and pork, served with homemade marinara San Marzano sauce and Parmesan cheese.
The meatballs had a great flavor, just right, not too spicy or too bland. There was a generous amount of sauce that was perfect for dipping.
Barbara ordered a salad, which was very large and the only size offered.
The Garden Salad is made with romaine lettuce, wild arugula, Cucumber, Cherry tomatoes, Pine nuts, shave Parmesan cheese with an olive oil and lemon dressing.
What a delicious salad! The dressing was outstanding. The flavors and textures worked together perfectly. It tasted fresh and clean.
Doe the main course, Leon selected a seafood dish.
Spaghetti Allo Scoglio, Spaghetti served with fresh clams, prawns, large pieces of fresh fish, and a touch of spicy marinara sauce.
This was "really good" with the wonderful combination of seafood and salmon. The garlic and oil in the marinara sauce was a flavor that enhanced the food combination.
Barbara's food restrictions include being vegetarian and gluten-free. These needs were accommodated with substitution of gluten-free fusilli instead of gnocchi.
Gnocchi Al Pesto offers-Fresh potato dumpling pasta mixed with Enzo's fresh, homemade pesto.
The flavors of the gluten-free pasta and the pesto sauce were delicious and each bite tasted better then the one before so that the generous portion was actually finished. The flavors were subtle and rich.
Happily satiated though we were, we still could not resist a dessert. We decided to share the
Torta Al Cioccolato, Rich flowerless chocolate sponge cake, layered with dark chocolate and served with fresh local strawberries.
This dish was beautiful to look at and decadent to taste. The rich, fudgy flavor and pleasant texture was remarkable. What a great ending!
Check the Enzo's Italian Restaurant website to find special events such as no corkage fee every Tuesday.
Enzo's is a hidden gem, and well worth a visit.
Photos:  Courtesy of Enzo's Italian Restaurant unless otherwise noted.