Clare Barron's new play, You Got Older, is about a young woman trapped by unhappy circumstances, struggling with loss, and finding the strength to keep going. Sound familiar? Take away the bizarre dialogue (and some weird dream sequences involving a cowboy) and the show isn't all that different from a Lifetime original movie.
In a way, coping with a loss couldn't be timelier considering that Steppenwolf recently lost ensemble member, John Mahoney, a real Chicago gem of the theatrical community. Topical as it may be, this play fails to address how one adequately moves on from losses. Instead, Barron decided to have our main character stew in her misplacement for most of the two hours.
To be fair, grappling with our fleeting mortality is not exactly the most comforting subject matter for an audience. Imaginary cowboy or not, it's a depressing topic. I do hand it to Ms. Barron for unearthing a lot of humor in such a sad piece. Currently, the humor is this play's strongest asset. These few lighter moments hardly make up for the rest of this play which is not only a downer, but frustratingly long, pedantic, and unbalanced.
Here, a young attorney named Mae (Carolyn Neff) arrives in her family home in Seattle to be with her ailing Dad (Francis Guinan) who is stricken with cancer. Dad is about to undergo another surgery to remove a tumor from his throat. Meanwhile, Mae's life has been falling apart. She recently broke up with her boyfriend, lost her job, and is also dealing with an itchy red bumpy rash that's appeared on her back. In essence, she's trapped in a downward spiral.
Trying to forget her reality Mae indulges in some risky behaviors with Mac (Glenn Davis), a man she meets a local bar who shares some rather unusual fetishes with her. She avoids her circumstances by indulging in a strange reoccurring fantasy with an S&M cowboy (Gabriel Ruiz). Meanwhile, her Dad's cancer gets worse, and neither Mae's older sister Hannah (Audrey Francis), younger sister Jenny (Emjoy Gavino), or older brother Matthew (David Lind) are there to offer much emotional support.
Two years ago Steppenwolf produced Visiting Edna, a play which centered on a dying mother whose son comes home to care for her, only they avoided talking about anything substantial. You Got Older is essentially Edna written by a Millennial. They're both well-intentioned and also very problematic.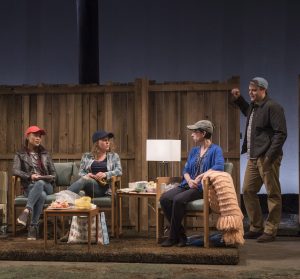 For starters, it's hard to like Mae, much less even remotely care much about her sexual yearnings, while at the same time we also witness her loving father melt away in front of us. This is especially notable in this production where Ms. Neff plays Mae with extreme passivity (her emotions are too reserved that they're not reading well), while Mr. Guinan is giving one of his most emotionally vulnerable performances ever.
With so much focus on Mae's struggles, it's hard to not see her dilemmas as anything but self-centered. We know her Dad is dying (sorry that's not a spoiler) and it's too jarring to have a scene where the Dad tries desperately to bond with his daughter in one scene only to watch her get off on some sexual cowboy fantasy in the next moment. How are we supposed to sympathize with that? When Mae does finally tackle the issue of death head on, it's five minutes to the end of the play; By that point, we're so frustrated by the preceding two hours to invest anything emotionally in a selfish character we've come to despise.
I found this whole production to be a frustrating experience. The play is a mess from start to finish. The script contains unnatural dialogue where everyone speaks with the same voice, the characters are utterly unlikable (aside from the Dad), and it's unjustifiably long. These matters are compounded by an extremely unbalanced production that lags under Jonathan Berry's misguided direction which makes the actors appear static on stage rather than repressed.
Sadly, Caroline Neff, the actress playing Mae seems a bit too dry and indifferent to everything going on around her. I feel as though Ms. Neff made a strong character choice to keep Mae reserved and distant from everyone else, especially her Dad. It's an understandable choice. Unfortunately, that hesitancy is also what's preventing her from exposing her deep fears and thus keeping us from seeing those same shades of vulnerability that we're seeing from her father, played with a beautiful emotional veracity by Francis Guinan.
The play moves along at a painfully sluggish pace. This whole two-hour play could be condensed down to a moving 90 minutes or less. At one point the characters sit there and listen to an entire three-minute song without ever talking. Was that really necessary to drive home the point of our inability to deal with loss? It's hard to focus on the lyrics when everyone in the audience is looking at each other in the awkward moment whispering to each other if someone forgot a line. Also, do we really need an awkward two-minute dance break at the very end? Without any context, the last scene comes off as a disconnected afterthought to end everything on a tacked-on happy note.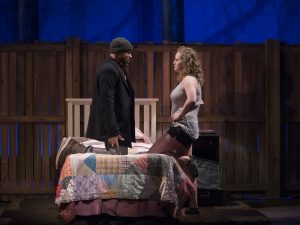 You do feel that Ms. Barron must be writing this from her personal experiences. The writing is not necessarily bad. What bothered me most was that every character seemed to talk with the same voice. In other words, the dialogue for every character had the same youthful structure to it – this was especially apparent in the hospital scene, where the lines often overlapped, talking over each other, yet nearly every line seemed like they could be coming from any one of the family members.
This production was so lacking in imagination that even Meghan Raham's set design seemed lackluster. Are scenes taking place in the woods or a backyard? What's up with the ever-present fence? Not knowing exactly where the scenes take place seemed to distort the context of this play.
The concept of dealing with loss is worth exploring. I certainly don't want to minimize that aspect in this review. However, I'm not convinced that it was worth exploring on stage. At least not in the way Ms. Barron writes it.
Wrestling with loss and themes of repression would typically work on stage. But what Ms. Barron wrote is full of silent observations that seem like they would be far more compelling to read as a piece of literature than on stage. In a book, everything unsaid could be easily expressed by the writer. It's stuff like that which didn't translate well in this play. At least not in what I saw. I'll let you decide for yourself.
Bottom Line: You Got Older is somewhat recommended
YOU GOT OLDER – Steppenwolf Theatre Company
Running Time: 2 hours and 10 minutes, includes intermission
Location: Steppenwolf (Downstairs Theatre), 1650 N Halsted St, Chicago IL 60614
Runs through: March 11, 2018
Tickets: $20 – $89 and can be purchased online, at the Box Office, or by calling the Steppenwolf Audience Services Box Office at 312-335-1650
Curtain Times: Tuesdays – Fridays at 7:30 PM, Saturdays at 3 PM and 7:30 PM, Sundays at 3 PM
Additional Performances: Sundays at 7:30 PM (February 11 and February 18 only) and Wednesdays at 2 PM (February 21 thru March 7 only)
Discounted Tickets: Ask Box Office about student tickets ($15), group tickets, half-price rush discount tickets, and Card Memberships
Performances for People with Disabilities: There are a few performances during the run that will contain an Audio Description, American Sign Language Interpretations, and Open Captioning. For more information, please visit the Steppenwolf Accessibility Page for specific dates and times.
Photo Credits: Michael Brosilow