The Bible never came to life so vividly as in this stunning Andrew Lloyd Webber/Tim Rice musical. Musical genres soar with 50's rock, Caribbean and disco beats, and classic love tunes – all to the Old Testament tale of Joseph and the coat of many colors. When Andrew Lloyd Webber and Tim Rice met in 1965 and began to work on tuneful ideas, who knew that they would produce some of the most iconic productions in musical history. First presented as a 20-minute "pop cantata" in 1968 in London, JOSEPH AND THE AMAZING TECHNICOLOR DREAMCOAT drew critical notice and was expanded and produced in its entirety in London in 1973. JOSEPH AND THE AMAZING TECHNICOLOR DREAMCOAT reached Broadway in 1982 to critical acclaim and was nominated for Tony awards in all major categories. Eventually, a straight-to-video film was produced in 1995 starring Donny Osmond.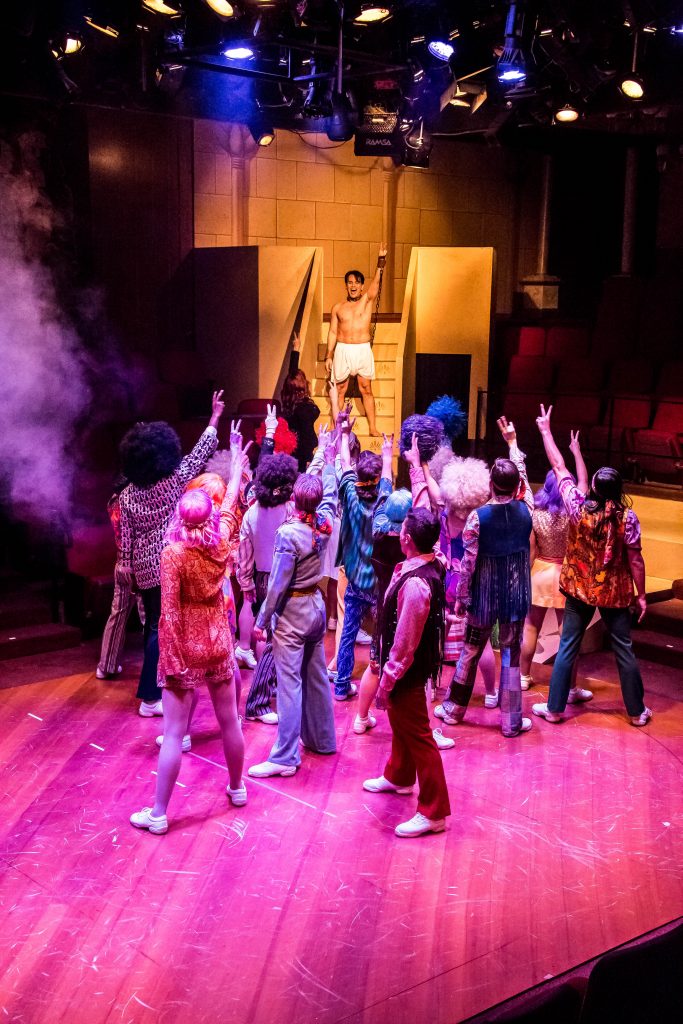 The Genesis story recounts how Joseph (Robert Marra) eventually becomes the ruler of all he surveys. When Jacob (John David Wallis) gave that fated coat to his favorite son, Joseph's brothers' rage and jealousy led to the infamous plot to get rid of the upstart. When their plan to murder him falters, they instead sell him to slave traders. The caravan journey ended in Egypt, where Potiphar (John David Wallis in a double header), a rich and powerful Egyptian, buys Joseph. Soon Joseph works his way up to ladder to become the chief slave in the household – that is, until Potiphar catches a partially clothed Joseph with the missus (Sarah O'Dwyer) – and assumes the worst. But even from prison, Joseph manages to use his special talents to impress the other inmates; and his skills in dream prophesy eventually come to the attention of the Pharaoh himself (Lance Zitron). The rest, as they say, is history.
The Glendale Centre Theatre's brilliant revival of this show from almost 50 years ago has revitalized the Bible story with the clever and fun score which brought it multiple award nominations in the past. Director and choreographer Lee Martino works hand-in-glove with music director Steven Applegate to breathe fiery new life into an old favorite. The enthusiastic ensemble cast offers splendid performances and real joie de vivre to enhance a story worthy of re-telling. Costume designer Angela Manke has outdone herself with quirky outfits that cross lots of time lines – don't forget Elvis – and an especially gorgeous coat of dreams which seems to have a life of its own as it grows before your eyes.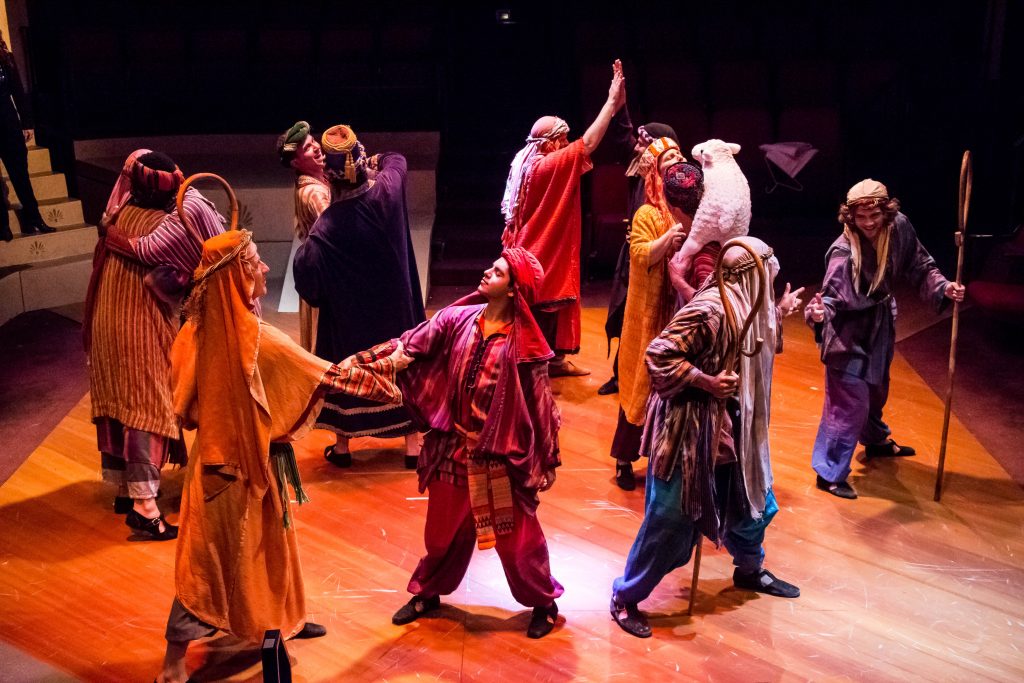 This is a must-see production which will delight and entertain audiences. Just one small wrinkle in the fabric of the show: the music sometimes drowns out the lyrics, which are crucial in this vibrant presentation – since there are few spoken lines; and the tale depends on the words intertwined with the flowing music. Overall, this show guarantees that you'll be tapping your foot and perhaps even humming a bit to the exuberant song fest that is JOSEPH AND THE AMAZING TECHNICOLOR DREAMCOAT.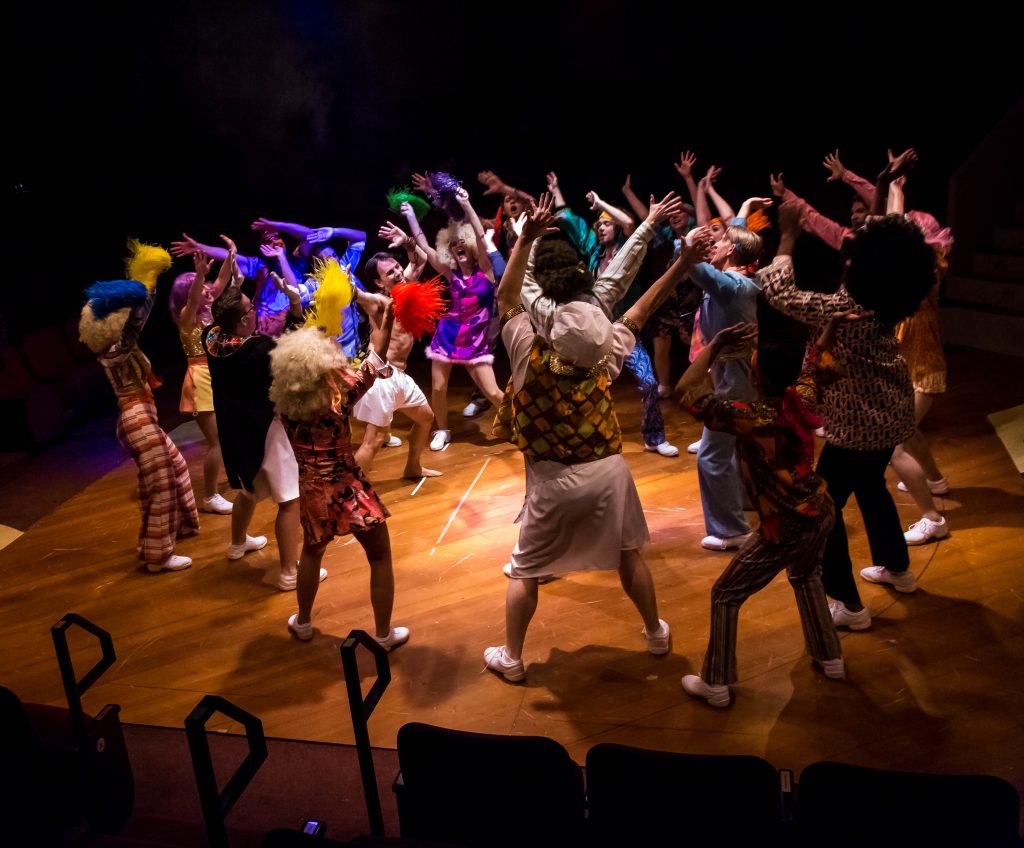 JOSEPH AND THE AMAZING TECHNICOLOR DREAMCOAT runs through April 7, 2018, with performances at 8 p.m. on Fridays and Sundays and at 3 p.m. and 8 p.m. on Saturdays (additional matinees presented at 3 p.m. on Sundays, 2/18 and 2/24). The Glendale Centre Theatre is located at 324 N. Orange Street, Glendale, CA 91203. Tickets are $32 (seniors $28; children $20). For information and reservations, call 838-244-8481 or go online.